Tasting Italy A Local Florence Food Tour
Have you ever been traveling and wondered, "how can I experience life as a local rather than a typical tourist?" Well, I am glad you asked!  I recently returned from my third trip to Italy where I participated in a Florence food tour. It's my absolute favorite city, although in my short 27 years I can't claim the list is too long.  I decided I must do something unforgettable this time around to see more of the life a Florence local lives.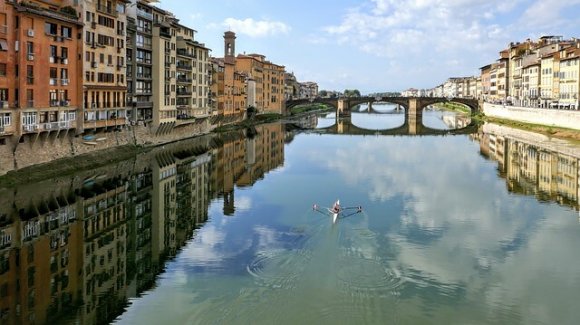 Aside from following in my Mom's love of travel footsteps, she has always told me a great way to get to know a destination is a food tour.
Food is central to most cultures around the globe, breaking bread with people is a great way to connect. Taking a tour with a local guide can give you insight into ingredients and dishes that are important to a destination.
Locals also know the cafés and restaurants away from the tourist traps. To paraphrase a responsible travel mantra,
Responsible Travel-Local Food Tour is Best:
local food tastes better and is fresher
local guides know the city like the back of their hand
supporting local businesses keeps dollars in the surrounding economy
Now, as previously mentioned, this was my third trip to Florence, Italy. I studied abroad in college for four months, and then returned 4 years later to take a TEFL course. This trip however, there was no studying involved, my sole purpose was to enjoy the city I've grown to love so much; to experience it in a different way. An Eating Europe – Florence food tour was just the solution. I knew with their tagline,  Share a Taste of Local Life,  I would be in good hands.
Firenze is known for many things, including, but not limited to: their exquisite architecture, famous art and sculptures, and their delicious cuisine. Eating Europe – Florence food tour, provided me an opportunity to see the city from the local perspective. I don't mind eating alone when I travel, but the Sunset Food Tour I booked allowed me to have dinner and connect with others during my solo travel.
Eating Europe-A Local Florence Food Tour
As I walked across the Ponte Vecchio, heading towards Santo Spirito, I began to feel pure excitement for the evenings activities. Approaching the Piazza,  the smiling face of Omar, our guide for the evening. I couldn't have asked for a more authentic experience. He was born and raised in Florence, is half Egyptian, and loves street art. Off to a great start!
Aperitivo
Our group of six began the evening at Italian Tapas. We discovered the history behind the famous Negroni cocktail along with the art of aperitivo. Between 1917-1920, Count Camillo Negroni, a nobleman from Florence was working with his bartender to make his favorite cocktail, the Americano, a little more potent. His bartender went to work and replaced the soda water with gin. Voila therefore the Americano was replaced with the Negroni. This was the first cocktail to be entered into the International Cocktail List.  The Negroni cocktail is the most popular aperitivo drink in Florence.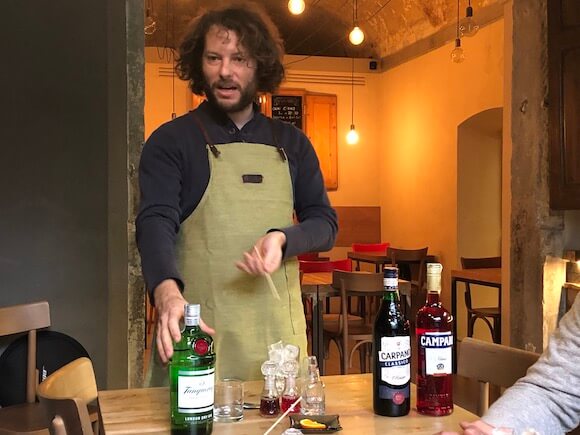 Next, we learned cocktails during aperitivo are supposed to be a bitter and dry. This stimulates your appetite as opposed to a sweet cocktail which will close your stomach and make you feel full. Trying our hand a mixology, it was time to get busy creating with the recipe. While I am not a huge gin fan, after drinking this concoction, my appetite was definitely stimulated and ready for our next stop!
Tasting  Local Cheese
For our second tasting of Florence  we headed to a local small business owner for some Formaggi e Salumi. Cheese and meats are a wonderful addition to the aperitivo hour. Marzio, the "King of Cheese"  was the most wonderful, passionate man. We tasted two cheeses and two salamis. The first cheese was a pecorino, sheep milk cheese, that was aged in a grotto for 8 months. Next, was another pecorino, but with a treasured ingredient….truffle. This is the one ingredient I might hop on a plane to find. Lucky for my wallet, I have a good source back home.
After our cheese, Omar gave us a piece of bread, and asked what we noticed. Quietly I responded with "it is very bland", where Omar said excitedly "EXACTLY! There is no salt in this bread". He proceeded to tell us, that the house bread in Florence does not have salt in it because the government decided to tax salt. Fiorentines decided they didn't need salt in their bread!
After our "cleansing of the palate", we moved on to salami. Our first salami was wild boar, something I never would have imagined I would eat, but it was delicious! Salami with fennel was next, again another piece of meat not normally on my shopping list. So full of  flavor, Marzio shared the aromatic herbs are good for one's health.
Fresh Wine on a Florence Food Tour and Sneaky Lardo
For the next tasting, we headed a few blocks to a 'hole in the wall' place that was a secret gem. Andrea and Francesca are the current owners who continue to run the business their grandmother left to them. We had wine in a barrel, known as fresh wine, and lardo on a crostini.
Omar decided to not tell us what we were eating until we all scarfed it down. Again another dish I would never order on my own, but a Florentine classic. I remembered my Mom was fooled by the guide when she was in Ukraine and tasted lardo also! The fresh wine tasted exactly like its name, it was breathable, light and delicious! We said "Grazie´ Andrea" and went on to our final stop!
Florentine Steak -The Main Event
After many wonderful drinks and dishes, it was finally time for dinner. Omar told us in the beginning of our adventure we would be having a traditional Florentine dinner on the food tour, but wouldn't tell us what it was. I assumed it would be the Florentine Steak, and was correct!
We walked a few blocks, down a dead end street to another obscure spot that visitors would never find on their own. The friendly staff brought us to the back of the restaurant for chef hats and an inside look thru the kitchen. Here we watched the chef cut our dinner. I had never seen such a big piece of meat, and was a little hesitant, but was excited to try a Florentine classic. There's something about being on a food tour that encourages you to try new things and eat outside of your comfort zone.
After watching the steak being cut and cooked on the grill, we headed back to our table where the most delicious appetizers were waiting for us. It was prosciutto, a fried dough, and a spreadable cheese that melted in your mouth. As an American, the world of fried food is not foreign to me, but I had never tasted something like this. The flavors from the prosciutto combined with the creamy cheese hit every taste bud imaginable. The wine continued to flow, and the appetizer was demolished.
Out came the Florentine steak. The side to go with the steak was cannelli beans, which were simple yet tasty, and a perfect for for the meat. Omar cut the steak and we passed our plates. I don't often eat steak, but when I do, I typically like it cooked medium, far from the case here. This steak was pretty rare, blood red comes to mind, but cooked beautifully. The taste was subtle, delicious and melted in your mouth. I can't say I will order my steaks rare anytime soon, but it was a wonderful dish to experience.
Eating Europe and the Florence sunset tour was a great way for me to experience Florentine cuisine like never before. Visiting authentic local spots where the owners are ambassadors for the city's food culture was to meet Florence in a new way. From the tapas to the steak, there were locals all around us. It was a breath of fresh air to get away from the city center and tourists! I can't thank the crew at Eating Europe enough for this localized, unforgettable experience. I finally saw Florence through the perspective I was searching for and the beauty continues to amaze me. I hope to be able to continue my travels through Europe and wouldn't hesitate to check out some of the tours they offer in London, Amsterdam, Prague and Paris.
Until next time Ciao e Buon appetito
Morgan
Disclaimer: The author was a guest of Eating Europe on her Florence Italy Sunset Food Tour, but as always on Green With Renvy, opinions are her own and represent her true experience.
Pin Me ♥ Tasting Local with a Florence Food Tour