The Sunken Forest of Fire Island
I've heard the 300 year old Sunken Forest of Fire Island referred to as the Island's Crown Jewel. After recently travel to visiting this unusual environmental spot, it's easy to see why. Inside a hideaway, explored through a system of boardwalks, you'll find a beautiful canopy of twisted vines and maritime forest nestled between dunes, ocean and bay.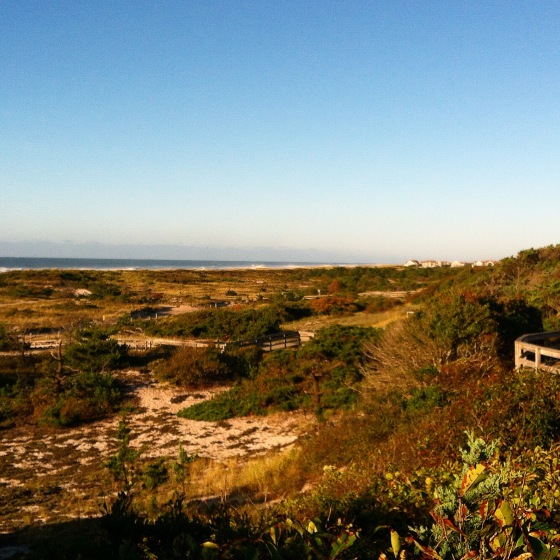 The rare holly forest is the only one of its kind on the east coast and exists behind well established sand dunes along the Atlantic. I found it remarkable that this gem of the National Park Service, one of six types from the classification system,  has survived the storms that come through this spit of land off the coast of Long Island, NY. Recognized as Globally Rare by the New York Heritage Program, "there are few remaining occurrences of this assemblage of plants throughout the world."
Twisting and turning over freshwater bogs, the 1.5 mile trail passes through a variety of trees, shrubs and grasses. White tail deer, fox and an abundance of birds call this sea level environment home. The ocean is responsible for what is called "salt spray pruning" which keeps the top heights of the majority of the growth quite uniform.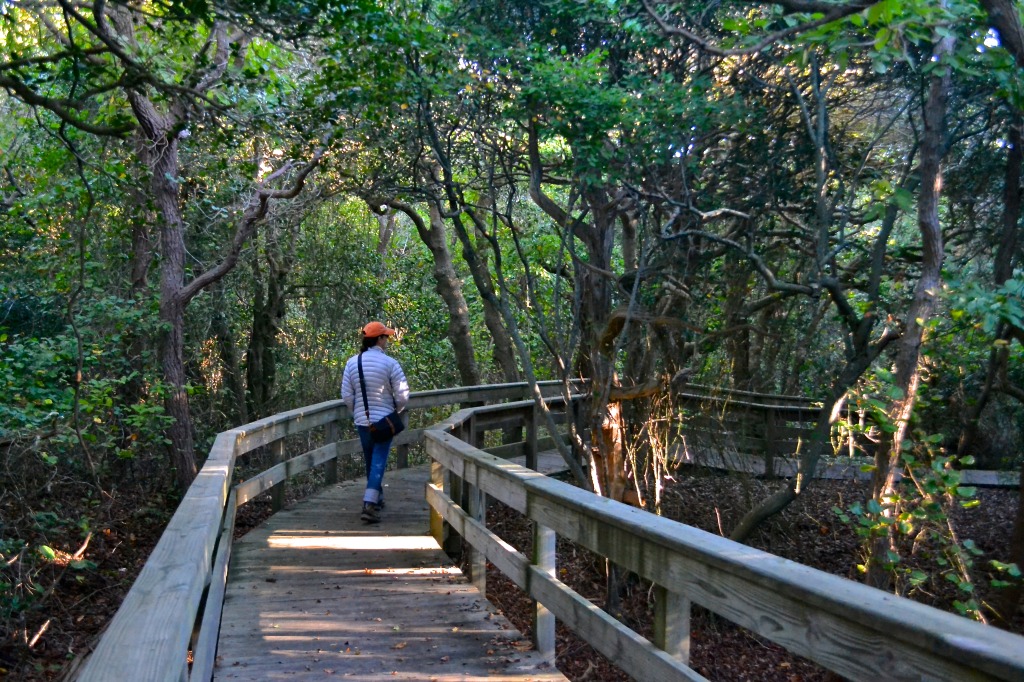 Private citizens first spearheaded the campaign to preserve this tract of land in the 1950's and the 50 acres of beach, dune and forest was eventually pieces together as a sanctuary. The rare ecological system of the Sunken Forest was preserved as part of the Fire Island National Seashore in 1966 under the conditions that it remain in it's natural state and no road be built through the land. If you are in the area, the habitat can be visited when the ferries are running to the part of the Island known as Sailors Haven, by water taxi, or it is accessible by walking from other surrounding towns.
Any regular readers of Green With Renvy are well aware of the sense of empowerment I feel when near the water. I'm not alone with that special relationship. Grab a cup of coffee and enjoy three young city dwellers from NYC in a Poetry Slam. They discover just how inspiring a change from their normal frenetic urban life can be when they visit the Fire Island National Seashore.  It's hard to believe, that just a short subway ride away from the hustle and bustle of Manhattan, acres of coastal wilderness can inspire these poets to look inward and share what their personal experience with natural beauty means.

The National Park Service is made up of 401 areas representing 84 million acres in every one of the United States. Many are located close to urban metropolitan centers and can provide a needed sense of calm. The National Parks belong to all of us, visit them often and appreciate what they can do for your spirit.  As Sergio so succinctly declares in the video "nature is part of the family that you have to visit now and again". It's a visit that can do wonders for a person's psyche.
*On another note, a gigantic thank you all so much for the positive feedback regarding my Good bye to Fire Island post. It is so rewarding to receive encouragement from readers and fellow bloggers for work that is so meaningful for me.
 This post is part of the
Travel Photo Monday 
series. Have a look at some of the other great destination reads you'll find there.