Camana Bay Flavour Tour
GCM
As a travel writer, every once and a while an unexpected email arrives out of the blue to make my day. Such was the case as I recently toiled away in the Florida heat trying to organize my endless library of  photos. Dear Alison, ….Would you be available to join us in Grand Cayman to celebrate Slow Food Day next month?… So much for feeling sorry for myself; I'd be dishonest not to admit I did a happy dance.  My taxes were done on time (good motivation), and off I went from the sad, grey skies of New England spring into a sparkling piece of sunny paradise called the Caribbean. One of the many festivities for the visiting travel writers during our stay was the Camana Bay  Flavor Tour, also available weekly on Wednesday evenings to anyone visiting the island. I'm a big believer in food tours, especially if you are visiting a destination for a short period of time. Not only do they give you a great overview and introduce you to new tastes, if you are traveling alone as I often am, it's a great way to have a meal in a foreign place with a group of like minded people. A little trick of the trade if you're not a big fan of dining alone.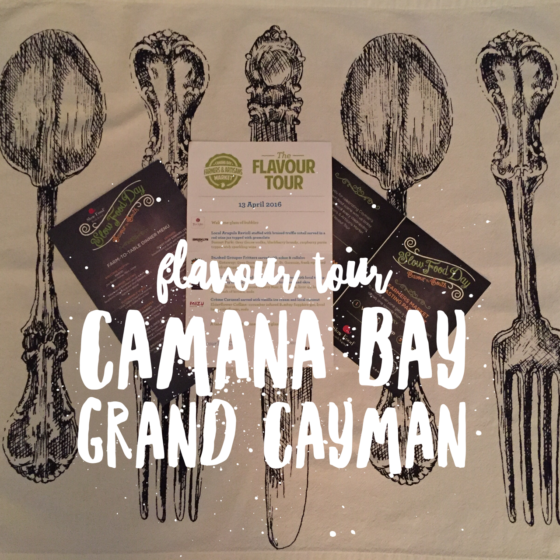 There's no denying that culinary travel has had enormous growth in recent years. A recent study found that over 95% of Americans are looking for a unique food experience when they travel. Dear readers, let me present the Camana Bay Flavor Tour. Located in the town's vibrant center and taking advantage of the water views from many directions, the restaurants are all centrally located within easy walking distance of one and other. Remarkable engineering of the architecture insures the breeze off the water keeps the area cool and comfortable.
This particular tour was like a progressive dinner. We had the chance to sample courses from four different restaurants, and each course was accompanied by a special cocktail.  The tour began at the West Indies Wine Company with a complimentary glass of bubbly. Nothing better to get you into the spirit than a bit of champs right! Located right in the center of all the action at Camana Bay, the wine bar features over 80 different wines from which to choose. Using a high tech, futuristic  dispensing system called the Wine Station, visitors pay for a Smart card and can choose the size of the pour and taste a "perfectly served glass" every time. If you're a wine lover like me, it's a novel way to taste many different varieties during an evening. I'm sure we will see many more of this type of wine store/bar experience in the future.
Our first food stop was The Brooklyn, a restaurant that brings a bit of NY to the island. A chic, industrial interior features a pizza oven and family friendly space. The featured dish was a ravioli made with local spicy arugula and stuffed with braised truffle oxtail served in a red wine jus topped with gremolata. I was tempted, but since it was meat based,  the staff was gracious enough to accommodate my last minute vegetarian request with a caprese salad. I was more than happy to have this as a starter after tasting island tomatoes earlier in the day. You know that delicious summer taste so hard for New Englanders to find out of season? Call it found, here in Grand Cayman, with a capital F. A Sunset Park was the perfect cocktail as the sun began to set off in the distance.
The next stop, Ortanique, was my favorite. Smoked local grouper fritters served with ackee and callaloo. Aside from the fact the dish was scrumptious, it featured two local ingredients that were new to my palate. Callaloo is a leafy green, similar to spinach/watercress that grows prolifically in the Caribbean and is a rich source of vitamins and minerals. Ackee is actually the national fruit of Jamaica and found throughout this area of the Caribbean. In it's raw state it is visually quite beautiful and  unlike any fruit I have ever had in both look and taste. Preparation is key, as the fruit has toxic qualities raw or when not cooked properly. When eaten solo, it has the consistency that I could compare to scrambled eggs, with a kick. For the dish preparation, it was a perfect match with the grouper, mild enough to let the fish shine, leaving you wondering what the other ingredient was. I love anything with a smokey flavor, and although I tried to squeeze the recipe from the chef, to date he was keeping the secret under wraps. This spot is a lovely one for drinks and bar bites, as they have an Al Fresco outdoor space right on the water. Combined with the Getaway (sexy Steve McQueen and Ali McGraw come to mind in this romantic setting and any cocktail made with St. Germain is a winner in my book) I was truly getting into the island vibe.
Chef Will O'Hara of Abacus was a delight to meet. He is passionate about eating local and sustainability, so I was looking forward to eating his food. The roasted vegetables (baby carrots, cherry tomatoes, okra and tamarind) served with local turnip purée were cooked just the way I liked them. (carnivores in the group had local tamarind glazed pork tenderloin). Of course there was the accompanying cocktail-A Cherry Burst, a heady mix of Grey Goose Cherry Noir, local lime, mint and other ingredients.
Mizu, is an Asian fusion powerhouse, and the go to spot in Camana Bay for sushi. Tonight however, they delighted with dessert. If you've been following Green With Renvy, you know I am a sucker for Créme Caramel. Add in vanilla ice creme with toasted island coconut and you have a happy camper. Those crunchy coconut bits added such an island flavor to the dish.  An Elderflower Collins combing cucumber and the fragrant liqueur presented the perfect end to the Camana Bay Flavour Tour.
And just in case you thought it was all fun and games for a food writer… No matter how good the food looks when it's set down on the table, or how hungry you are-first things first, the entire group has to take photos from many different angles to get the right shot, 'cause this is how bloggers roll. Most likely it's cold by the time you eat, unless you are mildly aggressive. The good part of getting to eat with us is all the great food presented. The down side is a bit of annoying homework that needs to take place during the process.
Oh, but wait, just in case you might need a night cap, you can make a last stop back at the West Indies Wine Company to finish off what I would call a perfect night of sampling the tastes of Grand Cayman. Could there be a better way to insure sweet dreams imagining the tastes the next day would provide as we Savored the South for Slow Food Day?
The 411 on Camana Bay Flavour Tour
The Flavor Tour – 5 stops + 5 Tastes $89/person (including tips)
Menu changes weekly and is seasonal.
Wednesdays 7-9pm
Camana Bay, Georgetown, Grand Cayman
If you are traveling to Grand Cayman in the future, i'd highly suggest taking in one of the Camana Bay Flavour Tours. It will give you a fun overview of what the restaurants have to offer in a brilliant, comfortable location.
Pin Me to your favorite Culinary Travel or Caribbean Board
I'm so curious about how everyone heads down the culinary trail. Was Anthony Bourdain (one of my guilty pleasures) responsible in all those exotic locales, some glossy magazine with beautifully styled photos, or perhaps Andrew Zimmerm eating bugs in the Philippines. Maybe even Mom's great cooking at home. Please fill me in on how your foodie interest began…