Aromatic Soup Mohingha in Myanmar
Fish soup for breakfast? It took me three days before I could muster up the courage to try the traditional mohingha in Myanmar. The Burmese word means soup snack. Those who know me are well aware of my weak stomach, but how could I travel half way around the world and not give the national morning staple a try. The aromatic soup is  usually served at breakfast, but can also be found throughout the day at tea houses, restaurants and street vendors.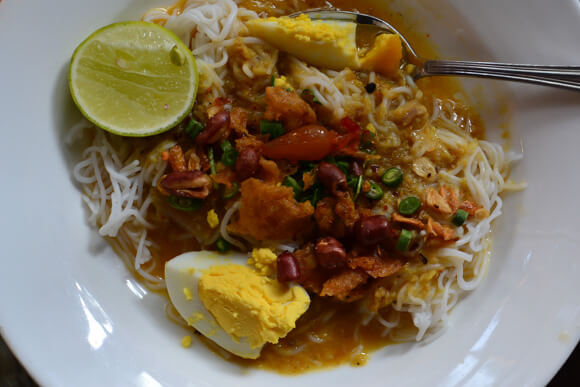 The broth itself is quite flavorful with a sight taste of fish and delicious aromas of lemongrass. What I like most was the opportunity to add in the condiments. Peanuts, hard boiled eggs, cilantro, various chilis and a squeeze of lime.
Ingredients for making mohingha in Myanmar are purchased fresh daily from one of the many markets. I highly recommend getting to one in each city you visit in this country. A floating market is unlike any other! There is so much eye candy, my head swims just going through my photos.
While I'm always on the hunt for artisan souvenirs to bring home, there's nothing I like better than a good recipe that allows my taste buds to transport me back to a country. The chef at our hotel in Yangon was gracious enough to share his recipe with me.  I have adapted it slightly for Western ingredients.
Mohingha in Myanmar Ingredients -serves 4-6
½ cup peanut oil
1 tsp turmeric powder
½ red onion, finely sliced
1 stalk lemongrass, white part only, finely sliced
2″  piece of ginger, finely sliced
2 cloves garlic, finely sliced
2 tsp shrimp paste
1 tsp sweet paprika
3 tbsp cooked, crushed chickpeas
1/3 c. toasted rice powder
4 tbsp fish sauce
2 red Asian shallots, peeled
2 hardboiled eggs, sliced
1/2 c. sliced white part of leek
2 1/2 c. cooked vermicelli noodles
4 sprigs of cilantro, to garnish
4 green beans, finely sliced
pinch of dried chilli flakes
Broth for Mohingha in Myanmar
1 whole catfish or other meaty white fish, cleaned
1 lemongrass stalk, bruised
2 gloves garlic, crushed
1 tsp turmeric powder
8 c. cold water
Chili Paste
3 lemongrass stalks, white part only, finely sliced
4 whole dried chilies
4 red Asian shallots, diced
4 garlic cloves, diced
2″ ginger, finely sliced
Don't Forget Condiments for Mohingha in Myanmar
Toasted peanuts + chopped cilantro + hard cooked eggs + chili flakes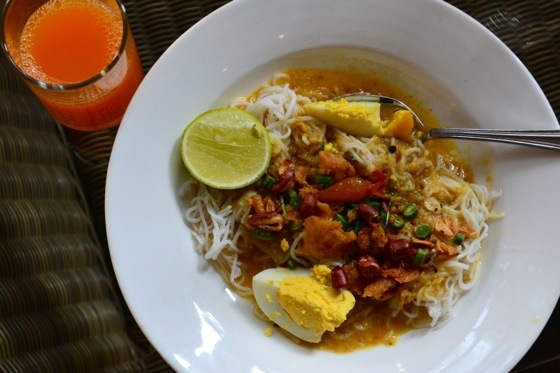 Instructions for Mohingha in Myanmar
To make the broth, add the catfish, lemongrass, garlic, turmeric and water to a large saucepan or stockpot. Bring to the boil over high heat and skim out any foam that rise to the surface. Reduce heat to low and simmer for 20 minutes. Strain the broth then remove the fish meat from the bones. Set aside and reserve the broth.
Meanwhile, to make the paste, in a mortar and pestle, pound the lemongrass, chillies, red shallots, garlic and ginger to a nice paste. Set aside.
Heat the peanut oil in a saucepan over low-medium heat and add the turmeric. Next, add the chilli paste. Add the red onion, lemongrass, ginger and garlic. Cook for 5-6 minutes. Add the flaked fish and coat in the paste. Sauté over low-medium heat for 20 minutes. Add the shrimp paste and paprika. Continue to cook, over low heat, for a further 5 minutes to combine flavors.
Return the broth to the stockpot, place over medium heat. Add the crushed chickpeas, rice powder, fish sauce and flaked fish mixture. Season with salt and black pepper. Reduce heat simmer for 30 minutes. Add the red shallots and leeks.
Divide the vermicelli noodles among 4 bowls. Pour the broth over the noodles. Garnish with cilantro, beans, toasted peanuts and chilli flakes to serve. Squeeze in lime just before eating.
A Footnote about Responsible Travel:
There is much discussion in the travel industry about the ethical cost of traveling to a country where violations against human rights occur on a regular basis. I caution visitors to take a deep breath and consider the ramifications of not visiting. More often than not, tourism is vital to the local economy, especially amongst the poorer citizens with little or no power in the system. Creating new jobs in hospitality, and related industries helps to alleviate poverty. The potential to create employment in the infrastructure of the business of accommodating tourists is immense.
Responsible travel and community based tourism can provide an opportunity for meaningful dialogue and increased pride in local culture. In Myanmar, you might find people hesitate to talk about politics where they can be overheard. I found most people were comfortable having conversations in a private setting.
Staying at guest houses, buying artisan made souvenirs and hiring local guides at the many historical sites can put money directly into the hands of the people who are most in need. Immersive tourism allows the visitor to become an ambassador for the country. Boycotting tourism in Myanmar or any nation for that matter, removes the focus from the issues we want to keep in the spotlight. When you return from your journey, you can spark a conversation with others and share experiences to open a dialogue.
All I ask is when you are thinking about tasting mohingha in Myanmar (rather than making it at home) you vet the organization you are traveling with. Ask questions until you are comfortable.  Know where your dollars are going. If you have additional thoughts, feel free to get in touch. I'd be happy to share any information or help you look thru the moral lens of a itinerary you are considering. In the end, Ethical Travel is all about maximizing your visit to keep the local community sustainable. It is my belief that traveling with that in mind will bring about positive change in the environment, fair trade and human rights.
You Might Also Enjoy Reading:
Pin Me ♥ Mohingha in Myanmar
Pin Me Too ♥