Prouts Neck Cliff Walk and the Black Point Inn
Looking for old world charm, privacy and one of the loveliest, bold, peninsula coastlines in Maine? A trip to the Proust Neck Cliff Walk and Black Point Inn should be on your summer vacation agenda. New England has her pretty on in the summer, and this little piece of Maine is about as good looking as it gets. Established in the late 19th century for summer cottages, it's no wonder this breezy oceanfront spot jutting into Saco Bay remains a favorite seasonal getaway.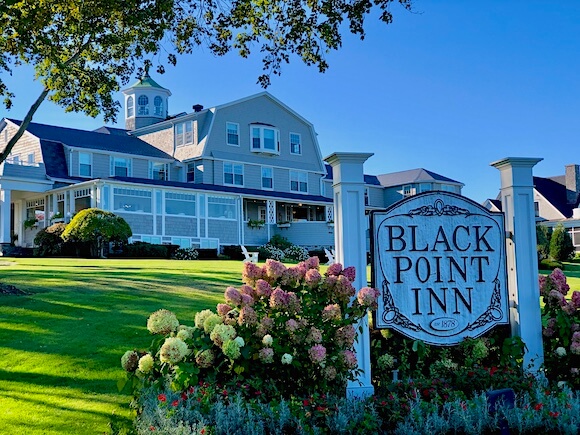 Winslow Homer found the area particularly inspiring and worked in his painting studio on the Prouts Neck point from 1883 until his death in 1920. The sunsets, the herring run, the fog, the schooners, he captured them all, along with the dramatic changes of weather and light, in his remarkable style on canvas.
There's no better way to get a glimpse of the coastline that so captivated Homer, than a stay at the Black Point Inn. Along with a relaxing and luxurious getaway, comes the beauty of the Cliff Walk at Prouts Neck. Maine is known for many scenic peninsulas, when combined with the down to earth hospitality of the staff, travelers will be hard pressed to find a better spot to experience quintessential, coastal Maine.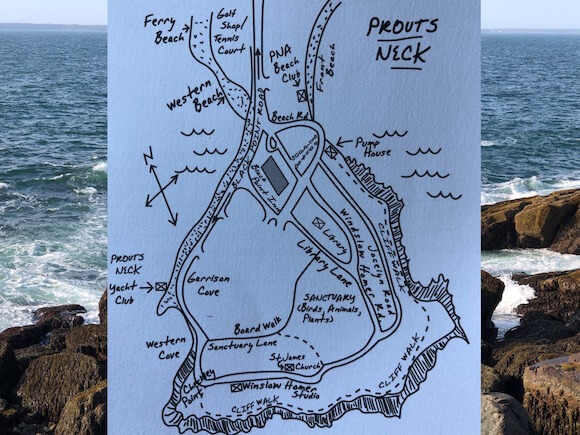 Location of Black Point Inn and Prouts Neck Cliff Walk
In days gone by, Portland was a no more than a six mile ride by horse and buggy. Now the urban sprawl has brought the city even closer and made the escape in Scarborough that much sweeter. The change of scenery from one to the other is pure magic. As the crow flys, Old Orchard Beach can be found two miles south across the Gulf of Maine.
From Boston, guests can reach the Black Point Inn and  Prouts Neck Cliff walk in just under a two hour drive. Stop in Portland for lunch and a stroll along the waterfront beforehand. The drive up Black Point Road will get you there just in time for check in and a late afternoon stroll on the cliff walk. Nobody will be any the wiser if you just choose to perch on the flat rocks and enjoy the ocean view.
The property, built in 1878,  is isolated from commerce, a characteristic which makes it ever so charming. There are plenty of spots to explore nearby. Prouts Neck Sanctuary, Scarborough Beach State Park and Ferry Beach Park are all close by. Consider bringing any snacks or picnic makings with you or picking them up in Portland.
♥

I'm Swooning For This Trifecta of Details:
Fireplace dining
well-loved new England gardens fireplace dining
Views from the indoor widows walk atop the property
Words to Set the Scene at The Black Point Inn and Prouts Neck Cliff Walk:
Raw outdoor beauty,
Local history and subdued elegance
Comfortable charm.
3 Reasons to Visit:
If you like to stay in a property with a real sense of place and old world luxury
If you're part of a couple who likes to swoon over cocktails by the fireplace and watch dreamy sunsets
If you are a family seeking a private escape with plenty of outdoor space and a variety of activities to suit everyone
Rooms at the Black Point Inn
With ocean views on three sides of her 25 guest rooms and suites, the perfect location provides the ultimate "room with a view". Built in 1878, this quintessential oceanfront hotel offers an experience that can only be called divine. Traditional design and tranquil sanctuaries meet all guest needs in both comfort and time-honored style.
It's easy to see why the property regularly receives high reviews on Trip Advisor. Choose from a selection of nautically crowned rooms. Captain's, Admiral' and Commodore Chamber rooms offer a wide variety of configurations and views. Bathrooms are all modern with any amenities you might need. Staterooms and Spinnaker Suites are larger and offer water views. They also offer a first-floor accessible guest room with two queen beds.
The Inn's all weather sun porch is stocked with games and books inviting guests to relax and sit a spell. The inviting atmosphere is a special light filled place to read the newspaper and take morning coffee.
Amenities:
Upon arrival there is optional valet parking and a large lot on the property. Guests will want to take advantage of the concierge service. Knowledgeable staff know the area well and can offer plenty of suggestions for activities. Free high speed wifi is available throughout.
Visitors looking for athletic endeavors can take advantage of the legendary Prouts Neck Cliff Walk. This 1.75 mile trek winds around the scenic cliffs of the coastline for magnificent views. Make sure to bring appropriate footwear. While the path is not too steep, the rocks can be slippery when wet. In addition, there are bikes and kayaks available to use during your stay and yoga classes on the lawn. Bird and nature sanctuaries are nearby for exploring.
Beach lovers will marvel at the two sandy beaches, unusual for the Maine coastline. With a mile and a half on each side of the property, there is plenty of space to spread out. Towels are available outside at the geothermally heated swimming pool. An 18 hole golf course and tennis are available for an additional charge (make sure to arrange in advance). At least one picnic is mandatory!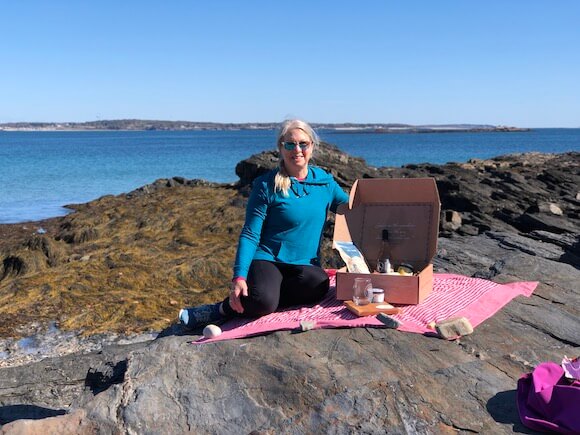 Afternoon tea is served in the cozy library. My husband was thrilled to take a turn at the room's baby grand piano, even more so when one of the guests asked if he was the evening's entertainment.
In the morning, a newspaper is delivered to your door. The porch area is a wonderful place to enjoy it along with complimentary coffee, tea and pastries. Guests will also find laundry, dry cleaning and an in-room massage available for an extra charge.
On Site Food + Drink: The Chart Room
Good news for those who enjoy staying at a property with on-site dining. The Chart Room offers the perfect setting for sunset cocktails, fireside dining and a delicious menu. Order a seabreeze and your cocktail will often match the color of the sky.
Along with some fun and flavorful Temperance mocktails, guests will enjoy a full bar and selection of specialty cocktails. Cricket Cooler or Coastal Flower anyone? Beer lovers can choose from a great selection of local draught beers, cans and bottles.
After a hike around Prouts Neck on the Cliff Walk, guests can sit down to a locally sourced meal.The Black Point Inn's Gulf of Maine responsibly harvested seafood is a featured highlight of the menu. Look for Bangs Island mussels, Maine crab, lobster, and of course a catch of the day.
The lunch menu is less formal and includes the usual suspects for dining by the ocean. Find salads full of local greens, Maine crab cakes, a cheese plate with local specialties and a top notch version of the ubiquitous Maine lobster roll. Sandwiches and burgers round out the menu.
Insiders Note: The hotel is a frequent wedding destination. Make sure to check that the restaurant is not closed for a private event during your stay.
Things to do Nearby The Black Point Inn
Hike the Prouts Neck Cliff Walk
Beaches-choose from two on each side of the hotel property
Visit the Winslow Homer House through the Portland Museum of Art
Play golf or tennis  at the Prouts Neck Country Club
Spend the Day in Portland
Visit the Prouts Neck Bird Sanctuary
Kayak in the Scarborough River
Visit the Two Lights State Park on Cape Elizabeth
Relax!!
Sustainability Quotient:
The Black Point Inn is a Certified Environmental Leader in Hospitality with the Maine Department of Environmental Protection. Their certification is based on many initiatives which you can read more about here.
As a property in the Migis Hotel Group guests will find The Black Point Inn embodies the meaning behind the Migis name-a place to steal away to rest. Walking through the front doors, one immediately feels the sense of relaxation and hospitality Migis is known for.
Black Point Inn
510 Black Point Rd, Scarborough, ME 04074
Wait – For More Exploring in Maine:
Enjoy a Midcoast Maine Weekend Getaway
Take a Windjammer Ecotourism Cruise 
Save For Later ♥ Pin Me Prouts Neck Cliff Walk and The Black Point Inn