The Arts in Cuba
HAV
Havana, Cuba's capital, is currently one of the world's most sought after time capsules. My recent trip to experience the arts in Cuba had me truly appreciating that I was there at a moment in time that could be gone in the blink of an eye. As a visitor, I almost felt like I was observing a mirage of colonial architecture; faded color, lively rhythm and long lost glamour were all coated with a layer of rust and so much more. This was evident everywhere but the arts. The Arts are  a section of Cuban culture that is bursting at the seams. Is it sustainable? Time will tell.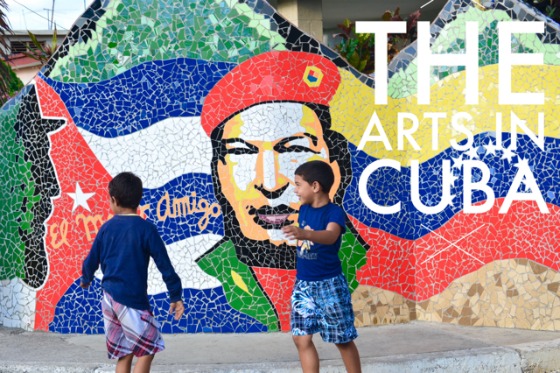 Historically, the art scene has thrived in Cuba, despite a repressive government. The country has 14 art schools and 13,000 registered artists with support from the government. Some felt it necessary to leave the island, but those who stayed found community. Many produced government sponsored art and supported the socialist revolution. It was not until the 1980s when the political dialogue changed that artists would return to making works that had no pressure from state influence. Some might question whether "sponsored" art can be truly expressed without censorship, but I found this new generation of Cubans creating pieces that were not filled with angst or angry art, it was beautifully expressive.
My first taste of the scene was a private dance performance right off the flight from Miami. Contemporary dance in Cuba has achieved a great deal in its short history and is making an important and uniquely Cuban contribution to the world of movement. The Retazos Dance Company, housed in Old Havana, is one of the most respected companies in Latin America. The performance was fresh, at times dark,  and incorporated the primitive setting and dancers right into the creation. Each piece was choreographed by Isabel Bustos and was more powerful than the last. Identity, searching, self. Everyone in the small theatre was awestruck and several moved to tears.
Before traveling to Cuba, I watched the documentary Unfinished Spaces, and would highly recommend it to anyone interested in the arts. This is the story of Cuba's ambitious National Art School project, designed in the wake of Castro's Revolution by three visionary young architects.
"Cuba will count as having the most beautiful academy of arts in the world." —Fidel Castro (1961)
The school is started with great progress, then neglected and left to ruin when the project's funds are exhausted. The ISA is ultimately rediscovered 40 years later and now houses incredible studio space for some of Cuba's brightest young artists. Much of it is in a state of ruin and decay, but the active parts shine with light that would make any creative soar. Because the American government defines works of art as cultural assets, citizens can now buy artwork as long as it has not been commissioned. Collectors have taken advantage of the recent loosening of restrictions and works by Cuban artists can fetch tens of thousands of dollars.
The plates they have in stock for lithographs is one of the largest in an educational institution. I was completely smitten with the cigar box examples.
One of the true joys of the trip was the chance to look into the real life and culture of the country. A visit to the community project of artist Jose Rodriquez Fuster was just such an event. The fishing community of Jaimanitas, just outside Havana, has been turned into a mosaic wonderland of public art, much of it using recycled materials. Over 80 houses have been transformed with colorful, ornate murals by Fuster and the people of the area. Cuba's most celebrated ceramic artist is warmly regarded as the Picasso of the Caribbean.
Visiting this outdoor ceramic fantasyland, begun over 30 years ago, was made even more poignant because mosaic artist Isaiah Zagar was traveling with us. He is well known for the Magic Gardens of Philadelphia. Seeing two simpatico souls reconnect was emotional. Isaiah drew one of his fabulous sketches of Jose and we watched them take in each others creativity and have a moment in time.
Art curator Milagros Borges held a private dinner reception for the group to view her collection of well established and up and coming Cuban artists. Some of the work was massive and her loyal following reinforces the strong market there is for the country's artists.
In addition we were able to attend art openings and mingle with the warm and friendly Cubans who had the same interest in art that we brought to the events.
Further proof of the strong market is the Havana Biennial. Initiated in 1984, the Biennial is a cultural journey of arts and performances around every corner in Old Havana. Art galleries, live performances and artists lead the way to discovery of the capital's landmarks and artwork.  The value of Cuban artwork abroad is sure to only expand with loosened restrictions. I am curious to see whether there will be an invasion of art collectors looking to discover new "stars".  Is it the land of forbidden fruit, which will change once Americans can travel there freely? Certainly once the internet arrives it will have an effect on availability and perhaps the vision of artists.
Wilfredo Lam, one of Cuba's best known artists recently had a Boston exhibition. The international market has recognized his work with a sale at Sotheby's for $4.6 million dollars for the piece Idol.  Will Smith recently invested $45,000 in the Coca Cola Galiano poster from the 50's.
Never before have Cuba's artists been more accessible for Americans to make connections. I, for one, predict a bright future after being welcomed by the people and finding the wonderful sensory overload that is today's Cuba.