The Best Hotel Barge Cruise in Southern France
Cruises are among the most popular form of travel for baby boomers; it's no surprise that a hotel barge cruise would rank high with those who have had the pleasure of this type of travel. Quite different from river, small explorer ships or even sailing cruises, guests will find this boat a luxurious mode of slow travel.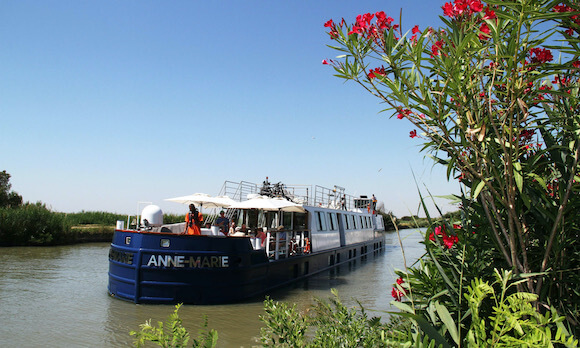 Typically, the itinerary does not cover a long distance, instead offering a great way to explore small rivers and canals along the backroads and charming authentic towns in France.
Historically, these barges were used during the Middle Ages to carry cargo along many of the man made canals in France. During the 18th century, the boats were moved with huge ropes and muscle power. Later, horses, donkeys and mules were put to work. Today, a wide variety have been converted into luxury floating hotels with chic amenities and on board gourmet dining. Modern vessels have also been built to replicate the traditional style. What's more, there is a wide selection of hotel barges depending on your tastes and budget. 
I fell hard for small ship cruising a few years ago when I traveled to Alaska aboard the MV Westward. Who knew as I made my way through the Inside Passage that this would become one of my favorite means of travel when visiting a new destination? Of course this type of floating hotel doesn't work everywhere, but since I am most at home and happiest on the water, I'll choose responsible small ship cruising any opportunity I can get!
What you Need to know about a Hotel Barge Cruise
Travelers might be familiar with river cruises along the Seine and Danube, I had previously cruised the Rhine from Basel to Amsterdam and loved the experience. When offered the chance to visit the lock free Rhone-Sete canal with France Cruises, I jumped at the chance to experience another type of floating boutique hotel. 
As a first timer myself, I want to share why I fell so in love with this type of cruising. First of all-there is the obvious-unpack your suitcase once and see the ports go by. After years of multi city travel, packing and repacking gets old pretty quickly. That concept applies to every cruise.  Let me tell you why this was special.
The 411 on a Boutique Hotel Barge Boat
France Cruises offers a selection of over fifty vessels, many with itineraries along the lesser known rivers of France. All come complete with a captain, crew and professional chef and all are equipped to meet the needs of modern travelers. 
The passengers on our hotel barge cruise came from all walks of life. We introduced ourselves over a welcome cocktail in the salon. Aside from an expat living in Paris, we were the only Americans on board. No worries, I loved practicing my broken French and almost everyone else wanted to try out their English.
There were couples, friends, mother/daughter teams, and us-two girlfriends who have been traveling together since college. Ages ranged from 40 to 80, passengers had a wide variety of physical mobility. On this trip we found an interesting, international group with a common interest. A love of travel and learning about other cultures is a great equalizer, no matter your age or political preference. 
Selecting A Hotel Barge Cruise
Having already visited Paris and the immediate surrounds, I was eager to explore more of France's cultural riches in the south. The itinerary I selected toured a part of France totally unfamiliar to me.  This route would place the tour in the center of medieval villages, the waters close to the Mediterranean and acres of vineyards and olive groves. 
Who would argue that the charms of southern France and the surrounding countryside aren't a good idea any time of year? As the headquarters for rosé, the region had a few other things going for it as well.
Are you ready to board the Anne Marie with me? 
The Boat
Measuring in at 128 ft long and 17 feet wide, the Anne Marie is a 22 passenger barge complete with five crew members. Named after a granddaughter of the family owners, Anne Maries' portrait hangs in the dining room. Built in 2014 the vessel comes complete with air conditioning and central heating, each room is individually controlled.
There are 3 decks:
A spacious top deck with lounge chairs and small umbrellas
The main deck with lounge, dining room, outside patio, barbecue and jacuzzi
The lower deck where the individual cabins are located
Bicycles are on board for the guests and there is wifi, but on our route, often spotty coverage.
Stateroom
All staterooms are en suite and come with twin beds. There were two windows in our room resting a few inches above the waterline that let in plenty of sunshine during the day. 
When I first entered with luggage, my girlfriend and I looked at each other and rolled our eyes. We had concerns about making the 110 sq ft space work for the two of us while at the same time remaining friends. After unpacking however, we found a very efficient space loaded with compartments for storage and a safe for valuables. While I spent some time in the room working, you are basically in your room to sleep, shower and change. It's important for your suitcase to fit under the bed-so don't overpack and make sure to read my post about Packing Hacks for Your best Hotel Barge Experience coming soon.
Common Areas on a Hotel Barge Cruise
Dining Room
The dining room was a light filled space lined with windows on both sides. White linen cloths gave it a formal feel, but the delightful crew insured it never felt stuffy. Three meals a day were served in the space. Breakfast was the more casual meal with a buffet and cooked to order options.
Salon
At the rear of the barge, guests found a welcoming space in the salon. Lined with comfortable, neutral colored couches and accented with shades of rose and mocha, this space was the perfect spot for reading, sipping a late afternoon cup of tea and catching up on the days events with new friends on board.
Francois, our host, created a signature cocktail daily in the corner bar area while sharing stories of his life on the river. There was a convivial atmosphere that became quite lively after dinner. Outside the sliding glass doors, cafe tables beckoned and the inviting jacuzzi bubbled whenever a guest wanted to indulge. With so many different spaces for relaxation, the boat felt very private and intimate.
Itinerary
The tour began in Sete and motored along a section of the lower Rhine where there are none of the locks for which other canals are known. Covering a unique eco-system of unspoiled geography, we would visit Unesco towns, medieval villages and the most important wetlands in the south of France. Six days later, we would end the hotel barge cruise in Arles, a charming town famous for Van Gogh and his magical sunflowers. 
Sete is a coastal town, often referred to as France's very own Venice. Before leaving this seaport, the group took an excursion to explore the maritime charm of the town and then venture into nearby Etang de Thau. Shellfish lovers will delight in the tastes there. After learning about the area's unique and sustainable method of oyster farming, I was thrilled to see an additional creative exhibit about the dangers of plastic pollution in their local museum. The location, along side a coastal environment and beautiful walk by the sea really underscored the message.  
Étang de Thau is a highlight of the area. Clearly with such a strong focus on the environment, its residents want to keep it that way. Oyster tasting was the main event and the flavors of Bouziegues oysters did not disappoint. I also tasted my very first raw mussel. It was hands down my favorite new discovery of the day. 
Fresh moules marinières, also a specialty, was accompanied by a rosé, which soon became a favorite. Keep in mind, all of this eating took place while gazing out over the expanse of this large inland lagoon.  I wasn't too sure about seafood in the raw before the clock struck noon.  Au contraire, the practice in this setting could become habit forming.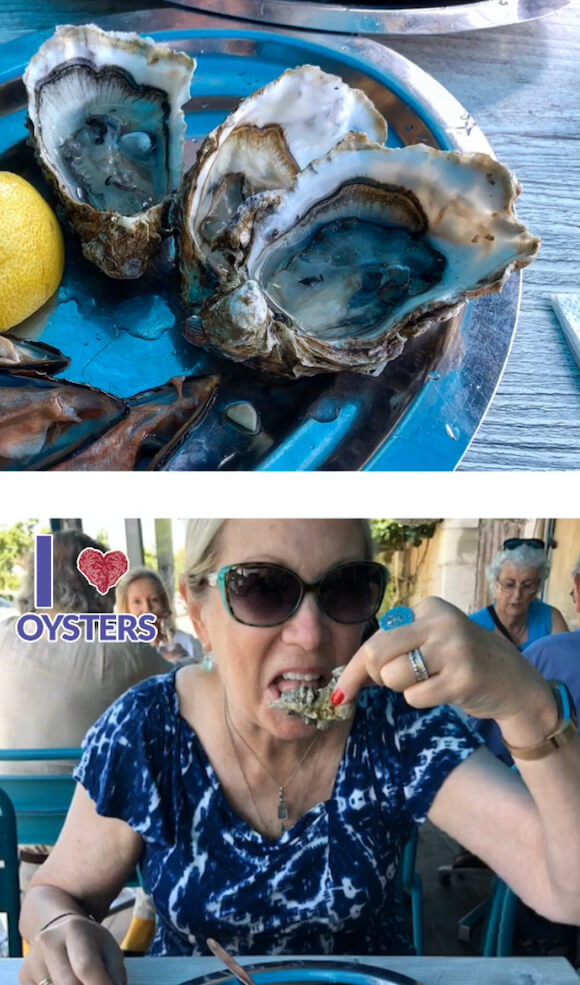 The landscape changes daily, sometimes even hourly.  Bougainvillea, umbrella pines, vast green grasses and treasures of the Camargue-dotted with wild horses and herons gliding over the grasses. The most important wetland in France is home to over 350 species of birds and loaded with wildlife. The Petit Rhone branch of the river leaves its larger namesake in Arles in an area home to Europe's largest river delta.
Excursions on a Barge River Cruise
One of the features running through barge cruise itineraries is the afternoon excursions. I loved the fact that guests didn't have to rush in the morning, could sleep in if they wanted or just enjoy a cup of coffee and the morning air on the upper deck as the countryside passed by. To make sure I didn't miss any off shore activities, I got up at sunrise to indulge in the jacuzzi. Of course, all excursions are optional, but who would want to miss any of the sights offered in this beautiful area of France?
Heading into Aigues-Mortes, just a hop, skip and a jump from the Mediterranean, the barge is close to   beautiful sandy beaches of the Mediterranean. Aside from the pink hued salt marshes, the town features the fortified crusader village founded in 1242 by French king Saint Louis. Clearly, this area of France is a region blessed by the gods. Visitors will find a luxurious pace and elegant, yet simple lifestyle.
Food and Drink Aboard a French Barge Cruise
With a focus on gourmet dining, regional dishes take center stage. Your onboard chef will often interpret traditional recipes from the surrounding locale of your cruise. All meals are included from the first evening to the final breakfast. The trip also includes onboard drinks and copious amounts of excellent wine. (There is an extra charge for premium alcohol.)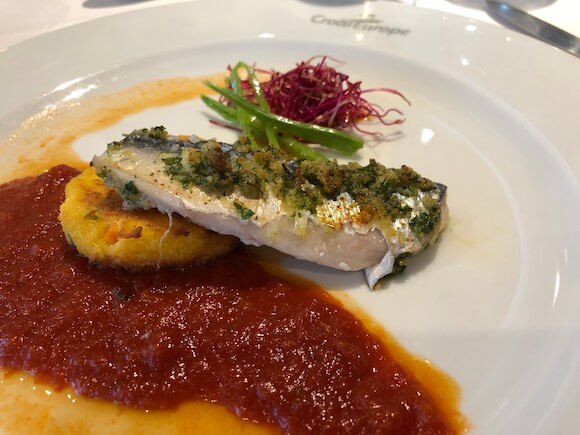 A feast for the senses awaits aboard the Anne Marie. Served in a semi-formal white tablecloth dining room, the chef offers individualized attention from the start. One of the hardest things for me personally  to adjust to on a cruise is the sheer amount of food being served. While it took about 24 hours for everyone on staff to understand the concept of "small portions", my other meal requirements were taken seriously from the start. Fish was offered often for the non-meat eaters and creative vegetarian dishes also appeared nightly. Our talented chef Pierre was very patient with the many specific requests.
I had mackerel, monkfish and grilled red rock, carpaccio of luscious tomatoes and beets, tiramisu, peaches, tarts and sorbet in every color of the rainbow. All were delicious, but the cheese selection was a highlight. Different offerings were served nightly, one more tasty than the next. Each came with origin information, background and history of the tasty fromage.  
Local Ingredients
Who knew that the truncated shape of the creamy Valençay, from the province of Berry, took form after Napoleon returned from battle and decided he was not to be reminded of the shape of Egypt's pyramids. Off with the tip!  Our host Francois,  seemed to particularly enjoy sharing that tidbit of French trivia and honestly, I could have licked the plate!
We were exposed to local ingredients, preparation methods and of course local wines. I was partial to the rosé after Day 2, so must admit I didn't stretch my taste buds as far as I could have. However, when certain bottles appeared there were many oohs and ahhhs. When given the high sign from fellow passengers, I did indulge.  Ooh La La means the same in any language. 
The Pleasures of Southern France
Along the route it was exciting to discover the charms of southern France. Each day there was a new historic destination to explore. Some were Unesco World Heritage sites, some important cultural pockets many never get the chance to see. All were fascinating and gave further insight into a country that often is judged by the city of Paris alone. Regional cuisine, local vineyards, olive groves and French cowboy culture. It was a remarkable cross section of the road (canal) less traveled at a pace I could stand to use a bit more of. 
We loved discovering Saint-Guilhem-le Désert, thought by many to be one of the most beautiful villages in France. The seaside town of Saint-Marie-la Mer exposed my penchant for climbing high buildings to view the surrounding area (not so smart when its across a slippery rooftop of slate shingles). I wanted to park myself in the Camargue for days to explore more of its historical importance.
Slow Travel on a Barge Cruise
The pace of the hotel barge cruise is slow. Often you don't even know you are moving. Bikes onboard allow for riding alongside the boat and working off a small percentage of the calories you've enjoyed.
The evening might provide time for an onshore game of pétanque with the crew, bringing out your travel mate's competitive streak. Unique cocktails and sharing stories during sunset with fellow passengers are de rigueur. All mix together for a very unique and enjoyable experience.
In a world where travel brings more than 35,000,000 tourists to the area around Paris every year, overtourism is real! A hotel barge cruise is the perfect way to share your love of France by visiting some of the lesser known areas. You'll quickly find there is plenty of French wine, cheese and culture to go around.
Travel is all about creating memories. A hotel barge cruise will fit the bill for anyone looking to explore backroads, charming historic towns and gourmet local cuisine. Because of the small size, it's realistic to think you could rent the entire boat for a girlfriends' getaway, family reunion or even a small wedding. France isn't the only place the company offers hotel barge cruising. There are itineraries available in Scotland, Ireland, England, Italy and Holland & Belgium. With so many to choose from, don't you think a hotel barge cruise with France Cruises is calling your name? Memories for a lifetime are around the river's bend.
Pin Me ♥ The Best France Hotel Barge Cruise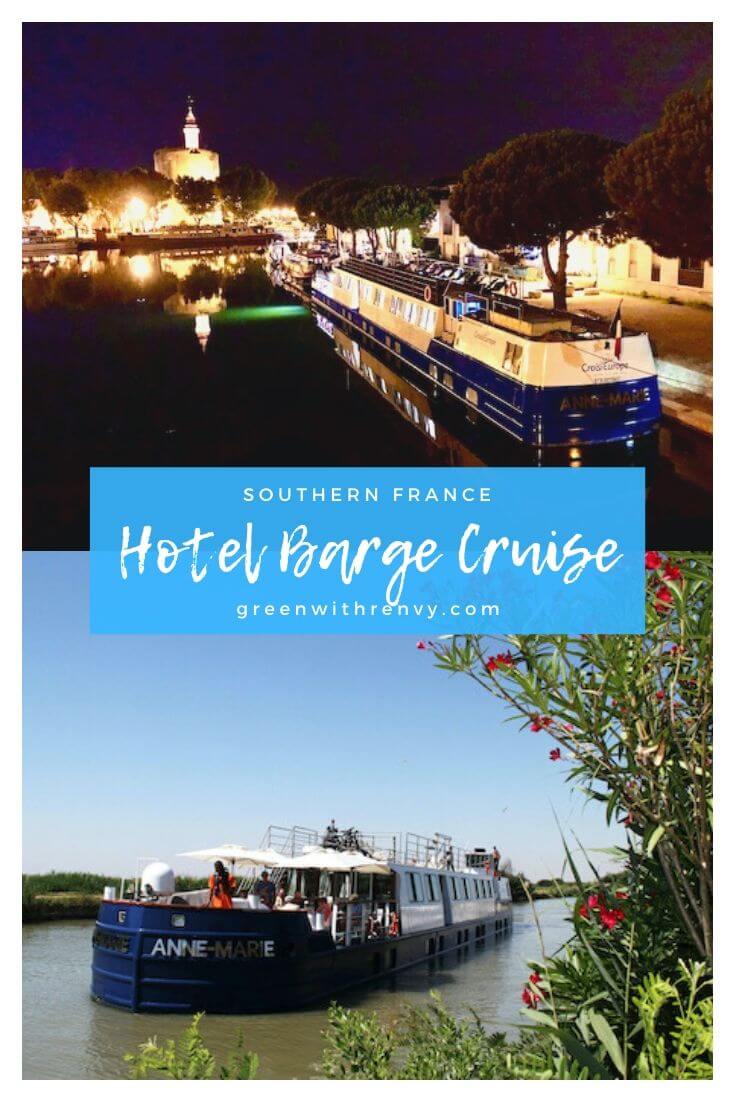 Disclaimer: The author was the guest of France Cruises for her trip. As always, opinions and experiences are her own. Alison is only interested in sharing travel journeys with her readers she feels they will enjoy as well.