Travel to The Land of Coconuts
After finding coconuts on practically every street corner in Colombia, I can understand why this South American country might be known as the land of coconuts. Eating it in so many different ways while I was there started me thinking about what a valuable product this natural ingredient is and how I've added it to the health and beauty mix in my house.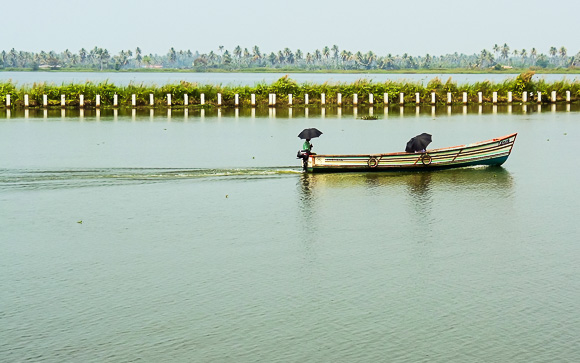 Have you ever tasted the water right out of a coconut? I remember my first-it was on a deserted beach in Cozumel. My husband climbed part way up a tree and realized perhaps this wasn't such a good idea. He spent the next fifteen minutes throwing smaller coconuts skyward until he finally knocked one down. Then we spent the next bit of time hacking it open with an army knife. It wasn't pretty, but I can still taste the sweetness of the water when we finally got there. Oh, and did I mention rum was involved?
Then there was the time I was staying at Phillip Kutty's Farm in India, the REAL land of coconuts. Kerala, the location of this destination, actually translates to land of coconuts. I was taking a tour of  the property when I happened upon a man with a machete. There was a moment of terror, and then I realized he was just trimming the palms and taking down coconuts. After a lot of hand signals, he climbed a 40 foot tree with the agility of a monkey and just as quickly brought down a fresh coconut for me to drink. I was still in my food safety mindset of  boil it, peel it or forget it, but……it was hot, humid, he had a machete and I was dying of thirst. So you know where this is going and I never tasted anything more refreshing. On that day I became a convert to all things coconut.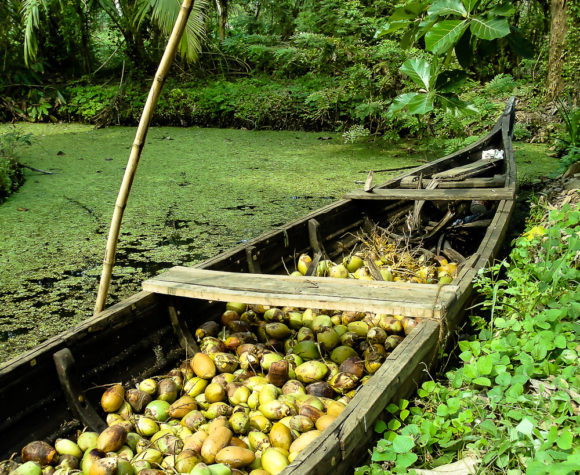 One trip to my local grocery store illustrates just how many ways you can use this versatile fruit. Botanically speaking, a coconut is a fibrous one-seeded drupe, also known as a dry drupe. However, when using loose definitions, the coconut can be all three: a fruit, a nut, and a seed. The oil is incredibly versatile for cooking because it can reach such a high heat before it starts smoking  (and is not to be confused with the destructive palm oil).
Some of my favorites:
organic virgin coconut oil-cold pressed and filtered, this powerhouse preserves the nutrients, flavor and aromas of fresh coconuts and as I said, great for stir fries and sautés as it can take a high heat
coconut oil spray-good for sautéing vegetables, spraying on fish before grilling,  gives a nice tropical flavor to popcorn
body butter-this is a go to in my beauty regimen. Loaded with vitamin E, aloe, and shea butter, it's great for all skin types and soothing and gentle for anyone with eczema or dry skin.
coconut water-A delicious and refreshing low-calorie natural beverage. Green coconut water (from younger drupes) contains more nutrients than mature coconut water. It's packed with antioxidants, amino acids, enzymes, B-complex vitamins, vitamin C and minerals like iron, calcium, potassium, magnesium, manganese and zinc. This is a great after workout drink to replace enzymes.
organic oil packets-I found this one at Trader Joe's and it is a regular when I travel. Think single serve packets that are perfect to tuck into your suitcase. They are so versatile and can be used as hair conditioner, moisturizer, flavoring for coffee, on cereal or even the Ayurvedic dental  detoxification technique of oil pulling which has gained popularity in recent years.
During the Slow Food Festival  in Grand Cayman, I had the pleasure of touring a local farm with slow food advocates and farm-to-table chefs Mike Lata of Charleston's Fig and Edward Lee from Louisville's 610 Magnolia. In addition to talking food inspiration and learning much about farming in the Caribbean, I had the chance to taste 'coconut jam', a jelly like substance scraped from the inside of  young, green coconuts. As you can see from the smiles, it was enjoyed by all.
In my house coconut has been a favorite cooking ingredient long before I knew about all it's health benefits. Flakes and oils find their way into cakes, granola, muffins and stir fry recipes in my kitchen. Since it is Meatless Monday, I'd love to share one of my favorite main dish recipes with you:
Coconut Encrusted Pistachio Tofu: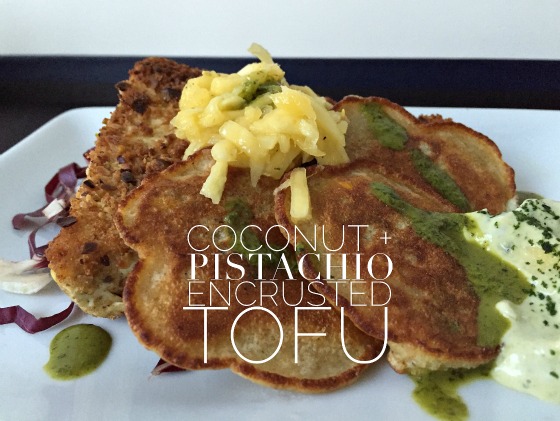 You can find the delicious recipe in the link above.
Are you a fan of the coconut? Let me know your favorite way to eat or use it in other ways in the comments below.