Coconut Pistachio Encrusted Tofu
We have a delicious vegetarian restaurant not far from my home. I recently celebrated my birthday with friends there, and one of their dishes was a mouthwatering pistachio coconut encrusted tofu. I thought about the meal for days after, and finally decided I had to try and recreate it at home. It was a tad labor intensive, but I must admit the results were worth the effort. A side dish of corn and scallion pancakes is a healthy riff on the traditional deep fried Chinese version and the accompanying sauce flavors laced with cilantro helps to balance and bring all the flavors together.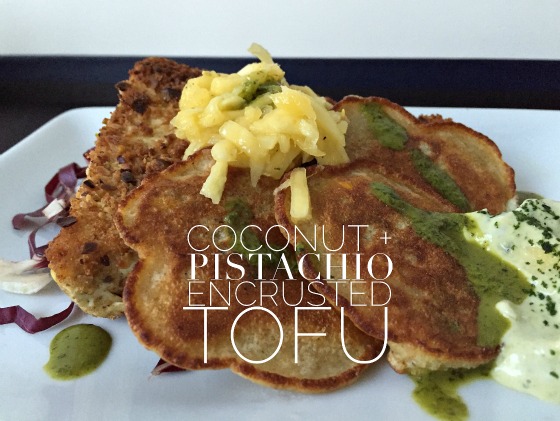 Recipe for Coconut Pistachio Encrusted Tofu
Ingredients (serves 2) :
Coconut Pistachio Encrusted Tofu:
12 oz block organic firm tofu
3 T. unsweetened  coconut flakes
2 T. cumin
3 T. panko bread crumbs
1 ½ t. garlic powder
1 ½ t. ground ginger
30 unsalted pistachios (shelled)
1 egg beaten (use ½ the egg for the pancakes and the other ½ to dip the tofu in to adhere the crumbs)
Scallion and corn pancakes:
½ cup of your favorite pancake mix ( I use Arrowroot Whole Wheat )
½ milk
½ beaten egg
½ cup fresh or frozen corn
2 finely chopped scallions
½ t. oil
Cilantro Sauce:
1 cloves garlic
1 bunch cilantro (roughly 2 cups)
2 T. canola oil
2 T. water (more if sauce is too thick)
1 T. soy sauce
1 T. rice vinegar
1 T. sesame oil
shake of red or cayenne pepper
½ mango
Directions:
Unpack and drain the block of tofu. Let drain for additional 20 minutes with heavy weight on top in a colander while getting together the rest of the ingredients.  Slice tofu in half and then cut each half again into two diagonal pieces. You will have a total of 4 triangles. Let them drain on a paper towel. Mix together ingredients coconut through pistachio nuts and pulse fairly fine in a spice grinder. You can use a mortar and pestle as well. Turn out spice mixture onto a plate. Dip tofu slices into egg and then coat on all sides with spice mixture. Sauté in pan coated with oil until brown on both sides. Keep warm in the oven while making pancakes. Chop scallions for pancakes and then mix together all ingredients. Cook pancakes and keep warm with tofu. Make sauces.
Cilantro Sauce:
In blender puree cilantro, canola oil, water, soy sauce, rice vinegar , sesame oil and cayenne together until smooth. Taste, adjust seasoning and add more water if too thick. Set aside.
Cilantro Crema:
Using all but 3 T. of cilantro sauce, stir together with 1/2 cup low fat Greek yogurt. Use as accompaniment to dish.
Sliced Mango
Dice ½ mango for garnish
Plate tofu and pancakes together. Add a healthy dollop of cilantro cream. Drizzle with cilantro sauce and finish with your favorite mango chutney or just diced mango.
Pin Me: Coconut Pistachio Encrusted Tofu