What to Buy in Portugal 30 Souvenirs and Gifts
No international trip is complete without a bit of shopping. Fortunately for me, Portugal souvenirs are plentiful, unique and handmade. Keeping it local is easy when you know what to buy in Portugal.
I hold my personal shopping to a minimum while living an eco-friendly lifestyle. However, the consumer in me is a gift-giver. When I'm on the road, finding unique presents brings me joy! Buying souvenirs in Portugal is one part cultural event, one part eating and drinking and one part lure of discovery. All parts keep tourism dollars in the local economy.
Many of the items I've highlighted are tied to an historical perspective. Remember these travel tips for picking up ethically made and authentic souvenirs in Portugal. Most importantly, by doing your part to keep dollars circulating in the hands of the local economy, your travel is more sustainable.
Tip #1 – Try to steer clear of tourist traps where oftentimes products aren't even made in the country. You'll be doing your part to keep traditional crafts and artisan food products alive in this incredible country.
Tip #2 – Leave room in your suitcase or pack a foldable bag to fill. Shopping in Lisbon and the surrounding area is unavoidable; temptation arrives as soon as you step foot on the beautiful calçada tiled streets.
Tip #3-Never purchase any marine souvenirs or products that leave a negative impact and disrupt marine ecosystems and the surrounding environment. Corals, seashells and animal parts fall into this category of sustainable travel no-nos.
Tip #4–Pack a small bag for shopping (a day pack works great as well) so you can #saynotoplastic.
Keepsakes, gifts and mementos from your trip to Portugal can range from food and wine to bath and beauty products, ceramics and textiles.  Buckle up fellow travelers, we've got a lot of local products to cover. My travel blog post has over 30 tempting suggestions of what to buy in Portugal.
Portugal Souvenirs
With so much to see in Portugal, it is understandable (almost) if visitors have the discipline to keep their shopping in check for most of the trip. Never fear, even if you've avoided shopping for Portugal souvenirs during your travel time, the airport, as a last resort has a good selection of handmade and local products.
Whether it's in the souks of Istanbul, the markets of Myanmar or the charming boutiques of Lisbon's streets, make it more interesting by connecting with shop keepers and makers. Those conversations can reveal stories about area artisans. This relationship associates the maker with your purchase.
To learn the story behind Portugal's tinned fish is to take in the historical perspective of the fishing industry. The weavers behind Chicoração are committed to giving back to the earth. These are some of the stories behind the product that allow you to dig deeper and truly connect with a destination.
What follows is a list of some of my favorite shopping discoveries spots in Lisbon.
Where to Buy Souvenirs in Portugal
Portugal currently seems to be on the tip of the tongue of the travel starved these days and the country has a healthy tourism structure. In fact, tourism dollars account for a large portion of the country's economy. Rest assured, where visitors go, souvenir shops follow. Luckily for those of us searching out authentic products and traditional handicrafts, Portugal is very well stocked.
My suggestions for retailers are based in Lisbon, as that is where I spent much of my time. There are several shops well known for providing high quality Portuguese products. Many charming boutiques off the main drag are guaranteed to pique your interest. Lisbon is a fantastic place to get lost. I did often and almost always stumbled on a special spot along the way.
While you can easily find souvenir shops, gift stores and handicraft markets in every city and town around Portugal, there are a couple of retailers that are known for offering high quality, authentic Portuguese products.
A Vida Portuguesa
If you are short on time or don't love shopping and/or want to use your time most wisely, I'd suggest a visit to A Vida Portuguesa. This beautifully curated brick and mortar is Portugal's most well-known souvenir shop with several locations around Lisbon. Their selection is comprehensive with a wide range of authentic crafts, paper and food products. The beauty brands they carry are all beautifully packaged. The wide selection of soaps are a perfect prewrapped gift. Eco-friendly too!
Founded by entrepreneur Catarina Portas, the focus is on high quality brands. Artfully packaged, each has a story to tell and most have been successfully plying their trade for many years.
LX Factory Area
Looking for a bohemian vibe? Head to Lisbon's LX Factory in the Alcântara neighborhood. The history of the complex dates back to 1846, when the company – Companhia de Fiação e Tecidos Lisbonense ­– moved their headquarters to this area.
You'll find a trendy spot of converted textile warehouses loaded with restaurants, galleries and boutique shopping. The cobbled streets are lined with interesting cafes and some wonderful street art.
After a cup of supercharged coffee and an indulgence in the famous pasteis, you'll be fueled and ready for anything! Time to shop for contemporary crafts and great beauty products made by local artisans and small batch producers.
Street artists have left their mark on the many murals in the area. Nearby is BMAD, the Berado Museu Arte Deco. Above, the graphically interesting suspension bridge Ponte 25 de Abril providing great visuals for photos.
Flea Markets
If you love the search and rummaging through flea markets, Lisbon is known for the  Thieves Market (Fiera da Ladra). Held on Tuesdays and Saturdays on the sloping hill behind the Monastery of São Vicente da Fora, the history of the market stretches back to the 13th century.
When visiting, I noticed the closer you got to the Monastery, the more commercial and mass produced the wares became. All in all, you'll find a hippie vibe that's surrounded by café culture, perhaps a unique souvenir and a different slice of Lisbon.
Insider Tip: Take care not to purchase vintage tiles here. Many are taken without permission from interiors and exteriors of buildings.
Silva & Feijóo
With a background in one of the oldest crafts, rope-making, the original owners of Silva & Feijóo established the well-known brand in 1919. Long known for carrying a wide collection of Portuguese food products, visitors can't go wrong with a purchase from this landmark. Step through the doors of the original location in Alfama to find soaps, olive oils, tawny port and of course a large selection of the iconic tinned sardines.
Additional suggestions for what and where to buy Portugal souvenirs are listed in the categories below.
Portuguese Currency
Credit cards are widely accepted in Portugal and the country's currency is the Euro. US dollars were accepted in many places, with change given back in Euros. Mental gymnastics are not my forte, so I try to have the correct currency and small coins on hand whenever I travel. At the time of my visit, the Euro was almost on par with the US dollar, so conversion and figuring out pricing was easy. For other times, I love the XE App for simple conversion rates.
What to Buy in Portugal for Food Lovers
A Six pack of Pasteis de Belem or Pasteis de Nata
The sweets on offer in bakery windows is almost overwhelming. This country does have a sweet tooth! Topping the list is the Pastel de Nata – the infamous egg yolk custard mini tarts.
Dating back over 300 years, the original creation was made by the monks of the Jeronimos Monastery in Belem. Egg whites were in high demand for starching vestments which left an abundance of egg yolks in the kitchen. Lucky for us, the monks found a delicious use for all those yolks and the rest, as they say, is history.
The recipe was passed (sold) to the nearby Pasteis de Belem where thousands of the tarts are sold daily. The tarts can also be found in many spots around the city. I went on a tasting binge and must admit my favorites were from here and the Manteigaria shop on Rua Augusta St.
My suggestion to take home a 6 pack is sort of said tongue and cheek. Honestly, there's no way a sleeve of these delicious tarts will last once you have purchased them. They are just too scrumptious and tempting. I tried and the six-pack was devoured in 48hrs. If you are someone who has a bit of discipline and will power, perhaps you'll be better equipped to get them back home. The trick is to tuck them into your luggage, well wrapped just a few hours before departure!
Where to buy Portuguese Tarts
If you're a firm believer in going to the source, head to the oldest bakery Pastéis de Belém. There are many tourist sites in the area to make a half day of it. Don't be intimidated by the long line outside. It moves quickly. You can also find the delicous bites in bakeries all over the city. Try an assortment and let me know which you think is best!
Insider Tip: Walk past the line waiting for counter service at Pastéis de Belém and go inside to the café in back. It's a great spot for a break, is huge and you can enjoy your delicous tart with an invigorating cup of coffee.
Canned Sardines & Tinned Fish
No one can deny that tinned fish is having a moment. Restaurant menus the world over are featuring the colorful cans paired with delicous natural wines. Although it's been a favorite in our house for years because of my husband's background, it is wonderful to see the renaissance of this sustainable seafood.
Fresh grilled sardines are considered iconic in Portugal, so it's no surprise that the canned version makes an excellent culinary souvenir. This industry had its beginnings in 1853 when the first fish preservation company in Portugal was created. Since then, the small packages full of tasty treasures from the sea health food have represented an important piece of economic history.  and are ingrained deeply into Portugal's culinary culture.
The selection in the charming shops can be a bit overwhelming. Especially when each individual tin comes beautifully packaged. Conserveira de Lisboa has been serving clients for almost 100 years and the shop still maintains the feel of an atelier. The smooth wooden table running the length of shop has wrapped thousands of it's colorful tins into the traditional brown paper packaging. Visit and support the shop that started it all.
Visitors will find additional opportunites for tinned fish around the city in both restaurants and ships. Loja das Conservas and Mundo Fantásticoda Sardinha Portuguesa are two such shops with creative, whimsical displays and plenty of selection.
And for those of you that just can't bring yourself to jump onboard the tinned fish train, move on to a box of Chocolate Sardines from A Vida Portuguesa.
Salt
If you could create an ideal climate for producing salt, Portugal's southern coast might just fit the bill. The extensive coastline with an ever present hot, dry wind and high summer temperatures is excellent. Some of the smaller artisanal Salinas also produce the gourmet fleur de sel. Rich in minerals with a highly prized taste and purity, some of the best originates in Castro Marim.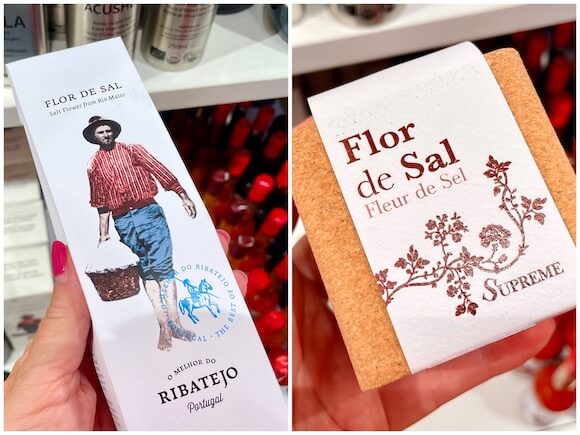 This protected region of the Algarve is in a nature reserve. Salt has been harvested by hand in the area since Roman times.  Terras de Sal, a cooperative producing the highly coveted salt has a strict certification process in place to insure the top quality.
Where to find Fleur de Sel in Lisbon
Many of the gourmet food shops will carry a variety of salts.
Portuguese Olive Oil
Olive trees are an influential characteristic of the Portuguese landscape. The country is well regarded for its fruity, golden olive oil. In fact, there are six DOP (Denominacao de Origem Protegida) growing regions to look for on bottles – Trás-os-Montes, Beira Interior, Ribatejo, Moura, Alentejo Interior and Norte Alentejano. Which one of the seven varieties of olives grown make the most delicous golden liquid? I would suggest a tasting to find the quality and flavors that best suit your palate.
There are several specialty stores that focus on olive oil (oléteca) around Lisbon. Two of the best brands I tasted were Oliveira da Serra, and award winner for several years running.
Another popular brand with fun packaging is Gallo Founded in Portugal in 1919. The company is a well respected maker with award winning olive oil. Many of the products are organic and synonymous with traditional Portuguese ingredients.
Where to Buy Portugese Olive Oil
Complimentary tastings can be found at Olistori in Lisbon. Of course they have their house brand oils as well as regional brands and a bonus of their own balsamic vinegar.  Olives and olive pastes in addition to organic beauty products round out the "olive" product selection. Markets are also a good source for a varied selection.
Peri-peri Hot Sauce
Tabasco, siracha, raja bonnet. Whatever you call it, each country seems to have their own version of hot sauce. In Portugal, peri-peri is the name of the game. This light chili oil is a combination of garlic, lemon, red wine vinegar, paprika and of course secret spices and chilis and originated during Portuguese colonial times.
Where to Buy Peri-Peri Sauce
The popular brands readily available in any grocery store are Ferbar or Continente. Just remember size limitations for liquids when traveling.
Portuguese Cheese
I first tasted the "fragrant" Serra da Estrela in the Azores. The strong, funky flavor is just how I like my cheeses-memorable! Served with a spoon, I'm not sure I could ask for more…But more there is for cheese lovers in Portugal.
Cow and sheep milk are two of the main types and when you see the animals roaming the countryside amongst the shades of green grasses and wildflowers, you know your taste buds are in for a treat. There's the soft Azeitão, robust São Jorge cheese, also from the Azores and the wonderful Évora cheese a full bodied favorite. Easy to say there is something for everyone!
Make sure to do some tasting with a charcuterie board and ask your server for an assortment of flavors. It will give you direction when shopping to bring some home.
Travel Tip: US travelers, make sure the cheese doesn't contain any meat. Pack a flat insulated pouch for transportation home.
Where to Buy Traditional Portuguese Cheese
Queijaria Nacional in Lisbon is a one-stop-shop for all things cheese.  ll rounded and the helpful staff is happy to help you pair flavors with your favorite wines. ith countless fresh and aged Portuguese cheeses available to eat in (paired with wine) or to take away by the wedge or round.
Portuguese Preserves & Honey
There's nothing like an exotic jar of honey to jazz up a charcuterie board. Mel da Serra de Monchique is considered one of the best. After tasting this variety of liquid gold from Faro in the Algarve, I'd have to agree. The bees have combined the lavender, heather and eucalyptus kissed by the sun in the south for a heady flavor profile. Just remember when purchasing – anything larger than 3oz. will have to go in checked luggage.
Jams, jellies and marmalades are often called doces – meaning sweet preserves. They will delight any biscuit or scone loving friend. Quince and fig are Portuguese favorites, but I flipped for this brand of unusual flavors packaged to look like tubes of paint. The flavor profiles are as creative as the containers.
Where to Buy Preserves & Honey
A Vida Portuguesa carries a great range of doces, and you can find jars at most food markets and specialty grocers around the country.
Paupério Cookies and Ovos Moles
Two additional favorite confections have been delighting sweet tooths from the 1800's. Paupério cookies from the northern city of Valongo run neck and neck with the ovos moles from Aveiro. The biscuits come in flavors reflecting in season local fruits and nuts. Ovos moles come in different shapes and sizes.
The most common ones that you'll come across are barrels, seashells, clams, and nuts. Like pastel de nata, they are the result of starched habits and nuns having too many egg yolks on their hands. Both are purchased in decorative vintage-style tins or boxes bearing artistic designs anyone would be happy to receive.
Where to Buy Paupério Cookies and Ovos Moles
Find them at A Vida Portuguesa and in grocers around the country. Ovos Moles also has a store at the Lisbon airport.
What to Buy in Portugal for Wine Lovers
Port
Portugal's fortified wine scene provides one of the "must do" tastings in Portugal. Anyone who has sipped the sweet nectar will want to visit and indulge in a vine to table experience from the source. The big daddy-Taylor Fladgate-has a warehouse and tasting room across from the waterfront in Lisbon's historic Alfama district.
There are plenty of opportunities throughout the city for more intimate tastings at the smaller shops around town. In addition to Taylors, Graham's, Croft, Kopke and Porto Cruz are all fine brands labels to search out. And of course I would be remiss not to recommend a visit to Porto, in the north of the country where all of this originates.
Wine
Every region of the country produces its own variety of wine. As one of the world's top producers, that gives visitors 14 distinctly different tastes, surely something for every palate. Hearty reds and tasty "California type" whites come from Alentejo,  zesty Vinho Verde (green wine) from the Minho region and a refreshing light, low alcohol Torres Vedras from the Lisboa region just north of the city. A perfect sipper for hot days of summer.
Some of Portugal's most loved wine estates can be found in the Douro Valley. An excellent way to experience the area is on a river cruise. These can range from an afternoon event to crusing for 10 days from Porto to Spain's Salamanca. Along the river visit charming towns and  indulge in the regions wine and farm fresh ingredients and cheeses.
There is also a small group of wineries making natural bottles with the best graphic labels. Pet-Nat from Raza was a sparkling one I indulged in regularly.
If you come across wines from Pico Island in the Azores, indulge. Nearly all their production is small batch and hard to find outside of the country. During my visit I tasted some amazing rosés and Verdelhos. Their unique growing method and volcanic soil makes for a very different, enjoyable profile.
If you think wine will be part of your Portugal souvenir shopping, bring several flat padded packs. Wine Folly has an excellent breakdown of the wines of Portugal for more in depth information.
Ginjinha Cherry Liqueur
Ginjinha, a sour cherry liqueur, is one of Portugal's most iconic products. Made from the sour Morello cherry mixed with brandy, it is enjoyed as both aperitif and digestif. (pronounced zhin-zhinya)
The powerful drink is associated with two places in Portugal with religious ties. The monks of both Óbidos and Alcobaça have production recipes dating to the 19th century. Is it possible early trade saw the monks enjoying a small glass of ginjinha along with a being enjoyed with Pasté de Belém back in the day?
Where to Buy Ginjinha
A day trip to nearby Óbidos or Alcobaça allows visitors to purchase straight from the makers. Otherwise you can find it in liquor stores around Lisbon.
For a true local experience, visit one of Lisbon's iconic Ginjinha bars opened in the 1800's. Ginjinha Rubi and Ginjinha do Carmo offer Lisbon a taste of daily life and digestif as well as artisanal bottles of the drink.  For the ultimate taste delight, find Ginjinha served in a chocolate cup. This is the adult version of chocolate covered cherries from a Valentine's Day memory book.
What to Buy in Portugal for Craft Lovers
Ceramics
Artisans have been working with clay for hundreds of years in Portugal. Craft workshops and museums featuring pottery can be found in Alentejo and Coimbra. Evora is especially popular for their charming figurines. Look for earthenware plates, bowls and many keepsakes made from local clay.
Ceramic artists have been hard at work in Portugal for centuries. The regions of Alentejo and Coimbra are home to artisanal workshops and pottery museums. Delightful Evora is known for its rustic clay pots. Equally well-known are the traditional folk art – Estremoz clay figures. Made with the regions red clays, the figures were added to UNESCO'S List of Intangible Cultural Heritage of Humanity in 2017.
After a few restaurant meals, you've no doubt experienced the pride and cultural importance the Portuguese people place on their food. Serving plates are often as delicous as the main course! Earthenware plates and bowls are extremely popular products, as are decorative figurines and keepsakes shaped from local clay.
Where to Buy Authentic Ceramics in Portugal
Vista Alegre and Bordallo Pinheiro are at the top of the ceramic design chain. Visit the brick and mortar Vista Alegre for the best selection. Find the exquisite craftsmanship of the Bordallo collection in mnay of the high end souvenir shops around the city.
The flea markets will also have many ceramics that you can hunt through. For work by more contemporary artisans, give a look while exploring the LX Factory.
Serious tableware shoppers can head to Cerâmiccs na Linha. Here your Made in Portugal purchases are sold by weight, so you can know just how much you are adding to your baggage charge.
Traditional Azulejos-Portuguese Tiles
And then of course there are the tiles….
Does is get more iconic than traditional Azulejos? After a visit to the Museu Nacional do Azulejo in Lisbon, your head will be swimming in color, patterns and historical context. The Portuguese tilework decorates churches, benches, building facades and interiors, train stations and just about everywhere else your eye will travel in this stunning city.
The colorful ceramics date back to the 13th century and are available on everything from magnets and earrings to paperweights and coasters. Renovating your kitchen? Choose a pattern and color to enhance your backsplash and you'll be reminded of your travels to Portugal every time you put on an apron!
Where to Buy Authentic Azulejos
Cortiço & Netos is a fabulous shop curated exclusively around Azulejos. They carry many traditional discontinued patterns from the 1960's forward. Many of these traditional factories have shuttered. Their raison d'être – to move forward and make available this important piece of Portuguese creative history. I love their sustainable mission of upcycling old tiles to a new home.
Sant'Anna is a Portuguese ceramic factory, established in 1741. They use only the oldest of handcrafted techniques. All their collections are entirely handmade.
If you're looking for an interactive experience, you can also find several opportunities to make your own tiles with a local craftsperson. I stumbled upon several streets in the various neighborhoods that were loaded with workshops and small collections of tiles and ceramics.
Barcelos Rooster Statue
Within 24 hours of their arrival in Portugal, tourists will no doubt be wondering about the colorful roosters they see everywhere. The Barcelos Rooster (O Galo de Barcelos) represents the Portuguese joie de vivre. It has become a national symbol of the zest you will the country's residents exude in everyday life.
The handpainted joyful creature is painted with delightful patterns and can be found in all sizes everywhere. Just make sure to check that the bottom isn't stamped Made in China!
Cork Products
As the world's leading producer of cork, expect to see creative designs of the product. Plantations cover the countryside, especially in the Alentejo region. If this sparks your curiosity, book a tour to learn more about this eco-friendly material.
Cork is waterproof and very durable in addition to being a regenerative crop. Find this sustainable product made into handbags, shoes, fans, backpacks and wallets crafted into authentic Portuguese souvenirs.
Where to Buy Eco-friendly Cork Products
Two shops in Lisbon that carry luxe cork accessories are Cork & Co and House of Cork. Many shops for contemporary cork products are scattered around Lisbon. You'll find a selection in most stores carrying authentic souvenirs. House of Cork is on Rua de Santa Justa and right across the street from the Garrafeira Nacional wine store
Textiles
Portugal has one of the strongest textile industries in Europe and is known for its craftsmanship and expertise in high-quality apparel and home textiles. Dating back to the late 1700s, Portugal's textile business has proven to be as strong and resilient as the linen the artisans weave.
Unlike the cotton industry, the linen trade was not factory-based. It began as a domestic pastime, and people would weave their own linens on small, household looms. Products can also be found made from wool. Wool is biodegradable and renewable. Many consider it the most sustainable textile for the environment. INCLUDE LINK TO MATTRESS Unlike synthetic fabrics, the washing process doesn't release harmful microplastics into the oceans.
Embroidery and Linens
From spinning and weaving to dying and embroidery, Portugal has long been a leader in environmentally friendly textiles. Beginning with the cotton industry back in the 18th century, the Made in Portugal label has represented both quality and superb craftsmanship.
Visitors will find artisans hard at work creating beautiful table linens, clothing, scarves and accessories on handlooms. Listen for the familiar clack, swap/ clack, swap/ clack, swap of a handloom as you wander the side streets of Lisbon.  of Artisans create beautiful tableware, clothing, scarfs and accessories with delicately embroidered motifs and patterns.
A Vida Portuguesa carries a beautiful selection of wonderfully curated pieces for visitors to choose from.
Chicoração has shops around Lisbon and carries a rainbow collection of woven blankets, shawls and clothing. Darling stuffed animals incorporate precious scraps of materials. Using organic wool and natural dyes, even their prep and production is done using eco-friendly methods. Their luxury brand products are an investment in preserving tradition.
Traditional Arraiolos Rugs
When I see a craft being passed down from generation to generation, it makes my heart skip a beat! So many traditional skills are being lost as the younger generation moves from country to city in hopes of a better future. A stop in Arraiolos about 30 minutes outside of Lisbon and just north of Evora  is a must for anyone feeling the same way.
This area is famous for their rugs and have been embroidered in the same method for centuries. Over two dozen workshops keep the production alive with talented artisans numbering around two thousand. The rugs are embroidered in patterns with wool over fabric with the famous Arraiolos stitch. This cross stitch covers the bottom layer of linen in patterns of Portuguese folkloric design. As you wander thru the charming town, don't be surprised to see talented women sitting in front of their homes creating these keepsake heirlooms.
Other Authentic Portugal Souvenirs
 Statue of Fatima
I have a small collection of religious objects which I began while traveling in Mexico many years ago. They move in and out of a shrine on a shelf and provide comfort alongside my memories of certain locations.
The Guardian Angel of Portugal, Fatima, is a motif found on many traditional handicrafts. Dressed in gracefully draped robes and usually with hands clasped in prayer, this religious representation of good luck can be found in a wide variety of ceramic statues. The effigy is sold throughout Lisbon, dressed in everything from the traditional blue and white of the country to a range of colorful palettes.
Filigree Jewelry
The delicate art of filigree has a history in Portugal dating back to the beginning of the 16th century. The technique uses slender threads of metal which are twisted and woven together to create the most detailed and refined patterns. Pieces are often accented with semi-precious stones.
Today jewelry takes the form of necklaces, rings and delicate brooches. Creating from gold and silver, artisans can often be found in their tiny studios fashioning new pieces. Look for vintage filigree jewelry in flea markets and some of the better jewelry shops. of patterns.
I found myself especially drawn to the traditional Coração de Viana shape. Originating in the Minho region, the stylized heart represents universal love.  You can find the charming folkloric image embroidered on table linens, scarves and widely represented on the Barcelos rooster.
Gloves-Luvaria Ulisses
Some people travel for the food, some fashionistas because they need a new pair of gloves. All kidding aside, the relatively lost art of glove making is alive and well, albeit expensive in Lisbon. Luvaria Ulisses has been handcrafting high quality gloves since it opened in 1925.
Design devotees will love the original façade of the shop as well as the charming interior. The loyal clientele is devoted to stepping back in time in this Chiado atelier.
Beauty Products Soaps & Toothpaste 
Whoever said soap should be stored in the linen cabinet has yet to come across Portuguese soaps. In fact, the uniquely Portuguese cosmetics, toothpastes and soaps are packaged so beautifully, they make a statement as décor on the counter and you might never unwrap them!
Kill two birds with one stone with the Castelbel brand. The packaging on soaps and products for the home comes in gorgeous Azulejos themed packaging. Couto toothpaste, a self-care essential since 1932 steps back in time with the retro packaging.
Where to Buy Beauty Products 
A Vida Portuguese has a wide selection. Claus Porto's flagship stores in Lisbon are a great place for some serious souvenir shopping. Several of the shops located in the LX Factory also carry several contemporary brands.
History and Books
Wordsmiths must visit what might be the world's oldest bookstore. Livaria Bertrand was built in 1732 and sells everything romance novels to cookbooks. Head to the Chiado neighborhood and find a comprehensive range of books (many in English) in this literary institution.
Insider Tip: During checkout, ask the shopkeeper for one of the beautifully designed stickers to put on the inside cover that details the bookstore's name and founding date.
Portuguese Guitar
The music of FADO will haunt visitors during a visit to Portugal. Families in Lisbon have been passing down the techniques for creating the 12-stringed guitar for generations. A hand-crafted guitarra certainly makes for a unique souvenir to remember the experience of the dramatic and intensively melancholic soul of Portugal culture. The Lisbon Music Shop in Lisbon is a good place to start your search for an instrument.
Portugal-Inspired Paper Products
Limited on weight allowance and space in your suitcase? There's no shortage of papergoods illustrated by the many artists who call Portugal home. Flat and lightweight, everyone will always appreciate a beautiful handwritten note card. Local artists and designers interpret colorful doorways, charming streets and a myriad of inspirational scenes.
Find original posters, art prints and additional papergoods at the shop aptly called Ó! Galeria. Small artworks are also available in several of the shops in the LX Factory.

Conclusion
At the beginning of this post, I mentioned shopping temptation in Portugal. Now can you see what I meant? It starts as soon as you set foot on the cobbled streets. Portugal offers an astounding selection of authentic food and handmade products for gifts and capturing memories of your travels. Small batch, artisan and local, there's no better way to support and give back to the community. Keep your gift shelf stocked by keeping your dollars circulating in the home-grown economy.
Pin Me ♥ Travel Guide for Portugal Souvenirs