Wellness Travel-The Azores Has it All
You may have noticed wellness travel hugging the edges of the travel industry. The term is an antidote to  our stressed out lives and the  luxury segment of the market is embracing it with open arms. Want to know a little tip?  When you are looking for a destination for wellness travel the Azores is the whole package. How can you argue with a location that has been certified by nature?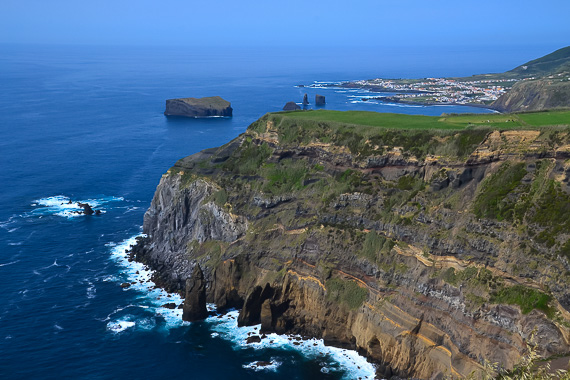 I'm letting you in on one of the best travel secrets around. Just four hours from Boston is one of the most magical places I've ever  visited. Best of all- I can be in less time then it takes me to fly across the US to California. Flights from the US are somewhat limited and based in New England, as this area is the home base for many immigrants. Certainly Boston is a great spot to find your self at the beginning of your journey.
There are many reasons to fall in love with this green oasis. Let the Azores embrace you. Recharge and renew on this archipelago nearly 1000 miles out to sea off the coast of Portugal. Nine volcanic islands offer a temperate climate, often mimicking  other northern islands you might have visited with rain and fog. Adding to the mystery and allure of the environment, believe me, when the sun shines, it is glorious! The weather is also reflected in their healthy agriculture and fishing industries, each  contributing to a tasty Eat Local, Sea and Farm to Table restaurant scene.
Some, like myself, believe that travel is a form of wellness relief all on it's own. I certainly come back from a trip recharged and ready to conquer the world, at least for a week or so…. In the west, we approach wellness in some circuitous ways. This new interest in wellness travel offers a simpler approach that is following a well known healing practice.
Slow down, breathe, experience and please the senses, get into nature and explore. A vacation to the Azores will do just that. Take charge of your life in a different way. Really focus on nature, your well being and positively wonderful food if you know the right places to look. Nine uncrowded islands that can be explored year round.  Each has it's own distinct personality and offerings with unique scenery and unspoiled villages.
10 Reasons Why Your Next Wellness Travel to the Azores is a Must
Views
I don't know about you, but my mind is always on a high when a view is spectacular and the Azores is a destination you'll find very easy on the eyes. Like I'm talking David Beckham easy on the eyes. The green volcanic mountains and visually cohesive black and white towns are a feast for the visual senses. Studies confirm that a change of venue from work and home increases a feeling of well being. Just thinking about travel can give you a calming sensation. Around every corner you'll find great vistas to expand the mind and let it start to wander and relax.
Food
Pleasing the palate is critical to well being, right? Traveling allows you to taste the local culture quite literally. Let me tell you about the food on this archipelago. Take the best of what Portugal has to offer, push it 1000 miles out to sea and there you have it. Everything has to either be local or brought over to the islands. Stick with local and you'll be in food coma heaven.
To be honest, I was a little concerned about the carnivore culture here. After all, the traditional feast of Cozido das Furnas has a nose to tail approach and tourists come by the bus load to see it cooked underground by volcanic heat. Rest assured, there is plenty to satisfy a hungry pescataraian. Let's remember there are nine islands surrounded by the sea.
Healthy eating is part of the wellness experience and the seafood here is spectacular. On a family style plate one night, there must have been eight different varieties of pescatarian choices straight from the ocean. Challenge yourself by trying a barnacle or limpet. I speak from experience when I say they are delicious! Stepping out of your comfort zone is a well known strategy to get your blood pumping. Indulging with moderation, staying hydrated and keeping up with your sleep will add to the positive healthy experience.
The pineapple plantation on São Miguel provides the fruit found on many different plates of the islands. Fresh tea from São Miguel,  the only place in Europe where tea is produced, will greet you each morning. Artisan cheese from São George has been produced possibly since the islands were initially settled. Strongly influenced by the Flemish, it is said to be one of the best cheeses in the world. All of the milk products here, from cheese to ice cream, are the products of happy, grass fed cows. You can taste it in the flavor. Homemade jams top the infamous Portuguese bread. Wine in Pico is made from the white Verdelho grapes which thrive in the rich hot volcanic soil and are harvested by hand. Dona Amélia an ethereal sweet that floats on your taste buds, is something to be savored just before drifting off to sleep.
Hiking
There are challenging climbs on every island. If a mountain top is your goal, look towards Pico's dormant volcano and see if you can make it to the almost 8,000 ft. summit.
Trails along the coastline provide fantastic views. Paths leading you down into a dormant volcano showcase chambers created thousands of years ago. Lakes formed in the callderos have walkways surrounding the edges. On a cool morning, sunlight laces through the forest and dances between the cedars, junipers and ferns. Most are easily hiked with a map, but for some a guide is required, so make sure to check first. For even more activities on the island, view this excellent guide for Terceira.
Of course one of the uncontrollable factors is the weather. The climate is often foggy, the internet connection hazy and unreliable. Both force you to unplug, be flexible and go with the flow.
Biking
Biking across the family owned vineyards on will give you unprecedented appreciation for the hearty vines that make Pico wine so delicious. The unique black lava fields have been given Unesco World Heritage status and are as impressive in design as they are in the taste of the grapes they protect.
Whale Watching
The Azores are one of the World's Top 10 Destinations for whale watching in the world. You'll be particularly impressed by the responsible travel methods employed by Futurismo on São Miguel. They combine education, safe viewing and an "observe not disturb" policy on the water. They were one of the first companies to realize the importance of converting whale hunting into sustainable whale watching and that original mission follows through in all of the eco-tourism activities they offer.
Geotourism
I was not too familiar with the term geo-tourism before visiting this area. As defined by National Geographic: Geotourism is tourism that sustains or enhances the distinctive geographical character of a place—its environment, heritage, aesthetics, culture, and the well-being of its residents. Basically, this describes the Azores in a nutshell.
The volcanic origins and small size of the islands make is especially easy to explore the wonderful geodiversity year round. Island hopping is a way of life here and you'll find an underground world few know exists. Hot springs, lava tubes and collapsed calderas are complimented by lakes, volcanic ridges and cliffs. Many of the towns are preserved walks back in time with traditional culture and festivals are given a high priority.
Hot Springs
The islands volcanic origins have left in their wake an abundance of hydro thermal spas and springs. Various waterfalls and iron water pools offer chances to dip in the regenerative waters.  A soak in the steam heated water pools of São Miguel will leave you're skin smooth as silk (and a bit yellow from the iron).  The Caldera Velha is a waterfall of warm, iron water located on the north slope of a volcano.
Romantic Gardens
Plants thrive in this micro climate and gardens are everywhere. Named after the greatest Azores landscape gardener, the Antonia Borges Garden dates back to the 19th century. Terra Nostra Park contains over 2,000 different trees and is adjacent to  a thermal swimming pool. In addition to the formal gardens. you will find the islands are lined with azaleas, hydrangeas and lilies. The riot of soothing pinks, blues and purples lining the roads is a sight to behold.
Natural Pools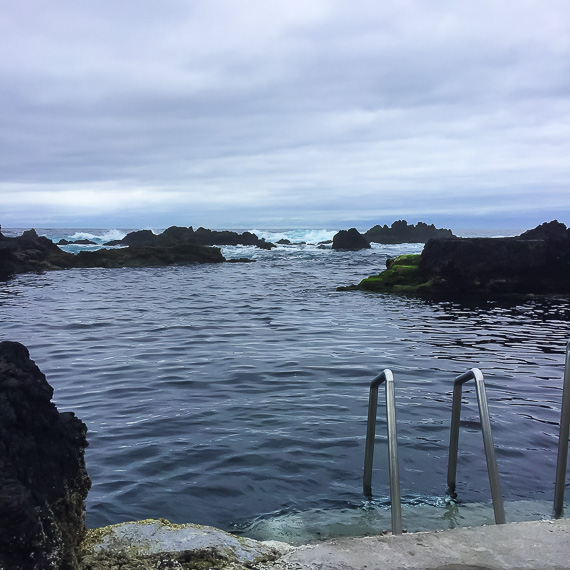 Few experiences are as calming as the sensation of floating in water. The stillness that comes over you when you tune off the outside world has a remarkable effect. These natural pools found on each of the islands were very unexpected and could be looked upon as a giant float tank. Aluminum ladders lead into the water, and more often then not, quite a few are gathered together to form a definite swim area.
Mild sea temperatures and clear waters make these pools quite seductive. As someone who loves the water, I initially questioned the sanity of anyone who would dive into the waves pounding the rocks to swim in these jagged edge, clear water pools on the coastline.
As it turns out, they are actually quite safe.  Some areas have natural lava tube openings keeping the water at an even higher temperature. The tides play an active role with the timing of swims and the frequency of injury is practically nil. All comes back to the familiar. Many would say I'm cray cray for swimming in a rough ocean in New England. Remember stepping out of your comfort zone?
Yoga + Massage
Throughout the islands there are private yoga studios and opportunities for massage. Individual instruction is possible and both spas and private spaces offer a wide variety of massage and treatments. Both the Ferraria Spa on São Miguel and Carapacho Spa on Furnas are highlights.
♥
In addition, there is sailing, birdwatching, canyoning, surfing, scuba diving and fishing. The Azores was elected the second best island destination in the world for sustainable tourism by National Geographic Traveller. The archipelago will present you with a wonderland full of activities to connect with the great outdoors and work on your wellness quotient.
Just planning a vacation can make you feel happier and lower your stress levels. Forest, water, nature, volcanos, food; the necessary ingredients to please the all the senses on the road to wellness. Don't you think the next time you are looking for wellness travel the Azores is a destination that has it all?
Pin Me 

♥

Wellness Travel the Azores
Disclaimer: I was the guest of VisitAzores for this trip, but as always, opinions are my own. I want you to enjoy a travel expereince just as much as I do!