Welcome Spring with Leaf Magazine
Do you know
Leaf Magazine
? If not, it is my pleasure to introduce you! A digital publication with the perfect combination of outdoor style, glorious photography and sustainability features,
Leaf
has just released its second issue. You'll find pages of garden inspiration with an international flavor that's focused on the entire picture of living outdoors.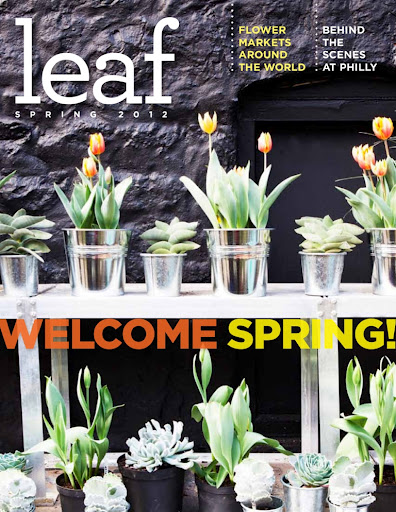 The co-founders, landscape designers Rochelle Greayer and Susan Cohen joined forces after meeting at a social media event and jointly seeing a void in the marketplace for design outside our doors. They both believe in the power of technology and are mindful of the way the online community is transforming the way we receive our information. Designers are at the forefront of this movement and Leaf is leading the way for fans of stylish exterior design.
International in feel, with stories in this issue from around the globe, Leaf is the perfect escape for readers who enjoy armchair travel. Oh, and did I mention that my recent trip to India has a place in the Flower Markets of the World story?
In addition to their social media connection, I have to admit to a twitter story of my own. Last year, I attended a tweet up at the Brimfield Antiques Show. Despite the downpour of rain, it was an amazing mix of people with a focus on design; all very inclusive and generous with the sharing of ideas and social media skills. It was there, amongst the antique olive brining buckets and mud, that I met the women from Leaf Magazine. I eagerly anticipated the launch of their new e-zine and kept in touch.
One of the co-hosts of that event was Gretchen Aubuchon, who is a contributor to this issue as well. Her site
Fashion + Decor
is due to go live before the end of the month. Gretchen has the uncanny ability to pair the latest from the fashion runways with home decor, assisting her readers in bringing out their personal style. Here she's looked at today's trends and paired them with the outdoor lifestyle that perhaps inspired the look.
Ever aware of the effects we can have on our environment, there is also a feature by author Rachel de Thample about knowing our food and the impact it can have on our lives.
By now you can certainly see the sense of community that is connected through the Internet. The world has become a very small place. I am interested to see where
Leaf
will take us in the future. Get to know them too, be inspired, and come along for the ride.