Virtual Travel Online Exercise Classes for Seniors
Let me introduce you to online exercise classes for seniors that can take you around the globe. While my favorite form of exercise is getting out in the fresh air, some days the time slips away and I'm not keen on walking in the woods at dusk. Living in the Boston area, there's a wee bit of weather to manage as well.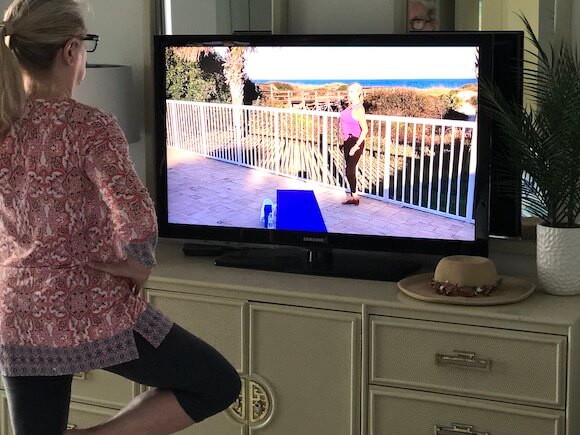 My gym is re-opening, but to be honest, I'm still a little skittish about group glasses, exercise and social distancing. Have you jumped into the virtual world of online classes yet?  This last year has opened up a Pandora's Box in the very best of ways. Wine tasting in Italy, breaking bread in France and picking up a few moves from a Bollywood dance expert-who knew so many companies could pivot and bring different forms of travel to life online.
Introducing Silver&Fit Online Exercise Class for Healthy Aging
Now with the vaccine in sight, my passport is starting to get excited. I was thrilled when Silver&Fit invited me to try one of their International on-line classes and participate in their paid campaign to share the experience. These are not just any variety of exercise classes, but workouts filmed in beautiful destinations around the globe.
Geared towards older adults, they stream on Facebook and their YouTube channel 54 live classes per week for all levels of fitness (9/day-6 days a week). With the inclusion of dance, yoga, tai chi and cardio blasts, the offerings will certainly hold my limited attention span. Plus 30 minutes is super time frame for a mid-day break. And they are free!
I might have joined the Senior Citizen demographic last year, but surely that will not keep me from continuing to live my best life, no matter what my age! Personally, I've found flexibility and strength to be the first thing to backpedal when I don't make the effort to keep moving. For my physical and mental wellness, movement is such an important part of every day. I certainly don't want to fall into the category where more than half of Americans feel down about their appearance.
Yoga for 50+ on Amelia Island
I've always loved to travel, even if it's vicariously. Bonus points for getting a good workout while I watch! Since the beach is my happy place, I chose a visit to Amelia Island, Florida with a yoga class. Denise, my instructor, spoke of a session to work on range of motion, hips, strength and flexibility.
Setup was a breeze. All that was needed was a yoga mat, towel, water and enough space to stretch out your arms. We worked through a series of standing poses, great for balance with seniors to prevent falls. Of course, my strength is important-those suitcases can be heavy to get in the overhead bins on flights!
Breathing and warrior pose seem so much easier when you see water and dune grasses swaying in the background. The workout was at an appropriate pace for the level and the instructor offered modifications to make the intermediate level really appropriate for all range of motion. It was fun, motivating and effective. Even though the class was only 30 minutes, my flexibility was challenged, and my heart rate elevated, just what I look for in a routine.
Silver&Fit Online Class Experience
When thinking about a workout as I age, I've found there is a personal formula that comes together to make an online class successful. I look for ease of use, variety, effectiveness and of course, and what I call the entertainment factor.
Silver and Fit-Ease of Use: Since the population of seniors with FB accounts is one of the fastest growing demographics, this is a natural for access. Many smart TV's have simple YouTube entry as well. I'd score the class excellent for access. I'd like to see a way to search through the types of classes in an easier way instead of having to scroll in both FB and YouTube channel. You can search using keywords, but seniors can struggle with that. If you are watching the class live, this isn't an issue.
Variety-no complaints here. There are a wide variety of classes available ranging from gentle yoga, strength and body weight training, strength and balance, dance and cardio blast.
Effectiveness-while I only took one class, the yoga was challenging and offered a variety of adjustments for all fitness levels. My range of motion and flexibility were challenged and that's what the yoga class "offered". I did scroll around through the channel and there were many other options that interested me. Win here.
Entertainment Factor-It certainly is nicer doing a class with the ocean in the background, the instructor was pleasant, had a nice voice, background music was pleasing to listen to and the class  kept my attention throughout. That's a win for me. Half an hour is a perfect time for short movement break any time of day.
Overall, I'd say Silver and Fit has hit the mark for their classes. There is certainly something for everyone.
I look forward to taking another class-this time I'm traveling to Ochos Rios, for a strength and bodyweight training with Jill. Jamaica, here I come!
Disclaimer: This is a sponsored post based on the author's experience with Silver&Fit. 
Pin Me ♥ 

Fitness for Healthy Aging