Vienna for Couples Romance with Mozart
VIE
Looking for a romantic destination? Vienna for couples certainly has more than its fair share of  the dreamy quotient. The capital of Austria is filled with music, art, culture, history and of course, swoonworthy sights certain to steal your heart.
This centuries-old city comes complete with magnificent opera houses, majestic castles and quaint cafés. My husband and I chose Vienna for couples as the first stop on our anniversary celebration; a perfect beginning for combining romance and Mozart on  European tour.
Traveling for a special occasion is not the time to practice your travel planning skills. For this trip, we wanted to select a travel advisor who specializes in the area.   While I might be one to fly solo by the seat of my pants, when I travel with my husband, I want smooth sailing.
Our travel styles are quite different and working with an advisor who can balance the needs of two different types of travelers can make all the difference in the success of a vacation. JayWay Travel is just such a boutique travel agency with on the ground specialists in Central Europe; experts in solving and anticpating bumps in the road.
After an initial interview to determine our priorities, food preferences and pace of travel, we felt assured that celebrating our 40thanniversary would be everything we had hoped for. Armed with a phone from JayWay (received on arrival) and an advisor who checked in daily for the schedule, our trip was the perfect combination of hand-holding (when needed) and independence rolled into a memorable vacation.
Vienna Map
Vienna is an easy destination to reach. Multiple non-stop flights arrived daily to the International Airport. Adding in a stop always brings down the price of the ticket and Neil flew thru Amsterdam. The train system in Europe connects Vienna to stops around the continent. 
The districts of Vienna are numberred for easy reference. District 1 is the historic City Center with historical sites and few residents. Since it was the first visit to the city for both of us, we wanted to be close to the pedestrain city center, as we love to walk to get a feel for a new destination.
Where to Stay for Romance
It was serendipitous that coming from two different parts of the world-Czechia for me and Boston for Neil-that we would arrive within minutes of each other to check into the impossibly romantic Hotel Imperial. This first moment set the tone and demonstrated JayWay Travel was all about the details!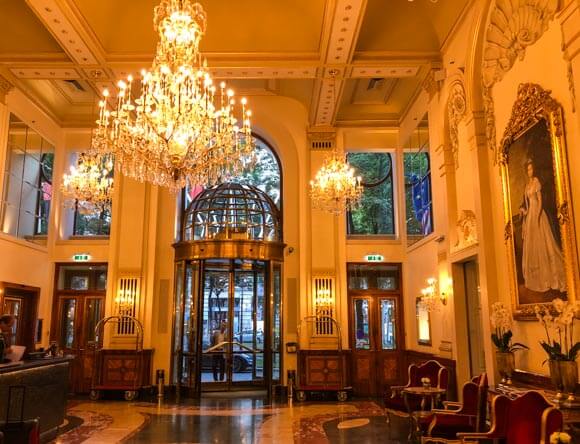 The hotel was located at the edge of the City Center (blue marker below) and the more bohemian Wieden district,  a perfect combination for a couple looking for music with a boho vibe that attracts trendy cafés and restaurants interested in the farm to table movement.
It was the best hotel in Vienna for couples and a perfect base for our 3 day itinerary. We both love explore on foot whenever possible in new city and Wieden/Inner City area was perfect. If we needed it, public transportation was right outside our door.
Vienna For Couples Sightseeing:
When you visit Vienna, be prepared to take it all in – the music, the culture, the delicious food. There are so many things to do in Vienna, I was glad our travel advisor kept us focused. Whether you are a music lover or wanting to leisurely enjoy the beauty of this city with your loved one, Vienna has a plethora of offerings; a little something for everyone to enjoy all sprinkled with a bit of Mozart and romance.
Schönbrunn Palace
Located in Hietzing, this former summer residence for the Habsburg family is now one of the most noted attractions in Vienna and greets thousands of visitors a year. The meticulously maintained grounds and gardens are a favorite for visitors in the summer months and those who love Baroque architecture will marvel at the 1441 room palace.
Romantic Stroll along the Danube River
Along the Danube River is a magical place. Visitors will find this to be one of the most romantic strolls in Vienna, especially with the twinkling lights of nightfall. It offers breathtaking views of the water and this historic city.  Along the way take part in the café culture and get caught up in the Baroque streetscapes.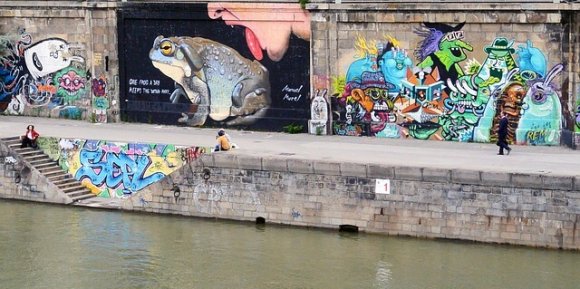 During the day, the river is a great spot to take in all the street art fancifully painted along the walls. Entrepreneurs take full advantage of the adjacent real estate. We saw a floating gym, complete with pool, rooftop cafes and temporary housing pods for AirBnB style rentals along the way.
Tidbit:
The Belvedere
Built in the early 18th century, The Belvedere is one of the most noteable landmarks in Vienna and a UNESCO world heritage site. It was built as the summer home of Prince Eugene of Savoy and has since been a favorite to tourists visiting Vienna, especially those who love Austrian art. And since this is a trip for romance in Vienna, how could we not see Gustav Klimt's The Kiss.
It not only features world-class art, it also features extensive gardens that are not to be missed. Be sure to take the guided tours which will take you through the many French inspired gardens from the secluded Kammergarten to the main palace gardens. The Belvedere gardens were in bloom throughout and the heady scent of roses filled the air during our romantic strolls.
St. Stephens Cathedral
The mother church of the Roman Catholic Archdiosese of Vienna is St. Stephens Cathedral. This opulent church is not only filled with rich Austrian history, it's also one of the most interesting structures in Vienna. While you are there, you can learn the history of the church, take a tour or attend mass, which is an event in itself.
Riesenrad Ferris Wheel
There is nothing more romantic than taking a late afternoon ride on the Riesenrad Ferris wheel, located at the entrance of the Prater amusement park. Measuring around 65 meters, this giant wheel has given millions of visitors a ride since it was constructed in 1897. It is a great way to get off of your feet, cuddle up with the one you love and enjoy the magnificent views of all Vienna from the top.
Musical Vienna for Couples
In the 18th century, Vienna was the music center of Europe. Filled with operas and theater, Vienna was home to some of the greatest composers of all time. Mozart, Beethoven, Strauss and many more walked these cobblestone streets and created timeless masterpieces that people enjoy to this day.
Golden Hall at Musikverein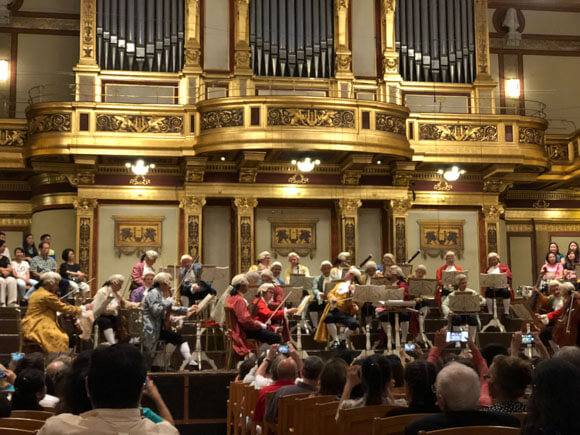 Attending a concert at the Goldener Hall in the Musikverein is an amazing experience. The acoustics in this hall are second to none and it's the main stage of the Vienna Mozart Orchestra. A visit to Goldener Hall is a sensory experience and was at the top of my husband's bucket list. Mozart and classical music lovers will not be disappointed!
Enjoy an evening of having your ears treated to the beautiful sounds of the Mozart Orchestra, and your eyes delighted by the murals on the ceiling, the stately chandeliers and gilded accents. You'll find it's classical music at its best. Vienna concert tickets can be obtained right behind the Hotel Imperial. Make sure to enjoy a glass of champagne during intermission.
Haus der Musik
The Haus der Musik interactive attraction is the only musical museum in the world of its kind. This five story building is filled with interactive exhibits like the Virtual Conductor, the Waltz Dice Game, and numerous instruments. As you walk through the building, you will explore music and sound like you never have before and even learn more about your favorite composers like Mozart or Beethoven.
Where to Eat in Vienna for Couples
Vienna is not only known for music and romance, it offers some of the best food you will find in Europe, especially desserts. Whether you are looking for a snack or a five-star dining experience, Vienna will delight your taste buds from breakfast to dinner.
Let Them Eat Cake – The Sacher Torte
One of the most notable desserts in Vienna is the Sacher Torte, served freshly baked at Cafe Sacher. Yes it's touristy-but part of the culture. This dense chocolate cake is carefully filled with a thin layer of apricot jam and enrobed with dark chocolate icing. This rich desert also has a rich history. Franz Sacher, a 16 year old boy, created it in 1832.
How did a 16 year old end up creating Vienna's most favorite dessert? The legend goes that the prince has asked the head chef of his kitchen to prepare a dessert and when he fell ill, the task went to this young man, his apprentice and it was a big hit with the prince. The current-day version was perfected by Franz's son Eduard, who brought it to the Hotel Sacher in 1876. Generations of tourists and Viennese have been enjoying the rich cake ever since. Grab one to share with your love for a romantic dessert.
Strudel
You can't visit Vienna without indulging in the famous Viennese Apple Strudel. This delicious dessert is layered with flaky pastry that surrounds a mixture of spiced apple dotted with raisins. You can find this dessert at pretty much any cafe in the city, but there are a few places that are well-known for this Viennese treat:  Kaffee Alt Wien and Café Landtmann are two, however, a slice of strudel from Café Mozart uses the traditional recipe from the bakery at Schönbrunn Palace and will send you into strudel nirvana!
Lunch at Naschmarket
Readers know I am a fan of visiting markets to get a feel for a new locale. Included in our walking area was the nearby Naschmarket, Vienna's oldest and largest street market and a must see for anyone interested in the food scene here.
If you are looking for a bite to eat, stop by Naschmarket for a snack or full meal, both are options. , We settled in just as the skies opened up into a downpour, and for once felt the relax vibe, as exploring in the rain is not my idea of a romantic afternoon.
The Naschmarkt is located at the Winxeile and has been serving locals since the 16th century. There you can grab baked goods, fruits and vegetables, meats, seafood and cheese from around the world. Visitors will find its a great place to eat a traditional Viennese dish like Kaiserschmarrn or Palatschinken.  You can also do some shopping, especially on Saturdays where the adjacent lot houses a large flea market.
Demel Eiscreme
The Demel Eiscreme is the perfect spot to indulge your sweet tooth. At this traditional European Cafe you can stop and order a gelato (it will be hard to choose a flavor) or share a hot chocolate with whip cream.This beautiful shop has been around since 1786 and has been serving up their delicious baked goods and specialties to the Hapsburg Imperial and Royal Court, locals and tourists ever since. Located in the pedestrian area, it's a great spot for strolling, cone in hand.
Dinner for Couples 
Travelers making dinner plans will find there are many choices in Vienna. If you are looking for a more casual meal, visit one of the city's many Gasthaus (taverns) like Gasthaus Pöschl, a local favorite. There you can order Vienna staples like kalbsbutterschnitzel or wiener wurstchen or one of their many specialties. If you want a more romantic dinner, many of the fine dining restaurants in Vienna are found in hotels.Vegetarian options are all over the city. One of the most romantic dinner venues in Vienna as well as claiming a Michelin star was our hotel's OPUS restaurant. Here each dish is presented as a work of art and they have a delicous vegetarian menu
Where to Drink in Vienna for Couples
Whether you are searching for the perfect coffee or a night cap, Vienna's drink scene is second to none. Here are some of our favorites ways to enjoy this part of the city's culture.
Coffee Shops
Cafes are a plentiful in Vienna and the perfect place to cozy up to a loved one. The cafe culture in Vienna is strong (it was named "intangible cultural heritage" by UNESCO in 2011) and they pride themselves on not only serving delicious coffee, but also delectable Viennese pastries as well. Part of our Vienna for couples routine was a daily stop in the Café Imperial Wein for a slive of torte, made in the on site pâtisserie and iced coffee, refreshing in the summer heat.
Another favorite was Kaffee Fabrik in our area. We found it more contemporary in feel and appreciated the fact that this small roaster organics and fair trade roasts.
These centuries-old venues are scattered around Vienna and are more of a social gathering space than anything. People flock to them to lounge, enjoy their paper or have great conversation with friends. As a part of the Viennese culture, a wide variety can be found in every neighborhood.
Insiders Tidbit:
[Tweet  "The famed café culture was rumored to have been tied to the Austro-Hungarian Empire and started by a nobleman from L'viv, Ukraine. A union of coffee house tradition from the best of both worlds!" ]
Romance on a Bike Ride Through Wineries
Although there is plenty to do in downtown Vienna, one of the best attractions in the area is a bike ride through the nearby Wachau valley vineyards. JayWay Travel knew of our love of wine and made this excellent suggestion. For a country escape, you can take a small group tour; the perfect escape for a taste of the countryside.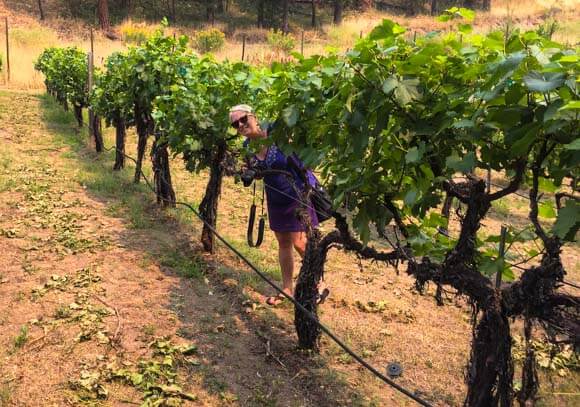 In the Wachau Valley,  the small group tour takes you through the heart of Austria's famous wine region including several picturesque towns. During your visit at the two wineries, you will sample some of its homegrown wine, schnapps and liqueur. Picnic amongst the beautiful scenery and finish up with a short cruise along the river.
Insider Tip-a hat and sunscreen are a must!
Night Cap at the Atmosphere Bar-Ritz Carlton Hotel
After a busy day of exploring Vienna, a short walk from our hotel was the  Atmosphere Rooftop Bar, a heavenly stop for a night cap. Located on the 8th floor of the Ritz Carlton, this romantic space offers a relaxing environment to enjoy the Vienna skyline and unique cocktails. We arrived at sunset and were richly rewarded. There they have a extensive selection of wines and microbrews. Be sure to try their very own D-scovery Gin.
With romantic venues, quaint coffeehouses and world-class music, it's easy to see why many visitors come to Vienna for the music and stay for the romance. Vienna for couples is the perfect destination to begin a celebration of travel in Central Europe.
PIN ME ♥ 

Vienna for Couples, Mozart and Romance