Top 20 Baby Boomer Travel Dream Destinations
When I asked my favorite Baby Boomer travel writers to let me in on their dream destinations, I had to admit, the answers surprised me more than a little. This group knows their way around the globe, and if I did a tally, they've probably visited almost every one of the 195 countries on  earth. After all, this demographic has the means and desire to learn and broaden their horizons thru travel.
Photo of Tetiaroa via The Brando
According to AARP 2019 survey:
Boomers anticipate taking 4-5 leisure trips in 2018, for which they will spend~$6,300 across all trips.
Of the trips planned for 2018, Bucket List destinations are mentioned most often among Boomers.
Experiential, more authentic trips have them looking to local entrepreneurs for eating and touring.

Additionally, AARP offered these insights:
Baby boomers are well read and researched too, have likely spent days – even months – online looking at where they might want to eat or a local attraction they might like to visit. The kind of tour that appeals is one that has done all the leg work for them, but allows them enough free time mixed with planned time to see the things they are interested in.
Educational trips are on the rise especially for the younger Boomer in their 50s. That might range from booking a cooking class in Italy or Vietnam to an expedition cruise to the Antarctic.
Now they're after places they've dreamed about. They're trying out their first cruise – maybe even taking their adult children and grandchildren. And they're realising they love that smorgasbord of countries on a platter that cruising provides and now want to spend more time in the places they only had a day in.
This last item is particularly on trend as most of the experts below are trying to figure out how their dream destination has eluded them for so long.
Where Are These Baby Boomer Travel Experts Dream Destinations?
You'll find most are by the water, and many involve beaches and islands. Not surprising as throughout history, travelers have written about the calming and regenerative powers of being near the ocean or sea. "Water makes you happier, healthier, more connected to other people, and better at what you do," says Wallace J. Nichols, Ph.D., the author of Blue Mind.
It's also not a shock to find these experts have chosen five destinations included in the NY Times 52 Places to go In 2019. These award-winning bloggers are in touch with top travel trends and can read the pulse of exciting destinations ready to be explored. The most popular area with top choices was Oceania, a geographic region comprising Australasia, Melanesia, Micronesia and Polynesia. Spanning the eastern and western hemispheres, the many islands and archipelagos involved conjure up the palm tree locations most people would call paradise. Are you ready to start packing?
Top Baby Boomer Travel Destinations – Oceania
Tetiaroa, French Polynesia
Marlon Brando had a secret and  hidden gem that has captured my imagination since I first read about this seductive private island. He fell in love with Tetiaroa and his leading lady while filming Mutiny on the Bounty. It became his mission to build a legacy there that shared his passion for the environment and cultural way of life. Part of the French Polynesia archipelago, Tetiaroa is my adult luxury version of Swiss Family Robinson – that island you want to be shipwrecked on until time stands still.
Breathtaking in its beauty, the Brando Hotel is a model of sustainability and has the awards to prove it. This bio-diverse barefoot paradise offers all the required eco-friendly water sports, sea to table cuisine and an off the charts spa housed in a bird-like twig structure that might become your favorite nesting spot.
Tahitian royalty formerly used the island as their retreat and it exudes Polynesian culture. When all is said and done, I find it hard to imagine a more perfect vacation destination than this near carbon neutral, private island resort.
Alison Abbott writes Green With Renvy
Vanuatu, Melanesia
I've wanted to go to Vanuatu ever since some friends spent a few years there as medical volunteers. In the South Pacific to the east of Australia, it's made up of about 80 islands extending over 1000 kilometers. It's the kind of place that fulfils everyone's dreams of a tropical island getaway: white sand beaches, coral reefs, traditional villages, snorkeling, active volcanos, and an interesting Melanesian culture.
While it apparently has tourist facilities like overwater bungalows and golfing, it doesn't sound overrun with tourists like some other South Pacific islands. The combination of a natural environment that's relatively unharmed with a local culture that isn't "spoiled" by mass tourism makes it seem all the more perfect.
Given how far away it is from everything, I think I'd have to stay a while. I'd snorkel and dive and explore several of the islands, as well as the capital of Port Vila. Mostly I'd like to see islands that are further away from tourist hubs: places where I could get a sense of the local way of life. Or maybe I'd just check into a fancy resort and luxuriate. Most likely a bit of both!
Rachel Heller writes Rachel's Ruminations
New Zealand
New Zealand is on my dream destination list for several reasons. Many years ago, my desire to visit New Zealand included Bungee Jumping although currently I find the idea quite terrifying. Now my biggest reasons for visiting include learning about the Maori culture and experiencing the outdoors through the incredible hiking and kayaking.
While in New Zealand I will learn from the Maori people about their legends such as Tāne Mahuta, Lord of the Forest. I want to learn about their elaborate carvings and how the art work tells the stories of the Maori. I would love to attend a Maori welcoming ceremony as well as see the Haka performed.
For outdoor adventures I plan to visit Abel Tasman National Park to do some sea kayaking. I'll visit the Kaimai Mamaku Forest Park and tour the glowworm caves. Plus, I'll do plenty of hiking around New Zealand to take in the amazing views of the mountains, volcanoes, and glacial lakes.
Susan Moore writes SoloTripsAndTips.com
Tahiti, French Polynesia
I've been fortunate enough to have visited many places on this wonderful planet but Tahiti is the one place that keeps calling my name. I studied art history in college and was intrigued learning about Paul Gauguin and his visits to Tahiti in French Polynesia. Ever since, I've dreamed of going to Tahiti and visiting the Paul Gauguin Museum.
Not only do I want to enjoy his work but also to experience the nearby Botanical Gardens and beach park. It seems like the perfect place to learn more about him and his fascination for this part of the world. I must admit that when I learned about overwater bungalows in Tahiti my fantasy of visiting became even more intense. I imagine sleeping like a baby while hearing the water softly lapping under my own bungalow. Now that Tahiti has made it on to the New York Times 52 Places To Go in 2019 I believe that to be a sign that I need to get to Tahiti sooner than later.
Sue Reddel writes Food Travelist
Easter Island
Both the Galapagos Islands and Easter Island are but tiny specks in the Pacific Ocean.   The Galapagos is well known all over the world for it's incredible biodiversity while Easter Island is know for it's stone staues – the Moai.
What is less know is the vibrant festival that is held on Easter Island called Tapati Rapa Nui.  This festival celebrates the island's Polynesian culture.  During this fesitival there is an event called the Haka Pei.  The rules for the Haka Pei, the most eagerly anticipated event in the annual Tapati Rapa Nui festival, are simple: stand naked but for a loincloth at the top of a 300m-tall volcano, hold on to two banana tree-trunks lashed together with twine and launch yourself feet-first downhill, reaching speeds of 50mph before skidding to a halt in front of a whooping crowd.   This is just the first in many celebrations and games that take place during the festival.  Competitors throw long spears at distant posts and this is greeted with drumming, and dancing from the onlookers.
This is why I have been planning to go for years now.  Both of these remote islands are so far away from any civilization that it's a wonder that the festivals and the people have thrived.
Alicja Krysiak writes www.justadventures.ca
♥
Top Baby Boomer Travel Destinations – Europe
Dingle Peninsula, Ireland
Jutting out of the western tip of the island that is Ireland is the Dingle Peninsula in County Kerry. This is where the land and hills meet the roaring Atlantic Ocean. It's been my heart's desire to visit the peninsula since 1970 when I first saw the movie Ryan's Daughter. I want to see those lush green hills dotted with houses and castle ruins that were in the movie. I picture myself walking the alleyways and streets of the tiny villages that hug the shore and watching fishing boats bob in the harbor.
Friends who have visited the area tell me that Dingle is the busiest town. In my mind I've mapped out what I'll do when I'm there; take a driving tour of the Slea Head drive, part of the Wild Atlantic Way, that circles the entire peninsula, hop a ferry to Blasket Island to see puffins, and enjoy a freshly poured Guinness while listening to Irish music in a warm pub.
Find Fran Folsom on Twitter @FranFolsom
Bulgaria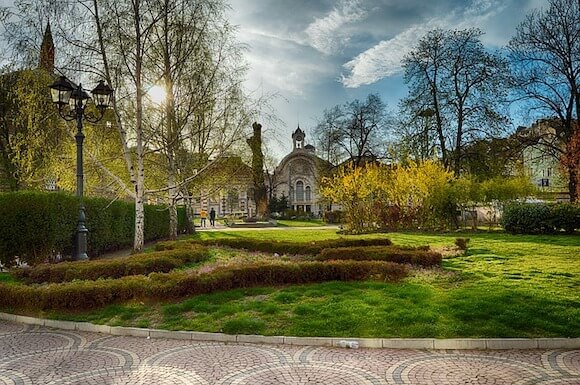 World War II seems like a long time ago. However, it had a huge impact on my husband Steve's life. His parents, Sephardic Jews, fled Bulgaria for the United States in 1940 with the intention of returning when geopolitics settled down. However, following that cataclysmic war, Bulgaria disappeared behind the Iron Curtain in the Soviet sphere of influence until 1990.
By the time Steve was born in 1953, it was clear the family's future would be in the United States. His parents didn't teach him Bulgarian, but every once in a while, his grandmother who lived to be 98, would show us faded black and white photos of their old life in the capital, Sofia.
We've been wanting to visit Bulgaria ever since Eastern Europe was opened to tourism, but as close as we've gotten is Budapest, Hungary. Finally, it looks like the stars have aligned for us to be able to visit Bulgaria this year. Better yet, we will be guided by one of my husband's work colleagues who is fluent in Bulgarian, still has close family there, and is eager to show us the places we've only seen in faded black and white photos.
Suzanne Fluhr writes Boomeresque 
Malta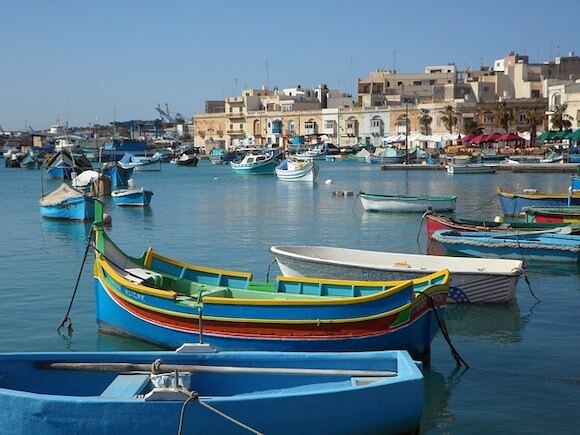 I'm a sucker for history. The richer, more complex a location's history, the more I want to go there which is why Malta is high on my must-visit list. It's been short-listed twice, but remains elusive.
For over 7,000 years the archipelago of Malta has lured conquerors, occupiers, and pilgrims including the Phoenicians, Carthaginians, Romans, Greeks, Byzantines, Arabs, Normans, Sicilians, Spanish, French, and British, all who left their mark on the culture, language, and landscape. Theirs is a fascinating history set against the sparkling beauty of the Mediterranean.
Situated on three inhabited islands 50 miles south of Sicily, Malta has three UNESCO World Heritage sites, fortresses, museums, churches and cultural sites. Lagoons, beaches and bays provide fantastic snorkeling and swimming.
High points of my trip will be:
Valletta–the capital, on the World Heritage list for its concentration of historical buildings
Mdina–the ancient walled capital, dating back to Phoenician times
Hagar Qim and Mnajdra–two cliffside stone-age temples
Rabat–home of catacombs; a Roman villa turned museum; and St. Paul's church and grotto
The Blue Grotto–a series of sea caves on the southeast coast of Malta
Lisa Siegel writes Curiosity and Comfy Shoes
♥
Top Baby Boomer Travel Destinations – Africa
Rodrigues Island
"You have to go to Rodrigues! It's only a one and a half hour flight from Mauritius, has a beautiful hilly landscape with stunning beaches and first of all, it is much less populated than Mauritius", my taxi chauffeur exclaimed enthusiastically. I'd taken a comfortable direct flight to Mauritius to escape the winter and was happy enough with my prospect of launching lazily at the Mauritian beach already.
"You'll find not only unspoiled beaches with indefinite opportunities for diving and snorkeling but also plenty opportunities to discover endemic plants and animals while hiking, visiting the botanical garden Jardin des 5 sens, the François Leguat Reserve with its different species of turtles including the imposing Giant Alhambra turtle from the Seychelles or exploring the longest limestone cave Caverne Patate."
My volunteer tourist guide recommended visiting one of the hundred family-owned bee farms and most of all, to embrace the unspoiled creole culture far from the beaten tourist path for example at the Port Mathurin Market, and at the Festival Kreol if I'd be lucky enough to be on Rodrigues at the end of the year. Certainly, by now my taxi driver had hooked me to put Rodrigues far up on my bucket list of travel destinations for the coming winter season!
Marcelle Simone Heller writes Grey World Nomads
Tanzania
Tanzania, Africa is like the one that got away. I don't really know why it eludes me, but year after year as I travel around the world, it seems to be a place I never land. Having traveled every six weeks of my life for over 22 years BEFORE becoming a travel writer, you would think I could have made it there at least once. Since then I have been to  47 countries in 2016 (some more than once), 20 countries in 2017, and 15 countries in 2018 for a total of 75+ countries traveled to in the world, but alas, not Tanzania.
Why do I want to go there? For me, it is the sunrise breakfasts on the Serengeti, the big cats, and the great migration of millions of wildebeests. All those stunning sceneries of Tanzania I see on travel websites and scattered on my social media. That's what I want to see and do, along with bringing my camera, of course, to capture those moments.
Dr. Cacinda Maloney writes Points and Travel
The Seychelles
In my worldly travels, I've had one particular quest: to find the most beautiful beach in the world.  I've explored some stunning candidates in Bora Bora, Thailand, Brazil, Hawaii, Mexico, Bali, Greece, Australia, Maldives, and the Caribbean.  But the beach that is arguably the most beautiful – the Seychelles – has eluded me.
How can anyone not be intrigued by the exotic islands that have been called "the Garden of Eden?"  Located in the Indian Ocean, off the eastern coast of Africa, the archipelago consists of 115 tropical islands.  Impossibly iridescent turquoise waves lap onto powdery beaches with a backdrop of lush mountains.
The Seychelles are #1 on my Bucket List, and when I do finally get there, I have two beaches I want to visit. The first is dreamy Anse Source d'Argent Beach on La Digue Island, dubbed by National Geographic as the world's most photographed beach. Pink sand is strewn with large rock formations rendering an otherworldly appearance.  It's also one of the best places to snorkel in the Seychelles.
The other is Anse Lazio Beach on Praslin, the second largest island in the Seychelles. This beach is cradled by a large bay with mountain peaks on both sides, and similar granite boulders.
I do believe that after I've been to the Seychelles, I'll be ready to declare a winner!
Patti Morrow writes Luggage and Lipstick
Morocco
Morocco eludes two of our contributors. Is it the souks, the riads or the vibrant colors and culture? Read on to discover the country's attractions for them.
For as long as I can remember, I've wanted to see Morocco. To me, the culture is one of the most unique in the world, an exotic meld of Arab, Roman, Berber, French, Spanish, African, and Mediterranean — I can't think of a more interesting mix of culture, ethnicity, and history. Exploring the souk markets of Fes and Marrakech would be first on my list.
Between the rich textures, warm colors, and colorful people I grew up gazing at in the pages of National Geographic, my camera and I might never see anything else of the country. I'd love to stay overnight in a colorful riad, though the desert landscape holds a particular charm for me and would be my first choice. I've dreamed of hopping on a camel to ride out and sleep in a tent, the inside strewn with heavy carpets and braziers to keep you warm, and photographing the entire romantic scene at the blue hour.
Lori Simonetti Sorrentino writes TravlinMAD
Morocco (part 2)
My travel dreams are filled with exotic, crowded markets, sultry nights, and vibrant colors. In other words, I dream about Morocco. I wish I could explain why this country throws my imagination so wide open. Staying in a traditional Riad like royalty, shopping in souks – the original retail therapy, visiting gardens, mosques, and tombs. It's a place outside my comfy-cozy zone, and yet it calls to me.
I will visit one day, soon to see the Imperial cities of Fez, Marrakesh, Meknes, and Rabat, and soak up their rich history. I'll rest in the blue city of Chefchaouen, in the country's Rif Mountains, and then travel to a coastal town – like Taghazout or Essaouira. I'll leave right after I ride a camel in the Sahara Desert – and maybe have a sleep-over (with the Desert – not the camel.)
Who knows what I'll find when I realize my dream of traveling to Morocco, but I know it will include a bar in Casablanca. People will hear me muttering "of all the gin joints in all the world," but I won't notice them noticing me. I'll be preoccupied straining to hear a tuxedo-clad piano player.
Cindi Conley writes Traveling Later
Top Baby Boomer Travel Destinations-Asia
Which city has more Michelin stars than any other?
Tokyo
The capital of Japan, Tokyo, is our dream destination. Born and bred New Yorkers, we love the adventure of visiting large vibrant cities. Not sure why we haven't gotten to this one yet—except for the cost and distance. We are intrigued by the promise of Tokyo's rich cultural and culinary treasures; its unique mix of traditional and contemporary architecture; all its technological savvy (including smart toilets); its busy shopping districts and colorful signage and lights; and its reverence for older folks like us. When our millennial son returned from Tokyo a couple of years ago, he told us that we would appreciate how organized the city is and how smoothly and efficiently things run. We'd love to ride on one of the high-speed bullet trains. And what foodie wouldn't want to visit a city known worldwide for its gastronomy, a city with more Michelin stars than any other? Mmm…
Irene S. Levine writes More Time To Travel 
Top Baby Boomer Travel Destinations – North America
Newfoundland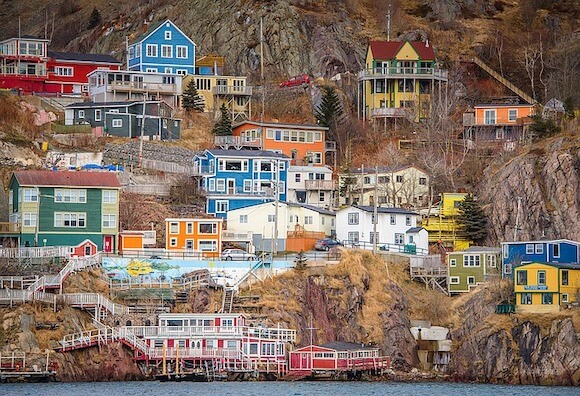 Newfoundland has been quietly moving up to the top of my Dream Destination list ever since the first time I saw "Come From Away," the Broadway musical about the town of Gander, whose residents took in thousands of stranded travelers on 9/11. I've seen the show three times now, and am enamored by these warm, funny, quirky people who are the reason Newfoundland has been named one of the friendliest cultures in the world.
And then there are the dogs. We miss our Newfy, Jessie, and what could be better than spending time with Newfoundlands in Newfoundland? My dream is to settle in for a nice long stay at the Fogo Island Inn, appreciating the stunning natural landscape and cuddling up with Make and Break, the Inn's two gentle giants.
Lois Alter Mark writes Midlife at the Oasis
New Orleans
Above my desk I have a picture of a hidden corner of New Orleans. An old courtyard fringed with vines, a wrought iron staircase spiralling into the distance… It's the romance of the place that beckons to me. The French colonial architecture, the jazz and the sense of a bygone era. This is the land of Tennessee Williams and Mark Twain, a place where you could imagine Ernest Hemingway propping up a bar with a cigar in one hand and a whisky in the other.
I want to explore New Orleans by foot, to wander through the historic streets of the French Quarter, past markets and churches and boutique stores. To stop in a bar and while away the evening with live jazz. To drink cocktails – a Hurricane, perhaps, or a Creole Bloody Mary. And then there is the food. Who could resist succulent seafood, spicy Cajun cuisine or jambalaya? I really need to visit soon…
Karen Warren writes World Wide Writer
Alaska
The Last Frontier is a big draw for many writers, and with good reason. Kristin Henning and Tam Warner Minton are enchanted by the state's raw beauty and fragile environment.
For all the folks who ask why we travel the wide world when there is so much to see here in the United States, I say, "Indeed!" I can't argue, other than to ask why we can't have it both ways.
Alaska calls. It's the only state we've yet to visit. With our focus on active travel, national parks, nature, and cultural history, we know we'll find great stories and scenery in Alaska. Other travel bloggers and their gorgeous images have inspired us to get to Alaska, as has our recent interest in northern climes, winter travel, night skies, and the boreal forests of Scandinavia, Canada and Russia.
Whether we approach by land or sea or air, we're specifically keen on visiting Wrangell and Denali National Parks. But Alaska's cities and towns, coastline, and cultural landmarks are appealing, too. We'd love to hear from anyone who can help us plan our time.
Kristin Henning writes Travel Past 5o
Alaska (part 2)
Of all my dream destinations and trips, and I have plenty of them, I most want to visit Alaska. After spending two glorious weeks in Antarctica I discovered the ethereal beauty of ice and snow. Glaciers, icebergs, fast ice… so beautiful and so fragile. As our world begins to melt and collapse from global warming, these incredible places will be lost to us.
I dream of a small ship cruise, seeing the fjords, Glacier Bay, the northern lights, and floating through the icebergs. I want to see, watch, and photograph whales and moose and polar bears and walruses and bears! I want to close enough to smell them!
I want to trek through the Tongrass National Forest where paw prints are more common than footprints. I want to gaze at Tracy Arms- Fords Terror Wilderness and see the Sawyer Glaciers and waterfalls. I want to kayak in Glacier Bay. I want to be on a small ship rather than a huge 3000 capacity cruise ship. I want to sit on the deck and bathe in the midnight sun, a sun that never sets. I want to savor the wildness of it all, the splendor. How glorious the experience would be.
Tam Warner Minton writes   Travels With Tam
♥
Top Baby Boomer Travel Destinations – South America
Torres del Paine, Chile
I have never been the biggest fan of cold weather, but there is something about the Torres del Paine region in Chile that intrigues me. The area, located a three-hour drive from Punta Arenas is part of the Southern Patagonia Icefields with an incredibly rich landscape, towering granite peaks, glaciers, lakes, and rivers.
There are so many activities available that it may be hard to choose… from horseback riding, Kayaking or SUP on one of the lakes fed with glacier water, or trying some fly fishing as well as hiking the incredible trails and some of the glaciers in the area! But no matter which is decided upon… the spectacular scenery and the range of wildlife available (apparently there are over 26 different mammal species) will be memorable.
At the end of the day, and located just outside the park sits Patagonia Camp, the perfect spot to recoup and relax. The Camp is based on sustainable principles so as to provide the utmost care and commitment for Patagonia. Private and luxurious yurts provide guests with the unique ability to experience intimate contact with the wonderful nature of Patagonia from the comfort of their own private room. Glamping at its best!
Rossana Wyatt writes Life is Full of Adventures
♥
Top Baby Boomer Travel Destinations – Australia
Australia
I've always been called by the Far Away. Maybe the call came through the pages of books offering enchanting new worlds to discover. Or maybe it came from a different place: the desire to escape a tiny town that offered little beyond its fields of corn and wheat to one who dreamed of a larger life.
Whatever it was that pulled me forward around the next bend, the next town, the next continent, traveling to far-flung destinations has paved the path of my travels.
Over 8,000 miles from my adopted city of Seattle, Australia beckons. As a continent and country unto itself, surrounded by endless ocean, Australia evokes visions of bountiful sunshine, pristine beaches and a fun-loving culture. Even the sound of English spoken here – G'day, Mate! – seems to have more lilt and lift to my foreign ears.
As a dreamer who writes and travels, I'm intrigued by the spiritual belief of Aboriginal dreamtime and its role in creation stories. And in the animal realm, who can resist the allure of a hug from a cuddly Koala bear? Or the sight of a leaping kangaroo with baby in pouch, in its natural habitat?
For all of these reasons, and from its appealing man-made splendors, like the Sydney Opera House, to the country's natural wonders, like The Great Barrier Reef and the mysterious sandstone monolith, Uluru, Australia remains high on my list of Dream Destinations.
Top Baby Boomer Travel Destinations – Antarctica
Antarctica
Ever since watching the movie "March of the Penguins", I have wanted to visit Antarctica. I watched in awe as those poor flightless birds braved the harshest conditions on our planet to survive and procreate. I kept wondering why a species would evolve to live in such demanding conditions? Yet it is those same conditions, a cold and ice-covered continent, that also draw me. Amid our digital world, where very few places are still a mystery, Antarctica remains a final frontier.
While a few may have the opportunity to work at one of the science stations, for most of us travelers, getting to the bottom of the world is an adventure. I want to see massive walls of ice towering above me and the perfect reflection of an ice berg in a tranquil sea. I want to stand surrounded by penguins coming up to my knees. I want to take my own pictures of a darling baby fur seal. And I want to see it before it all melts away.
Rose Palmer writes Quiltripping
♥
So there you have it. A dream destination list from baby boomer travel experts. Do you agree? Share your top Bucket List spots in the comments.  Dust off your passport and collect memories in 2019. Join empty nesters everywhere flying the coop and remember:
Travel is like love, it's a heightened state of awareness, we are receptive and ready to be transformed. – Pico Iyer
PIN ME
♥

20 Top Baby Boomer Travel Destinations