2017 Top 10 Delicious Sustainable Food Bites
Eating Local. I try to make that phrase my food mantra no matter where in the world I happen to be. Aside from the obvious plus of eating food that hasn't been transported across many miles, local almost always tastes better. Delicious sustainable food bites can be found everywhere, especially when you keep it local. Sometimes they might make you a little squeamish, but more often than not, you'll be happy you tried them.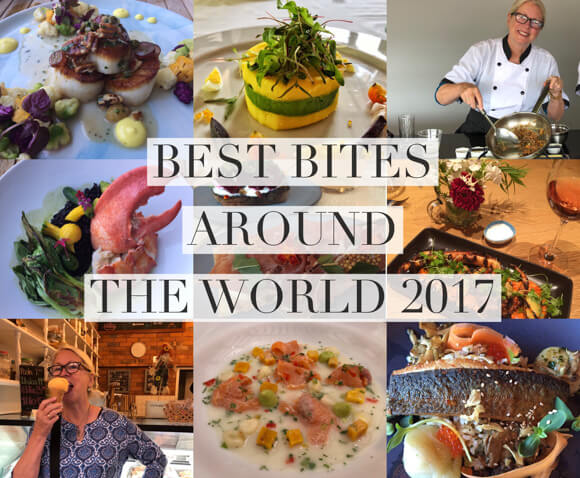 The food industry is finally starting to realize that people not only want food that tastes good, they want food that doesn't harm the planet. Restaurants have been on board for years. I look forward to the day when farm-to-table and sea-to-table are understood characteristics of ingredients and don't have to be spelled out on the menu.
Culinary travel has exploded in recent years and leisure travelers are often choosing destinations based on the availability of activities focused on gastronomy. One of the most exciting trends I hope continues is the abundance of  wonderful restaurants popping up in chic hotels all over the world.
Top 10 Delicious Sustainable Food Bites of 2017 Around the World
Tapas on The Grey Lady-Nantucket, Massachusetts  
The best of Nantucket dining focuses on what the island has to offer and the best of seasonal ingredients. The newly revamped Club Car will surprise the old guard with new offerings made for sharing with friends and family. Their take on the popular avocado toast was a delight for the palate, and the four of us at the table were rocking for 2nd bites of our favorite. each. While the rest of the table fought over bites of   jamón ibérico and gooey cheese, I dove into the honey-roasted beets, pistachio-rose sukkah and lime labneh. Toast will never be the same.
Salad Bowls and Ceviche in Cartagena, Columbia
Pezetarian has formulated a concept that would be at home in any city of the world. Their sustainable restaurant has a simple, straightforward menu highlighling fresh, local ingredients with a focus on fish. Offering sushi, ceviche, rice bowls and salad, I could have eaten every item on the menu. Extra points for the handsome owner chatting up the patrons and sharing his creative food philosophy.
Keeping in Local – Belmont, Massachusetts
Keeping it local with a palette of artisan macrons from Praline Belmont. Combining a French childhood with a scientific background, the culinary owner gives new meaning to floral, fruity and decadent. Dreamy flavors include caramel fleur de sel and orange blossom. They also carry handmade chocolates, but I couldn't get past these beauties.
Farm Fresh and Flavor – Jupiter, Florida
Three stars for clever, I was delighted to try a new restaurant in Jupiter, Florida: Aaron's Table and Wine Bar. Farm fresh ingredients, chef inspired dishes and unique wines in the buzzing Abacoa area of town. I love small plates, and anything served in a mason jar. Local, creamy buratta and cherry tomatoes were served on a bed of basil with mini POPS of balsamic flavor. I'm still trying to figure out how the chef made those balsamic pops of flavor.
A Place to Gather – Atlanta, Georgia
A Public House is traditionally the center of its community; a place to gather and enjoy a respite from the day. This version in Atlanta is no exception. While there was quite a selection of tasty small plates to share, this Bramlett rainbow trout was an artful presentation pleasing all the senses. Creamed shiitakes were a perfect foil to the pops of flavor in the form of roe. This was a hard one to pass around the table!
Sailing Cruise  for Foodies – Rockland, Maine
The lighthouse dotted, jagged coastline of Rockland, Maine was a perfect scene to begin an eco-cruise on a Maine windjammer. Every sustainable food bite aboard the J&E Riggin was memorable. To see the creativity of chef Annie Mahle in a kitchen the size of a closet was inspirational. The meal that easily comes to mind was the lunch with a view-the simple pleasure of tacos. Pea tendrils and lettuce from the chef's garden on shore upped the local flavor several notches.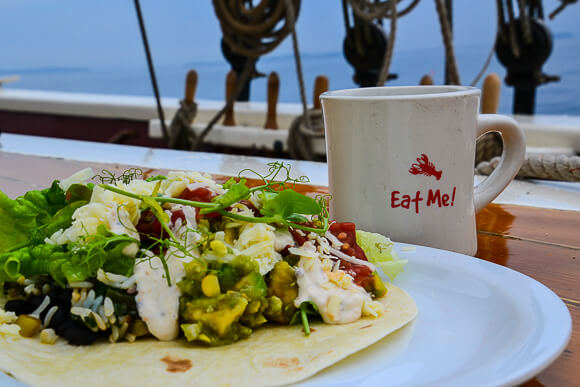 Hotels Up the Chic Factor with Farm to Table – Seattle, Washington
Buratta makes another appearance. Can you tell I'm a cheese lover? It just might be my favorite food. Fresh burrata and ripe tomatoes are always a good idea. I'm hoping the trend of great boutique hotels having creative restaurants serving the best of local is here to stay. Shaker and Spear made our stay in Seattle's Palladian Hotel that much sweeter.make farm to table chic in Shaker and Spear Seattle, Washington
Luxury Dining Gives New Meaning to Local-Nantucket, Massachusetts
The chic Greydon House hotel might get most of the attention, but the on site restaurant is a not to miss reservation when your on the island. From start to finish, this meal was the top favorite of the year! A remarkable award when you've had the chance to indulge in as many flavors as i've had. Enjoy a cocktail while perusing the offerings from executive chef Marcus Ware, who takes full advantage of all the fresh local ingredients and presents a menu worthy of the hotel's luxurious aesthetic.  Every local sustainable bite was outstanding! The diver scallops were cooked to perfection, with just the right amount of flavor enhancing accompaniments. Every time I see this photo it makes my mouth water!
The Next Great Protein-Around the World
Grasshoppers-this makes the list because I believe insects are going to be one of the alternative proteins of the future. I want to get the word out, as the more people know, the more they can make sustainable choices. Along with seaweed, I'm a fan of grasshoppers. Chapulines are readily available in Mexico, and served with guacamole at my favotite local restaurant, Amuleto. The crunch is irresistible.I also had the chance to taste cricket flour in a new energy bar. I'm a big fan and more from this company is on the horizon.
3,000 Types of Potatoes, Oh My – Machu Picchu, Peru
I ate many varieties of Causa on the Inka Trail on my Lares Adventure, but my favorite went to the vegetarian version the chef made for me at the InkaTerra Hotel. Did you know there are over 3,000 varieties of papa in Peru? No wonder it's the potato capital of the world. Lemony and layered with the smoothest avocado, I was successfully fueled for the trek to Machu Picchu with AdventureSmith Explorations. This dish demonstrated why both the hotel and the small ship adventure company has received so many awards for responsible travel.
Octopus Makes Pretty in Cartagena, Colombia
Seriously, have you ever seen a prettier plate of octopus than this? Paper thin sliced delicate morsels of perfectly grilled, lightly charred octopus with a perfect simple dressing of EVOO. Basically melt in your mouth goodness if you can imagine such a thing from a tentacled creature of the deep. I have never seen it served this way before, but it makes for a perfect presentation as well as an extraordinary dish,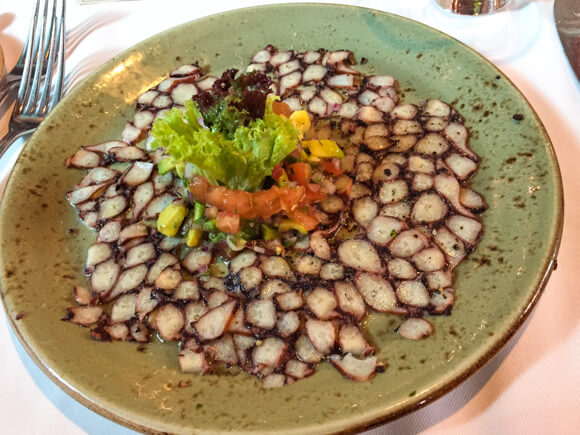 Believe me when I say it was difficult to select only 10. Peru had many more delicious sustainable food bites.  Different pockets of New England could have easily been added to the list.  I didn't even touch on the parts of Washington state we explored. It just goes to show you a traveler can visit any destination and find tasty sustainable food bites. Good news for eco-friendly travels. Good news for the environment. Where was your most memorable local bite in 2017?
PIN ME ♥ Best Sustainable Food Bites Around My World
AND ME