The Well Tempered Heart in Burma
What makes a person want to travel to an exotic location? I think perhaps that is one of the questions I am most asked about my travel experiences. There is no easy answer, but one thing all decisions have in common for me, is a visual stimuli that peaks my initial curiosity. The selection for this months book club for From Left to Write was The Well Tempered Heart by Jan-Philipp Sendker. How coincidental that I was traveling to Burma, about which the story is centered.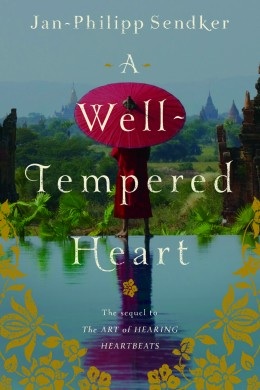 The main character, Julia is quite lost in her personal life, and travels to Myanmar, her father's native country, searching for answers, For my trip to Burma, I am on a personal search as well, looking for renewal and inspiration. I find an exotic location is just what I need to recharge, and feel quite blessed that I have the opportunity to take part in such a journey. Asking those questions helps in your own personal evolution. While I am a strong believer in fate, throughout life, we are given different paths to choose. Examining those choices reinforces my faith. Learning about the Buddhists journey towards nirvana was powerful during my travels, and most buddhists in Burma are tempted by the same vices and choices we are, though on a much different level. They struggle with character flaws, their version of our seven deadly sins. While trying to live a life of restraint, they often must wait for the next life to gain another chance at supreme enlightenment.
The magic of this country captured by Sendker is everywhere. You can't help but take in the sights and sounds while traveling. Chanting monks, golden temples, clean mountain air and markets filled with products beyond imagination. Traditional, time consuming crafts and hill tribes are on the verge of dying out if moves are not made to make them sustainable. Life is difficult here, but people are full of pride about their culture, incredibly hospitable and warm. Travel here emphasizes in a glaring way what we have gained as well as lost in modern society.
Burma is on the edge. Currently the guides and hotel rooms can not keep up with demand. There is unchecked building going on everywhere, and outside influences trying to grab at the many natural resources in the country. Traveling here gets under your skin, and you can't help but be changed by the experience. While there is no doubt I will be using my return ticket next week to get back to my appreciated life in the US, I can certainly understand Julia's seduction by the country and her decision not to return to her life in NY. I for one, am very interested to see how they handle their future.
This post was inspired by the novel A Well-Tempered Heart by Jan-Philipp Sendker. Feeling lost and burned out, Julia drops her well paying job at a NYC law firm. After hearing a stranger's voice in her head, she travels to Burma to find the voice's story and hopefully herself as well. Join From Left to Write on February 4 we discuss A Well-Tempered Heart. As a member, I received a copy of the book for review purposes.