The Dadar Flower Market Mumbai
BOM
I might sometimes sing the praises of the land of neutrals, but truth be told, I am really a lover of color. Always have been, and probably always will be. Don't get me wrong, I like soft and soothing tones in a spot where you sleep, but when I look around the environment I have created for myself and my family, it is filled with the memories of our travels; textiles fashioned from yarns handwoven in rich hues, photos of brightly dressed people and artwork capturing the colors and techniques of artists from all parts of the globe.
It was not so long ago that I found myself in India exploring the flower markets of Dadar in Mumbai.  You might have read about it featured in Leaf Magazine in a story on
Flower Markets of the World.
 The colors in that country were off the charts.  It is one of my favorite places on earth, and I often relive my trips while sorting through photos.  I allow the images to 
Take Me There.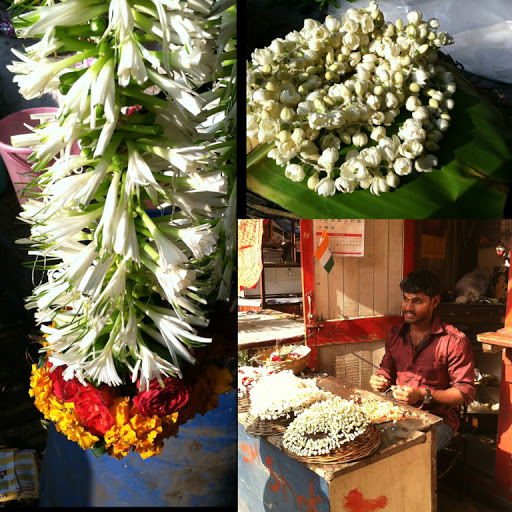 Visiting local markets is always a high priority when I travel, and the Dadar Flower Market was no exception.  The country celebrates occasions with over the top displays of flowers, especially temple celebrations and weddings, so I knew I was in for a treat.  It did not disappoint.
The jasmine garlands are woven as a form of welcome when you arrive in the country.  Just the jolt needed after the 24 hours of travel necessary for us to arrive in Mumbai.
The heady fragrance and brilliant colors were intoxicating, but I found the real fascination to be the vendors who were busy constructing garlands worn by the brides, grooms, temple gods and politicians.  These handcrafted beauties were meticulously strung together like beads onto cotton thread in the most creative combinations.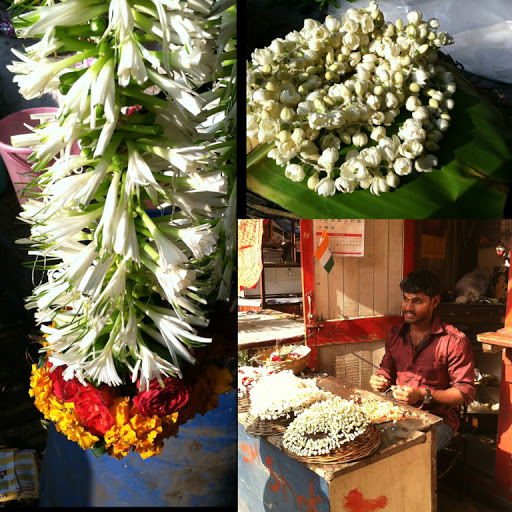 India's love affair with flowers is big business, and the opportunity to chat with the proud and clever craftsmen hard at work was integral to visiting the Dadar Market.  It is not something which has faded in any way from my memory.