Ten Packing Tips for A Barge Cruise
A small ship barge cruise in France offers the opportunity to experience slow travel and really explore a destination. You've done the research and decided on your itinerary. Now, you need packing tips for your barge cruise. My recommendations for what to bring will get you started. A well prepared trip will insure all you have to worry about is enjoying yourself.
Cruising on a small ship can be different throughout the world. Unique regions will require various kinds of planning. After traveling on 5 small ship cruises in a variety of destinations and boats, it's important to differentiate the common items you should always include and those that are cruise specific. One thing to remember, when looking for packing tips on a small ship cruise, space is always at a premium.
For a warm weather barge cruise in Europe, use these packing tips in conjunction with your specific ship list. Floating down the Seine, Rhine or one of the many canals in France on a barge cruise is a time to focus on the gorgeous scenery, charming towns and delicious cuisine coming your way.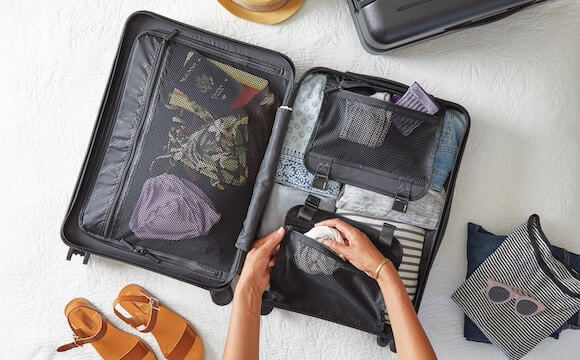 As luck would have it, I'm a Sagittarius, and a love of travel in in my DNA. Yes, travel is one of the defining traits of my personality. I can't help myself (at least that's what I tell my beloved). However, the packing gene skipped over me and it's taken many years to come up with a process that works. I am always refining and looking for better solutions.
Choosing Your Luggage
This is perhaps the most important piece of advice. On a small ship barge cruise the rooms are quite small. When you select your luggage, you want something that will slide under the bed. It is quite common to ask your travel advisor for under the bed height measurement. This will ensure your luggage will slide beneath.
I love the Solgaard hard shell bag with wheels. This hardworking eco-friendly piece of luggage features a sustainable interior lining made of recycled plastic. Every bag removes five pounds of plastic waste from the ocean and comes with a 10 year warranty. Travelers will also appreciate the USB port and TSA approved lock.
Often there is a fair amount of walking in airport terminals and in the embarkation area before you board. A rolling suitcase keeps my shoulders intact before I even get on board.  On the variety of vessels I've cruised with, my hard shell worked well on all but one. This is partially because of the carry on size. I will admit on a wind jammer cruise, I had to leave the suitcase open and use the luggage like drawers in the cabin. Luckily, I had the berth to myself.
Unless you are arriving at your point of departure a day or two early, definitely only pack luggage that can qualify as a carry on. After hearing horror stories about lost luggage and missing rendezvous points for the start of a cruise, you don't want to worry about wearing just the clothes on your back for your holiday barge cruise! The truth of the matter is – the ship will leave port whether you and your luggage are there or not!
In addition, you'll want a good size "personal bag". I rotate between a rolling backpack and this favorite carry-on from CamTop. I love it because the bag includes a pocket to slide over my luggage handle and a separate shoe compartment in the bottom. The choice depends on how much technology I have to bring with me and how many cobblestoned streets are included in the itinerary.
Once you arrive at the boat, your luggage will be whisked away and you won't have to lift it again until you leave.
Welcome on board the Anne-Marie
My itinerary with France Cruises took me to the Provence region. Afternoon excursions were the norm over the seven day trip, but on several days we were out for the good part of the day. I know in theory when it comes to packing, less is always more. I still find it hard to be practical and just stick to basics. I need that pop of color and let's face it, both my wardrobe and life have always been about bright and easy patterns. When it comes to the LIST-I have to work towards balance; there is always a bit of both in my suitcase. Now that you know I'm a firm believer in carry on, let's get down to business and figure out as many dual-purpose and helpful packing tips for a hotel barge cruise as possible.
It is not unusual to begin the cruise with an onboard welcome from the captain and a lesson about safety on the hotel barge. Keep in mind that there might be a bit of time before you have access to your room and luggage; take any medications you might need and a light jacket or wrap with you.
The Packing Basics
Start the with process with packing cubes. I'm a firm believer in rolling clothes and packing in cubes by theme. Under garments in one. Tops in another and the bulky items, usually pants, jacket, dress in the large cube. By rolling your clothes, you can see everything at a glance and don't need to disrupt the whole cube. I also found on this hotel barge cruise, the cubes were helpful in keeping things organized on the closet shelves.
I also always bring a daypack. It's great for my camera, water bottle, shopping, sunblock and all those other essentials when you will be out on an excursion. It folds up into a teensy pack and can be used to transport souvenirs if you overindulge and can't fit everything in your suitcase on the way home.
Clothing Tips for a Barge Cruise
Shoes
My number one tip for a barge cruise is keep it casual and wear layers. Take a good look at the itinerary and focus on the items you'll need for each of the day's explorations. This is especially important when it comes to shoes. Shore excursions usually involve walking and many of the charming towns and villages you'll visit were built in medieval times. Cobblestones and uneven surfaces are the norm. Bring a good pair of walking shoes. Not necessarily hiking boots, but a shoe with good support that you can wear all day. Include a pair of wicking socks. I love the sustainable brand Farm to Feet. Colorful and fun, they offer pairs in a variety of thicknesses.
That cute pair of shoes you just bought and haven't been broken in should remain onboard (or at home)!Bring an additional pair for dinner, and a pair of sandals or flip flops for lounging around the boat or going in the hot tub.
Accessories
Getting through airport security can be stressful. There's something about TSA, customs and passports that spikes my blood pressure. A travel scarf can relieve some of the stress, and in my opinion is a wonderful invention. This tricky piece of fabric comes complete with a pocket where you can store your boarding pass and identification. Leaving your hands free to maneuver your suitcase, your necessary documents are right there when you get to the uniformed agent. Genius right!
The Ultimate Travel Scarf
Jasmine + Jain just happens to be the newest fabric in the Waypoint Goods collection and guess what-the company I co-founded, Alison • Jane,  designed the fabric. My partner, Jane Shapiro and I put the finishing touches on the concept while on this hotel barge cruise. The scarf can cover shoulders or head when needed for religious tourist attractions, is cozy and warm on the plane and holds all your valuables, keeping them safe in the zippered closure. On a long haul flight or train, it is especially comforting to have important papers (think passport and money) around your neck as you sleep. If you're curious about our design journey, you can read more about it here.
In addition, I always pack a light jacket that can double as a rain coat, sunglasses, a hat for sun protection and an additional pashmina scarf for cooler evenings and the plane. A bandana can be used in hair or over the nose and mouth for dust.
Most of the older medieval towns have some sort of fountain in the central square and soaking the bandana in water (and then squeezing it out) can bring cooling relief during a heat wave when tied around the neck. It will also provide additional sun protection. Available in a wide variety of colors and fairly inexpensive, I find them very useful and part of my regular "essential kit".
Essential Clothing on a Barge Cruise
Do you have a travel uniform? You know, that go to outfit that makes its way into your suitcase for just about any destination? The St. Lucia tunic from Coolibar is part of my travel uniform (just check out my Instagram for proof). I have it in several colors, you can dress it up or down and most importantly, it offers UV UPF 50 sun protection. The fabric is soft, lightweight and dries overnight if you need to wash it during the trip. Add in a pair of their bamboo/cotton cropped pants , available in black, white, navy, denim and grey you have that go anywhere outfit.
Dining on board was in a lovely, light filled room with white linen tablecloths. At first glance, I was worried the dress might have been formal, but my cruise mates wore the gamut from jeans to dresses and heels. My girlfriend and I were the only Americans on board, most of the guests were from Europe. In the evening, folks changed from their daytime attire, but it never felt formal. You might want to consider a special outfit for the last night which is termed a gala, involves entertainment and most everyone reflected the special evening with a more "dressed up" look, but again nothing formal.
Think clothes that are wrinkle free and easy travel and can be mixed and matched. If you choose two color palates and accessorize, you'll be in great shape. There is also the option of laundry on board.
Toiletries
Once we boarded the ship, there was no place to buy toiletries until almost the end of the trip. The hotel barge bathroom is often small, so again, only pack what you need. In order to save space, a toiletry bag that you can hang over the door is a plus. Especially if you're cruise travel partner is someone who needs counter space as well.
Ear plugs and a sleep mask are essential. While our boat was very quiet, depending on the location of your stateroom, the engine might be loud, especially if the boat travels at night.
Our hotel barge, the Anne Marie, had an endless supply of basics including soap, shampoo, cream rinse and body lotion. If you're tied to a specific brand or have allergies, of course pack your own in TSA approved 3oz containers. I am particular to my Kari Gran starter kit. I have super sensitive skin and this brand is one of my all time favorites. Known as the Little Black Dress of beauty, I prefer this offering to the "travel" kit because it includes the fabulous sunblock, is cheaper and allows my readers to try the brand before investing a lot of money. The rose scent will leave you swooning and the organic lip whip is pretty divine as well.
I am always dry on planes, so not matter what time of year, I also never go anywhere without my que  collapsible, eco friendly water bottle. Staying hydrated is so important when you travel.  On a trip to Africa, I tried Greenerways Organic 2 in 1 sunscreen and bug repellant. It worked like a charm and I used it every day.  Not only does it save on space, it is DEET-FREE, ALCOHOL-FREE and PARABEN-FREE. The lotion comes in a 3oz travel size and has non of that nasty chemical smell.
Medications
Make sure to pack enough of essential medications, you probably won't come across a pharmacy, and most will not accept out of country prescriptions. I use a day of the week pill pack to keep track of my prescription meds. Travel can wreak havoc on your system and pill timing can easily get confusing, especially when changing times zones. After much trial and error, I use this method and it seems to work the best for keeping me organized. I pack two if the trip is over 10 days.
On a barge cruise the water is incredibly calm and much of the time, you can't even feel that you are moving. I predict you would not need any sea sickness meds.
Cruise ships have first aid equipment on board, but I would suggest packing a small kit yourself as well. Hazards can happen at any time during travel and it's good to be prepared with at least aspirin, anti-biotic ointment and Band-Aids. I also think it a good idea to get an antibiotic from your Doc or travel clinic. Chances are you won't need it, but one can never know when the dreaded stomach or throat bacteria will strike. Keep a list of all the medications and allergies you have with you in case you need treatment in a port of call.
I don't personally use a lot of hand sanitizer, but I think a packet of wipes are a good idea for planes and common eating areas if you are in doubt about cleanliness.
Technology
Here are a few tested items to assist with the technology equipment you are bound to pack for your cruise:
The Belkin 3-Outlet Mini Travel Charger. Compact and cordless it's a lifesaver for travel. Cruise cabins are usually lacking in adequate electrical outlets for charging the myriad of tech gear we travel with these days. The plug rotates in small spaces and protects against electrical surges. Having two USB fast-charging ports is also a big plus. Power strips with cords are often prohibited on cruises.
I also love this xtra long iPhone charging cord. Very useful for charging and working at the same time. If you use your phone for an alarm clock, the 10′ reach will usually insure you can place it on a bedside table.
If you like to read in bed, add this head lamp. Simple and  lightweight, it holds a long charge You'll be surprised by how many times you find it useful and your cabin mate will appreciate the darkness if they want to sleep before you.
My Bose Quiet Comfort wireless headphones are a necessity. Along with my dry skin, I have super sensitive hearing and these save me on a long flight. Their noise cancelling quality is excellent and I find them so helpful drowning out conversations when I am trying to concentrate and work on the road. Plus the rose gold color is on point!
Travel Insurance
Travel Insurance is one of those things people don't realize how important it is until they need to use it. Trip insurance saved me thousands of dollars when my Dad got sick and I had to cancel a trip. I've also used it when luggage has been lost and received reimbursements when flights were cancelled. And it doesn't take up any room in your luggage. Get it!
Evacuation from a barge cruise in a remote location can be extremely costly as can receiving international medical treatment. Coverage will save you from potential headaches, or at least relieve the pain once they've occurred.
GWR Insider Bonus Packing Tips for a Barge Cruise
A small dry bag is helpful to keep your camera and electronics free of dirt and moisture. This is especially important to include when you are out for the day. Weather is unpredictable.  A plastic Ziploc also will work here. You'll also find it helpful for a wet bathing suit if you decide on a last-minute dip before you disembark.
I include 6 small stainless clothes pins in my travel essentials. They are useful in pinning down towels and bathing suits on the railing of small ships to dry, as well as hanging multiple small garments on a hangar for washing out laundry, acting as a bookmark and keeping a bag of cookies from La Cure Gourmande in Aigues Mortes sealed for at least a few moments. Only available in larger packs, buy them around the holidays and repackage them as stocking stuffers.
Over the door hooks will change your life. I love this set of 4 that are reversable and work on both narrow and thicker doors. I always want to steal them for home use when I get back, but have learned to keep them separate and always in my suitcase so I don't forget them.
Finally, I have been really enjoying these new travel journals introduced by Waypoint Goods. Made to complete in one trip, they are compact and of course fit inside your travel scarf! With a  focus on the essentials, they have wonderful prompts included on the pages, and insure you won't miss recording any details from your memorable hotel barge cruise vacation.
I know there are many small ship cruisers reading this. Have I forgotten any of your favorite items that would be helpful packing tips for a hotel barge cruise? Leave me a note in the comments below. I'll be sure to include them in an update.
Pin Me ♥ The Best Packing Tips for a Barge Cruise in France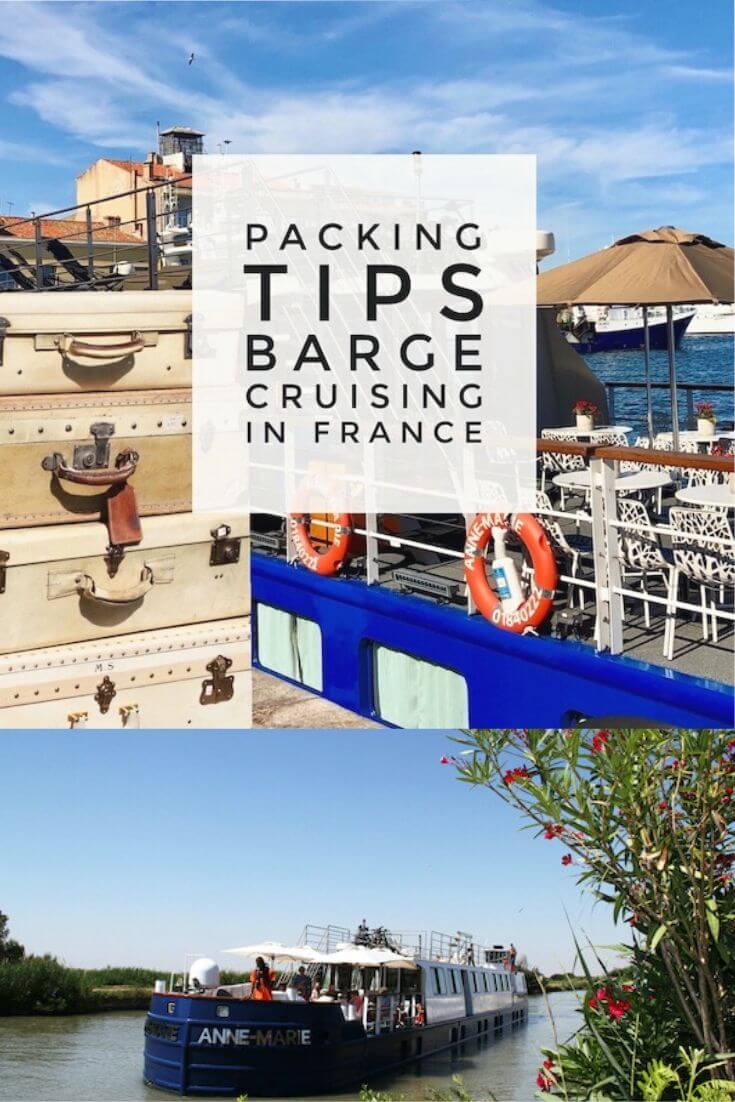 Pin Me Too ♥
Disclaimer: The author was the guest of France Cruises for review purposes. As always all opinions belong to the author alone. This post may include Amazon links. As an Amazon Associate, Green With Renvy may earn a small percentage from qualifying purchases. This is at no additional cost to you.