Tasting Peru's Causa My Favorite Dish
The numbers vary, with a range of three to four thousand, depending on who you talk to. One thing everyone agrees on is the importance of the potato in Peru's culture. Allow me to introduce you to a favorite dish from my travels-Peru causa, a slice of potato heaven. It's filling, versatile and full of Peruvian flavor that will always remind my of one of the best travel experiences of my life.
One potato, two potato, three potato, four. In Peru there's a potato for everything. The one above is the mother-in-law or weeping bride potato. Our guide Silver shared that prospective brides are given the potato as a test and asked to peel around all the nooks and crannies. Sharpen your knife skills ladies. I'm not sure how much the exam is still a part of the courting ritual, but that is the 411 on how this particular spud got its name.
I had the opportunity to taste Peru causa from the far reaches of the Amazon to the high altitude Andes when I traveled there with AdventureSmith Explorations. Although the presentation changed slightly, it was always tasty and delicous.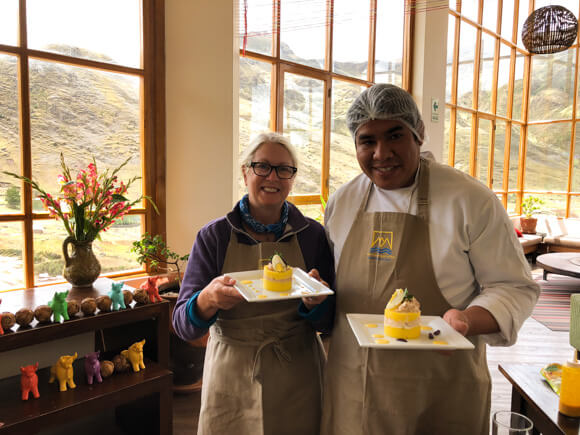 In addition to their responsible travel mission, one of the advantages of traveling with AdventureSmith is the customization of offerings on their itineraries. Each day allowed for several options, such as the chance to dive a bit deeper into Peru's causa and local culture with a cooking lesson from the chef at one of my stylish and eco-friendly hotels.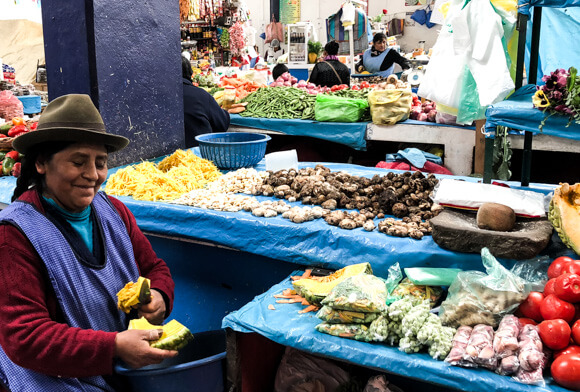 The potato originated as an ingredient nearly 10,000 years ago with evidence being found high in the Andes of Peru and Bolivia. The word papa is from the Quecha language and refers to a tuber.
Ten Facts You Need to Know-Peru's Potatoes
Potatoes from Peru arrived in Spain around 1570, but it took almost another 100 years until it became part of the diet there. (they were suspicious)
Of the approximately 4,000 potatoes grown world wide, 3,000 types are grown in Peru, making it one of the most biodiverse regions on the planet.

Like all vegetables the more colorful varieties indicate higher levels of nutritional value. Eat the rainbow! (see below)

Potatoes like the red moro boli are found to be high in antioxidants. Potatoes such as the bland, pale colored ttalaco – a long, crescent shaped spud – must be softened and either soaked or steamed to be made into a potato spirits.
The Quechua people of the Sacred Valley live a holistic way of life that marries traditions with living in harmony with Mother Earth-Pachamaya. Their sustainable lifestyle has lessons for modern farming techniques and is one of the key reasons they've been able to maintain their biodiversity.
Many of the potatoes are so rare they never make it to market and are used as a type of currency in the small villages.
As a central element of the culture in the country, there are varieties for all types of ceremonial use. Birth, wedding and funeral potatoes all have their own place in traditions.
Potatoes predate the ruins of Machu Picchu.
Farmers developed frost resistant varieties that thrived on alpine tundra, a climate too windy and cold to support tree growth.
Gastón Acurio, one of the chefs responsible for putting Peruvian cooking on the map is a big supporter of potato diversity. His seasonal menu at Astrid & Gastón is based on ingredients foraged or produced by Peru's farmers.
Andeans measured time by how long it would take a potato to cook.
I particularly liked this dish because of the possible versatility of the ingredients; my mind started working about how I could improvise and adapt it for my family and friends once I returned home. Green With Renvy readers know how hard it is for me to stick to a recipe without getting creative.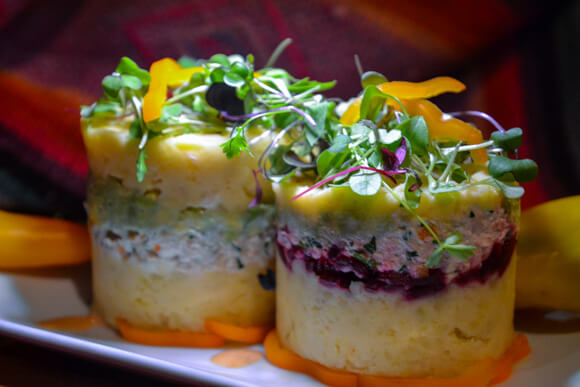 Recipe – A Taste of Peru Causa
Ingredients-makes 6 rounds
1 empty can sweetened condensed milk-use it for dulce leche recipe (next week). Remove top and bottom from can. This is your form for causa rounds.
6 golden potatoes
Aji Amarillo paste (buy online unless you have a good neighborhood ethnic market)
3 limes juiced
2 T vegetable oil
2 cloves garlic minced
2 5oz can tuna
1 avocado
1 c mayo (or use part greek yogurt)
peas, beets, green onion or whatever accent you like for the tuna or another layer- add ins
1 T. mustard
2 hard boiled eggs-sliced
6 sliced black olives
salt+pepper to taste
Directions:
Boil potatoes until soft, about 30 minutes. Remove and run potatoes under cold water when they are hot. They peel much easier.
Place peeled potatoes in mixing bowl.
Make tuna in another bowl-drain and add mayo, mustard and other add ins you would like. Think color. Taste, salt and pepper as needed and set aside.
Add salt, pepper, aji paste, garlic, vegetable oil, and lime juice to potatoes. Mash well and if it seems dry add a bit more oil. You want it moist, but a little drier than mashed potatoes.
Slice beet and/or avocado thinly and chop for layers
Generously rub vegetable oil on the inside of milk can. Push a layer of potatoes in bottom half, smooth.
Layer tuna, beets, avocado-whatever you are using for the center.
Press another layer of potatoes on top and mash down gently.
Using the plate you will serve on, place the can on the plate. Gently applying pressure to the top of the potato mixture, slide the can up over the mixture. (my first one was a mess-make sure to generously grease!).
Place toppings-hardboiled eggs, olive, green sprouts-on top. Accent with aji paste on plate and enjoy.
Pin Me ♥ Peru Causa Recipe
Disclosure: The author was hosted by AdventureSmith Explorations for her Peruvian travels, but as always opinions, reviews and experiences are her own.