Tasting Europe a Viking River Rhine Cruise
The Rhine is known as one of Europe's most beloved rivers. Flowing between six countries and connecting northern and southern Europe, it takes a twisting journey from the Swiss Alps to the North Sea over a stretch of approximately 720 miles. A Viking River Rhine cruise offers views of enchanting castles, impossibly steep vineyards and half timbered houses from your stateroom windows.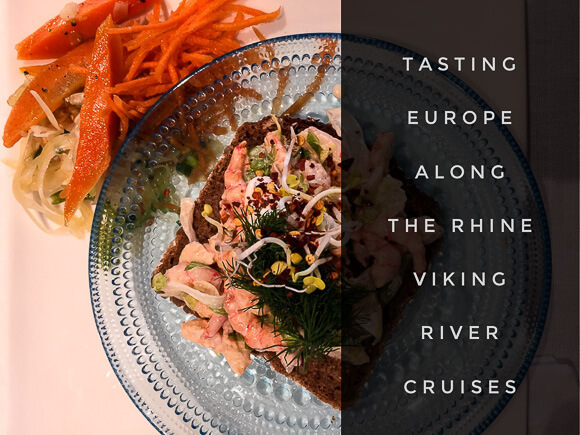 If you like to mix culinary travel with all of that culture, theres no better way to taste Europe while visiting Switzerland, France, Germany and the Netherlands than aboard a Viking River Rhine cruise. Best of all-you can cover all this territory and only unpack once!
Our seven day cruise with Viking River would begin in Basel and finish in the Netherlands (the itinerary also runs in the opposite direction).  My husband and I would be tasting the flavors of each country along the way; savoring local culture one bite at a time.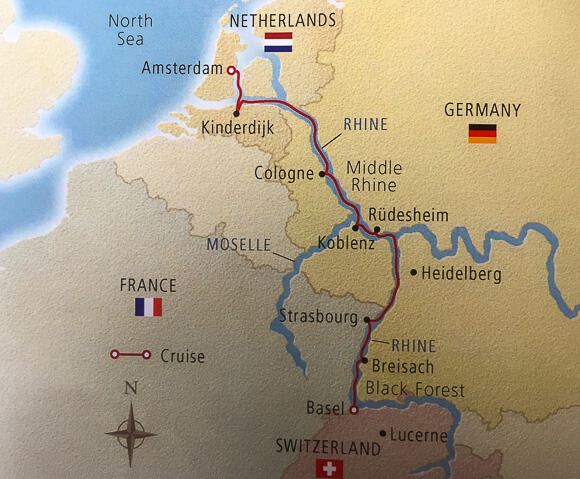 Basel is a charming city to embark on the cruise. Easily walkable, we were ready to explore and shake off that groggy feeling from a long flight. Some traditional Swiss fare was on the agenda.
Enter raclette, which has been part of the Swiss culinary heritage for over 800 years. Historically, cow herders would carry the large wheel of cheese with them as they moved thru pastures. In the evenings, placed next to the warmth of the fire, the cheese would melt and be scraped with a knife onto bread or potatoes. The name actually comes from the French word racler, translated to scrape.  Something warm and comforting was just what was needed to cure the jet lag and get us into cruising mode.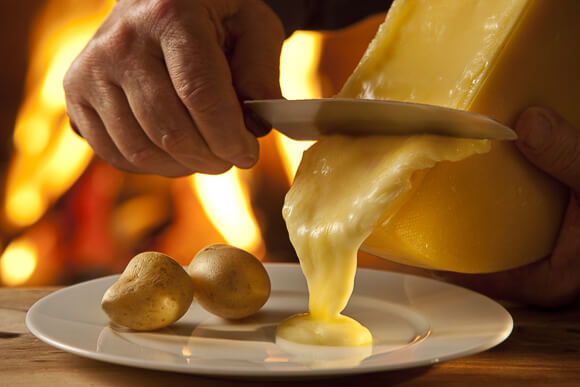 The cheese has a very distinct almost nutty flavor combined with a little funk, and obviously excellent melting qualities. A super dose of comfort food to work on jet lag and begin the food trail we were on for the next week. Swiss protocol has some strict drinking traditions to accompany this meal. Local wine or beer is the beverage of choice and only small amounts of water. This is said to aid digestion so your "pipes don't get stopped up" from eating a big ball of cheese. Whatever the reasons, it tasted delicious going down with a light local Chasselas.
After boarding and settling in, we went through some safety checks and then mingled before dinner.  Viking's cultural heritage is woven into the fabric of every cruise. I certainly felt it when I traveled and took a cruise on the Yangtze with Viking in China;  this trip would be no different.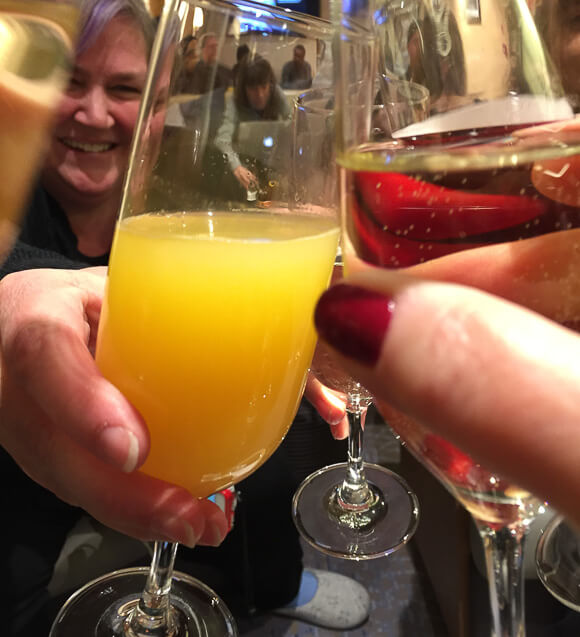 The hospitality Viking represents makes guests feel at home immediately.
I adore smoked salmon and this version topped with caviar,  along with other smoked fish was available on board every night. Being a pescatarian, this was a big plus for me!
With operational headquarters in our starting point of Basel, Switzerland, Viking is know for their port-centric river cruising designed with experienced and curious travelers in mind. Each itinerary includes daily shore excursions and has a focus on geography, culture and history. After all, this is the thinking (wo)man's cruise line. On board, cooking demonstrations, music and informative destination talks further enhance the days activities.
Breisach
Anyone out there who hasn't read one of the Grimm Brother's children's books? It didn't take long to cruise into the land of German fairytale castles and romance. When docked in one of the warmest parts of Germany, Breisach would be our gateway to Colmar and the Black Forest, home to Sleeping Beauty and other childhood favorites.
One of the things I love about a Viking River Cruise is all of the options on the daily shore excursions that allow for deeper immersion into a port of call. While my husband chose to visit the Colmar War Museum, cakes and cuckoo clocks were  on my agenda.
I may have had two dogs in my childhood: Hansel and Gretel, who were found wandering in the woods. It was my destiny to one day visit this fairytale forest.  A chocolatey layered cake named after The Black Forest was the main event and it did not disappoint. Complete with rolled bark from the chocolate trees and kirsch infused cherries, I had my Schwarzwälder Kirschtorte craving filled in one fell swoop.
♥
Strasbourg
My heart skipped a beat when we arrived in Strasbourg. The skies had cleared and the picture perfect city had all kinds of pretty on. We could have walked the streets for days. And wander we did, stopping for a chance encounter at Pain d'Épices. This wonderland of baked goods is home to Mireille Oster who has transformed the world of French spice bread into something otherworldly. She is called the Alchemist of Delicacies for good reason and inspired by her travels incorporates orange blossom, figs, ginger and sour cherries into her honey spice cakes. It was a heady experience.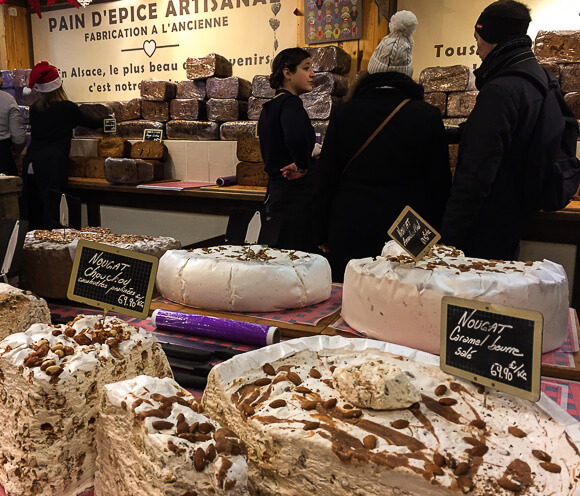 Combined with the varieties of nougat she had on hand, there was a lot of sampling to do.
She even had a Nuit de Chine (China Nights), combining Mei Kwei Lu rice wine and anti-oxidizing goji berries. Mireille tells us the pain d'spices originated in 10th century China and this is an ode to their flavor profile. We had stumbled upon yet another example of the unusual route the spice trade can take. Around the world tasting right inside this little shop.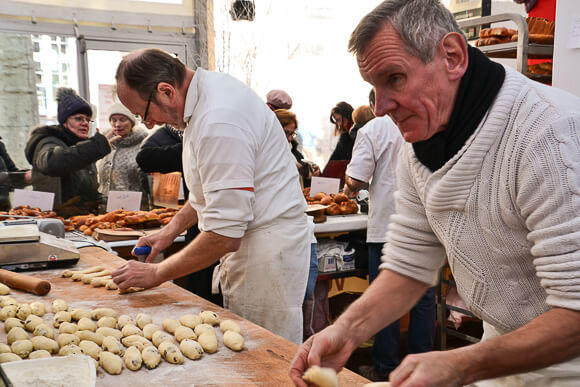 Further afield, a small pop up shop housed busy bakers of  Manala, mannele, or männele  –  depending on which part of Alsace you come from. The wee man is eaten in the early part of December and the bakers could barely keep up with demand.
Each important Saint has its own tradition in France and Saint Nicolas on December 6th is no exception. In Alsace he's almost as important as Santa Claus who comes as usual on December 24th. He doesn't exist in other parts of France, so we gladly indulged.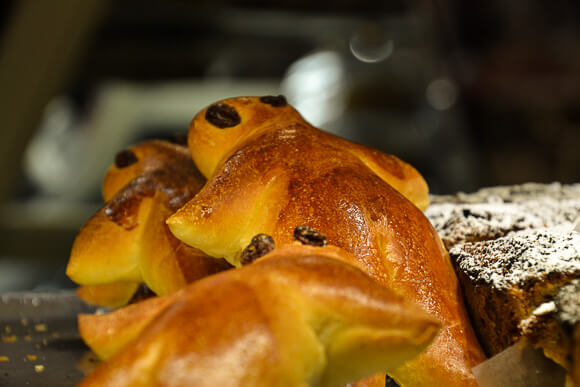 These barely sweet little puffed men are usually dipped in hot chocolate as they are eaten. Fresh and warm from the oven, they were also perfectly delicious all by themselves.
Glühwein
I can't place glühwein in one geographic region, it was simply everywhere. The unofficial drink of the Christmas Markets of Europe scents the air with the warm and fruity fragrance. You'll recognize cinnamon, cloves and star anise to name a few.  Popular in Germany and the Alsace region of France, it is named for the hot irons once used for mulling the liquid. Usually prepared from red wine, the drink is  combined with spices, sugar and fruit. Occasionally it is offered with a shot of rum. White wine can serve as the base as well, but we much preferred the red variety. Tradition has it served in a different glass in every port. There was a bit of a contest on board to see who could collect the most glasses.
Just when you thought you were done with Glühwein for the day, the smiling face of Maitre D' Ronnel would be at the ready on board with a fresh batch of his own concoction. It was always a welcome relief from the cold temperatures greeting us each day.
Mettelbergheim
The spectacular wines of France's Alsace region headlined another of Viking's optional tours. During the voyage, we had cruised past some of the vineyards on mountain sides along the Rhine. It was hard to image the vines actually taking root, let alone people working the land along the steep landscape. Mettelbergheim is a small village outside of Strasbourg surrounded by farmland and quaint gardens and half timbered homes covered with ivy. Sidewalks are cobblestoned and the pace of life far from the frenetic speed of home.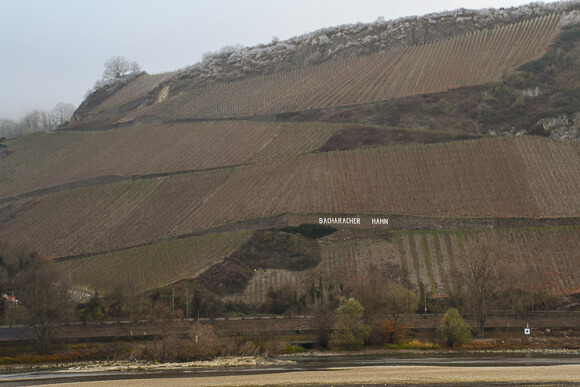 Fourteenth-generation winemaker Albert Seltz is locally known as a bit of a rebel. His passion shines through with the extraordinary effort he puts into his agricultural practices. Seltz spent many years lobbying to be able to plant Sylvaner grapes and was finally granted permission in 2005.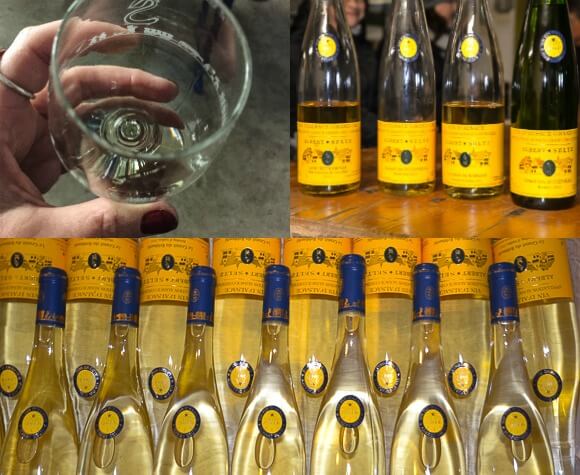 The winemaker works using only organic agricultural practices. Incorporating indigenous yeasts for fermentation, he takes a minimalist approach. Ask him a question about terroir and make yourself comfortable, as can go on about the soil and climate with astounding expertise.
The wines were light and refreshing, often clean and crisp. The limestone and clay in the soil gives   a distinct mineral flavor.
Koblenz, Germany
On board the Viking River Rhine cruise, regional specialties are prepared throughout the journey. It would only be appropriate to have A Taste of Germany on board as the crew transported us to a festive German village complete with accordion player and lots of singing.

Freshly made pretzels and breads of the region were plentiful. The chefs showcased their skills and indulged passengers with the extensive menu of German specialities. Fish was available for those like myself who don't indulge in the myriad of sausages on display. Gluten free and vegetarian accommodations were also made for guests at our table.
I was so taken with the taste of this brown bread, I brought the wrapper back with me in hopes of finding it stateside. So far no luck-but will keep you posted. It's called Bäeckerei Zimmermann just in case you might have a secret source.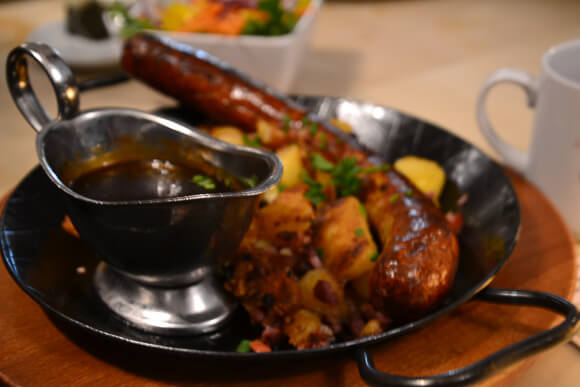 Bratwurst came in every size imaginable. Served with potatoes, kraut and beer, my husband was in carnivore heaven.
♥
Cologne, Germany
Cologne was my favorite city along the route. The 14th century cathedral, a World Heritage Site, is jaw dropping and we were visiting during the Christmas Markets. I've never felt more festive. The Viking Eir was berthed within walking distance of this stunning example of Gothic architecture, and guests made good use of the time at port.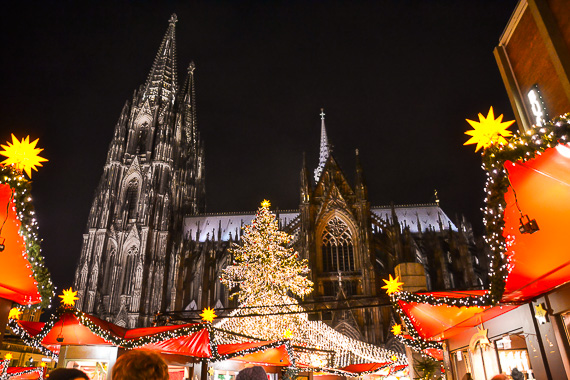 The local beer culture in Cologne is deeply embedded into the dark paneled brauhaus establishments. In fact the lager-style Kölsch is on such a pedestal, the name is guarded by law. Like Protected Designation of Origin, or PDO (DOP  in Spanish), Protected Geographical Indication is the toughest registration for brands. The product must have qualities or characteristics which are determined by the region of production. It must also be produced, processed AND prepared exclusively in that region. 
Served since World War II, Kölsch was given PGI  status in 1997, meaning it can only be produced in Cologne. To underscore its heritage, Kölsch comes complete with its own serving traditions.
It must always be served in small, 7 ounce glasses. This insures the beer stays cold, a method I can certainly get behind, as I sacrilegiously like to drink my brew with ice!  When you've had your fill, make sure to put your coaster on top which indicates to the server that you are finished and ready to settle up. Otherwise the Kölsch will keep flowing, making the charming cobblestone streets of Cologne that much harder to navigate. 
Kinderdijk , Netherlands
Finally after we've tasted our way through the food and drink of four countries, we arrive in Holland for a taste of the country's most delicious export. At the 17th century cheese farm, we were introduced to a raw milk cheese made without any flavor or color enhancements: Gouda Holland.
I'm always a little suspicious when  someone says You've never tasted anything like what I'm about to give you. Truth be told, he was absolutely right. When the cows are fed the best of grasses, they produce a milk that tastes of the soil composition with an incredibly rich flavor.
What I will tell you next might sound a little familiar. Since 2010 the name Gouda Holland has been protected by the EU with the same status (PGI) as Kölsch. Apparently culinary heritage (i'm saying this tongue in cheek just in case this is your first visit to GWR) is an important part of European tradition and a real effort is underway to keep other countries from appropriating these products. Think Iberian ham, Parmesan, Champagne, Gorgonzola, Feta, Cognac. The list is pretty extensive and it works to ensure quality and keep the recipes passed down from generation to generation alive.
As we sailed past the bucolic landscapes of the Netherlands, the sun was setting on our final evening. Tidy villages and traditional windmills were all part of the Dutch landscape as the Viking Eir made her way to Amsterdam, our point of departure.
It was impossible to process all we had tasted and all we had seen aboard our Viking River Rhine cruise. That would be left for another day. The new friends and memories made would go into our collective history. For this moment, we just wanted to enjoy each other's company and feel remarkably lucky for the experience we had just been a part of. As a couple who has chosen to spend as much time as possible by or on the water, it's safe to say we've joined the club of River Cruise converts.  This is a remarkable and romantic way to explore the waterways of the world.
 ↓Pin ME ♥ Tasting Europe on a Viking River Rhine Cruise↓
 Disclaimer: The author was the guest of Viking River Cruises for this trip, but as always, thoughts and opinions are her own.