Tasting Beets and Borscht in Ukraine
Beets are a bit of a lightning rod. Tastebuds will either fall madly in love or stop dead in their tracks and do a U- turn. Food always offers the opportunity to dig into a new destination when traveling. Can a pot of soup unlock the cultural secrets of a country? Can the flavor of a root vegetable give insight to a new destination?  I was game to find out while tasting beets and borscht in Ukraine.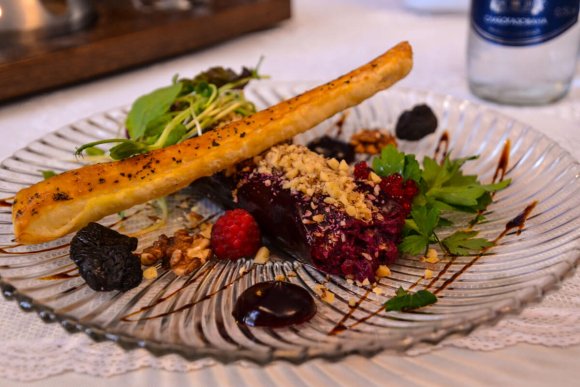 Strong, earthy and filled with vitamins and minerals (follate and manganese and more), beets have always been one of my favorite foods. Some nutritionists even call it crimson spinach because of high levels of iron. On a trip to Ukraine with JayWay Travel, I challenged myself to find the tasty beets on as many menus as possible. The country did not disappoint.
There has long been a struggle between Ukraine and its bordering neighbors for claim to dishes that are famous throughout the region. Borscht is one such dish, but research finds its strongest association can be found with Ukraine. It is thought to have originated there as early as the 14th century. Such a tough and hearty soup stands strong and in sync with the people who lay claim to this magenta symbol of culinary prowess.
In its many forms, both meaty or vegetarian, borscht remains a hearty dish. A citizen's wealth was measured by the amount of meat included in the borscht served to guests. Long dreary winters took advantage of this root vegetable that lasted for months in cold storage. While the soup was a form of sustenance, it was also a cultural icon. The many varieties around the county attest to the longevity of the dish, further contributing to the role it played as a cultural icon and piece national heritage.
411 on Beets and Borscht in Ukraine and Elsewhere:
• Beets can be dated all the way back to at least 800 BC when, according to an Assyrian text, they were growing in the Hanging Gardens of Babylon. In ancient times, only the iron rich beet greens were eaten, not the roots.
• The beets used by the ancient Greeks and Romans were not red, but either black or white.
• Traditional Kiev Borscht is made with bacon and beans
• With a nod to Adam and Eve, the ancient Romans regarded beet juice as an aphrodisiac. In many cultures, it is still believed that all a man and woman have to do to fall in love is eat from the same beetroot.
• Eaten raw, beets have a crunch much like apples.
•Until the 19th century, the main ingredients of borscht were: beets, cabbage, meat (beef or chicken), onions, carrots and herbs. When potatoes became available, they were added to the soup by cutting into cubes. Later tomatoes were sometimes added as well.
• Red beets get their color from the vegetable's red betalain pigments which are the same pigments that gives the flower, bougainvillea its deep red color. Our bodies can not digest the betalin, insuring you'll see red until it is all removed from your system the following day.
• Beet juice has been used as a natural red dye, including hair dye, for several centuries.
• Beetroot juice can be used to measure whether or not a solution is acidic. An acidic solution will turn pink when beet juice is added, but an alkaline solution will turn yellow.
• A cup of beets contains 75 calories. While beets are loaded with vitamins, minerals, antioxidants, and other health-promoting nutrients, they also have the highest sugar content of any vegetable.
During my JayWay trip, we had to fight each other for the last drops of the beet hummus we had in L'viv. Tastebuds were universally delighted by the dish. JayWay specializes in small group trips to Eastern Europe. Their on the ground specialists have their finger on the pulse of the tastiest restaurants in each destination. Great food is one of the many perks of working with a boutique agency that knows their way around the culinary scene giving you the best of traditional flavors and chefs updating recipes with modern flair.
It was not until fairly recently that I discovered how versatile they are as an ingredient. Here are some fun ways to incorporate the flavors of beets and borscht in Ukraine into your diet. Don't forget that a true, natural red velvet cake gets its rich color from beets.
When looking for that beet flavor in the US, Beetology has a range of juices and ready cooked beets to make life super easy. All are organic and fair trade, all natural ingredients and non GMO. The juices make a dandy cocktail. My favorite is the beet and berry flavor. Try using their shredded beets in my beet burger. It's a revelation!
Try them raw and chopped for a wonderful crunch in salad. If you love beets like I do, any of the recipes below will be a delight. If you're a bit more skeptical, try the cheesecake or hummus for a palate pleaser.
10 Recipes to Capture the Flavor of Beets and Borscht in Ukraine
Vanilla Strawberry Beet Smoothie by Blender Happy
Golden Beet And Cauliflower Soup by Catching Seeds
Roasted Beet Hummus  by Salt And Lavender
Rosemary Sea Salt And Vinegar Beet Chips by Running To The Kitchen
Beet Pesto Pizza With Goat Cheese And Kale by Live Eat Learn
Swiss Chard And Golden Beet Frittata by Healthy Nibbles And Bits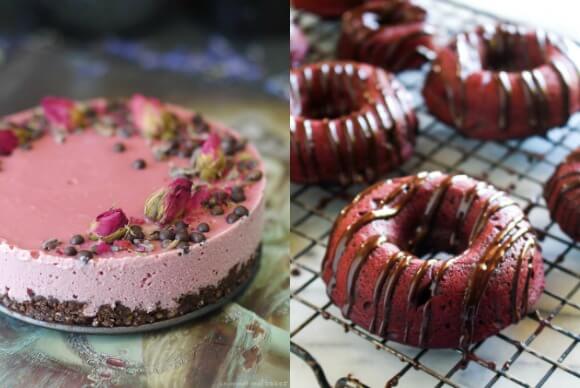 Raw Chocolate Beet Cheesecake by Unconventional Baker
Baked Double Chocolate Beet Donuts by Catching Seeds
Colorful Beet Salad With Carrot, Quinoa and Spinachby Cookie And Kate
Autumn Roasted Vegetables With Feta by Zesty Olive
Pin Me ♥ Delicious Recipes with Beets and Borscht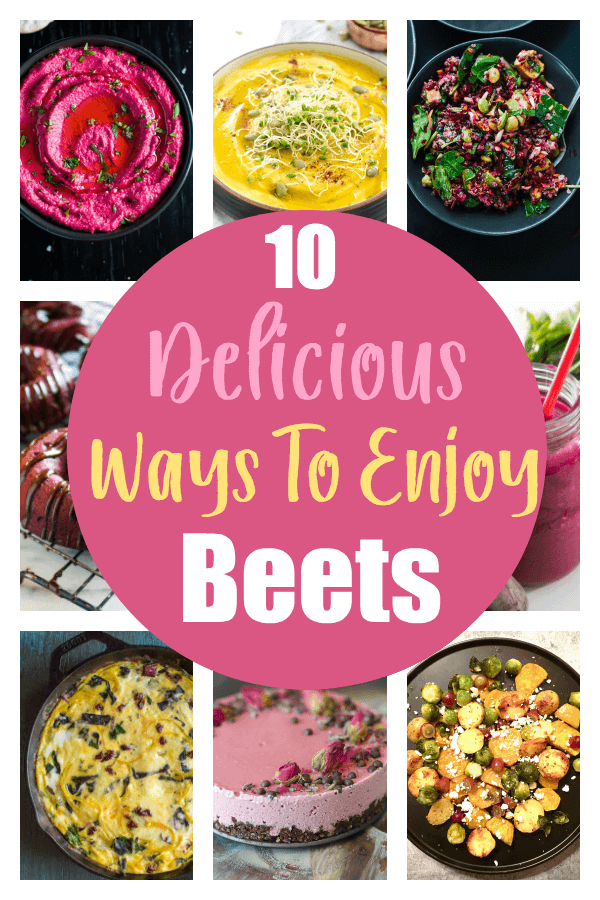 Pin Me ♥ Tasting Beets and Borscht in Ukraine
Disclaimer: The author was hosted during her time in Ukraine by JayWay Travel. Tasting Beets and Borscht in Ukraine represents her own experiences and opinions.