Stonyfield Introduces Greek Chia and OP
As an Ambassador for Stonyfield Yogurt, I am delighted to try new products when they are ready for market. Two of their newest introductions are Greek & Chia and Stonyfield OP. Both are tasty, organic yogurts packed with protein for a healthy lifestyle choice.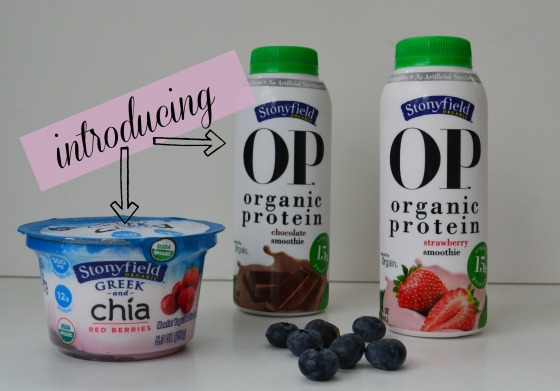 Greek & Chia
I've only recently started my love affair with chia seeds. Stonyfield Organic Greek yogurt with the omega-3 powerhouse chia seeds added in was a brilliant idea. With 12 grams of protein and 500 mg of omega-3s you are fueling your body and brain with tasty, healthy organic goodness. Available in Blueberry, Pear, Red Berries and Blood Orange (my personal favorite), I loved the texture the chia seeds give to the creamy yogurt. If you've never tried chia, often referred to as a superfood, you're in for a treat. The nutrient dense seeds swell when added to liquid and produce a mild popping sensation in your mouth when eaten.
OP
Finding a new product that's good on the go,  made without artificial sweeteners and low in fat is a win in our household. My daughter is out the door early, and this is a perfect take along when she doesn't have enough time for breakfast. Instead of reaching for another BAR, she can start her day with the nutritional Stonyfield OP- an organic protein smoothie, and be fueled for her day of teaching. I like it for lunch, a meal I tend to keep light, and feel good about the protein I am often worried about missing in my diet as a vegetarian. Gluten free, organic and containing 15 grams of protein, it's a foolproof meal substitute. Available flavors are strawberry, vanilla and the house favorite, chocolate.
Let me know if you have the opportunity to try these two new products. You can find out where in the US they are available near you at the Stonyfield store locator. 
Disclosure: I am a Stonyfield Ambassador and receive products samples and/or compensation for sharing Stonyfield news and products with my readers. As always, thoughts and opinions are 100% my own.