Staying Connected in Ireland #TravelWiFi
How do you feel about staying connected when you travel? On my last trip to Ireland, I knew my husband and I would be driving A LOT. While I tossed around the idea of bringing my Garmin with me, it was one more thing to pack in an already full carry-on. I connected with TravelWIFI on twitter and they offered me the opportunity to use their service during the trip. I jumped at the chance to test out the equipment and stay connected in Ireland.
Truth be told, I have a bit of a love hate relationship with wifi and travel. I would much rather be traveling without the added pressure of connecting to Facebook, Twitter, Instagram and Pinterest. Take that back, Instagram I currently Love You; you never feel like work.  Emails, well,  you always have to stay on top of them if you happen to freelance.  As a travel blogger, it's just part of the deal. My husband is also self employed, and having the ability to connect without driving to a hotspot location and holding your phone up in the air at the top of a hill is always a good thing for mood enhancement if you get my drift…
Being able to put downtime to good use allows me to stay ahead of the game, and while outsiders might think the life of a travel writer is filled with luxury hotels and delicious farm to table dinners because that's the part that comes across my stream, there is a teensy bit of work that goes on behind the scenes. Anytime I travel with spotty internet (hello-Myanmar) the picture when I finally get back to reality is not a pretty one. Re-entry takes so much longer if I can't stay on top of social media when I'm on the road.
Staying connected is even more important when I am on a press trip, which accounts for about 50% of my travel. Part of the job is to Tweet, Instagram and update as I go. These kind of trips are filled with long days and lots of activity. It's not unusual to get back to the hotel room around midnight and find a 7am wakeup call waiting for me in the morning. In the past, those late hours tended to be the only time that I had to check emails, schedule social media posts, backup and edit my photos, let alone try and keep in touch with family members in another time zone. Relying on hotel internet is a stop gap solution, as it can be spotty when I am off the beaten track.  It also forces work to be pushed late into the night. I first had the chance to use a mobile wi-fi unit on a press trip in Costa Brava early in 2015. The fantastic team at Costa Brava Tourism had portable wifi in the car and all of the writers were able to live tweet and post from the road. It was obviously good for the tourist board and certainly good for us.
To say I've been searching for a better solution would be an understatement. Hello portable hotspot~let me introduce you to my new best friend:
Staying Connected in Ireland with TravelWifi.ie
The device was to arrive at our first hotel in County Clare. One thing I wasn't counting on was a mail strike in Ireland. Note to self: Always have a back up!! Unfortunately, we weren't able to connect until I reached their home base of Dublin where the device could be delivered in person. After a week on our own driving on poorly marked, incredibly narrow backroads,  I can't tell you how relieved I was to see the package with my name on it at the Fitzwilliam Hotel.  I was about to leave for a week of solo travel in the west, and my anxiety level was at an all time high.
The hand held device is super easy to set up and use. You basically have to turn it on and enter a code. The device I used was about the size of a credit card and 1/2″ thick. I easily carried it in my purse or pocket.  The only drawback I found was that it didn't hold a charge all day, though this was easily fixed with the backup battery I carried. There was also the option of plugging the USB cord into the jack in my rental car. It also came with a standard Irish wall plug and an adapter for the lighter in the car.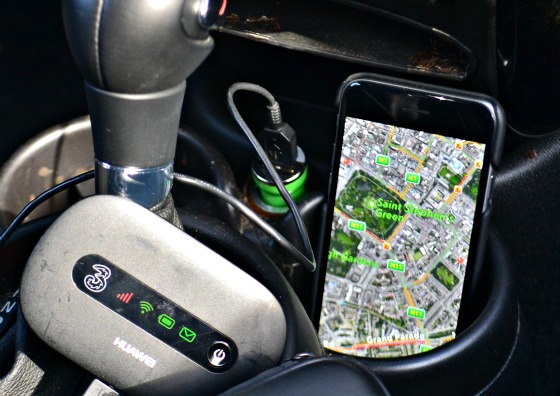 Of course it worked like a charm when I was in Dublin, but what kind of reception would it have on the road and in the heavy woods and hills of Connemara? I had my route programmed onto my phone and with the lovely voice of google talking to me, I wouldn't have to worry about balancing maps and keeping my eyes on the road.
Or would I?
My first stop was a conference in Galway-Food on the Edge-where I was able to live tweet and instagram thoughts and ideas from some of the world's top chefs speaking about the Future of Food.  My video of Kevin Thornton, the #1 chef in Ireland skinning and prepping a rabbit on stage was a highlight! Friends and followers  were horrified and fascinated at the same time.  Such things make this travel blogger very happy.
While there are several options to rent mobile wifi in Ireland, I recommend TravelWifi.ie for several reasons.
Their costs are reasonable and the data is unlimited.
It can be delivered to your hotel (unless of course there's a postal strike).
A return paid postage envelope arrives with the equipment, so returning the device is as simple as could be.
There are no hidden charges.
Connect up to five devices at once
Being able to connect when driving long distances with kids would be a big plus!
Plans start at €59.00 for one week of unlimited data.
Coverage: I traveled from Dublin to Galway and then all around Connemara during this week, and left to return to the States from Shannon. It worked like a charm the entire time for connectivity. I was in remote locations, the woods and on the far western tips of the country without issue. A real test would have been to see if it worked on my trip to the Skellig Islands, but that took place before I received the unit. My biggest concern was driving directions and getting lost in the more remote locations. We've all had Ms. Google take us to an empty road, into someone's driveway when you are supposed to be at a museum or completely in the wrong direction at one time or another. I have not one complaint about misdirection or loss of coverage during the weeks time.
My next international trip is to India and I am furiously researching a similar service to stay connected. Anytime I am traveling to one of the countries covered by TravelWifi, I won't hesitate to use their system. Currently, coverage is available in the USA, UK, Denmark, Austria, Sweden and Hong Kong. I found it a good service to supply our internet needs. No more chasing wifi for me.
Pin this image to Travel Tips
Disclosure: Travel Wifi loaned me this device for review purposes. My opinions are based purely on the experience while in Ireland.