St. Patricks Day in Boston
It's often said that Boston bleeds green. The city's Irish history spans many centuries and there's no better place in the states to celebrate– St. Patricks Day in Boston. From the Emerald Necklace and Rose Kennedy Greenway to the Boston Celtics and Southie, there's plenty of Irish to go around if you are ready to Go Green Beantown style.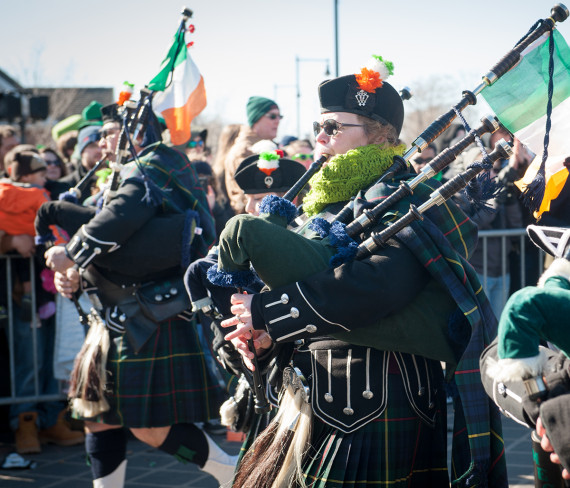 Do:
Southie's St. Patrick's Day Parade
The South Boston, St. Patrick's Parade is the second largest parade in the country, and nearly one million people are expected to attend. At this time of year, you are Irish by association in Boston, so put on your best green and attend as the procession winds its way down Broadway in her famed Irish neighborhood.  Kudos to the new mayor Marty Walsh as he is the first to march in two decades because of a controversial policy which excluded gay marchers. The route has been somewhat shortened this year because of the snow and begins at Broadway Station and ends at Farragut Street. The parade is on the Sunday closest to the March 17th date. (2015 is Sunday March 15th). 1-5pm
Irish Heritage Trail
When the sun is shining, begin your celebration with a walk through the Irish Heritage Trail. Highlighting the landmarks of famous Irish-Americans who date back as far as the 1700's, there are over 50 sites located in Boston and cities and towns throughout the state. (over 20 in Downtown Boston).
Music
Boston's own Dropkick Murphys will be in town playing at the House of Blues and i'm sure some of their iconic favorites will be in the house to celebrate the weekend. Concerts Friday thru Sunday.
St. Patrick's Week at The Lansdowne Mar. 13 at 6 p.m. to Mar. 17 at 11:45 p.m. – Lansdowne Pub – It's the 6th Annual Celebrate St. Patrick's Week at The Lansdowne Pub. The event will feature a special all day show on Tuesday, Mar. 17. Admission is free.
EAT:
After the parade, one of my favorite Southie food stops would be American Provisions where farm-to-table is at the top of their mission. Delicious sandwiches are on the menu as well as a huge selection of cheese, charcuterie and craft beers.
Also in the area, Local 149 is a neighborhood gastro pub in the Citypoint section of South Boston. Their location has  historic roots and the food is exceptionally local.
The infamous South Street Diner celebrates all weekend with food and special drinks.  Diners can order a corned beef and cabbage special with potatoes, carrots, homemade Irish soda bread and a pint of Guinness for only $10. Admission is free. Beginning Mar. 14 at 8 a.m. to Mar. 17 at 11 p.m.
Kennedy's on the Square will celebrate St. Patrick's Day with a special St. Paddy's Day menu of Green Eggs & Ham Deviled Eggs, Corn beef dinner, fish and chips and a brisket sandwich. Admission is free. Mar. 14 at 11 a.m. to Mar. 17 at 10 p.m.
The ubiquitous Green Beer makes it appearance this weekend. I'm hoping the growing trend of craft beer will give everyone an opportunity to drink a natural green beverage. While I know a few drops of food coloring won't kill you, why not encourage the industry to get away from the artificial dye and offer one that doesn't rely on an chemical coloring. My suggestion is to head to Whole foods and get a bit of spiralina or wheat grass. Mix it in with your beer for a potent anti oxidant and nutrient dense addition. Another option is a plant based dye or chlorophyll available at your health food store. If you know of a natural green craft beer, let me know, Dogfish used to make one, but has since discontinued its Verdi Verdi Good brand.
How clever are these shamrocks made from spinach wraps? Easy right! With so many fab green foods in the marketplace these days-kale chips immediately come to mind-steer clear of the food coloring. I'm noT, nOT, NOT a big fan. If you're entertaining at home to celebrate, you couldn't put together any more ideas than the post by Kitchen Treaty- 70 Dye-free recipes for St. Patricks Day. You'll have a hey day here and find something for everyone.
Be safe and Lá Fhéile Pádraig Sona Daoibh !