The Best Guide for the Smallest Cruise Ships
There are many excellent choices among the variety of small ship cruise companies offering itineraries today. Best is completely subjective and depends on your travel style, activity level and amenities you are looking for. This post is about the smallest cruise ships I have been on and the highlights of each experience. These unique vessels will open your eyes to some of the opportunities in the world of cruising.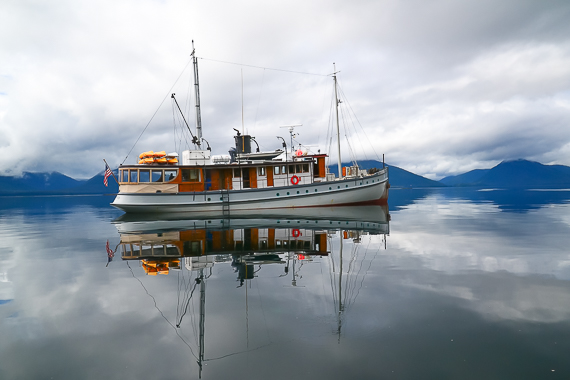 Small is relative, it all varies by who you talk to. I've been on ships as small as 8 passengers and as large as 600 which for the company, was their version of a small ship cruise. Personally, I think the magic sauce is under 300, the "small"sweet spot. This number maintains what I feel is the true hallmark of small ship cruising: active, immersive, off-the-ship, eco-friendly travel.
What Makes a Small Ship Cruise Special?
Small vessels can access smaller ports and navigate into places the big ships can't reach.
Fewer passengers create a more intimate and curated experience. You will get to know many, if not all, of your fellow passengers.
With a focus on sustainable travel, more and more travelers want to know they are minimizing their impact on the destination and giving back to the local communities. This is the hallmark principle of many of the smallest cruise ship companies.
The high crew-to-passenger ratios of small ships equals a higher level of personalized care and attention to detail.
Small cruise ships often have a resident specialist on board. If the itinerary is wilderness, a naturalist will be one of the crew.  The depth of knowledge and expertise brings a high level of destination immersion to the voyage.
Smaller ships are often more fuel-efficient and eco-friendlier than traditional cruise ships, using either wind power or the latest technologies. With the addition of new or existing cruise lines entering this market along with other lines investing in upgrading older ships, there are many more vessels in these smaller ship classes to choose from when considering your cruise options.
Themed cruises are everywhere, and special programming can range from photography to marine biology to wellness or food and wine. Professors, authors, or researchers with a passion for sharing a wealth of information may be aboard. These professionals enhance each eco-luxe cruise I've taken and the experience has translated into a trip of a lifetime.
The one caveat is to make sure you do your homework and research before booking.
Small Ships are not for Everyone
Travelers are sometimes concerned about guest compatibility aboard small ships and yachts. There is a justified fear that a whopping personality can adversely affect the experience aboard a small ship. I understand this concern, but over the years and after over a dozen small ship cruises I have found that small ship passengers tend to be likeminded.
In most cases, you've spent time researching and narrowing down your selection. You might have read a review from an expert or writer you trust (like myself) and decided to follow in their footsteps. Most passengers who board your ship will have done the same.
Who Travels on a Small Ship Cruise  
Over the years, I've always found I have a lot in common with folks who board a small ship cruise. They are usually well-heeled, active, and educated people seeking meaningful up-close encounters with nature and culture. Often, they are baby boomers and empty nesters who are concerned about the environment and have chosen a company whose values reflect the same. Families are also choosing small luxury cruises for a fantastic learning experience.
There were couples, friends, parent/child teams and families. Ages ranged from 8 to 80, with a wide variety of physical mobility. Many were repeat clients with home bases all over the globe.  A love of travel and learning about other cultures is a great equalizer, no matter your age, nationality or political preference.
Does this describe you too? Then get ready to join this eclectic and well-traveled group of adventurers.
Where do Small Ships Travel?
You might be surprised to learn that small ship cruising can be found throughout the world. The Galapagos Islands are very popular, as are other South American destinations like the Amazon. The Mediterranean and Northern Europe are also popular.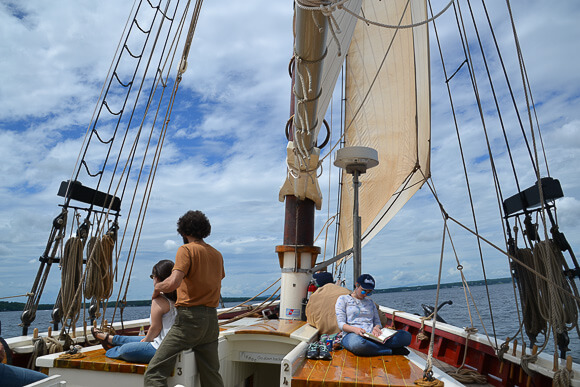 Small luxury cruise ships can be found throughout the Caribbean, British Virgin Islands and Costa Rica. Let's not forget the rivers of the United States and the adventure cruises in Alaska and Hawaii. While I've just had a small taste, cruises in my niche are found everywhere.
Types of Small Ship Cruising
In this post, you'll find the highlights of my personal experience aboard 6 different types of small ship cruises. This is an overview and you can find more detailed coverage in each of the associated links.  The type of small ships and destination are:
Vintage Wood Motor Yacht-Alaska's Inside Passage
Dahabiya-Egypt's Nile River
Windjammer Sailing Ship – Coastal Maine
Coastal/Expedition Ship – Hawaiian Islands
River Barge – Southern France
River Vessel – Amazon River, Peru
Classic Wooden Motor Yacht
Classic vessels are a unique collection of ships offering a feeling of a bygone era with a history that's hard to find on modern vessels. Lucky for me, my first adult cruising experience was one of the highlights of my travel career. Adventuresmith Explorations is a global leader in small ship cruise vacations. They partner with different ships all around the globe. The award winning company is committed to sustainable travel on every voyage. I had the good fortune to travel on the MV Westward. This historic vessel sailed along the Inside Passage in Alaska from Sitka to Juneau.
SHIP: MV Westward through Alaska's Inside Passage
Length: 86 feet
Width: 18 ¾ feet
Passengers: 8
Crew: 6
Vibe of MV Westward:
The wooden vessel I called home for seven days was the historic MV Westward and is to date, the smallest cruise ship I've been on.  Renovated and equipped with her original slow-turning diesel engine, she was a sparking vessel among the many fishing boats in Sitka harbor.  Built in 1924, the boat was modeled after a traditional salmon cannery tender and exudes a chic elegance reminiscent of early travel.
The boat has seen a who's who of the rich and famous, including film magnate George Eastman, E.F.Hutton, Walt Disney and John Wayne. Present day finds the eight guests aboard my cruise taking in the Alaskan scenery, hiking, kayaking and viewing wildlife on a much different adventure experiencing sustainable travel.
Cabins are below deck with a teeny en-suite bath. The upper level had a cozy salon with a wood burning FIREPLACE. Odd on a boat, yes, and incredibly wonderful on the rainy Alaskan coastline. The dining room was aft and looked out over the fantail.
It takes a day or so to get used to the engine hum, but just as quickly you'll find the rhythmic motor below deck lulling you into a trance-like dream. A quiet anchorage at night was perfect for open portholes.
In addition to the sound of gentle waves lapping, one might hear whale blow or other wildlife nearby. Traveling in a small vessel affords the luxury of passing through small coves and bays too shallow for the much larger cruise ships that frequent this area. Many days the only others we saw were animals.
Experience:
Our travels took us to the A, B, C's of brown bear habitat: Admiralty, Baranof and Chichagof Islands.  Each was a unique spot only accessible on a small ship cruise. Our naturalist Hannah had a depth of information at her fingertips enriching each days unique outing.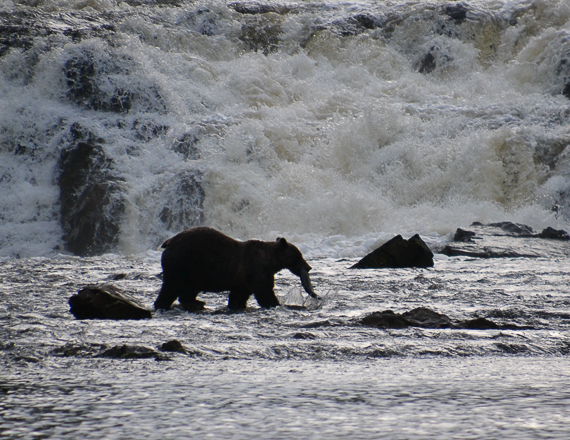 Captain Bill Bailey has spent most of his life on the water and has traversed the waters of the Inside Passage for more than 30 seasons. Everyday he checked the weather and charted our path accordingly. The zodiac took us to hiking spots, a salmon cannery, bear watching and glaciers.
In the summer months she cruises Alaska and then makes her way to Baja for the winter season.
Food + Drink:
Breathtaking scenery was the backdrop as we ate gourmet meals prepared by chef Tracy. Ingredients were purchased during shore visits. There was lots of fresh fish and the small garden on the top deck added fresh herbs and vegetables to the local ingredients.
Hot soups hit the spot after a cold day exploring. Meals were creative, varied and beautifully presented. Water and soft drinks were included in the cost. Guests could BYOB. Every meal was delicious! Magical is an understatement.
Read the full review of Responsible Travel in Alaska Aboard a Small Ship Cruise
♥
What is a Dahabiya?
The history of the Dahabiya is fascinating and goes back centuries. These beautiful boats were once the preserve of Egyptian royalty, designed for comfort and opulence as they sailed down the Nile. In the early 19th century, European adventurers began to embrace dahabiya cruising, seeing it as a way to explore the Nile in style.
At that time, dahabiyas were powered by sails and relied on the wind to navigate the river. They had a distinctive design, with two large sails and a central mast that could be lowered to allow the boat to pass under low bridges. The boats were also equipped with a small kitchen, a dining area, and sleeping quarters for the crew and passengers.
Today, these beautiful boats have been given a new lease of life, offering environmentally conscious travelers the chance to explore the Nile in a way that's both sustainable and responsible. By choosing to travel on a dahabiya, you're not just reducing your carbon footprint; you're also supporting local communities and businesses. Many of the boats are owned and operated by local families, providing an income for the people who call the Nile their home.
SHIP: Nour el Nil Adelaide Along the Nile River
Length: 187 ft.
Width: 27 ft.
Passengers: 24
Crew: 15+
Objective: An intimate journey in Egypt along the longest river in the world. From Luxor (Esna) to Aswan aboard an authentic dahabiya with a well-dressed design. Few rivers have crept into my imagination with such a fascinating glimpse of the past.
Read my guide to Egypt Travel Tips
Vibe:
The vibe is decidedly chic with a boho aesthetic reflecting the arty vision of the owners. Brilliant white walls and floors on the cabin deck keep things clean and glowing. Minimal accents of local textiles and period prints work smartly in each room keeping the outside scenery center stage.
The covered upper deck in filled with lush pillows and couches for lazing with a good book. A center table topped with a chandelier becomes the dining room.
Experience:
As travelers cruise down the Nile on a dahabiya, they will encounter a wealth of notable landmarks and breathtaking sights. This type of vessel is much smaller than many of the other ships on the Nile. The boat can travel to locations larger boats cannot access and the wind power is thankfully more eco-friendly than the black stream of carbon emmissions spewing from the other boats we encountered.
The journey offers a unique opportunity to explore ancient Egyptian temples, tombs, and monuments that are steeped in history and culture. Some of the must-see sites along the Nile include the temples of Edfu, El Kab, Horemheb, Kom Ombo. Connecting with local villages and visiting unique ports is part of the owner's mission.
In addition to these historic landmarks, dahabiya cruisers can also enjoy the stunning natural beauty of the Nile river and its surroundings. The river is lined with lush greenery, palm trees, and date groves, making for a scenic and peaceful journey. Visiting a local village is a special experience.  Along the way, travelers can spot a wide variety of wildlife and birds.
Food and Drink:
Meals are eaten family style on a long rustic table  on the shaded top deck. The group setting is a wonderful way to break the ice and come together each day to share stories. A sexy chandelier lit the deck in the evening. Who doesn't look wonderful in the glow of a shadowy space and the moonlight!?
Food reflected the Egyptian culture. Ingredients were fresh and local purchased in the markets when we docked daily. The talented chef featured some of the best hummus I have ever tasted and his crepe pancakes each morning were a hit with a dollop of seasonal jam. Fresh fish was available for my pescatarian palate and loads of zucchini. Local beer and wine was available for a reasonable upcharge. And of course Egyptian coffee kept us buzzing all day.
Wait there's more. Read my review of the trip on the Adelaide with Nour el Nil on Quirky Cruise.
♥
WindJammer Cruise 
Windjammers are especially popular in the Northeast United States and the Caribbean. Sailing on one is a unique experience relying on the wind, tides and weather. These formerly commercial sailing ships have multiple masts, and passenger participation in raising the sails is all part of the fun. Preserving maritime history is a labor of love for the owners of these schooners.
Originally used as an oyster dredger in the Delaware Bay, the J&E Riggin also spent time fishing in Cape Cod and Long Island Sound. Now docked in Rockland harbor, the award winning Riggin was the first Maine Windjammer to be entirely carbon neutral.
Current owners Justin Schaefer and Jocelyn Schmidt are committed to an environmental policy that is both admirable and impressive. I was intrigued to observe the practices of a cruise that would be entirely sustainable and carbon free.
Not unlike one of the Tall Ships, the historic wooden schooner represents a small number of surviving vessels that were in the past so common in North American waters.  While J&E Riggin relies on the wind, this National Historic Landmark uses a yawl for auxiliary powers to maneuver guests in and out of the harbor and when she is becalmed.
SHIP: J&E Riggin on Maine's coastline
Built: 1927
Length: 120 ft.
Passengers:  24 passengers
Crew: 5 and all wear many hats
Vibe:
As soon as you step aboard, you'll feel like your part of the Riggin family. Although the ownership of the boat has changed since I was onboard, I feel confident that its new owners will continue the traditions the previous owners established to make each year's guest list full of repeat customers.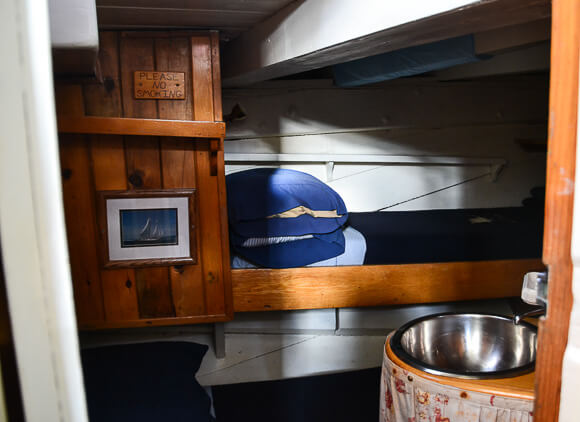 The husband-and-wife owners head up a small crew. Everyone wears many hats and lends a hand wherever it is needed. The goal of the J. & E. Riggin is to do no harm, and where that is impossible, to do the least harm while striving to find a zero impact solution. You can read more about their sustainable practices here.
As is to be expected on a boat this size, the simple space is small, but has a bit of personality in each. Fresh cut flowers, handmade soaps and lovely quilts are nice touches. All are outfitted with soft sheets, a monogramed, cozy wool blanket, a reading light and double pillows.
A porthole brings in fresh air and the sound of waves lull you to sleep. Careful packing and a suitcase that folds flat will give you more space; hooks and shelves provide storage. The truth is, you really won't be spending much time in your room. There's just too much to see as you make your way through the spruce clad islands of Penobscot Bay.
Experience: 
Guests have the chance to learn about navigation from the captain, including as much involvement as you like with sailing the J&E Riggin. "Ready on the peak, ready on the throat" are two calls you'll become familiar with on your first day. Grab a spot on the rope line and hoist the massive sails with everyone on board.
Guests can enjoy 3, 4 or 6 day experiences of ecotourism aboard a Maine Windjammer ecotourism cruise.  Our days took us to several islands, spotting many Maine lighthouses along the cliffs. An early highlight was a traditional lobster feast with all the fixings. It's a slow pace that cries for relaxation and a good book while admiring the gorgeous scenery.
Food + Drink: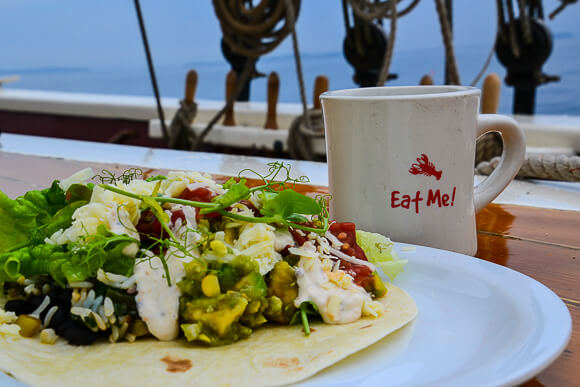 I was amazed to see the quality of food that arrived from the small galley and the ship's vintage cast iron wood burning stove. This is a unique epicurean adventure from the get go, beginning with the lobster bake on Warren Island the first evening. If you'd like to see more of my review, you can find it here: J&E Riggin Sails With Eco-Tourism.
♥
What is an Coastal Ship?
For travelers who want to go beyond just enjoying the scenery, coastal ships offer an opportunity for a more active and adventurous experience on the seas. These specialized small ship cruises are built to handle rough waters and reach remote destinations and often include a unique learning element or scientific observation.
One of the biggest draws of coastal ships is the chance to witness awe-inspiring natural wonders. Whales, seals, and other marine life are often spotted on these journeys, providing ample opportunity for wildlife watching. In addition, many coastal ships offer hikes across glaciers or ice caps, giving passengers a chance to experience the rugged beauty of these remote regions up close.
While coastal ships offer unparalleled excitement, it's important to note that these voyages can require a certain level of fitness and flexibility to take full advantage of their offerings. Passengers should also be prepared for conditions that may be more challenging than those on a traditional cruise. However, for travelers who are up for the challenge, the rewards are immeasurable and remember, coastal ships come in a range of sizes and offer a chance to easily go ashore as the ship is usually hugging the coast.
SHIP: MV Safari Explorer with UnCruise to Hawaiian Islands
Length: 145 ft.
Passengers: 36
Crew: 18 2:1 guest to crew ratio
Vibe:
The Safari Explorer is described as "a high end SUV yacht, nimble, strong and loving" and well equipped for water sports.
An attractive and youthful crew greeted us as we boarded. Photos were taken of each passenger and put on a poster outside the dining room. I thought this was a very clever way for everyone to remember names.
Staterooms are small, all with en-suite bath. All are outside cabins with ocean view windows or a step out to wrap around decking. The boat felt like it was made for adventure, but the lounge area created a space for passengers to mingle and share stories about the day.
Experience:
Embracing the aloha spirit and exploring the natural splendor and wildlife of the Hawaiian archipelago was the focus of the itinerary. Discovered centuries ago by the Polynesians, my husband and I were looking for a piece of the islands that had retained that original magic; expecting the unexpected is a phrase UnCruise lives by. The seven-night trip would take us from Molokai to Lanai, Maui and the Big Island.
One of the highlights of the trip was having Danny and Anna Akaka as our onboard hosts for the week. The native Hawaiian husband and wife storytellers showcase traditional culture accompanied with ukulele and hula. The romantic spark between them was contagious and they embody the aloha spirit we were hoping to find.
While impossible to detail all the marine life we saw in the water, I can say it was often with visuals out of  a National Geographic magazine.  We saw  the pure essence of the UnCruise Hawaii adventure. Whales regularly breached and and tail slapped from all sides of the ship.
Food and Drink:
Dining onboard is open seating with a casual environment. The focus is on farm to table and locally sourced ingredients. There is a choice available for meals and allergies and accommodations are available with notification. Beverages are included.
For more information: The Best UnCruise Adventure in Hawaii
To learn how onboard experts impacted our cruise : UnCruise the Hawaiian Islands to Talk Story 
♥
What is a Barge Cruise?
Barge boats provide a unique and relaxed way to explore the waterways of Europe. These flat-bottomed boats were traditionally used during the Middle Ages to carry cargo along many of the man-made canals in France. During the 18th century, the boats were moved with huge ropes and muscle power. Later, horses, donkeys and mules were put to work.
Today, a wide variety have been converted into luxury floating hotels with chic amenities and on-board gourmet dining. Modern vessels have also been built to replicate the traditional style. What's more, there is a wide selection of hotel barges depending on your tastes and budget.
Barge boats offer the opportunity to leisurely meander through picturesque canals, stopping to explore charming villages and towns along the way. The slow pace of a barge boat allows for a deeper appreciation of the stunning landscapes and historic architecture of Europe. Some barge boats even come equipped with bikes for on-shore excursions. Whether you're traveling solo or with a group, a barge boat trip is a perfect way to slow down and escape the hustle and bustle of everyday life.
Typically, the itinerary does not cover a long distance, instead offering a great way to explore small rivers and canals along the backroads and charming authentic towns in France. When offered the chance to visit the lock free Rhone-Sete canal on a barge from the Crosi Europe Collection, we jumped at the chance to experience another type of floating boutique hotel.
SHIP: MS Anne-Marie on the Rhone River
Length: 128 ft.
Width: 17 ft.
Passengers: 22
Crew: 5
Built: 2014
Vibe:
All staterooms on this small cruise ship line are en suite and come with twin beds. There were two windows in our room resting a few inches above the waterline that let in plenty of sunshine during the day.
When I first entered with luggage, my girlfriend and I looked at each other and rolled our eyes. We had concerns about making the 110 sq ft space work for the two of us while at the same time remaining friends. After unpacking however, we found a very efficient space loaded with compartments for storage and a safe for valuables.
While I spent some time in the room working, you are basically in your room to sleep, shower and change. It's important for your suitcase to fit under the bed-so don't overpack and make sure to read my post about What to pack for your best Hotel Barge Experience.
There are 3 decks:
A spacious top deck with lounge chairs and small umbrellas
The main deck with lounge, dining room, outside patio, barbecue and jacuzzi
The lower deck where the individual cabins and suites are located.
Bicycles are on board for the guests and there is wifi, but on our route, often spotty coverage.
Food and Drink:
With a focus on gourmet dining, regional dishes take center stage. Your onboard chef will often interpret traditional recipes from the surrounding locale of your cruise. All meals are included from the first evening to the final breakfast. The trip also includes onboard drinks and copious amounts of excellent wine. (There is an extra charge for premium alcohol.)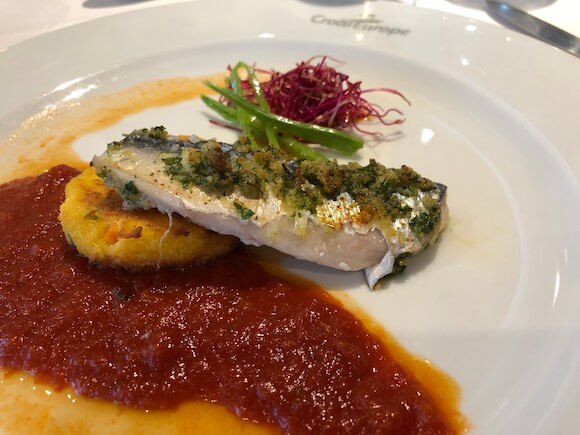 A feast for the senses awaits aboard the Anne Marie. Served in a semi-formal white tablecloth dining room, the chef offers individualized attention from the start. One of the hardest things for me personally to adjust to on a cruise is the sheer amount of food being served.
While it took about 24 hours for everyone on staff to understand the concept of "small portions", my other meal requirements were taken seriously from the start. Fish was offered often for the non-meat eaters and creative vegetarian dishes also appeared nightly. Our talented chef Pierre was very patient with the many specific requests.
Experience : The Pleasures of Southern France
Along the route it was exciting to discover the charms of southern France. Each day there was a new historic destination to explore. Some were Unesco World Heritage sites, some important cultural pockets many never get the chance to see.
All were fascinating and gave further insight into a country that often is judged by the city of Paris alone. Regional cuisine, local vineyards, olive groves and French cowboy culture. It was a remarkable cross section of the road (canal) less traveled at a pace I could stand to use a bit more of.
The pace of the hotel barge cruise is slow. Often you don't even know you are moving. Bikes onboard allow for riding alongside the boat and working off a small percentage of the calories you've enjoyed.
Read more : The Barging Charms of Southern France
♥
What is River Cruising?
River cruising is a broad term that includes different kinds of small ships and experiences. If you're looking for a similar experience to a barge boat but with more amenities, consider taking a river cruise. River cruises offer the perfect blend of relaxation and exploration, with comfortable accommodations and the ability to see multiple destinations on one trip. Whether you're traveling on the Rhine, Danube, Nile or Amazon, river cruises offer a unique perspective on the surrounding scenery and local culture.
Many river cruise ships are small and intimate, allowing for a personalized experience with attentive service and gourmet dining. Excursions off the boat often involve guided tours of historic landmarks, sampling local cuisine and wine, or exploring quaint villages on foot. And just like barge boats, some river cruise ships provide bicycles for guests to take on shore and explore the surrounding countryside. Others are larger in size with a similar type of itinerary, but perhaps 3 or 4 times as many passengers.
SHIP: The Delfin III sailing on the Amazon River in Peru
Length: 169 ft.
Passengers: 44
Crew: 29
Itinerary: An intimate journey along the Amazon to view wildlife and experience the culture of indigenous Peru. This trip was combined with a trip to Machu Pichu.
Vibe:
When I caught a glimpse of the Delfin III off in the distance, it looked every bit the luxury small vessel I had imagined. The three levels of light-colored wood framing floor to ceiling windows stood out amongst all the green flora and bright blue sky.
My cabin was shore side for the moment and featured a wall of picture windows for watching the world float by once we embarked on the river. Lovely painted gourds decorated the walls; hand woven accents were on the bed. I immediately felt the Delfin had a real sense of place, just the right balance of elegance and comfort.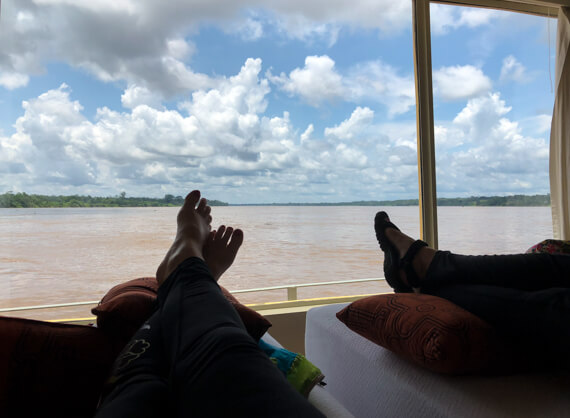 On the top deck were the common areas. A lounge and bar stretched into the front part of the ship. Comfortable chairs and groupings of sofas were gathered into comfortable sections to facilitate easy conversation. Walls of windows let the light and panorama of the surrounding jungle and river envelop the space. The Delfin III has been tailor made to suit its environment while maintaining its integrity as a true luxury river cruise ship.
Food + Drink:
The well-appointed Canopy Lounge offers a full bar with a speciality pisco sour seemingly on tap 24/7. Naturalists, a Peruvian cooking class and cultural performances enhance the nightly experience.
Fresh seafood, local fruits and vegetables enhance a creative menu featuring Peruvian dishes presented with an inventive flair. Bread is baked daily, often in the whimsical shape of an indigenous animal. A selection of wine from South America and Peru is available along with freshly pressed juices. Banana leaves creatively wrap breakfast aboard the skiff during a sunrise departure for adventure. The food is world-class and very pleasing to the senses. Eating local is a priority for the company.
Experience:
Over the next 4 days I hiked along a jungle trail, touched tarantulas and came close to poison dart frogs. I was photo bombed by a boa constrictor and blessed by a local shaman. I failed miserably at catching a piranha at dusk and released baby turtles in an effort to repopulate their numbers. Birds serenaded at dawn and monkeys crashed thru trees along the shoreline. I even swam in the deep black water of the Amazon close to pink dolphins, all while responsibly cruising Peru's Amazon.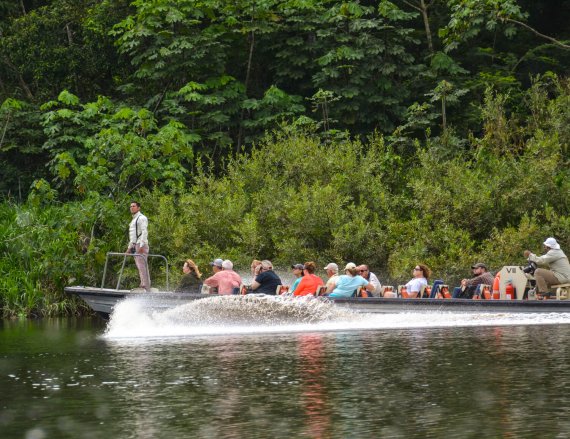 The trip with AdventureSmith Explorations, a company with responsible travel built into their DNA, included an itinerary deep into the Pacaya Samiria National Reserve. This is one of the world's largest protected flooded forests. On ten passenger skiffs I was introduced by experienced native guides to the incredible biodiversity of this remote area of Peru's rainforest.
Read full review: Responsibly Cruising Peru's Amazon
♥
Conclusion About Small Ship Cruises
In the world of small ship cruises, there's a lot more to explore beyond the traditional tourist routes. By introducing six unique boat types that offer different perspectives, I hope to inspire you to experience something new on your next adventure. From classic charm and adventure to wildlife and gourmet feasts, there's a small ship out there waiting just for you.
Cruise travel brings in approximately 27 billion dollars to the tourism industry and unfortunately, overtourism contributes a high percentage of the dollars. Any of these small ship cruises are the perfect way to celebrate your love of travel while embracing responsible practices and visiting some of the lesser-known areas of the globe. With a well researched choice, you'll quickly find there are plenty of beautiful sites, culture and delicious food everywhere in the world.
Pack your bags, grab your sea legs, and set sail on the adventure of a lifetime. "Travel is about the gorgeous feeling of teetering in the unknown." – Anthony Bourdain
I've hope I've answered the most frequently asked questions. Feel free to send me an email if you have more. (contact info in the header)
PIN ME ♥ The Best Small Ship Cruises