A SkyDive Wind Tunnel Adventure
Sure Supergirl can fly, but for six minutes I too defied gravity and went aloft on a skydive wind tunnel adventure without wings or a powerpack. And it was awesome! Have you ever dreamed of skydiving but just can't seem to drum up the nerve to jump out of a plane? There are those of us who love a thrill, but not at 10,000 feet in the sky. If you have always wanted the rush of the wind hitting your face as you are floating on air, but you are terrified that your chute won't open, I have a place for you!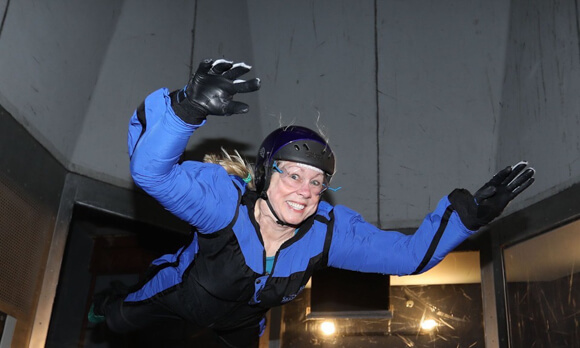 SkyVenture New Hampshire offers an experience like no other in a controlled environment just a few feet from the ground. What it lacks in altitude, it makes up for in fun. I found this the perfect adventure for Baby Boomers who have always wanted to skydive, but can't quite get up the nerve to step out of a plane.
History of Wind Tunnel Skydiving
The use of vertical wind tunnels is not new, in fact since the 19th century, horizontal wind tunnels have been used to test aerodynamics. When air flight grew in popularity, the vertical air tunnel was created in 1940 to test helicopter blades, aircraft spins and eventually parachutes.
It took 20 or so more years for people to get adventurous enough to try indoor skydiving. Jack Tiffany is the first man credited with flying in the indoor air tunnel. He was working on the Apollo space program testing parachute clusters and had the idea one night to fly in the tunnel himself.
Many years later, these vertical wind tunnels are being used to train skydiving teams and to give baby boomers like us the feeling of flying without the danger. Who wants to jump out of a perfectly good airplane anyways? Well to be honest, I do, especially after taking a flight at SkyVenture .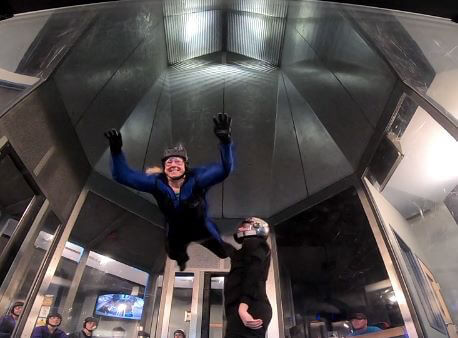 AeroDynamics at Work
The flight experience takes place in a vertical wind tunnel. The floor is a trampoline bed and you float a few feet above it to get the sensation of parachuting without the freefall. Co-owner Laurie Greer explained, "the recirculating windtunnel forms an aerodynamic circle. Air is not pushed from the bottom as you might have expected, but a fan at the top of the tube sucks the air upwards and it is recirculated back down creating a steady flow."
You don't need to jump into the tunnel either, you simply walk in with an instructor (hanging on to your waist) and the next thing you know, you're free as a bird.
Requirements/Limitations of Indoor Skydiving
This adventure is so safe, even a toddler can do it – literally. Children 3 and over are welcome to fly at SkyVenture with a parent's permission and signature on a waiver. At the other end of the spectrum, they have even had fliers as old as ninety. As long as you are in reasonable health and don't have any of the medical issues they list, you are good to go.
Here are some of the limitations they have posted:
do not weigh more than 250 Pounds
are at least 3 years of age and fit in the gear
are not pregnant
have not suffered from a prior shoulder dislocation or injury
are not under the influence of alcohol or non- prescribed drugs
are not wearing a hard cast
Get Ready for Flight in a SkyDive Wind Tunnel
Before I am ready to fly, I attend a short class explaining both the experience and proper technique. The instructor goes over arm position and how you should slightly arch your back. It felt like a yoga instruction to me, except I would be doing it mid air! I learned universal hand signals such as relax, chin up and GET ME OUT OF HERE!
Our group numbered nine and I was by far the only one approaching medicare age, except for my friend Patti, who you might know from Luggage and Lipstick. We make a great team for Baby Boomer adventures. The youngest was nine with the rest coming in around 30.
Pre flight, make sure you have comfortable clothing on and preferably a shirt without a collar. You will need to wear lace up sneakers and leave your jewelry and other loose items like sunglasses and specs at home or in your car as you won't be able to wear them flying and for many of the other activities. If you have long hair, make sure to secure it in a tight braid. The force of the wind had me combing out the knots forever. I can't imagine how bad it would have been in a loose ponytail.
The group before us was some sort of super secret military training squad. Who, what, where were not questions anyone would answer. (no photos allowed) Whoever these supermen were, I felt glad they were some of the good guys protecting us. The main instructor did tricks you can only imagine. A slight lift of the shoulder took them soaring up the tube, moving the hand brought them back down. It was incredible to see how such a small motion could control their flying.  As I stood there watching their jaw dropping maneuvers, I had no trouble picturing these special ops men of steel jumping out of an airplane on a super secret mission around the globe.
Now I gulped, and it was our turn. I was outfitted with a jumpsuit, safety pads, helmet and goggles. We suited up and headed to the tunnel. The butterflies were busy in my stomach and the only saving grace was the nine year old who calmly told me to relax, she obviously was not a rookie like me. Once the motors start, you can't hear a thing. I sat watching those going before me flail a bit, and I will admit to panic. I menatally reviewed the hand signals and could only remember the one to escape.
Before I knew it, I was stepping into nirvana. I moved into the vertical tunnel with winds topping out at around 120 miles mph and took off. The first few seconds or so is awkward, but Alex, my wonderful coach, makes minor adjustments to my hands and chin. I was floating, but for the first 90 seconds, the air poured into my open-mouthed grin and I could barely swallow.
After several thumbs up, I start to relax and he lets go; my mind moves to another place and I feel like I'm in a dream. I might have soared for a bit when I went kite gliding in North Carolina. This adventure was much easier and for me and felt much more natural. I could hold the pose and although my shoulders took a bit of a beating, after I got comfortable with the face-lift from the wind, I relaxed and got into a groove. I spun, I floated, I raised and lowered myself. Before I knew it, round one was over and I moved out of the tunnel.
On my second spin, I had the option of going up. The guy ahead of me had nodded and disappeared up the tube in a nano second. Alex slowly took hold of my leg and arm and did a little jump on the trampoline bed. Up we went, and the rush was out of this world. My stomach dropped and then I felt the high. It was magic and what I imagined skydiving would be like, but colder with prettier scenery. We went up and down 4 or 5 times, the last time to what felt like near the top of the 40-foot tunnel. My heart was pounding and I got the rush I was looking for. Adrenalin shot through every vein in my body. With simple moves of his legs and arms, Alex took us up and down for what seemed like 10 minutes while we slowy rotated in flight. In actuality, it was probably only 2 minutes. I was guided to the exit door and tried to catch my breath while Patti had her turn. When she got down, we couldn't stop laughing and nodding our heads in agreement in our delight.
Cost of Skydive Wind Tunnel Adventure
For a two minute flight only, the price is $55. Four minutes in the skydive vertical wind tunnel will run you $95. There is an upgrade of $10 if you want the "fly high" experience where the last 30 seconds of the flight time, the instructor will fly both of you high up in the air stream. It's worth the splurge.
There are special group rates and if you plan on doing more than one activity. For the best value,  it's best to purchase one of the combo packages, which start at $90. Get your girlfriends together and what a time you would have. Reservations are recommended, especially if you have a group.
Other Activities at SkyVenture
In addition to the indoor "skydiving", you can ride the waves at Surf's Up. With a 32 foot surf stream, Surf's Up is the largest indoor surfing facility in North America. People from beginner to advanced surfers flock here all season to ride the waves and perfect their skills. Don't worry if you are just a beginner, there are seven different wave types for surfers of all skill levels.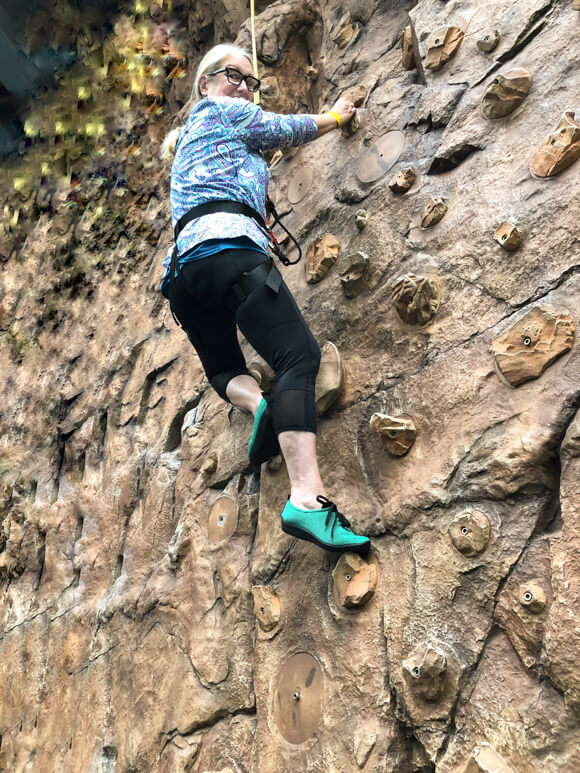 If you would rather get a bird's eye view and try your hand at rock climbing, there is a 24 foot rock climbing wall overlooking Surf's Up. There you will find three trails up the wall for beginner, intermediate climbers and experts. I must admit, the climb is a lot harder than it looks and requires a lot of upper body strength.
For those of you wanting to have some fun without the adrenaline rush of skydiving or surfing, try the Fishpipe. This is the world's only rotating barrel ride. There, 1-3 riders slip, slide and fly around the bottom of the barrel.
Be sure you make a stop at the Oasis Cafe. This tropical treat is a fun spot to grab something to eat or drink while you are visiting the facility. The owners have built an authentic Hawaiian environment and even the sculptures have been made by an Hawaiin artist. Island music and drinks round our the environment.
One of the HighLights
At the end of our flight, Alex signaled us to move closer to the windows of the tunnel as he jumped in once more. He flipped, soared and spun around faster than I could imagine. He did a headstand mid air as he shot up the tube, and then cam back down and slowly moved into a sleeping position, his head cradled in his hands. The position couldn't look any more relaxing. The thought of doing yoga poses mid air has me intrigued, and guarantees I'll be back to SkyVenture for round two. The best part, I'm determined now more than ever to jump out of that plane within the next year!
So what do you think? Is indoor skydiving the solution for Baby Boomers or are you of the no plane no bucket list gain mindset?
Pin Me ♥ A Skydive Wind Tunnel Adventure
Disclaimer: The author was hosted for her SkyVenture experience, but as always, the opinions and experience are entirely her own.