Seasonal Vegetables Asparagus Fritters
Eating local and in season is a wonderful way to move towards a more sustainable lifestyle. Fresh and local Asparagus, once known as sparrow grass in England, is springing to life in farms all over New England. While I love the vegetable grilled, using seasonal asparagus in a fritter is a tasty change of pace and allows for serving it as a main course on Meatless Monday.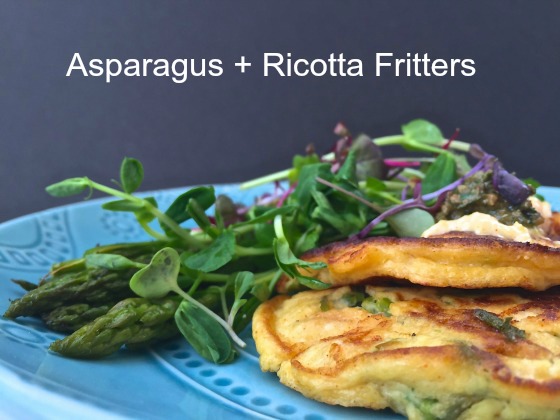 Dipped, grilled,  made into soup, or featured in this Asparagus and Ricotta Fritters recipe, these subtle spears are the darlings of early vegetables. I remember the first time I saw them at a farm poking through the ground. I'm not sure what I was expecting, but seeing them so perfectly shaped and ready to eat was a surprise.
This recipe for Asparagus and Ricotta Fritters is accompanied by two dipping sauces: a lemon, smoked paprika mayonnaise and a toasted walnut pesto. All the combinations sing with the flavors of spring. I first discovered smoked paprika when I was making twisted parmesan sticks for hostess gifts during the holidays. It's one of those spices you never knew you needed, but once on board, you'll find yourself sneaking it into all kinds of dishes. Just make sure to get a good quality variety. Same goes for the ricotta cheese. If you know a local producer, head over and reap his rewards. Just make sure to get a double batch, as there is nothing better than fresh ricotta drizzled with floral honey for dessert.
You can make the fritters bite size and serve as appetizers as well.
Asparagus and Ricotta Fritters with Pesto and Smoky Mayonnaise
Ingredients for Fritters:
2 1/4 c. asparagus
2 eggs-seperated
1 c. fresh ricotta
1/2 c. parmesan cheese-grated
1/2 t. smoked paprika-plus garnish
3 T. olive oil
2 T. chick pea flour (if you don't have chick pea, another fine ground flour will do)
Ingredients for Smoked Paprika Mayo:
3 T. good quality mayonnaise
zest of 1 lemon
1/2 t. smoked paprika
Ingredients for Toasted Walnut Pesto:
1/2 c. basil leaves
1/4 c. toasted walnuts
1/4 c. grated parmesan
4 T. good quality olive oil
For Mayonaise: Mix all ingredients together and leave a bit of paprika for garnish. For Pesto: Mix all ingredients in a small food processor with 1 T. water and finely pulse.
For Fritters: Prepare asparagus by snapping off the bottom tougher part of the stalk. Peel away the stalks outer edge. You don't need to take it all off. Just do it roughly, as I've shown in the photo above. Cut 1/2 of the bunch into small rounds. Set aside. Slice the rest into 2 or 3 ribbons for each stalk, depending on the size of the stalk. Add ricotta, parmesan,  paprika and flour to the yolks. Season with salt and pepper. Add asparagus rounds to the yolk mixture and blend. Wisk the whites with a little salt to form stiff peaks and gently fold into the yolk mixture to maintain the volume of the egg whites. Heat 1/3 of the olive oil and drop spoon fills of the batter into the HOT oil. Lower the heat a bit and brown on each side for approx. one minute. Keep each batch warm in the oven (you'll probably make 3 batches). Sauté ribbons in remaining oil to wilt, season with salt and pepper and serve alongside fritters with a dollop of each sauce. Enjoy!