Scenic Maine Hotels Impact Responsible Tourism
Summer has announced its imminent arrival and as travelers dream of a New England vacation, a scenic Maine hotel group is making an impact on responsible tourism. This season in South Casco, Maine, Migis Lodge will be powered for the first time with solar energy. The century-old vacation destination will offset 95% of its annual electric power with solar power.  Located on Sebago Lake, the lodge and 35 cottages sit on 125 acres of pine tree covered land.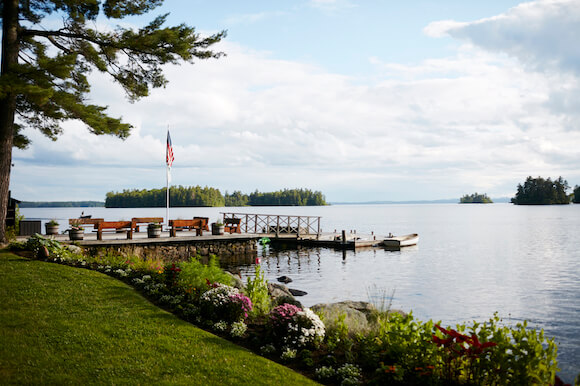 When building the 912-paneled solar structure in collaboration with Revision Energy, they were careful to preserve the surrounding forest area by locating the project in an off-site former gravel pit.
The panels have given new purpose to unused space in the heart of nearby Rockland. The project came online at the beginning of the year and will power Migis Lodge's electrical needs throughout the upcoming summer seasons. Life expectancy for the project is approximately 40 years.
The 314 kilowatt solar array will greatly reduce Migis Lodge's carbon footprint and offset 610,753 pounds of carbon annually," said Nick Sampson, a Commercial Solar Consultant at ReVision Energy. "We are proud of their environmental commitment, and I'm glad we partnered on this project to achieve their clean energy business goals.
Responsible Tourism
One of the questions I am asked most frequently is "How can I travel more responsibly?"  Most people don't realize how easy it is to see the benefits of responsible tourism and make a difference. So many choices go into planning a vacation, sometimes it can appear that the list is endless. Every choice along the way your trip can be a responsible one.
Depending on the location of your destination, the level of responsible travel choices will vary. The most important thing to remember is that each eco-friendly choice can have an impact.
My work as a travel writer takes me on some incredible experiences around the globe.  When I partner with a company whose environmental mission is impressive, I want to sing their praises and let my readers know about them. Each of you can use the information and decide what will work when making travel decisions for yourself and your family.
Hotels and Responsible Tourism
Let's start with your hotel choice. There is rampant green washing circulating in the travel industry (and they are not alone-it is everywhere). Green washing, also called green sheen, is defined as an attempt to take advantage of the growing demand for eco-friendly and environmentally sustainable products. Making something appear- whether it be a hotel, skin care product or a suitcase- more environmentally friendly than it is.
As consumers, do we really think not changing our linens everyday gives a property the right to talk call themselves eco-friendly? Dig a bit deeper when looking for hotels and the positive impact they can have on the community. Here are are a few good topics to begin with:
Where does the water come from and is grey water recycled
Energy supplier, are they making efforts to reduce their carbon footprint
Does the hotel use eco-friendly cleaning  and bath products
Is food sourced locally
Does the hotel have a recycling plan
Is the staff local
All properties should have a list of sustainable practices they follow if their business mission is serious about the environment and the principles of responsible tourism.
History of Migis Lodge on Sebago Lake
Since 1916, Migis Lodgehas opened its doors to guests seeking a step back from the world along the tranquil shores of Sebago Lake. Located just 40 minutes north of Portland, the resort is an idyllic location perfect for family vacations, romantic getaways, and much more.
One of only a handful of resorts in New England offering the Full American Plan, including all meals and many activities in their rate.  Migis is a true getaway experience that invites guests to get unplug and recharge.  All types of visitors will feel at home with welcoming hospitality.  The lodge caters to both solo travelers and  multi-generational families, with a wide range of activities to enjoy, regardless of age. Guests can stay active with canoeing, kayaking, sailing, waterskiing, and tennis, or relax amidst the glorious lake views and unparalleled refreshing Maine air.
Migis Lodge is committed to the environment and sustainability, said Jed Porta, General Manager for Migis Lodge and Managing Partner for Migis Hotel Group, the family-run, Maine-based hotel management company. Our guests will have one more reason to enjoy their vacations with us, knowing that we are doing what we can to respect Maine's natural resources by using renewable energy.
Boutique Hotels & Migis Hotel Group
The Emerson Hotel – Rockport, Massachusettes
I've had the pleasure of being hosted in several of the Migis Hotel Group properties. Little more than an hour from Boston, visitors will find Rockport an area steeped in all things maritime. Seaside, in a location founded by the Pilgrims in 1623 and named after England's Queen Ann, one quickly forgets the hustle and bustle of city life.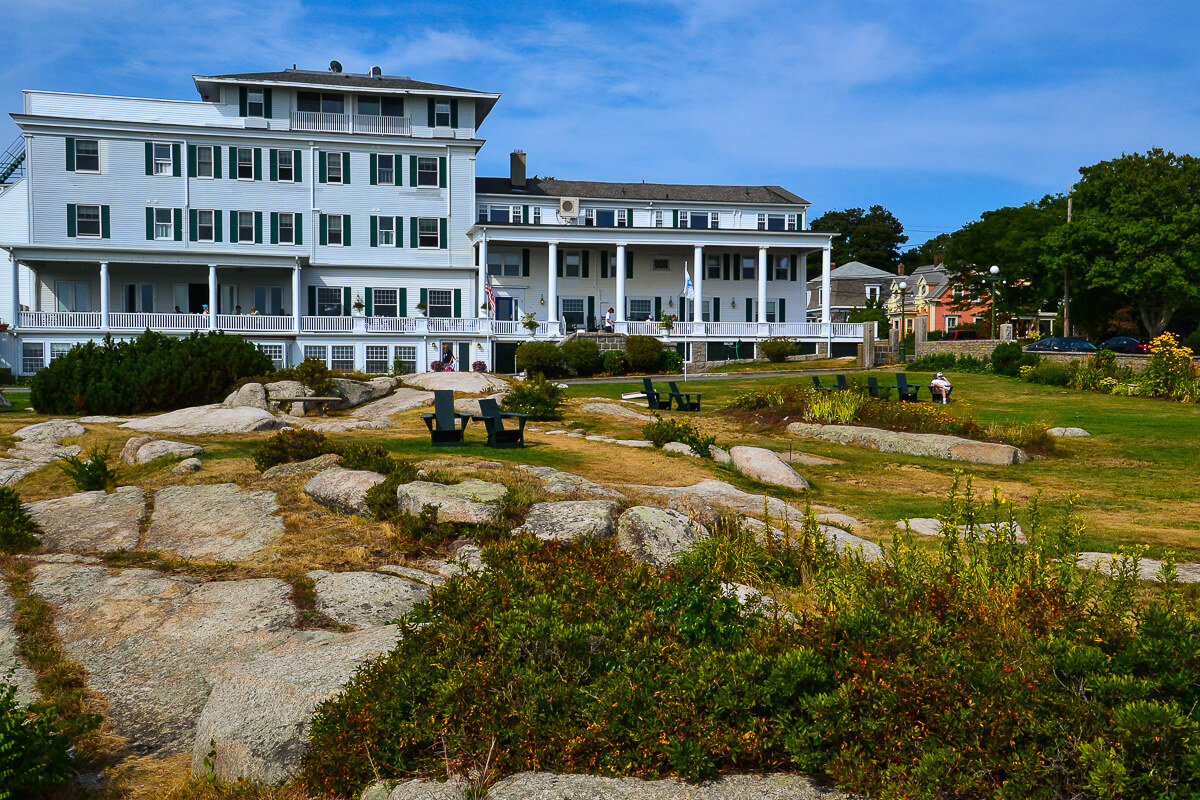 Cape Anne's beautiful rocky shores include four communities: Gloucester, Essex, Manchester-by-the-Sea, and my escape: Rockport and the historic Emerson Inn. Like so many small towns in Massachusetts, it's perfect for a weekend escape.
Like the rest of their properties, The Emerson embodies the meaning behind the Migis name-a place to steal away to rest. Taken from the Abenaki word migis, the hospitality group intertwines a welcoming environment for rest and relaxation with commitment to history and the environment.  Walking through the doors, one immediately feels the sense of relaxation and hospitality Migis is known for.
The property offers 36 tastefully decorated rooms with all the accouterments one would expect at a luxury property. Spa tubs, luxury linens, plush robes and sweeping views of the Atlantic add up to a sophisticated experience.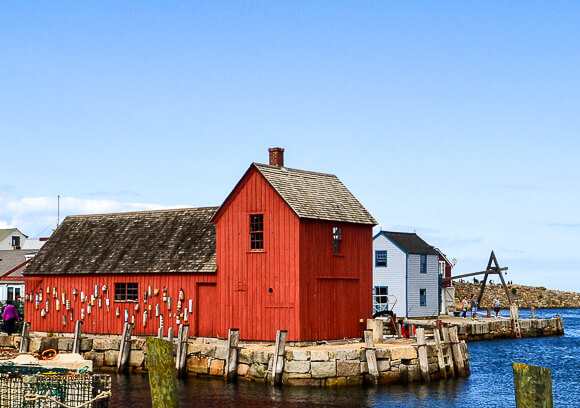 As a summer retreat, the Pigeon Cove area has been welcoming guests for more than 160 years. Ralph Waldo Emerson spent time in the area with his family and found inspiration for his poetry in Pigeon Cove. The beautiful rocky coastline provides endless inspiration and as a haven for artists, still thrives today, drawing creatives from around the world. One of the most photographed and painted fishing shacks on the globe-Motif #1– is in the local harbor on Bradley Wharf.
250 Main Hotel – Rockland, Maine
To understand the concept behind the design of the 250 Main Hotel in Rockland,  one should know the history and customs of the seafaring area. A long tradition of shipbuilding  dates back to the 19th century.  Boats were produced for the commercial market and were the mainstay of the town's economy along with lime production and fishing.
The hotel is designed with the maritime heritage of the town in mind, architecturally taking the shape of a large ship. Owners Cabot and Heidi Lyman of Lyman Morse Boatbuilding used their talented artisans to construct the hotel. Intentionally designed in this way to capture the essence and history of  seafaring Rockland, 250 Main provides guests with a unique hotel experience and a genuine sense of place.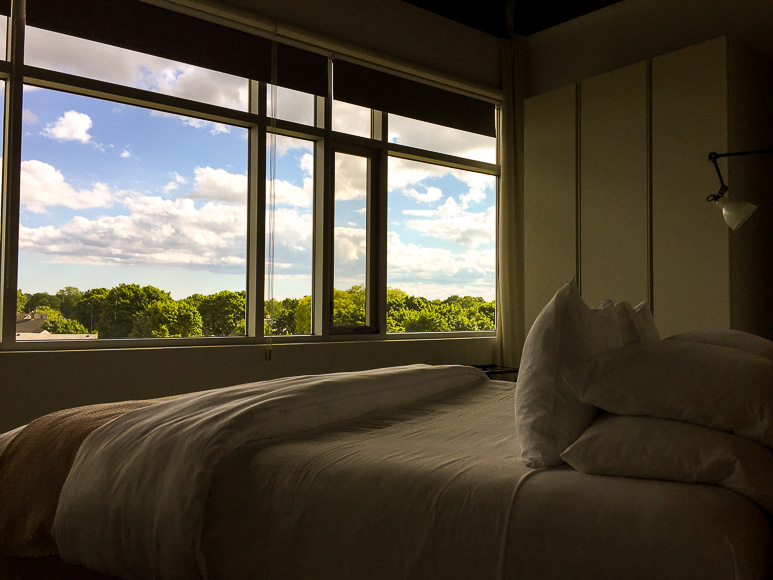 Sustainable elements in the build include a high efficiency exterior skin and LED lighting. Water saving technology is employed in the laundry units as well as the plumbing fixtures in the bathrooms. Heated floors and towel racks are a nice touch and Malin + Goetz bath products are thoughtfully refilled in permanent containers affixed the shower. Kudos to the designer of the black washcloth for make-up removal. How many white towels were discarded before someone came up with the idea?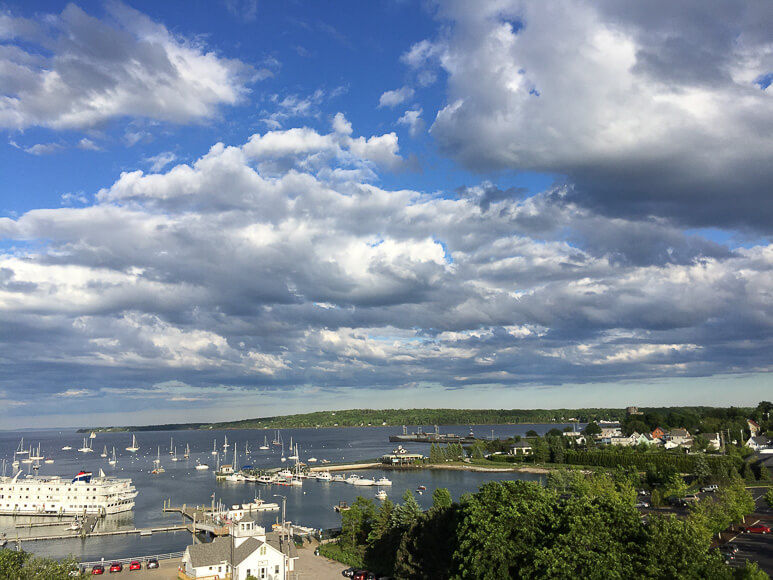 ♥
The Migis Hotel Group is taking impressive steps to reduce their carbon footprint amongst their ten scenic properties in Maine and along the east coast. Heartfelt hospitality, award winning dining facilities, luxury amenities combined with a vision for the future.  When making travel decisions, this is the type of property where I'd like to rest my head. What about you?
Pin Me – Scenic Maine Hotels and Responsible Tourism