Save the Date: Boston Local Food Festival
Mark your calendars, foodies! The 4th annual
Boston Local Food Festival
is coming to Rose Kennedy Greenway on Sunday October 6th from 11am – 5pm. Attracting more than 30,000 people a year, the
Sustainable Business Network of Massachusetts
brings together local food growers, producers, distributors, educators, and supporters for a day filled with good eats, good music, and good beer.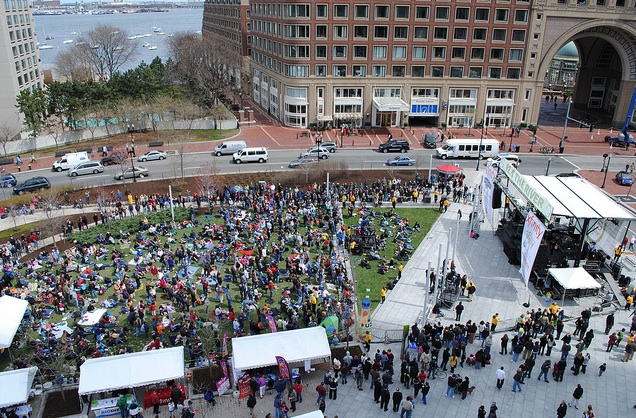 Considered the largest one-day farmer's market in New England, the Festival prides itself on its firm commitment to being a "Zero Waste" event (all refuse must be biodegradable, compostable, and recyclable).
"We are proud to announce that  91% of all waste from the 2012 festival was diverted to confirming the festival a zero waste event."
The venue for this event couldn't be situated in a better spot than Boston. A place that coincides with the values of locavores,  welcomes the wide spread farm-to-table movement, and serves as a cultural hub for local artists and bands. Not to mention the gorgeous view of historic Boston Harbor.
Cool Vendors to Note:
Cookie Lady Treats: Pina Colada Cookie. Chocolate Potato Chip Cookie. Blueberries & Cream Cookie. Enough said. Starting out as a summer project two years ago, the demand for these unique cookies has grown rapidly.
Boston Organics: For those lazy Sunday afternoons when you just don't want to go grocery shopping…Boston Organics will deliver your veggies to your door while you veg on the couch!
Snack Taxi: (Not a taxi that serves snacks) Useful pouches that Moms pack their kid's goldfish, pretzels, and sandwiches in.  Re-usable and hand-sewn. No more plastic baggies.
Festival WrapUp:
Celebrate the local flavor
Mingle with like-minded folks to share ideas, sample food, and listen to live music
Admission is free and majority of food items are under $5
Attend Chef demonstrations, DIY brewing demos, participate in workshops
Sunday Funday anyone?
Image Credit: 
http://bostonlocalfood.com/our-events/boston-local-food-festival
 and http://www.amiliaphotography.com/category/personal/