San Diego Getaway The Inn at Rancho Santa Fe
Nestled in the hills high above San Diego is a hidden oasis. Call it a couples retreat, a San Diego getaway or a romantic escape, The Inn at Rancho Santa Fe is a little slice of heaven. This luxury resort property, part of the Marriott family of hotels, is reminiscent of a captivating Spanish hacienda. Visitors will find an historic property that exudes charm and represents a rich history right in the heart of this delightful small town called Rancho Santa Fe. Less than a half hour drive to San Diego and the coast, it makes for an easy couples retreat from either the city or the airport.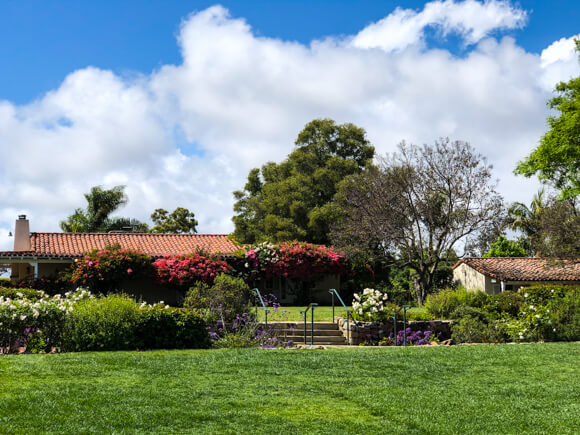 With a small population and exclusive zip code, the town seems centered around this romantic destination; the perfect setting to recharge, relax and spend some quality time together. Lavish, lush and private, my husband and I thoroughly enjoyed our stay and are dreaming about a return visit to San Diego and another getaway to the picturesque 21 acre retreat and spa.
History of Rancho Santa Fe
The Tribute Portfolio property introduces guests to the unique history of the town of Rancho Santa Fe. From its humble beginnings as a land grant deeded by Mexico in 1840, to a failed attempt at eucalyptus farming, to the quaint town it is today, my husband and I always love a property that embraces a sense of place and is true to its roots.
The development of the town was overseen by a young woman named Lilian Rice, the first woman to graduate architecture school at UC Berkeley. The firm she worked for also was responsible for planning and developing the town of Ojai, another nearby cultural gem. Rice wanted to mimic the quiet serenity of a spanish village, and from all outward appearance, she succeeded. Rancho Santa Fe is filled with red tiled roofs, wrought iron accents and arched entrances covered with bouganvilla and roses that greet visitors as they walk through the streets.
Location, Location, Location
In the heart of San Diego's horse country, The Inn at Rancho Santa Fe consists of 21 perfectly manicured acres with cottages speckled throughout. This country escape is close enough to the city so you can enjoy world-class activities, food and culture, but also gives the feel of seclusion and privacy in the country.
A stay in horse country has its advantages; guests can book the "Home on the Ranch" excursion which is an adventure you won't soon forget. Visit during the famous Breeders Cup World Championship race and you'll find a focus for which the area is known.
Because of its location, guests can participate in activities at two world class sports facilities. A stay enjoys privileges at the world famous Rancho Santa Fe Golf Club or at the Rancho Santa Fe Tennis Club.
About the San Diego Getaway Property
Although this property has been around for almost a century, an extensive multi-million dollar renovation completed in 2015 updated the resort to include all the amenities a modern traveler craves. Architects were thoughtful about preserving the historical charm. Opening in 1923, the original building was known as "la Morada", which means the house of many rooms. Over the next century, the building grew from a few rooms to 80 guest rooms spread out over 17 cottages.
The main building is a warm, cozy spot nestled in the heart of the complex. Navajo rugs, hand-carved doors, beamed ceilings, and sandstone walls welcome guests. A wood fire burns in the couch filled center lobby, making for an intoxicating scent as you settle in. The lighting is low; the mood is relaxed. You will feel exceptionally cozy and be tempted to curl up with a good book.
The property is unique because it not only houses the resort but also 21 luxury residences. So if you so desire, you could always extend your stay by… forever.
Rooms at The Inn at Rancho Santa Fe
Each one of the 80 guest rooms has a unique floor plan. Furnishings are luxurious and pleasing to the eye with a color palate of minks, tans and blues reflecting both sky and sea. From the luxury linens to the convenient amenities, every part of your stay is thoughtfully curated by the staff of the Inn at Rancho Santa Fe.
We stayed in a two bedroom bungalow and it was divine. Hidden behind leafy foliage just bursting at the seams with fragrant roses, I felt quite movie starish retreating to our private cottage. The space included a king size bed covered with luxurious bed linens. We were also greeted with plush robes and slippers so we could immediately make ourselves comfortable. The two bedroom cottage had a wood-burning fireplace to cozy up to, a wet bar, kitchenette and a private patio which gave us a peek at the elegant gardens and landscaping. Birdsong was on repeat. In my mind, the only thing missing was a few more days to stay!
The hotel is well known for it's whiskey bar – The Huntsman, and awaiting our arrival was a welcome cocktail and nuts to ward off hunger as we settled in.
Each of the spacious guest rooms and cottages have luxury amenities: flat screen TV's, room service, turndown service and other comforts of home like a Keurig coffee maker so you can wake up and enjoy a leisurely cup of coffee.
Amenities Offered at Rancho Santa Fe
Food & Drink
The Huntsman is an intimate place to relax in a space that pays homage to the old Santa Fe Hunt Club. Guests can enjoy a menu of artisan whiskeys, barrel-aged libations and signature cocktails infused with smoky goodness.
For a first-class dining experience, you don't even need to leave the resort. Morado, the in-house restaurant features California cuisine and comfort food using seasonal,fresh, local ingredients. Try the Skuna Bay Salmon or the Hamachi Protein Bowl. The charcuterie board features local meats, cheeses and a hunk of honey hive that sets the flavors off perfectly with a sweet balance. Imaginative cocktails round out the pre-dining experience and a full wine menu lets local vinatges shine.
Spa and Wellness at a San Diego Getaway
I began my wellness journey with the unsual Uncork and Unwind. Two of my favorite activites, yoga and wine pairings combined in the cozy setting of the library. Heavy on the vineyards and light on the headstands, I loved the experience. The instructor went thru various asanas to open up your senses and  appreciate the full flavor of the selections. Hmm…could be habit forming.
If you crave pampering or just need a relaxing massage, the on-site holistic wellness spa should be your first stop. This serene day spa has everything from facials to chakra cleansings and you will feel rejuvenated after your visit. Our couples massage was perfect wellness therapy before boarding our cross country home.
A huge copper soaking tub awaits guests ouside one of the treatment rooms, but alas, my flight was calling. If , however I had the time, I no doubt would feel renewed after a soak in a anti-oxidant blend of herbs and spices. The spa has a well stocked gift shop with a creative selection of spa products and leisure wear. I was tempted to make room in my suitcase. For sun seekers, the hat selection was on point.
The property also features a heated outdoor pool and jacuzzi, croquet on the lawn and is pet-friendly, so you don't have to leave your four-legged friends at home when you visit.
Guests looking for exercise in addition to hiking one of the many trails in the area, can indulge in a round of golf or take some tennis lessons.
We had just come from a wedding in the city, and I could see this San Diego getaway would be an amazing backdrop for just such an event. I have never seen so many white roses in bloom in one place. If you're looking for laidback luxury in the heart of southern California, The Inn at Rancho Santa Fe is calling your name.
Pin Me ♥ 

San Diego Getaway Inn at Rancho Santa Fe
Disclaimer: The author was hosted at The Inn at Rancho Sante Fe for review purposes and as always, opinions and experiences are her own.