The Road to Wine in Myanmar
It all started with a smile. Relationships often begin this way, progressing on to adventures and new discoveries down the road. But first, there was an extra long travel day from hell. After twenty-four economy class hours on planes traveling to Yangon, my arrival was immediately followed by a full day of touring with a guide who coughed like she had a bad case of TB. The concept of hand over mouth when hacking was as foreign to her as this new country was to me. Grumpy, and more then a little jet lagged, at day's end I wanted nothing more than a cool glass of white wine to lead me into sweet dreams and Miss Lilly White's party. But I was in Myanmar for heaven's sake. They don't have wine here… And then I met the smile. Aú Contraire he whispered (it was more like ဆန့်ကျင် ရန် –but you get the picture), and thus my temporary love affair with Red Mountain began. I was on the road to wine in Myanmar.
You're probably as surprised as I was to learn that there was a local wine behind the bar that was more than a little drinkable. The Republic of the Union of Myanmar, also known as Burma, rests along the northeast coastline of the Bay of Bengal. It's a sovereign state rich in jade, oil, and other gems and natural resources. This is a country steeped in cultural diversity, which is widely expressed in local language, art, food…and wine.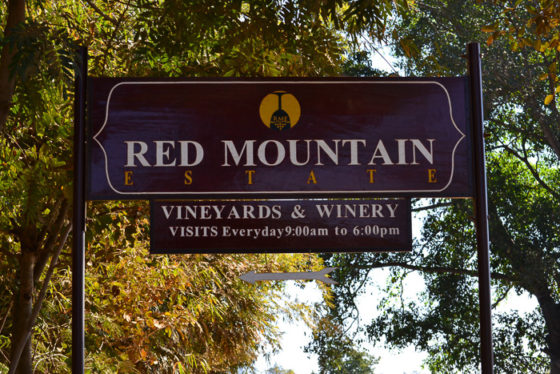 Located near Inle Lake, Red Mountain Estate is known for making the top wine in the country. Their grapevines are specially crossed from plants that were originally imported from France and Spain, giving their local grapes the finest qualities of 400,000 vines. The final product is inarguably the best in the country. This area of the Shan State is only a short drive to where I was staying on Inle Lake and the winery is set in a picturesque landscape of rolling hills framed with bougainvillea.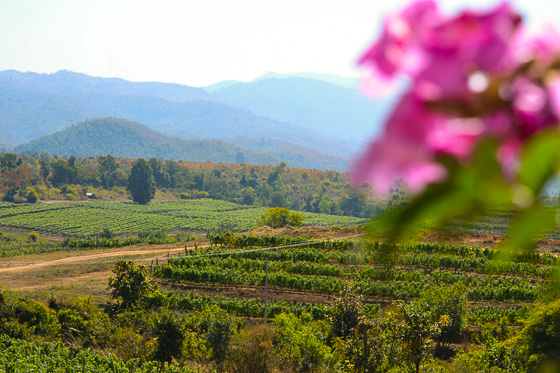 The Evolution of Red Mountain Estate
The first step for the winery was to find a winemaker. In 2002 Francois Raynal joined the team; winery equipment from Italy was purchased, and Taunggyi was chosen as the site for the vineyard and winery. Importation and planting commenced in 2003 and continued through 2007. Over the years the vineyard had to be expanded to accommodate so many plants and finally in 2006 the first 1,000 bottles of wine were produced. The amount of work that went into building the winery and planting the initial grapevines up to this point is astounding – and time consuming. Great care was taken to cultivate a very specific type of grape and to this day, visiting Red Mountain Estate is a must for oenophiles wanting to taste the wine in Myanmar..
The Ways of the Wine
As any aficionado can tell you, there are many types of wine. Red Mountain Estate keeps it simple. They offer 9 varieties of white, rose, red and fortified wines. When you visit the vineyard you can participate in a tasting to get a feel for the differences. Their red wines consist of Shiraz Tempranillo, Shiraz, Pinot Noir, and Carignan. The rose is called Rose d'Inle and is made from red Syrah grapes. If you prefer white wines you can try Sauvignon Blanc, Chardonnay, and Late Harvest. I had the opportunity to sample some of the local cuisine, simple dishes made with fresh ingredients, and the perfect accompaniment to the wine we tasted.
The Importance of "Living" Local
Travelers are starting to realize that to truly experience a place they have to live like a local. Many are passing on the typical tourist attractions and generic hotels and are learning that by renting a residential room or home they get to see a completely different aspect of a city or country. Just like individual people, communities of residents have more than one side. There's the projection of self you want others to see or perceive – and there's the "real you". When you visit a new place, try to think in terms of that concept. Do you want the projected "face" of a people aimed at tourists or do you want the real thing? Chances are, you will opt for experiencing the true nature of the culture. Eating local food and drinking local wine is a great way to do that. It helps the local economy and keeps a community sustainable. There is so much hard work and "labor of love" that goes into keeping it local,  you can't help but notice unique nuances and characteristics that just can't be found anywhere else.
Red Mountain Estate is a perfect example of this; entire teams of people pour themselves into every bottle of wine, insuring notes of local flavor and terrior you simply will not find in another part of the world.
The next time you find yourself in a new place – whether it's on the other side of the globe or just across the nearest state border, do yourself a favor and skip the chain restaurants. Make a point to visit the nearest vineyard, brewery or eatery for a tasting and sample two or three things from the menu. Find out what grows locally or the regional speciality before you visit and seek it out.
You don't necessarily have to sit and chat with other patrons (though that's a great way to learn where the best places are to visit) or completely immerse yourself in their culture – but do eat the food and drink the drink. Get to know the "real" side of a place and experience what local has to offer. Your horizons will be broader and an inner appreciation of a destination will surely be the result. You just never know where the smile can take you.
♥

Pin Me Image – Wine In Myanmar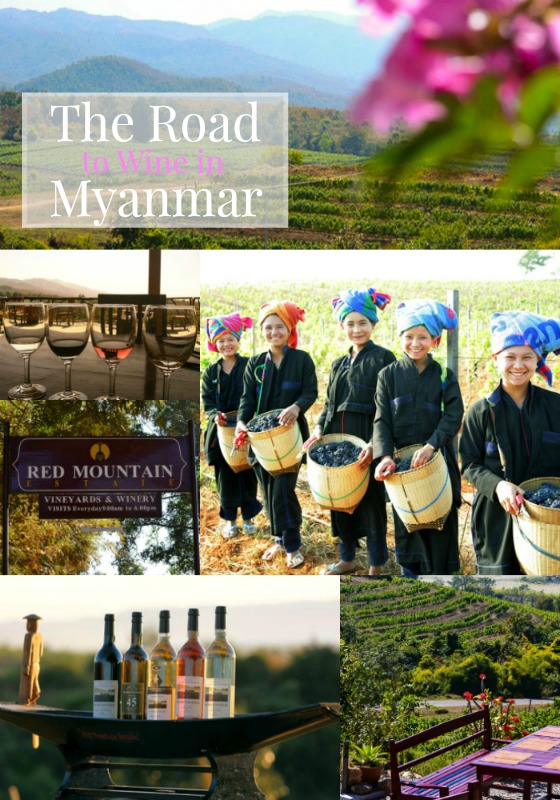 Photo credit: Feature and photo of women in vineyard via Red Mountain Estates.