The Photo That Started it All-Kerala
Photographs can be a powerful thing. This is the photo that originally spoke to me and zoomed Kerala to the #1 spot on my bucket list. The wheels were in motion for the planning of this incredible journey.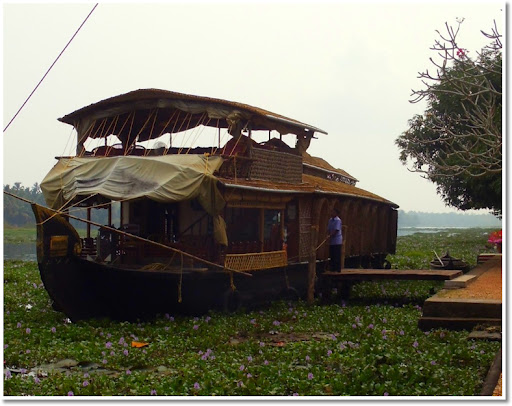 This is the traditional kettu vallam boat we took for our backwater tour in the Kottayam district. It was an afternoon filled with an unforgettable part of the country. Sandwiched between the hills and the Arabian Sea, the waterways are lined with dense tropical greenery. The connected lakes, canals and river ways allow you to see a slice of traditional life completely hidden from the roadways.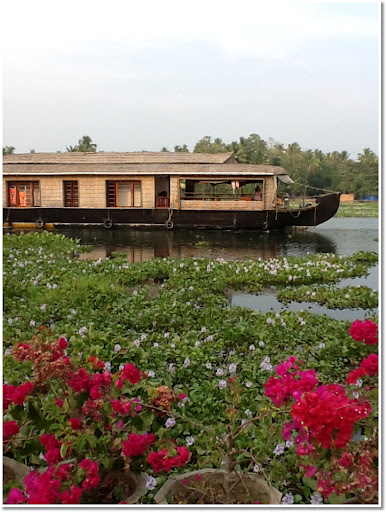 Originally built to ship rice and spices, the boat's hull is made up of hundreds of planks held together by coir knots. No nails are used in the construction. The framework is then coated with a resin made from cashew kernals and lasts for many generations. Much needed shade is provided by the thatched roof made from bamboo poles and palm leaves. The leisurely day along the palm fringed canals was a welcome relief from the previous frenetic pace we had been keeping.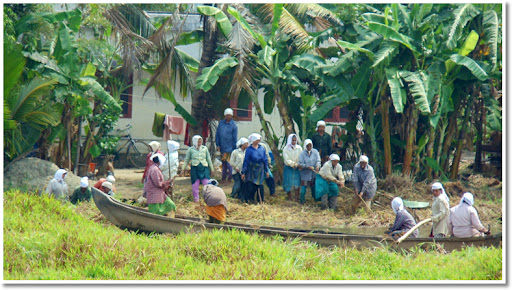 Village life along the canal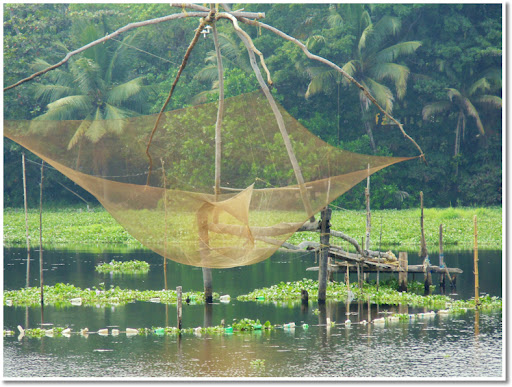 The famous Chinese fishing nets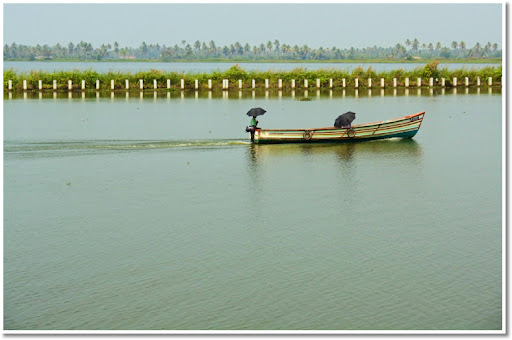 Local transportation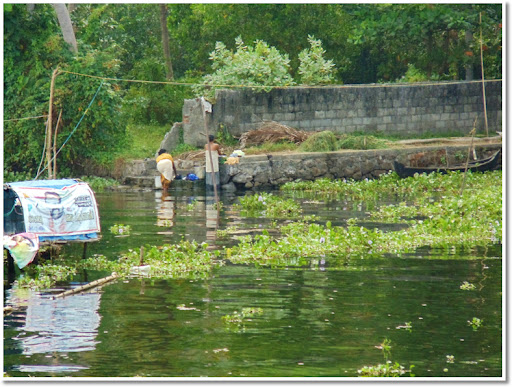 Laundry day
The idyllic view of the shimmering waterways does have a troubled underside. Much of the backwaters are covered with African moss or water hyacinth. Although it looks pretty, it starves the underwater of life and is dangerous to small craft traffic. To tackle some of the pollution problems, the boats have been equipped with state of the art bio-treatment systems.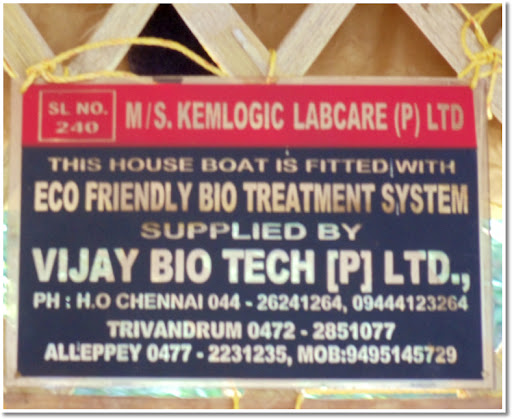 Despite its growing pains, Kerala does remain prosperous. Boasting the country's highest life expectancy, lowest infant mortality and nearing 100% education rate, there is much that makes Kerala a very desirable location. The state is a major source of India's bananas, rubber, coconuts, cashews, ginger and spices. These riches that were once worth their weight in gold, influence the delicious cuisine we had along the way. Whether it's called
The Venice of the East or God's Country
this thin strip of the southwest coastline is a little slice of heaven and if you love the water, should be an addition to your very own bucket list!
Has a photo ever influenced a destination for you? I'd love to hear about what makes the top of your travel wish list.
This post is part of a Nature Travel Roundup in honor of Earth Day over at
Green Global Travel.
Come take a peek at some great stories about all Mother Nature has to offer,