Slow Color and Traditional Weaving
Like the slow food movement, there is a ground swelling in the textile world for a slow movement of color. Fabrics that are woven with care and dyed with natural, non polluting materials, clothing that is moving away from fast fashion, this is what we mean by the slow movement as it relates to the textile industry. I was lucky to have a chance to meet  co-founder of Slow Color, Sanjay Rajan, who was here in Boston making a personal appearance at Karma in Newton Center, a guest of the lovely Phuni Kim Meston. His sustainable textile collection highlights traditional techniques of the weaving artisans in small villages of India.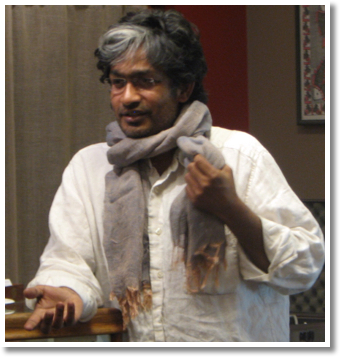 Conscious consumers are looking for conscious companies that share their mission. SlowColor is committed to providing beautiful, fair traded clothing that is sustainable and created by hand loom weavers of India who receive a life-changing wage. Sanjay believes" indigo, pomegranates, and madder root are just a few of our gourmet color ingredients. After the line is woven on the hand loom, it may take days or even weeks to due a garment with natural dye, as opposed to a quick Chemical bath. The final result is a beautiful, non- toxic garment produced with respect for the earth, for those that produced it, and for those that wear it. "
Buying local is part of my mantra, but so is supporting artists and craftspeople around the world, especially those in traditional crafts. If you can find a local boutique in line with your values, who embraces fair trade and social justice, then I'm all about supporting them as well. Karma does just that, and you can rest assured that a purchase made from Phuni's store is going to bring you good Karma!
Karma is all about fusion, and the collection of guests, interested in sustainability and gorgeous textiles. Here, the idea of blending people and ideas of different backgrounds through cultural exchange is one of the main purposes of these events.  The store is often filled with people interested in sustainability and the move away from fast fashion. Phuni provides a tasteful selection of traditional and modern crafts, all beautifully curated with her point of view.
The subtle color combination used in the natural dying technique were on display. The colors are rich in their saturation, but subtle in hue. Chances are you've not felt something this soft, natural and chemical free around your neck in a long time.
I was doubly excited to meet the owner of Slow Color because I had recently visited the tiny village in India where some of the clothing and scarves were produced. What are the chances!? Pretty crazy, small world experience.  This was a fateful meeting of designers with a simpatico vision of sustainable production combined with natural dying techniques.
You might enjoy photos from my trip to Koyalagubem in February. My post about Natural weaving outside Hyderabad can be found here.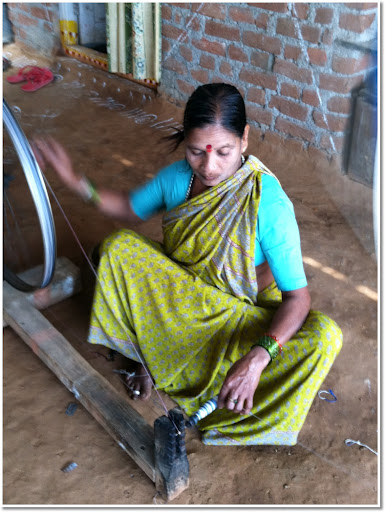 When I observed some of the primitive techniques used to produce these gorgeous scarves, my appreciation grew tenfold. Spinners used up cycled  bicycle wheels to spin the threads into yarn. Slow Color's is committed to offering fair pay to Indian artisans while using eco friendly techniques to produce their textiles. The centuries old techniques are combined with modern sales techniques to safeguard the future of these traditions.
Threads of many sizes spun and ready for the natural dying process.
Time consuming natural dying, here the color is taken from flowers.
I admit,I had to indulge my scarf habit and happily became the owner of the indigo beauty above. Slow Color and traditional weaving are an irresistible combination.
When you have an experience like this it feels like a moment in time when you are having a pre-ordained rendezvous. Not to get too heady, but an alignment of vision was definitely in the house. It just felt like there was a reason I had gone to that particular village in all of India, found natural dying techniques and questioned the sustainability of the weavers , now my life was intersecting with another who was in that same place. You can never be quite sure where life is heading, but I feel very positive that this is connected to a path for my future travels. Rest assured, you'll be the first to know where it leads.