Pay It Forward Friday With Jenny Best from Slow Food USA
When I first started my Pay it Forward Friday column it was just this sort of experience that inspired me. Jenny Best, from Slow Food USA is illustrating perfectly what it's all about.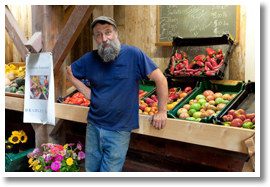 Mr Bradley via Jenny Best , Slow Food USA
Posted on Tue, February 14, 2012 by Slow Food USA
Written by Jenny Best, Slow Food USA Chief of Staff
A couple weeks ago, I overslept and didn't make it to my Saturday farmers market until well into the afternoon. And, as any regular market shopper will tell you, there's slim pickins so late in the day. Which I knew. But if you are like me, not going to the market at all is akin to skipping coffee when you normally have it – you'll be in a grumpy mood, and likely have a headache all day.
Many of the farmers were already packing up their trucks when I arrived at the market, getting ready for their trek back upstate. In fact, only a few stands remained. Stray root vegetables lingered, rejected from earlier buyers.
Feeling a bit silly with my big (and empty) woven basket bag, I walked up to the Bradley farmstand to see if anything was left. As I suspected, not much in sight. A few rutabegas, an onion or two. I approached Mr. Bradley – who had once jeered me out of his stand for wearing a t-shirt sporting the logo of a trendy pickle maker (Mr. Bradley sells his own pickles and swears they're better) – and I asked him if he had any shallots left.
"I got shitty shallots," he said, a sarcastic grin sneaking out from under his beard.
"I'll take two shitty shallots," I said, smiling. He motioned me over to the box of shallots and asked for my bag. He then proceeded to shovel gigantic handfuls of shallots into my bag. Handful after handful! I tried to stop him. I asked him what I could give him for them but he refused.
"There's got to be two good shallots in there somewhere," he said snickering.
I thanked him profusely and walked away, astounded by my fortune. I had just received what must have been $100 worth of shallots for free.
When I got home, I dumped my bag onto the kitchen counter, sorting through the shallots. Some were soft and no good, but many more were perfectly fine. I decided I might as well make a vinaigrette to preserve the ones that were good. After an hour of unwrapping their tight, pink paper skins, chopping and mixing, I had a delicious vinaigrette – 6 quarts of it. I poured it into several jars and wrote "Mr. Bradley's Shitty Shallot Vinaigrette" on the masking tape labels. It made me happy.
The following weekend I decided to bring a big jar to Mr. Bradley. As always, he was there.
"I got something for you," I said.
He was caught off guard. I reached into my market bag and pulled out a jar of the vinaigrette. His face lit up as he chimed aloud, "Mr. Bradley's Shitty Shallot Vinaigrette!"
I could tell he loved it. As his friends near by asked him what was going on, he recounted the story of the weekend before, where I had asked him if he had any shallots left. After he told the story, he looked up at me.
"Thank you. Thank you so much," he said. "I'll bring you something next week."
I laughed. My gift of thanks would yield another gift of thanks. "Okay, we'll start a trade," I said, smiling, and walking away. We barely knew each other but now we had a shallot story in common.
Mr. Bradley gave me more than free shallots that day. He inspired me to make something wonderful out of an unexpected abundance, and to share it. He reminded me that community often starts with one person's generosity. And lastly, he gave me a story behind my food that day, and one that made me proud.