Oyster Culture in Great Bay
Fat Dog, Bay Point, Wagon Hill, Moon Shoals, petites, choice and select. Eating oysters has never been more popular, but while we all have our likes and dislikes (I am a huge fan), what do we actually know beyond the briney taste? I was recently invited by Robert's Maine Grill, a sibling of the iconic Bob's Clam Hut in Kittery, to up my knowledge of oyster culture in Great Bay National Reserve.
Let's start with the fact that oyster consumption has skyrocketed in recent years. You can find oysters listed on menus around the world. Taylor Lobster, the seafood company providing oysters to Robert's Maine Grill, distributed over 1 million oysters throughout the country this year. The restaurant alone devoured 100,000 plus of the company's bivalves. Approximately 35.5 million pounds of oysters are harvested and consumed annually in the US. By far, the Eastern Oyster is at the top of that list, making it one of the most popular seafood choices in the nation.
With such an increase in consumption, how do we keep the harvest sustainable? My experience with oyster culture started at the end of the cycle, this was the focus of the visit. Robert's is working with the NH Coastal Conservation Association to recycle the shells and keep them out of landfill. CCANH is dedicated to the protection of coastal resources and fisheries. The organization picks up the empty shells from Robert's and several other restaurants in the area. For over a year they are seasoned in the sun. Some are placed in bulk to increase the size of the reefs in Great Bay. Others are used as clutch (hard substrate) for oyster larvae to develop at the Jackson Estuarine Laboratory at University of New Hampshire. The shells provide nutrients for growth. They are then placed, complete with larvae, in approved restoration sites in the Great Bay Estuary and the Piscataqua River.
Dr. Ray Grizzle and Krystin Ward (both oyster farmers in their own right) took us on a tour of the facility and then demonstrated how the recycled oyster shell program has helped reestablish oyster beds in the region. Each farmer has a specific site that is leased for their production. Oysters improve the health of the water by acting as a natural filtration system, thus creating a healthier environment for eel grass and the wildlife living within. The farms are a win/win for both the environment and the consumer.
The oyster population suffered severe losses in the 90's due to pollution, overfishing and disease. This reseeding program joins a nationwide effort to bring back the oyster levels. If consumption is any indication, they are on the road to success. Currently, the recycling effort is small scale and run with volunteers. Although close to 6,000 bushels of shells have been collected, the program hopes to have substantial growth in the future.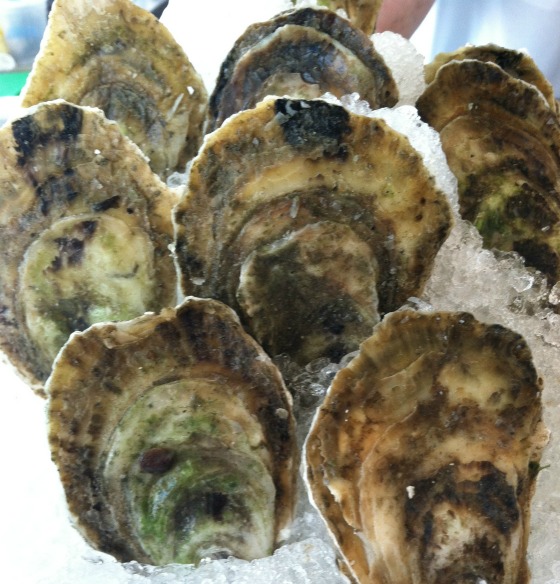 The Oyster 411:
Oysters with open or cracked shells have most likely died and may not be safe to eat. Healthy oysters will respond to a tap on their shell or a dousing of cold water by clamping shut.
During the summer months oysters spawn, producing a foamy milky sac that isn't very appealing. While not toxic most oyster lovers find it has an unpleasant texture and taste. When purchasing, ask if they are spawning and avoid those that are.
Like anything grown in the soil, oysters get their flavor from the surrounding environment. Oysters grown in the open ocean will have a higher salinity or salty palate. Likewise, minerals in the sediment can affect taste.
Oysters hibernate and leading up to the winter, store fat for the season. That fat or glocogen is full of flavor and oyster lovers claim the best time to eat is fall and winter.
Oysters are best naked-and don't slurp them down like a shot-enjoy the texture and chew a bit for added taste
Flavor profiles include: sweet, salty, bitter, unami, metallic, nutty, grassy, buttery, smokey and peppery.
The Romans had such a passion for oysters that they imported them from all over the Mediterranean and European coasts. Cultivation began over 2,000 years ago when they reseeded and grew stock in Italy.
Raw oysters nutritionally consist of 23 percent carbohydrates, 33 percent fat and 44 percent protein. This makes them a balanced food and a good source of protein and Omega-3 fatty acids.
Rare amino acids contained within are rumored to trigger sex hormones. Aphrodite, the goddess of love did appear from an oyster shell. Eat at your own peril…
Of course there would be oyster tasting on this trip and Robert's did not disappoint. The restaurant has a convenient, beautiful setting overlooking Spruce Creek. Inside there is a strong sense of place and down home charm. An outdoor screened porch transports you to a spot that sings of Maine in the summertime. Photos of local farms, rustic "shabby chic" decor and reclaimed wood tables set the mood for a menu of seafood classics and regional specialities that support the farm to table, sea to table experience in every possible way. Add to that a bar program with a healthy selection of Maine's specialty craft brews-you can order a Taste of Maine flight, along with several local spirits.
In addition to learning how to shuck properly, the sampling included Glidden Point, Bay Point, Fat Dog and Wagon Hill. While they were all tasty, my favorite was Dr. Grizzle's Wagon Hill: mild brine with a rich and creamy finish, perhaps a bit of honey. (I've definitely upped my knowledge quotient!)
We were also introduced to GMRI (Gulf of Maine Seafood Institute) an organization committed to strengthening both the ecologic and economic sustainability of the Gulf of Maine seafood industry. Following their recommendations, Robert's is introducing lesser known fish onto the menu.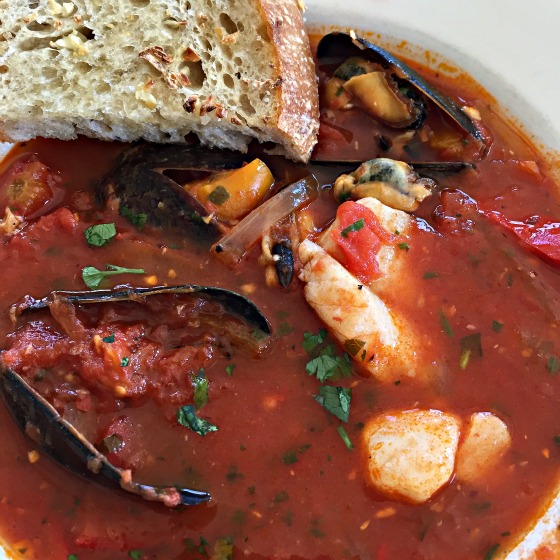 One such fish is Redfish, a favorite with fisherman and chefs, but not high on demand. Only 44% of the allowable catch was harvested in 2014. The Mussel and Redfish soup was a delicious chowder filled with peppers, onions and of course the fish, a meaty white fish with a delicate texture that is abundant in the Gulf of Maine region. The tomato broth had a nice after kick of heat. Ask for redfish the next time you go to your fishmonger.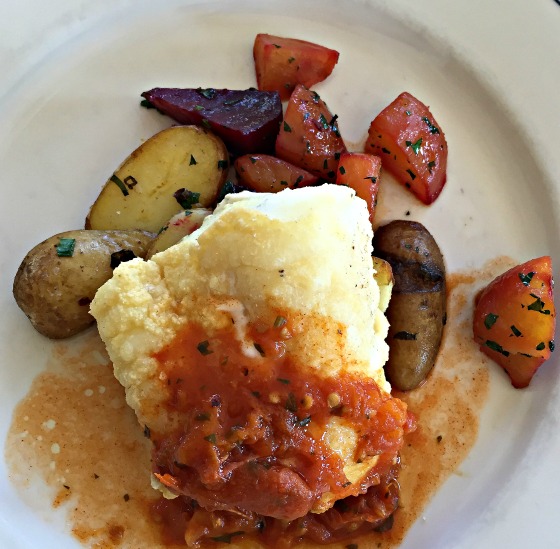 The main fish, pan roasted Cusk, was another new species for me. It is a fish often caught in lobster traps and had almost a monkfish, meaty flavor. Summer heirloom tomatoes had been smoked on the grill giving the whole dish a wonderful charred flavor, unexpected from tomatoes and one I am looking forward to trying at home.
Robert's offers down home charm and a strong sense of place for an experience that showcases local flavor and ingredients. The restaurant reflects the stunning Maine coastline with green and sustainable practices. I know how hard it is for restaurants to give more than lip service to eco-friendly practices. Robert's has worked closely with the Green Alliance to incorporate sustainable principles in their day to day operations including solar heated hot water, a comprehensive storm water management system and waste recycling with a local compost hauler.  Then of course there is the oyster shell reseeding program. Owner Michael Landgarten has embraced green commerce in his business philosophy and it's easy to see why Robert's is looked to as a leader in their commitment to featuring locally sourced ingredients and supporting the area's artisans and farmers.
Oysters are one of nature's pure, perfect foods. Learning about oyster culture in Great Bay and buying from a trusted source who is following vital farming and harvesting practices helps to insure their sustainability for the  future.