Nantucket Daffodil Festival Welcomes Spring
When the sun is shining and blooms are bursting, its a sure sign that the more than 3 million narcissus planted on the Grey Lady are in their prime for the Nantucket Daffodil Festival. The last weekend in April heralds the season opener for the island found thirty-six miles out to sea. I can't think of another place I'd rather be.Rumor has it that Mother Nature is supposed to give New England the gift of beautiful skies in the days ahead, a perfect excuse to get Daffy and put on your yellow dancing shoes!
The 43nd annual event welcomes spring with specimens of the flower in shades of sunshine yellow, pale peach, creamy white and everything in between. Normally, the beach takes center stage on this summer playground, but for these two days you'll find it's all about the daffodils.
The Nantucket Island Chamber of Commerce has grown the weekend from a simple affair in the 1970's focusing on an antique car parade, followed by a community tailgate picnic in 'Sconset to an elaborate weekend filled with events.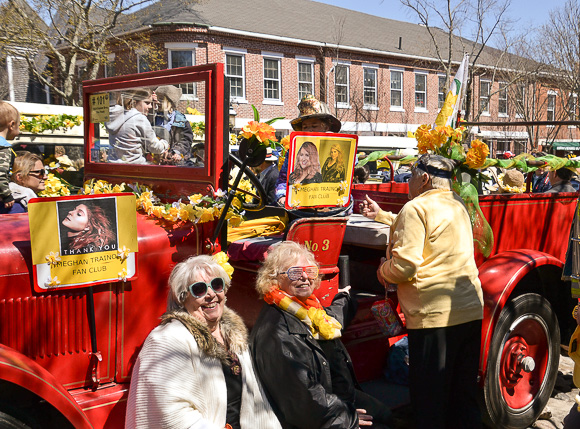 Decades later, the Daffodil Festival on Nantucket  includes art shows, tours, parades (including the antique car parade  and tailgate picnic), exhibitions, contests, lectures, and, of course,  the annual Nantucket Daffodil Flower Show.
There's a window decorating contest, and a family picnic at Children's Beach. As a matter of fact, the art of the picnic is brought to a new level for this occasion.  Champagne flows, table settings are elaborate and floral centerpieces instagram worthy. There are activities for all ages, and faithful festival-goers  dress up for the occasion and participate with a level of enthusiasm you might not have witnessed before!
 The Pine Woods Morris Dancers often perform throughout the day at various locations.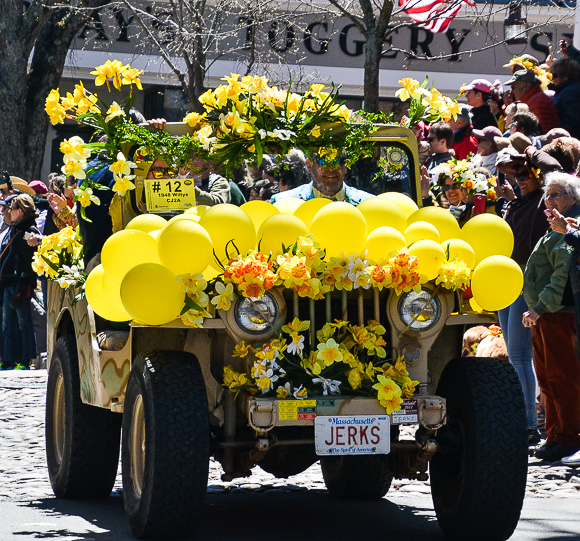 Vanity plates all have special meaning to island residents. Others are self explanatory. The charming parade, featuring over 100 antique cars and trucks winds its way thru town and heads out to 'Sconset for the daffodil bedazzled tailgate picnic.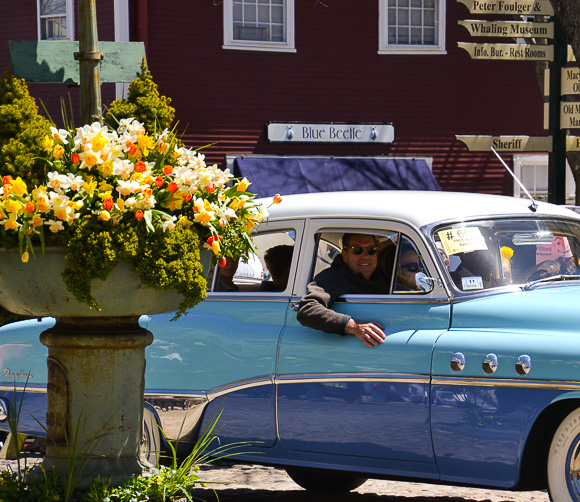 Visitors will thank the weather gods for blue skies and find a perfect excuse to get Daffy.
Nantucket is amazingly dog friendly.  As a matter of fact, those flying from Hyannis can bring their dog, and they take a seat with them in the back of the plane!  Dogs are front and center, in all shapes and sizes during the big parade.
Make sure not to miss the Daffodil Flower Show held at Bartlett Farm where you can see more varieties of the flower than you ever knew existed. Free shuttle buses will run all afternoon.
The Nantucket Daffodil Festival is a really fun, family oriented weekend held in one of my most favorite places in New England.
If you are looking for some additional activities, try visiting one of historical museums on the island. You'd be remiss to leave Nantucket without a taste of the rich maritime history that surrounds every inch of the island. Taking the time to visit one of historical Nantucket museums will enlighten you about about the special island, once known as the whaling capital of the world. As hard as it is to believe, there's much more to this piece of paradise than just a pretty beaches and daffodils!
If you plan on going out to dinner, make sure to make reservations ahead of time-it's a busy weekend!
Getting to the Island:
Leave the car off the island! You can either take a ferry or fly to Nantucket. Jet Blue, Cape Air, The Steamship Authority and The Hyline all have more information on their websites. If you are staying in town, there is an excellent bus system-The Wave– to get around (you can even load your bike on the front).
♥ Look for more in depth visits to Nantucket later in the season-or visit Visual Travel Tours now for my downloadable walking/bike tour to take with you on your PDA}.
Pin Me
♥

Nantucket Daffodil Festival Welcomes Spring