A Nairobi Safari and Top City Attractions
Most travelers would probably be surprised to hear that a wildlife Nairobi safari is possible just outside the city limits. Usually Nairobi is thought of as the gateway to a Kenya safari in the Mara Game Reserves, Amboseli National Park, Lewa Wildlife Conservancy, Loisaba Wildlife Conservancy or a Masa Mari safari. Any of these bucket list experiences are worthy of a once in a lifetime tour. For those short on time however, the 30,000 acre Nairobi National Park offers an opportunity to visit "The World's Only Wildlife Capital" for game viewing and a mini Kenya safari tour.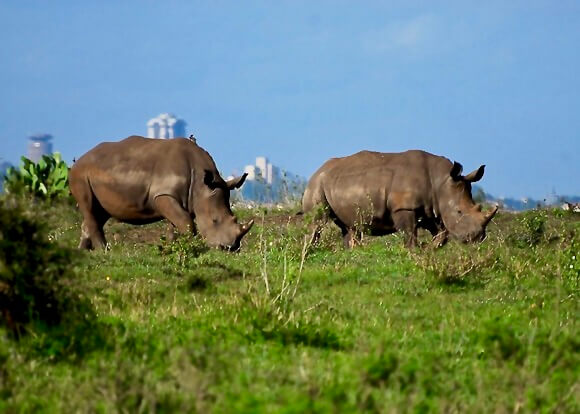 The Nairobi National Safari Park
The Nairobi safari park opened in 1946 and was Kenya's first national park. Visitors will find a Kenya safari just a short 4-mile drive outside the city center. Electric fencing keeps both the people and animal populations safe. With skyscrapers acting as a backdrop for the grassy plains, it certainly is an usual setting to view endangered black rhino, lions, leopards, herds of zebra, cheetahs, giraffes and a diverse bird population with over 400 species.
Tourists can plan their visit to coincide with a spectacular wildebeest and zebra migration. The park provides picnic sites, trails for a safari walk and tour, game drives and even the opportunity to take their own vehicle across the wild plains. Should you decide to self-drive, make sure to have a land cruiser or another vehicle with 4 wheel drive.
Conservation was at the forefront of the parks initial establishment and management has worked hard to educate all who visit about the importance of protecting wildlife and their habitat. Designed by Mervyn Cowie, the park was developed with game viewing and the public in mind. Assistance in responsibly developing Kenya's growing tourism industry was a top priority. Taking an extra day in the city on your way to either a Maasai Mara or Tsavo East national safari or even a trip to Zanzibar's best beaches is time well spent on a Nairobi day safari.
Top Nairobi City Attractions
Karen Area
 As a suburb of Nairobi, Karen is a unique place. Found at the southwest of the central business district, the neighborhood seems as if it is miles away from the rest of Nairobi. Quiet streets are lined with buildings and architecture exuding a European influence. Visitors can shop at the Hub, an upscale shopping center, stop at one of the many world-class restaurants or enjoy one of their many cafes. The best part of this area is all of the attractions you'll find not too far from the Nairobi safari experience. Let's start our tour in Karen with my favorite site in the city.
Giraffe Center
The giraffe was the first animal I saw on my Kenya safari tour. They are so graceful in their movement. I loved watching them progress with what felt like a slow-motion gait across the savanna and was immediately smitten! In actuality, they can run short distances at over 35 miles an hour. Even at cruising speed, their long legs, taller than most humans, power up to a comfortable 10 miles an hour.
The Giraffe Center was founded to protect and rehabilitate the endangered Rothschild giraffe. When the center was founded, only 120 of this species existed on a ranch in western Kenya. The Rothschild is a subspecies of the animal which is only found in the wild of the grasslands of East Africa.
Visitors can participate in many activities. Feeding these gentle creatures is a particularly unique experience. You might even get a kiss (or a lick) with their incredibly long tongue! In addition, there is a raised platform where you can stand eye-to-eye with these mellow giants. You'll find a hierarchy among the males who definitely have a pecking order for attention. Also, be careful about getting a head butt!
Take a nature walk and explore the habitat of the giraffe in its native flora and fauna. Breeding herds have been translocated to safe areas in the Lake Nakuru National Park area and other national park safari areas.
The original founders house was turned into Giraffe Manor, a beautiful one of a kind luxury boutique hotel where you can wake up every morning with the giraffes. Who wouldn't want to have breakfast with one of these amazing creatures.
Even if you can't book a stay at the Giraffe Manor, the Giraffe Center is open 7 days a week and gives you unparalleled access to these amazing creatures.
Kazuri Beads
Kazuri is translated from Swahili to small and beautiful. Over 40 years ago, Kazuri beads started as a tiny workshop making ceramic beads and has grown into a large factory greeting visitors from all over the world crafting costume jewelry and ceramic products.
The mission to provide and sustain employment opportunities for disadvantaged members of Kenyan society is alive and well at this factory located in Karen. This is not just a bead factory, it employs over 340 women, mostly single mothers in Kenya, some of the poorest women in the country. Here they have an opportunity to support their families. The workplace is equipped with a clinic, providing free medical care for the employees and their immediate family.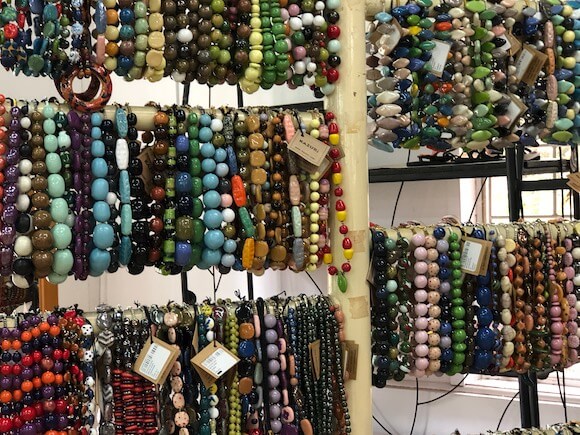 The extensive display of products using the beads includes hard to resist jewelry to match any outfit. The strength of these women and the project is reflected in the handmade treasures you'll find at Kazuri Beads.
Karen Blixen Museum
Who hasn't read the book of seen the movie "Out of Africa"? It's probably where most people got their first taste of what it would be like to live for days on a Kenya safari. Karen Blixen's homestead is actually a national museum and is located on the farm that served as the backdrop of her biographical book.
The Danish author and her husband purchased the farmhouse, which was originally built as a museum. They turned it into their farmhouse and part of the land was used to farm coffee beans. After a few more owners and being used as a movie set for the screen adaptation of "Out of Africa", it reopened it as a museum and the grounds can be used for weddings and events.
Open daily, the museum marks the historical significance of the migration of Europeans to East Africa. The museum gift shop is filled with Out of Africa memorabilia as well as local crafts. 
David Sheldrick Wildlife Trust
There is no organization in East Africa that does more for orphaned elephants than the David Sheldrick Wildlife Trust. This organization has been around for about 40 years and not only protects elephants, but other endangered species as well like black and white Rhinos. They offer anti-poaching and habitat education as well as unique, one of a kind stays at one of their five eco-lodges. If you have the chance to stay there, it shouldn't be missed. Proceeds from your stay go towards helping conservation in the neighboring villages.
In addition, they offer an early evening event when visitors can interact with the baby elephants when they are brought into shelter for the night. Everyone I've spoken to agrees–the evening event was a major highlight of their time in Nairobi.
Other Top Nairobi Attractions
Bomas of Kenya
To get the feel of what it's like to live as a member of a traditional Kenyan tribe, a visit to Bomas of Kenya should be on your list. This traditional village showcases a selection of homes made in the traditional style built by Kenyan tribes. Boma is taken from the Swahili word meaning homestead.
Inside the tourist village, you can observe diverse cultural tribal values by attending a dance performance. Members of one of the tribes dressed traditionally perform dance, crafts and music. It's also home to one of the largest auditoriums of Africa, seating over 3,000. Stop at the Utamaduni Restaurant inside the Bomas to explore local Kenyan cuisine and dishes like choma, mukimo and more.
Kitenga Glass
Located just outside Nairobi National Park is the hidden gem of Kitengea Glass. During a visit, guests will find stunning glass sculptures, art, beads and chandeliers, all housed in a very unique environment. The immediate surrounding area is a work of art in itself, not unlike a miniature version of Jose Fuster's home in Cuba or The Magic Gardens in Philadephia. Upcycled objects have been incorporated into the walls and structures of the studios.
Not only is Kitenga Glass an interesting destination, the road to get there is an adventure in itself. Along the journey you may see zebras, lions or other animals from the adjacent Nairobi safari park.
The artists at Kitenga use recycled glass to make their one of a kind pieces. Check the calendar for a schedule of glass blowing demonstrations. Anyone who watches will be in awe of the talent and craftsmanship that goes into each piece. On display is quite a selection of artwork if you are looking for that unique piece from their shop to take back home.
KICC–Kenyatta International Conference Center 
After you've spent a day on your Nairobi safari, a visit to the KICC (Kenyatta International Convention Centre) is a must. Although the building is used almost exclusively for government offices, conferences and special occasions, there is a secret gem hidden atop it's tower.
Head to the rooftop of this building (the tallest in Nairobi), for unparalleled views of the city and the plains. You can see for miles and on a clear day, the photo ops are many! Survey the grasslands and area explored on your Nairobi safari. It's located in the city square and centrally located to many shops, restaurants and cafes.
PIN ME ♥ A NAIROBI SAFARI AND TOP CITY ATTRACTIONS