Myanmar Popa Mountain Resort
NYU
When I started research for my trip to Myanmar, I had no idea that the term eco-lodge would be such a part of the travel vocabulary in the country. What a pleasant surprise.  Myanmar Popa Mountain Resort is one such spot;  you'll find in addition to being sustainable, this destination is all about the view.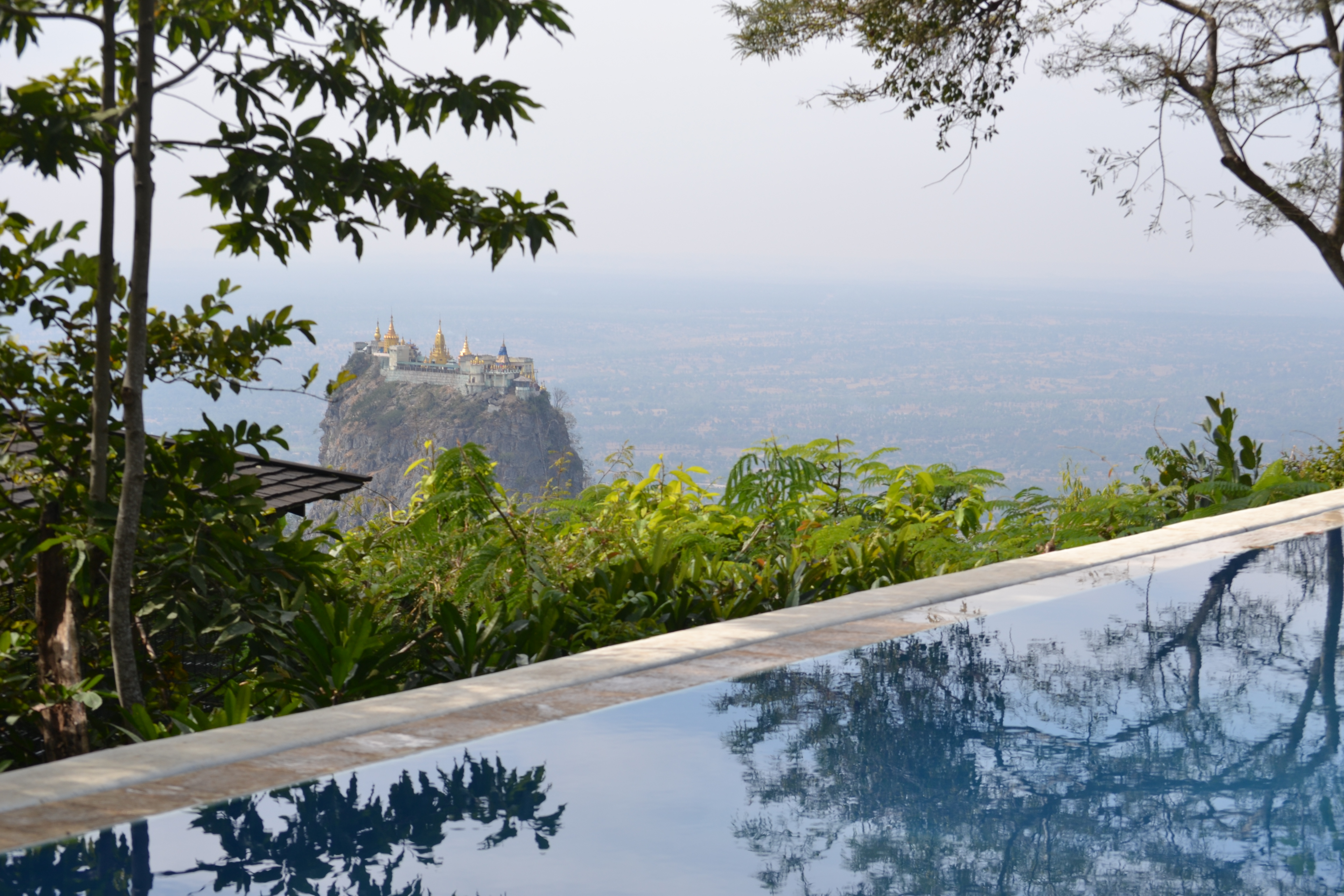 Off in the distance from the luxury hotel sits Mt. Popa, a dormant volcano about an hour and 1/2 drive from Bagan. It is the most important site in Burma for nat, or spirit pilgrimage.  If you can brave the 777 steps to the monastery, which appear to be guarded by an army of monkeys at every turn, you'll be rewarded with a magnificent view of the surrounding countryside.
The stunning Popa Taung Kalat monastery sits gleaming  in the golden Myanmar sun. Built upon a volcanic plug, it stands like a lone skyscraper amongst the myriad of shacks and vendor stands below. This volcanic plug is another term for magma which has over time hardened in the former crater of the volcano. The Myanmar Popa Mountain Resort has the best vista in town of this sacred place, and I found it to be one of the most interesting destinations I visited in Myanmar.
Often called Myanmar's Mt. Olympus, the forested landmark rises about 4500 ft. above sea level. You'll find the wooded hillsides, natural springs and abundant flowers in sharp contrast to the dry, arid landscape of temple dense Bagan.
The resort's buildings were designed to seamlessly blend into the natural surroundings. The resort is made up of 50 rooms in various bungalows around the facility. Private outdoor space,  wooden floors and ceiling fans are part of every room furnished with local teak decor and ethnically influenced fabrics and linens.  Most of the rooms have garden views with an additional 8 deluxe rooms facing Taung Kalat  and unsurpassed panoramas of the mountain and monastery.
The Sagawa Restaurant area overlooks the monastery in the distance and many of the vegetables come from the organic garden on the premises. The menu offers both Burmese and European dishes and guests appreciate the cool mountain breeze of the higher elevation.
Traditional music was playing in the central pavilion during much of our visit. Additional activities include trekking, bird watching, horseback riding, a spa and swimming.
Come sunset, the illuminated full bar and dining area is a great spot to relax after the climb to Mt. Popa and the mystical experience of visiting the nat spirits of the area.
The Eco Lodge  Mt. Popa offers the combination of natural beauty with a sustainable philosophy and practices allowing guests to  enjoy a luxurious environment 30 miles outside of Bagan, Myanmar.