Mohingha on Meatless Monday
RGN
Fish soup for breakfast? It took me three days before I could muster up the courage to try the traditional mohingha. The Burmese word means soup snack. Those who know me are well aware of my weak stomach, but how could I travel half way around the world and not give the national morning staple a try. The aromatic soup is  usually served at breakfast, but can also be found throughout the day at tea houses, restaurants and street vendors.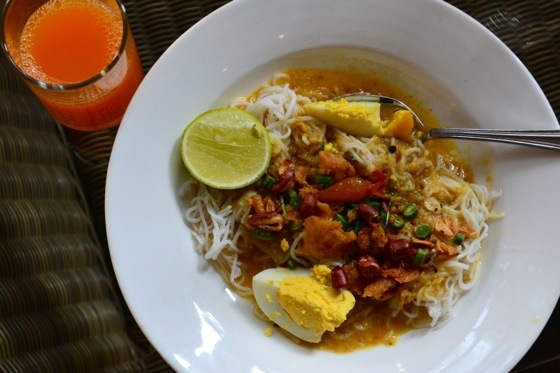 The broth itself is quite flavorful with a sight taste of fish and delicious aromas of lemongrass. What I like most was the opportunity to add in the condiments. Peanuts, hard boiled eggs, cilantro, various chilis and a squeeze of lime.
Ingredients for mohingha are purchased fresh daily from one of the many markets.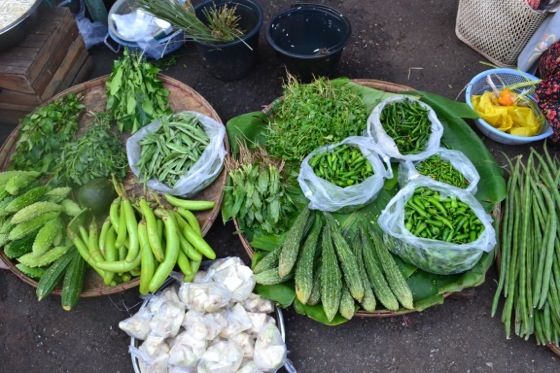 The chef at our hotel was gracious enough to share his recipe with me.  I have adapted it slightly for Western ingredients.
Mohingha Ingredients -serves 4-6
½ cup peanut oil
1 tsp turmeric powder
½ red onion, finely sliced
1 stalk lemongrass, white part only, finely sliced
2″  piece of ginger, finely sliced
2 cloves garlic, finely sliced
2 tsp shrimp paste
1 tsp sweet paprika
3 tbsp cooked, crushed chickpeas
1/3 c. toasted rice powder
4 tbsp fish sauce
2 red Asian shallots, peeled
2 hardboiled eggs, sliced
1/2 c. sliced white part of leek
2 1/2 c. cooked vermicelli noodles
4 sprigs of cilantro, to garnish
4 green beans, finely sliced
pinch of dried chilli flakes
Broth
1 whole catfish or other meaty white fish, cleaned
1 lemongrass stalk, bruised
2 gloves garlic, crushed
1 tsp turmeric powder
8 c. cold water
Chili Paste
3 lemongrass stalks, white part only, finely sliced
4 whole dried chilies
4 red Asian shallots, diced
4 garlic cloves, diced
2″ ginger, finely sliced
Condiments
toasted peanuts, chopped cilantro, hard cooked eggs, chili flakes
Instructions
To make the broth, add the catfish, lemongrass, garlic, turmeric and water to a large saucepan or stockpot. Bring to the boil over high heat and skim out any foam that rise to the surface. Reduce heat to low and simmer for 20 minutes. Strain the broth then remove the fish meat from the bones. Set aside and reserve the broth.
Meanwhile, to make the paste, in a mortar and pestle, pound the lemongrass, chillies, red shallots, garlic and ginger to a nice paste. Set aside.
Heat the peanut oil in a saucepan over low-medium heat and add the turmeric. Next, add the chilli paste. Add the red onion, lemongrass, ginger and garlic. Cook for 5-6 minutes. Add the flaked fish and coat in the paste. Sauté over low-medium heat for 20 minutes. Add the shrimp paste and paprika. Continue to cook, over low heat, for a further 5 minutes to combine flavors.
Return the broth to the stockpot, place over medium heat. Add the crushed chickpeas, rice powder, fish sauce and flaked fish mixture. Season with salt and black pepper. Reduce heat simmer for 30 minutes. Add the red shallots and leeks.
Divide the vermicelli noodles among 4 bowls. Pour the broth over the noodles. Garnish with cilantro, beans, toasted peanuts and chilli flakes to serve. Squeeze in lime just before eating.