Midcoast Maine Weekend Getaway
A midcoast Maine weekend getaway combines quintessential New England villages with the spectacular shoreline of the northern Atlantic. The state covers over 3500 miles of rugged coastline along the eastern shores. With that in mind,  picturesque vistas throughout are best explored in delicious sections. Start planning this slice of a Maine adventure with our list of the best things to do on this getaway to two of Maine's maritime gems.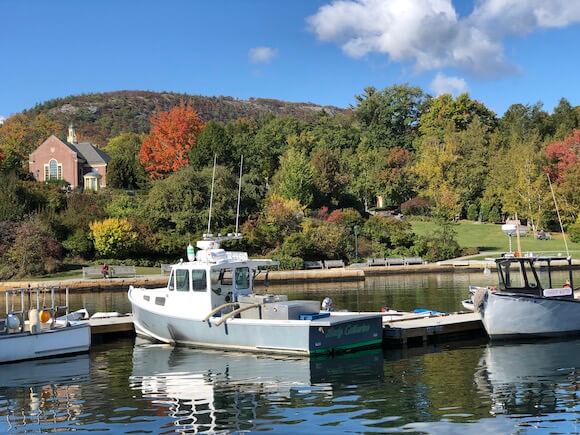 Where is Maine's Midcoast
This region is tucked between greater Portland and Casco Bay to the south and Downeast and Acadia Harbor to the north.  Belfast, Camden, Rockland, Wiscasset, Brunswick, Bath and Damasiscotta, Camden, Rockland and are some of the rocky coastal villages encompassing this picturesque domain along with some smaller towns and islands. My midcoast Maine getaway concentrated on the charming mix of the Camden and Rockland areas.
As you drive through the pictorial towns that dot the midcoast Maine destinations, the roads of Main Street alternatively give way to grand vistas. This combination of geography allows the visitor options for both relaxation and adventure. The marine history of this area stretches back to the 1700's and carries over today to an exciting and colorful working waterfront.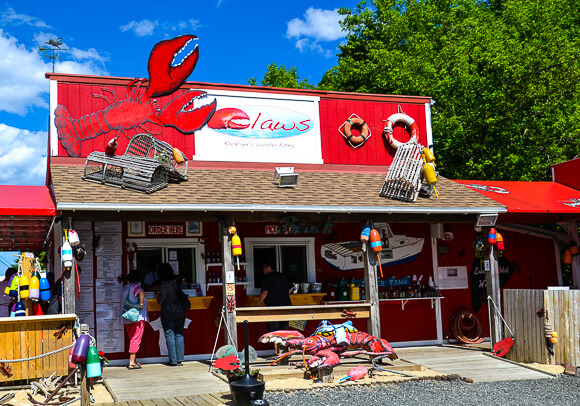 A midcoast Maine getaway weekend is the place to once and for all decide whether you are a fan of hot or cold lobster rolls. (For me-it's cold all the way) The selection is mind boggling and will certainly satisfy any and all cravings. Combined with an everchanging restaurant scene that continues to thrive, seafood lovers will find a wide variety of dining options. Fresh, local ingredients are sure to please the taste buds and capture the heart of any pescatarian who visits.
NOTE: Many of the small shops, boutique hotels and restaurants keep a seasonal schedule, so be sure to check hours of operation before traveling. Of course, Maine can be considered a year round destination with plenty of cold weather activities for snow lovers, however, I think it's safe to say my snow days are in the rear view mirror and offerings in this post are a reflection of my graduation to snowbird status.
Camden Weekend Getaway
Background
Only two places on the eastern seaboard have the distinction of geography "where the mountains meet the sea". Camden is one of them and was originally known by early settlers at Megunticook, or big mountain harbor. It won't take visitors long to see the connection in this bucolic spot in mid-coast Maine.
Self-proclaimed as one of the prettiest spots in the state, you'd be hard pressed to find many to disagree. Like many seaside vacation spots, the population of close to 5,000 residents nearly triples during the busy summer months. Maritime oriented festivals including the Tallships and Maine Windjammer Days take place in the warm weather and reflect the rich sailing history of the area.
The arts also take center stage in the summer with a Jazz Festival and Harbor Arts highlighting the creatives who call the mid coast home. Visitors will find an abundance of things to do, especially those focused on the outdoors for a safe and healthy weekend getaway.
What to Do in Camden
Hike in Camden
Mt. Battie is located in Camden Hills State Park. Hikers will have 20 trails to choose from covering more than 30 miles of rocky terrain. The views from the top are spectacular. While there are many options for all levels of hikers to get to the 600 ft. "summit", if you're not a hiker, don't worry, you can drive on a paved road to take in the views. On a clear day, you can see all the way to Cadillac Mountain in Acadia.
Beach Hill Preserve in nearby Rockport is part of the Coastal Maine Land Trust. There's a short Summit Trail off Beach Road and the mile long Woods Loop Trail from Rockville Street.
Wild blueberries are everywhere and this is a great hike to pack a picnic. At the top there is a hut built for just this purpose. At the very least, plan on some time at the top enjoying the views of lovely Penobscot Bay.
Wine Tasting in Camden
I must admit, my thoughts about a midcoast Maine getaway did not include visiting a winery. Now however, I'd be the first to say, wine lovers should definitely include Cellardoor Winery in their midcoast Maine weekend itinerary. The beautiful 200-year-old property has been thoughtfully renovated to accommodate cooking classes and delicious tastings by appointment. Wine making is done in a state-of-the-art facility.
Enjoy wine tasting and a charcuterie board on their spacious deck overlooking the magnificent vista of the vineyard. Best of all, you're supporting a woman owned, local business. We especially enjoyed the award-winning Pinot Gris Reserve. Along with wine for purchase, the adjacent shop has a beautifully curated gifts selection. Currently tastings are by appointment only.
Beaches
Visitors might be surprised to learn that one of the best beaches lies on Barrett's Cove, home to the fresh water Megunticook Lake. It often escapes the crowds, the water is certainly warmer than the ocean and there are restrooms and showers along with picnic tables, an outdoor grill and small playground.
Overlooking Camden Harbor and just a short distance from downtown, the compact Laite Memorial Beach is part of a park that makes its way down to a pebble beach. Facilities include picnic tables, restroom facilities and swings for the little ones. Shell collectors can often find treasures on the beach and for those brave enough to go in the notoriously cold Maine ocean, there is a swimming platform anchored offshore.
Since it's unusual to find a sandy shore in midcoast Maine, I'll also mention the nearby Lincolnville Beach. While not the most glamorous, there is plenty of town parking and the walkable McLaughlin's lobster shack next door. It's the perfect sandy location for lunch and a dip. It is also the ferry landing for transport to Islesboro, located just a short ride off the coast. Nature lovers will find plenty of natural beauty along scenic walking trails on this undisturbed island just three miles off the shore of Lincolnville beach.
Shop
Galleries and boutique shops line Main Street and offer options for all types of souvenir hunters. Artists interpret the landscape, jewelers incorporate found objects and gems into their work and clever graphic designers have made iconic Maine images into colorful products.
Chasing Lighthouses
Testifying to the dangerous shoreline of midcoast Maine are the 18 lighthouses within a 40-mile radius of Camden. Sitting just inside the harbor is the Curtis Island Light, built in 1830. Visitors will find Brown's Head and Heron Neck on the island of Vinalhaven. Additionally, the treacherous rocks between the Havens (Vinal and North) are marked by Goose Rocks Light.
Where to Eat on Your Camden Getaway
Seafood, seafood, oh and did I say seafood? You'd be hard-pressed to find a lobster roll that doesn't please the palate in Camden. In fact, 90% of the lobster eaten in the US comes from the Maine coastline. Favorite stops include the Lobster Pound, McLaughlin's (mentioned above) and Harbor Dogs, because there's always someone in the group who needs a hot dog.
A great spot to gather ingredients for a picnic can be found at the Camden Deli. They also have a rooftop deck with water views.
For a lovely lunch on the waterfront, try the back deck at Waterfront. Oysters and rose, sure all day even in colder fall temperatures.
Harborside dining is also available at Peter Otts which offers seafood and steaks alongside picturesque views of Camden Harbor.
Where to Stay in Midcoast Maine Camden Area
When it comes to Maine, everyone who visits has a favorite BnB. For me, it's a stay just outside of town in the quiet village of nearby Lincolnville. The Inn at Ocean Edge is a spectacular find. A property in the Migis Hotel Group centrally located right on the water of Penobscot Bay, this boutique resort is the quintessential Maine experience wrapped in luxury amenities.
The gardens are stunning, the heated saltwater infinity pool can be followed up with a hot tub soak or sauna and the outdoor fireplace is a fabulous place to hang out and indulge in some local wine from CellarDoor Winery. Guests might have a hard time getting motivated to leave this stunning property.
Breakfasts here are legendary and change daily. Freshly baked breads and pastries, egg options and of course pancakes filled with sweet Maine blueberries are totally worth the calories. The Inn is seasonal, with availability from Memorial Day thru Columbus Day.
Rockland Midcoast Getaway
Rockland through the years has become synonymous with ships, art, and great food. Separated from Camden by just 11 miles, it has developed a reputation as a laid-back town where visitors can come to enjoy award winning meals, taste the flavors of local ingredients and experience the art and cultural attractions of the town. Graced with a vibrant art scene, world class shopping and excellent seafood, Rockland hits the trifecta for a perfect midcoast getaway.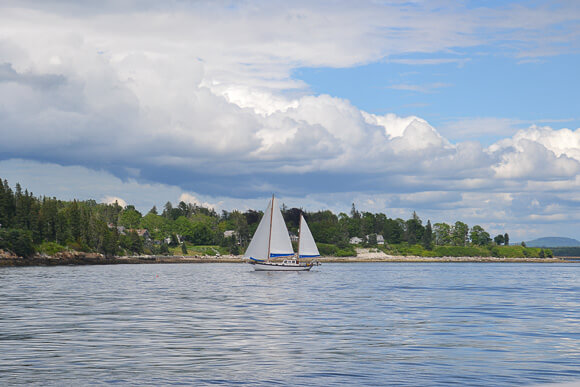 This waterfront town of less than 5,000 residents sits in a picturesque harbor; in the background, mountains stretch to the sea. When combined with Camden, the two towns are often referred to as the Jewel of the Coast; the best of Maine's offerings in a compact weekend getaway location. There's a lobster roll in town just calling your name.
What to do in Rockland
Sailors Delight Windjammer Cruise
For sailing buffs, several Windjammers call Rockland their home port. It is possible to set sail on a sunset cruise and see the town from the best vantage point of all-the see! Visitors with a few more days available can book a sailing for several nights on an eco-friendly cruise and have one of the most incredible experiences Maine has to offer. Read all about my sail on the J&E Riggin.
A Midcoast Maine Getaway for Art Lovers
Local creatives interpret the landscape's scenic beauty on canvas, paper, sculpture and even jewelry. Shops and galleries lining the main drag offer examples of the landscape in all it's various renderings.  As in all of the small midcoast Maine boutiques, there are some real treasures to be found with one of a kind shopping hidden amongst the tshirts and once you dig past the typical t-shirt shops.
Museums to Visit on a Midcoast Getaway
Art lovers will appreciate a low key weekend getaway to Rockland. This friendly seaside town is home to a plethora of musuems and has long been a draw for artists attracted to the magical light of this rocky shores.
Families will love the Coastal Children's Museum. Modern art challenges the imagination at the Center for Maine Contemporary Art and should be your first stop for a fresh look at some interactive experiential creativity.
Maritime fans will delight in the Sail, Power and Steam Museum (seasonal). This interactive experience is home to an unusual collection of marine and industrial photographs, exhibits, demonstrations and artifacts. Their Midcoast Sailing Program is an especially popular offering.
The Farnsworth Art Museum has a collection celebrating Maine's important role in American art from many of the country's greatest artists. The museum hosts a wide array of work done by artist NC Wyeth, his son Andrew and his grandson Jamie, among others. These works capture the essence of Rockland from an artistic point of view.
Fans of the Wyeth family artists can dig deeper at the nearby Olson House. The compelling painting Christina's World, truly an American classic, captures the disabled young woman moving through her vision. A visit to the family home delves into their relationship with the Wyeth family.
Chasing Lighthouses
Of course no trip to Maine is complete without a visit to a lighthouse and Rockland doesn't disappoint. While many of the structures are now privately owned, a trip to the Maine Lighthouse Museum gives visitors an up close look into the history surrounding these unique structures dotting the Maine coastline that have kept ships safe for hundreds of years.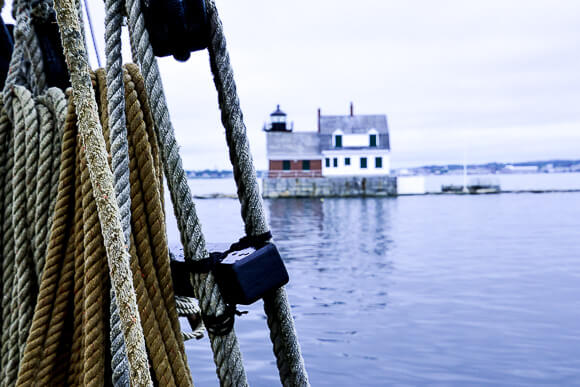 One of my midcoast favorites is he Rockland Breakwater Light. This beauty was completed in 1902. Visitors can walk out the nearly one-mile-long granite breakwater at low tide to get an up-close look. Using your imagination, one can feel like they're walking on water. When the weather cooperates, it's a great spot to perch and eat one of the many lobster rolls you'll no doubt enjoy during your midcoast Maine getaway.
Insider tip: Wait for low tide and wear proper shoes as the rocks can be slippery. 
Where to Stay in Rockland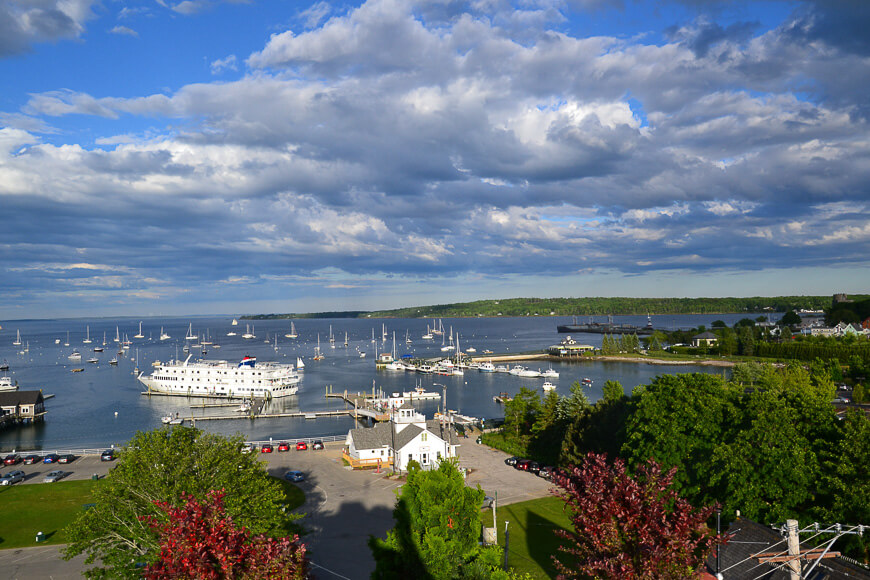 For one of the best luxury boutique stays in Rockland,  250 Main Hotel is a must. This modern boutique charmer has a nautical aesthetic and modern amenities. A rooftop deck with a panorama of the waterfront is perfect for enjoying the hotels complimentary afternoon glass of wine. Location at the edge of town is away from noise and a perfect distance for walking thru Rocklands unique offerings.
Where to Eat in Rockland on Your Getaway
Rockland is a terrific food destination for all three meals of the day. Primo sets the gold standard with award winning chef Melissa Kelly's focus on farm to table and full circle dining in a warm and beautiful space. Reservations are a must.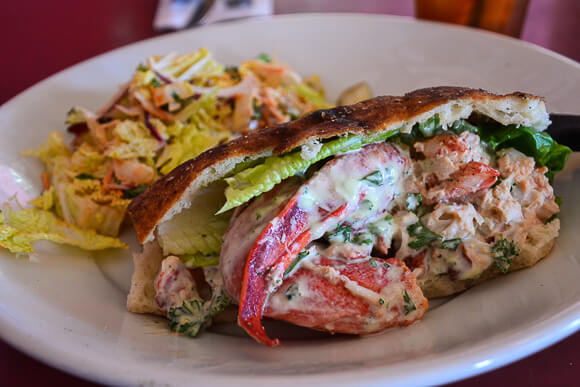 I can also recommend the gigantic lobster roll from Café Miranda. Yes, you will need a fork.  This cozy bistro has a wide variety of seasonal, internationally inspired offerings sure to please a wide variety of hungry diners.
Archer's on the Pier is an iconic destination located directly on the scenic waterfront. Both indoor and outdoor seating is available, but unless it's raining sideways, you know what I'd select. Of course, sustainable seafood is a high priority on the menu along with lots of other locally sourced ingredients. Oysters were delicious.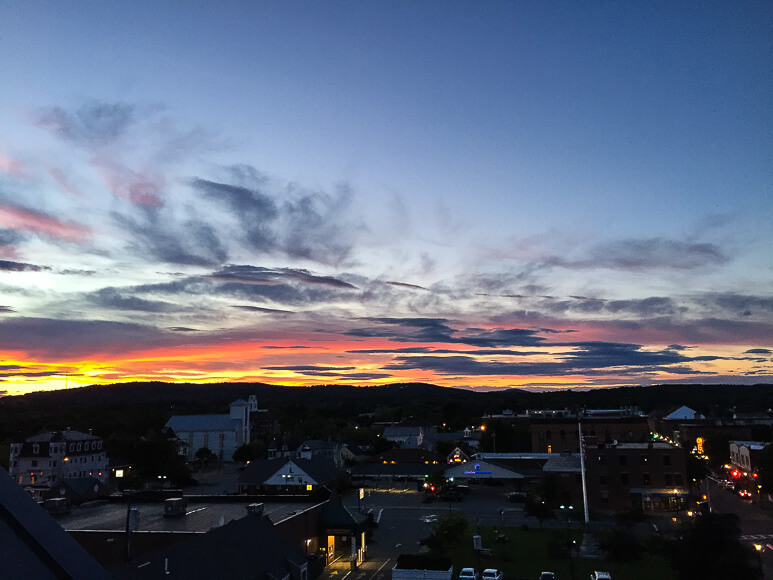 There is no doubt midcoast Maine is a magical place.  From the small fishing villages that speckle miles of coastline to the dense wooded forests that hug the shore, midcoast Maine holds something special for each and every visitor who looks north for a weekend escape.
Pin Me
♥ 

Midcoast Maine Weekend Getaway