Meatless Monday-A Pumpkin Chocolate Pot de Creme
Late last year, I was invited by
Stonyfield
to participate in a blogger cook off using their newly introduced organic whipping cream. The product has so much flavor and this recipe for
Pumpkin Chocolate Pot de Creme
is
too
good not to share. I apologize in advance to all of you who are doing some sort of New Years cleanse. This recipe for the Meatless Monday feature definitely does not qualify! My suggestion-let your eyes do the eating and tuck it away for next holiday's season…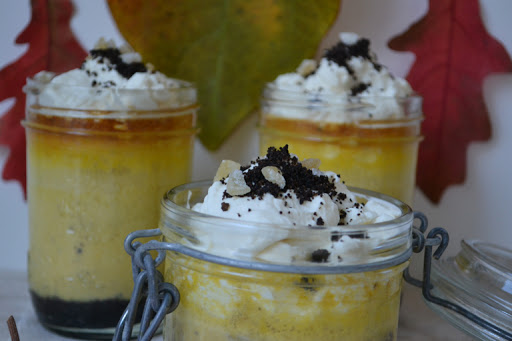 This super simple desert certainly sounds elegant and refined. And my philosophy when you are going to indulge has always been go big or go home! The unusual addition of the chocolate combines a fudgy bottom that mixes perfectly with the pumpkin flavor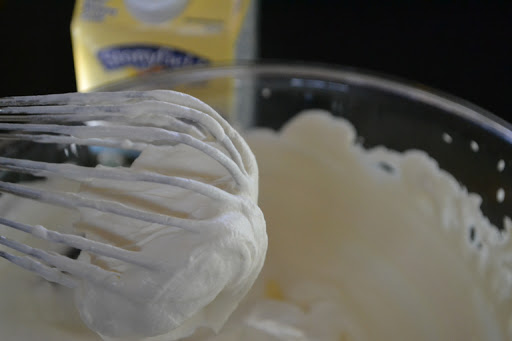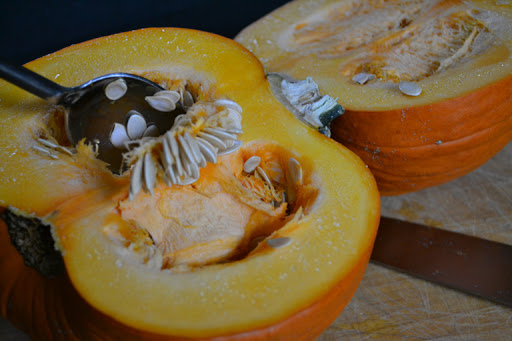 Pumpkin Pot de Crème with Chocolate Crust and Spiced Whipped Cream
Ingredients:
1/3 box of chocolate wafers {approx. 16 cookies}
2 T. butter-melted
2 T. crystallized ginger
1 pint Stonyfield Organic Heavy Whipping Cream
½ c. whole milk
3/4c. pumpkin puree
1 t. vanilla extract
1t. cinnamon
1/2t. nutmeg
1/2t. ground ginger
1/4t. ground cloves
5 egg yolks
3 T. sugar
Chocolate Crust
Process wafers and 1T. crystallized ginger in a food processer until fine crumbs. Add butter and process again until mixed.
Press a heaping T. of the crumb mixture into each of 6 8oz oven proof containers (I used jelly jars) and press down with a spoon.
Save remaining crumbs and additional T. of crystallized ginger for garnish
Pot de Crème
Preheat oven to 350
Mix together the cinnamon, nutmeg, ginger and cloves in a small bowl.
Heat 1 1/4 c. whipping cream and milk in a saucepan over medium heat. Do not let boil. When the mixture begins to steam, remove from heat and whisk in the pumpkin puree and 1¼ t. of the spice mixture and vanilla. (the remaining spice is for the whipped cream).
Using a mixer, whip the yolks and sugar in a separate bowl until they become pale yellow and thick, approx. 4 minutes.
Add the warm pumpkin mixture in a slow steady stream to the egg yolks. Whisk continuously to combine and then whisk for an additional minute.
Carefully fill your jelly jars ¾ full. Place the six baking containers into a roasting pan. Fill the roasting pan with hot water to come up ½ way on the jelly jars. Bake on the center rack of the oven for 30-40minutes. The center will be slightly jiggly.
Let cool for 1 hour and place overnight in the fridge. They can be made ahead several days
Whipped Cream
Whip remaining ¾ c. Stonyfield Organic Whipping Cream until forms stiff peaks. Add in remaining spice mixture. Place a generous dollop on each desert and garnish with crystallized ginger and cookie crumbs. Serve immediately and enjoy.