Meatless Monday-Chilled Beet Soup
On a hot summer night, nothing could fit the bill better than a refreshing chilled soup.  This adaption from Adrian Proll at Restyleology is a classic. One of her favorite summertime soups is is a interpretation from a Bon Appetit recipe from years ago.  The color is spectacular and just looks healthy.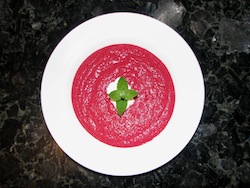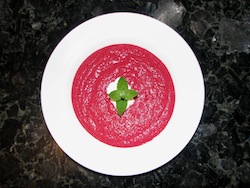 Chilled Beet Soup via Restyleology
                        
Ingredients
1 1/4 lbs. of beets
1 cup lite sour cream or greek yogurt
1/2 cup fresh squeezed orange juice or in a pinch use regular OJ
1/4 cup of white wine vinegar, plus 1 T of raspberry jam
1 cup buttermilk
2 apples peeled  and diced
1 T honey (optional)
Cook beets in large pot of water until tender about 50 minutes.  Let cool and peel.  Put all ingredients in blender and puree add more OJ if needed.  Cover and refrigerate for at least 2 hours.  Garnish soup with a scoop of sour cream and fresh mint.  Enjoy!