Honey Polenta Lemon Cake
This week it's all about the honey. I've cooked, read fascinating news and found products which are the result of local beekepers' efforts. Meatless Monday today has the buzz beginning with a honey polenta lemon cake. This will be a delightful treat after all the shoveling that is sure to happen today. I just happen to have a stash of sweetness given to me for my birthday from local Lands End Farm.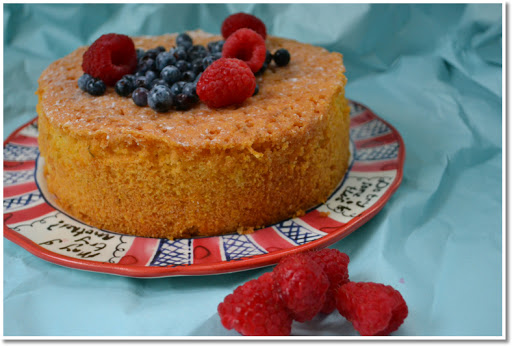 The recipe is adapted from
The Beekeeper's Bible
–which I received recently. The cake is a little different and completely delicious. You can have it for breakfast, dinner or an afternoon pick me up with a cup of tea. It calls for almond flour and cornmeal, which is great since many of my friends are gluten free, and I always like to have a good desert recipe in my repertoire when they visit.
My parents are responsible for my always wanting cake and ice cream. Luckily, I'm a big yogurt fan, and am perfectly happy these days to substitue delicous Greek yogurt and save on the fat. This cake is also super moist, flavorful, and the honey adds just the right touch of sweetness with a hint of lemon. I served a wedge with a dollop of plain Greek yogurt, drizzled some honey over it and topped with fresh berries. It was pretty much perfection on a plate.
Honey Polenta Lemon Cake
Makes 1 (8-inch) round cake
1 cup unsalted butter, softened, plus extra for greasing
¾ superfine sugar, preferably unrefined
3 tablespoons honey, plus 3 more tablespoons for glaze
1 ¼ cups fine polenta
2 cups almond flour
1 teaspoon baking powder
1 teaspoon kosher salt
3 large eggs
3 sprigs fresh mint
2 teaspoons lemon juice
To serve:
Fresh mint sprigs
Greek yogurt {I used Stonyfield plain Greek}
Fresh berries {optional}
Preheat the oven to 350 degrees. Use butter to grease an 8-inch round spring-form cake pan.
In a large bowl, beat the butter with the superfine sugar until light and fluffy. Add the honey and beat again until pale. Mix the eggs in one at a time.
Mix the polenta with the almond flour, baking powder and salt, then add a large tablespoon of this mixture to the butter and sugar mixture and beat well.
Whisk in the dry ingredients and then blend in the fresh thyme (if using) until you have a thick batter. Spoon this into the prepared pan and smooth the top.
Bake for 30 minutes, then reduce the oven temperature to 325 degrees and bake for 20 minutes longer, or until the cake is golden and risen and a metal skewer inserted in the center comes out clean. Cover the cake with parchment paper toward the end of baking if it is browning too much. Remove from the oven.
Heat 3 tablespoons of honey in a small saucepan over low heat until the honey begins to thin.
Place the warm cake, still in its pan on a wire rack and, using a thin metal skewer, make holes in the top. Strain the warm honey over the cake so that it soaks into the cake. Let the cake and honey cool to room temperature. Garnish with mint sprigs and serve with Greek yogurt.(my favorite is Stonyfield)