Maine Glamping with Sandy Pines
If you dream of sleeping under the stars but dislike basic camping conditions then there's a new and exciting alternative arriving on the scene. Glamping or glamorous camping is taking countries by storm and is an increasingly popular way to spend a vacation. New sites are opening all the time and feature exotically draped tents, comfortable bedding, and enclosed bathrooms. This summer, Maine glamping with Sandy Pines will be as popular with romantic weekenders as it is with families. You'll find a great eco friendly way to connect with the outdoors in comfort.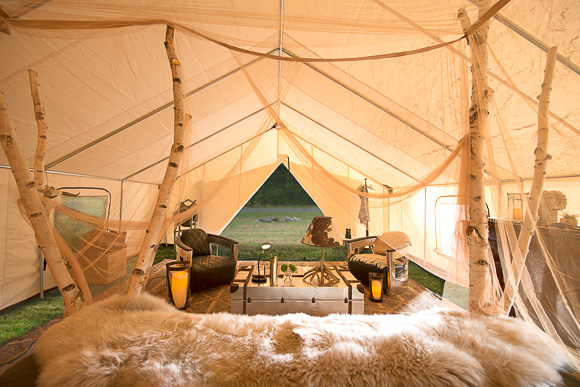 Maine Glamping at Sandy Pines photo ©Douglas Merriam
History of Maine Vacations
Kennebunkport is one of the most popular vacation destinations in Maine. Well known as the summer playground of the Bush family, the Kennebunks are renowned world wide for their excellent, historical Bed and Breakfasts. Located on the Kennebunk River, the town is full of quirky museums from the Brick Store Museum to riding an electric trolley at the Seashore Trolley Museum. Visitors can catch lobster, go fishing or kayaking. Kennebunkport is renowned for water sports, sailing is a big attraction here and the beaches are popular in summer. Visitors will find hiking trails and some great places to eat in and around the area from gourmet to casual.
Location of Glamping in Maine
Sandy Pines Campground is near Goose Rocks Beach making it perfect for a coastal vacation. Twelve safari style glamping tents ensure guests can be outdoors and close to nature but enjoy all those comforts of a higher end stay. The campsite has a farm stand and rustic shop with tempting provisions to cook. There's a snack bar and even an old fashioned ice cream stand. For kids, Sandy Pines Campground has a Craft and Games tent full of board games and activities- ideal for a rainy day.
Dock Square is just a few minutes away from the campsite and has good restaurants, shops, and places to relax and enjoy Kennebunkport. The beauty of glamping is you can be as active or relaxed as you want, enjoying a comfortable off line break with amenities close by, all while getting back to nature.
The Space for Maine Glamping
Tim Harrington and Debra Lennon, Sandy Pines' owners are well known for their association with The Kennebunk Resort Collection. Chic design is a cornerstone of their brand and Sandy Pines is no exception. Twelve well known New England designers were chosen to decorate the tents à la showhouse style. The opening will kickoff on June 23rd with a fundraiser, Summer Camp Preview Gala, a retro summer camp themed event to benefit local charities and then have a Summer Camp Designer Tent Showcase from June 24th- July 3rd.
Sandy Pines Campground has a wide range of camping facilities from basic tents to the new glamorous glamping spaces. The glamping tents have been created by leading designers and the décor is fabulous. The tents are spacious with 480 square feet and are placed on a decking platform. Some of the tents have a private bathroom so no queuing at the campsite, or scrambling for flashlights late into the night. Glam tents have all the comforts of home under canvas but you still have that vacation feeling and can sleep outdoors.
Each one of the 12 has been designed in a unique way from boho chic to nautical print. Glam tents have a fridge and come with sheets, pillows and other bedding. There are fire pits and other cooking facilities at Sandy Pines, but if guests don't feel like self-catering the seafood restaurants are just a short distance away in Kennebunkport.
The designer abodes will be available to rent beginning July 3rd. Glampers can choose from a variety of spaces ranging in price from $129-$249 per night based on the season.
Maine Glamping Menu 
Sandy Pines Campground has self- catering facilities so guests can make the most of the outdoors. There are also some great places to eat in and around Kennebunkport and the surrounding area. Seafood is a feature of this coastal region and some of the best places to go include David's KPT where you can watch fishermen unloading the catch outside the door, and Nunan's Lobster Hut. Eating a lobster roll is a must while in town and the Clam Shack is popular with locals and visitors alike. Bandaloop features Maine specialties and produce,  H. B Provisions is the place to go for picnic ingredients.
Kennebunkport has a lot to offer visitors and Maine glamping with Sandy Pines is a wonderful way to make the most of this lovely coastal destination.
Pin Me ♥ Maine Glamping with Sandy Pines