Maine Windjammer Summer Soup Recipe
The recent hot spell had me looking for cooling recipes that took advantage of all the fresh produce coming into the farmers markets. A Maine windjammer summer soup recipe filled the bill perfectly. You might have been following my recent experience of food nirvana aboard the JE Riggin. Chef and co-Captain Annie Mahle is a remarkable woman, and I thought I'd take a page out of her cookbook to transport my self back to the cooling breeze of the Maine coastline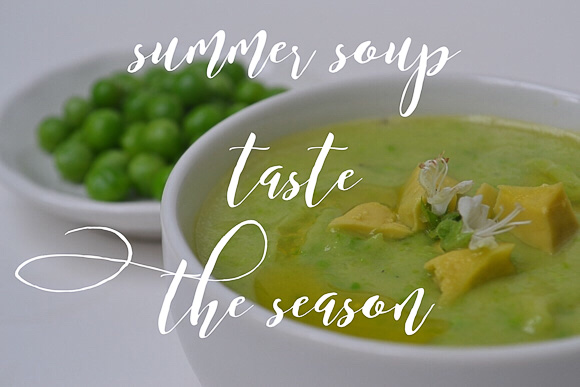 Stopping in small ports along the coastline, it was great to see small shop owners supporting each other in their businesses. As I leafed through the cookbook, I couldn't wait to try some of the recipes. You know I love a cookbook that is a good read as well!
Maine Windjammer Summer Soup
Fresh Pea Soup with Curried Lime Cream serves 4-6
Ingredients
2 T. canola oil
3/4 c. diced onion (about one small)
1 T. minced shallots
1 t. minced garlic (about one clove)
4 c. pea broth or vegetable broth
4 c. shelled peas
1/2 t. kosher salt
several grinds fresh black pepper
In medium stockpot, heat the oil over medium high heat and add the onion. When the onion begins to turn translucent, add the shallots and garlic and sauté for another 30 seconds to 1 minute. Add the broth and bring to a simmer. Add the peas, salt and pepper. When the peas turn bright green, about 2 minutes, remove from heat and transfer the soup to a blender. Transfer soup in batches to the blender and process carefully with a loose lid, holding a towel over the lid. Serve hot (or chilled as I did) with Curried Lime Cream.
Curried Lime Cream-makes 1/2 cup
1/2 c. heavy cream
1/2 t. curry powder
1/2 t. lime zest
pinch kosher salt
several grinds black pepper
Bring all ingredients to a simmer in a small saucepan. Set aside until the soup is ready to serve. Drizzle onto the soup as a garnish.
The recipe calls for it to be served hot, but as I said, I was looking for a soup to beat the heat. This was totally delicious cold as well and I added in a few chunks of avocado I had on hand. Can never have enough green right!
The Sugar & Salt cookbook series is a collection of recipes and lifestyle chapters of the unique life Captains John and Annie have chosen for their family off and on the coast of Maine. You will find a cookbook, but also a fascinating story of a lifestyle that is seasonal and sustainable. Make sure to comeback to find out more about cruising the Maine coast with J.& E. Riggin.
Pin Me 
♥

 J. & E. Riggin Maine Windjammer Summer Soup Recipe
SaveSave
SaveSave
SaveSave
SaveSave
SaveSave