Maine Windjammer Ecotourism Cruise
The lighthouse dotted, rocky coastline of scenic Penobscot Bay is a perfect starting point to experience a Maine windjammer ecotourism cruise. The J&E Riggin, an historic schooner built in 1927 would be my home for the next four days.
Originally used as an oyster dredger in the Delaware Bay, the boat also spent time fishing in Cape Cod and Long Island Sound. Now docked in Rockland harbor, the award winning Riggin was the first Maine Windjammer to be entirely carbon neutral. Current owners Jon Finger and Annie Mahle are committed to an environmental policy that is both admirable and impressive. I was intrigued to observe the practices of a cruise that would be entirely sustainable and carbon free.
Not unlike one of the Tall Ships, the historic wooden schooner represents a small number of surviving vessels that were in the past so common in North American waters.  While J&E Riggin relies on the wind, this National Historic Landmark uses a yawl for auxiliary powers to maneuver in and out of the harbor and when becalmed.
Ecotourism and Leave No Trace Behind
The goal of the J. & E. Riggin is to do no harm, and where that is impossible, to do the least harm while striving to find a zero impact solution. How do they accomplish this?
By leaving each island they visit cleaner than when they arrived and educating guests (without being preachy) to do the same with any waste.
All cleaners and body care products are biodegradable and Green Seal Certified.
All vegetable and paper products are composted for their garden or fed to the chickens they raise for meat and eggs. Gardening is organic and delivers much of the onboard produce and flowers.
Paper use is offset with tree planting.
Wind, not fuel, is the main source of energy. Tides and the sails navigate the itinerary.
Salt water is used in the toilets. Responsible water use is part of the conversation.
The only electricity used on board is to charge the battery
Wildlife habitat awareness is part of each days itinerary
More than 75% of supplies, food and labor come from within a 100 mile radius. #supportlocal
Anchoring is off of small villages and towns to support small business and local communities.
There's lots more…See the Social and Economic Responsibility ethics adopted by the J&E Riggin.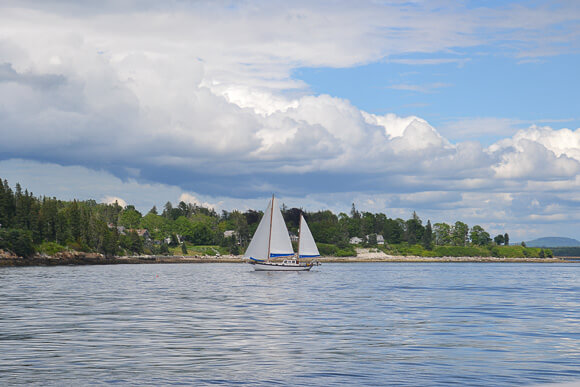 So now that you know these superstars in the world of ecotourism walk the walk, lets get to the fun stuff.
Quick Look Book
I ♥: The nautical details everywhere will make lovers of Vitamin Sea weak at the knees. The flavors will have foodies swooning and the scenery will transform those who love to be surrounded by water into singing fools as they hoist the mainsail along with the crew.
Vibe: As soon as you step aboard, you'll feel like your part of the Riggin family. Husband and wife Anne Mahle and Jon Finger head up the small crew that includes two of their daughters and two additional personable mates. Everyone wears many hats and lends a hand wherever it is needed. After getting settled in your stateroom, the passengers introduce themselves and get to know each other.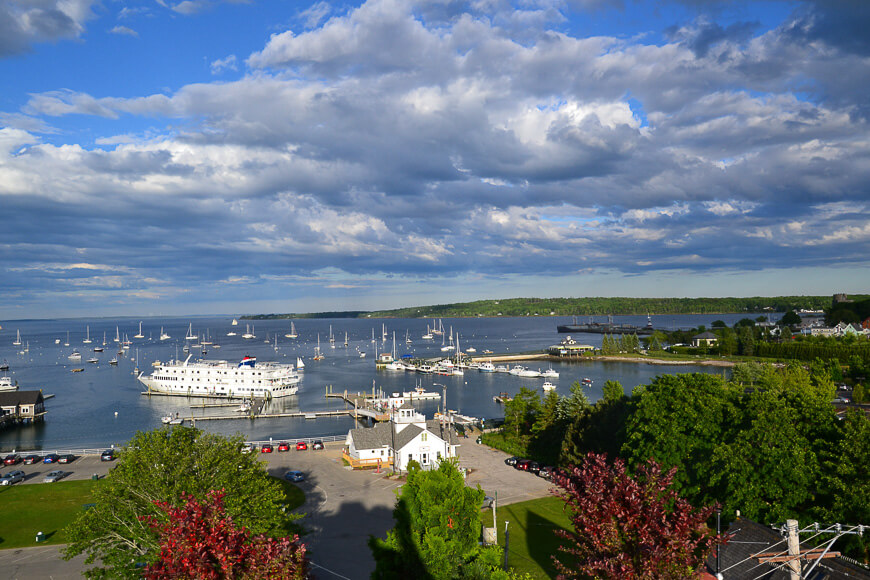 Location: The boat is docked in Rockland, Maine, a wonderful destination to add on to your itinerary if you have the time. Approximately a two hour drive from Boston Touring during the day depends on the wind and the weather. Penobscott Bay is filled with lighthouses, islands and charming towns to explore.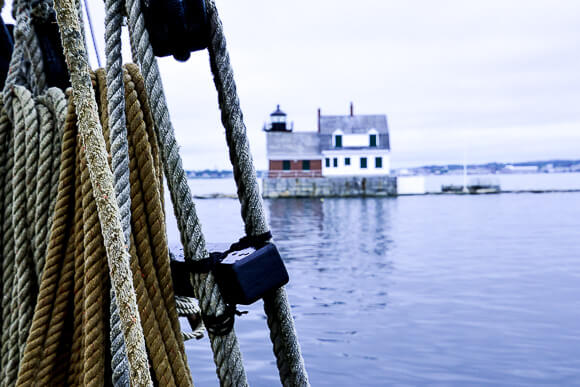 This cruise is meant for you if: You want to unplug and recharge, like being on the water and enjoy a creative take on farm fresh ingredients.
Guests have the chance to learn about navigation from Cap't Jon, including as much involvement as you like with sailing the J&E Riggin. "Ready on the peak, ready on the throat" are two calls you'll become familiar with on your first day. Grab a spot on the rope line and hoist the massive sails with everyone on board.
Chef (and Co-captain) Annie will always invite you into her kitchen to assist with recipes, chat or take part in any of the jobs that need to be done in her tiny galley floating on the sea.
Homemade noodles, freshly baked pop tarts, creative boards full of local cheeses and pickled vegetetables. Guests are in awe with what is created in a kitchen void of electricity!
Rooms: The 120 ft. boat has been reincarnated from it's former oystering and fishing days and retro fitted for 24 passengers. Eleven cabins provide a combination of twin and double beds each with a skirted single sink and mirror.
As is to be expected on a boat this size, the simple space is small, but has a bit of Annie's personality in each. Fresh cut flowers, handmade soaps and lovely quilts are nice touches. All are outfitted with soft sheets, a monogramed, cozy wool blanket, a reading light and double pillows.
A porthole brings in fresh air and the sound of waves lull you to sleep. Careful packing and a suitcase that folds flat will give you more space; hooks and shelves provide storage. The truth is, you really won't be spending much time in your room. There's just too much to see as you make your way through the spruce clad islands of Penobscot Bay.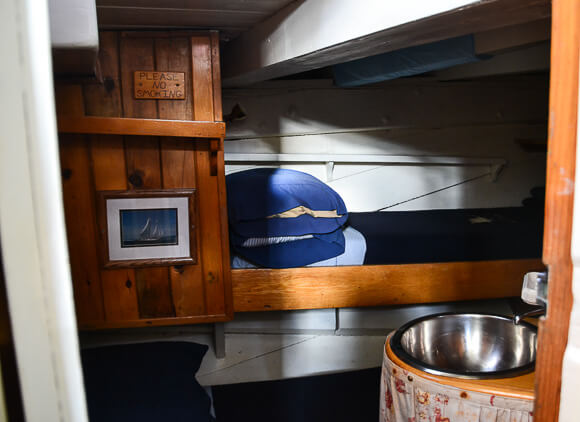 Two heads on the main deck are shared by all. The salt water marine toilet is flushed with a pumping motion that you'll have down after the first use. A hand held shower is in each of the bathrooms and hot water is usually available around the breakfast and dinner hours when the wood stove is firing. A stop midway in one of the towns brings a shower at the local hotel for anyone desperate for the comforts of home.
Amenities:
Food + Drink: Foodie focused, this is a unique epicurean adventure from the get go, beginning with a lobster bake on Warren Island the first evening. Onboard, it's incredible to see what comes out of a kitchen without electricity. I'd like to take a page out of Chef and co-captain Anne's book.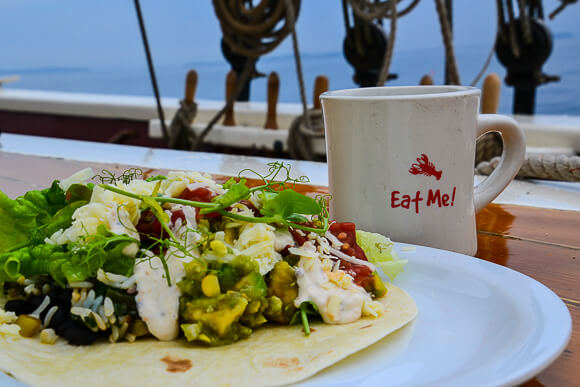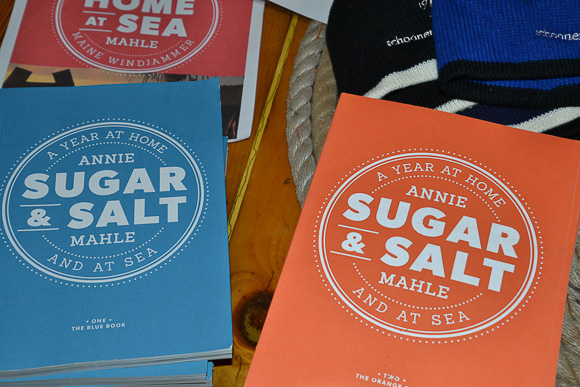 As a mater of fact-taking quite a few pages is possible, as she's authored 3 amazing cookbooks. The newest, a second edition of the Red Book: At Home, At Sea: Recipes from a Maine Windjammer has been recently released.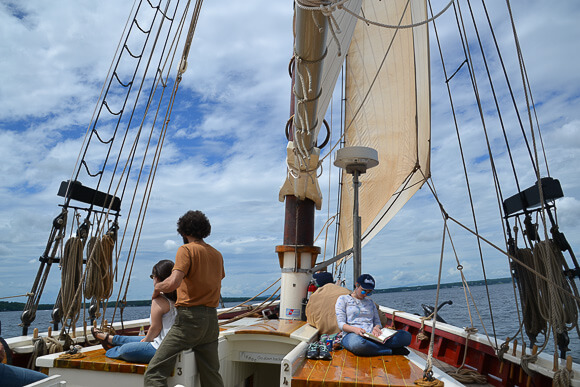 Good to know:
Bring along a stadium seat for additional comfort during the trip. There's lots of time for reading, knitting or journaling (whatever you like to do to relax)
Wifi is spotty, as is the chance to plug into an outlet. An extra battery for camera and/or phone is helpful.
Heads are on the main deck, up a short ladder if you're someone who gets up during the night-bring a flashlight.
Showers and hot water are limited. Bring shower alternative body wipes. (eco-friendly of course)
It didn't surprise to me hear that 65% of the passengers return year after year. I asked one of their regular guests if she could communicate that secret mix of ingredients bringing she and her husband Robert back year after year from New Jersey.  Jean's words:
It only takes one sailing trip on the Schooner J & E Riggin to have you wanting to come back as much as you can. That's the way it was for us when we sailed with Captain Jon and Captain Annie and their 7 month old baby, Chloe, their first year in 1997. We have sailed over 40 trips in 20 years including many of the special weeks: Music Week, Wooden Boat Sail, Race Week, Cooking with Annie, Lobsters and Light Houses and a Knitting Cruise. All of the passengers become part of the Finger/Mahle "Riggin" family, sharing their summer schooner home and watching their children, Chloe and Ella grow. The icing on the cake are the fantastic meals created by Annie in her tiny galley with a wood burning stove. That alone brings us back year after year.
Clearly guests are quickly smitten by the winning combination of a warm family atmosphere, incredible food and the historical context that makes an eco friendly  vacation aboard this sailboat so satisfying and successful.
Guests can enjoy 3, 4 or 6 day experiences of ecotourism aboard a Maine Windjammer ecotourism cruise.  Specialty themes during the sailing season (June thru October) include culinary, photography, knitting, quilting and musical vacations. Take your hobby sailing with you, have a girlfriends getaway, family reunion or wedding at sea. Dates sell out early!
Nearby Enjoy:
Known as The Lobster Capital of the world, Rockland has great restaurants to fuel your seafood cravings. It's hard to imagine so much artwork can be found in a town of less than 10,000. The Farnsworth Museum, the newly opened Center for Maine Contemporary Art as well as the Wyeth Center are all within walking distance for a heady mix of creativity. Additional galleries and shops feature the work of local artisans. Stay in the contemporary 250 Main Hotel, a boutique charmer with high tech amenities and a maritime aesthetic .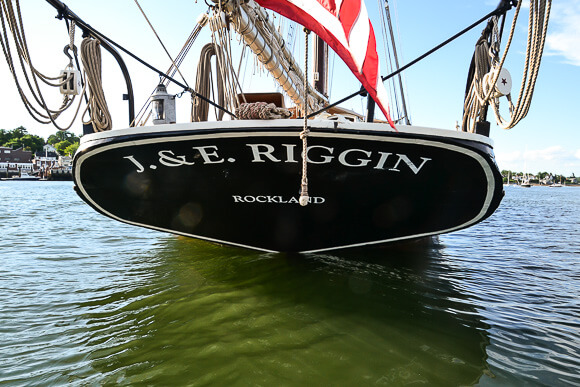 At a time when there is so much green washing in the travel trade, it can be confusing to understand how to take an environmentally friendly vacation. I was thrilled that during the year the UN has declared 2017 the Year of Sustainable Tourism, I could experience a trip that sets the Gold Standard for Ecotourism aboard a Maine Windjammer which can be the envy and role model for others in our industry.
Pin Me ♥ 
Maine Windjammer Ecotourism Cruise
Wait, there's more: Check out my Youtube video of the J&E Riggin experience!
 Disclaimer: The author was a guest on the J&E Riggin for this trip, but as always, thoughts and opinions are her own.