Luxury and Location Fitzwilliam Hotel Dublin
Located on the east coast of Ireland, Dublin is famous for its cultural heritage and easy going hospitality. If you are one of the many lucky visitors planning to travel there this year, let me recommend finding luxury and a perfect location at Dublin's Fitzwilliam Hotel.  From the first greeting of the wonderful staff, you'll feel the essence of what I've come to love about the Irish way: charm, friendship, personality and, of course, the lovely accent; the essence of a warm welcome when you're away from home. Here you will enjoy five star luxury right in the heart of this enchanting city.
History
The Fitzwilliam name in Dublin dates back to the 6th Vicount Fitzwilliam of Merrion who began development of Merrion Square on the great fields of this city in the 1750's. On the opposite side of the park both Merrion Square and later Fitzwilliam Square represented prestigious places to live and work in Dublin.
Across the street from the Hotel, Ireland's best known Victorian public park was re-opened for the city's citizens in 1880. The original Victorian layout of St. Stephen's Green remains and has been planted with extensive trees and shrubs which I can only imagine are spectacular in bloom. The 22 acre park has miles of accessible pathways, a waterfall and lake, as well as a garden for the visually impaired. Sculptures are throughout and in summer lunchtime concerts are a popular attraction.
Location
I'm a firm believer in the old adage location, location, location, especially when you are visiting a new destination and want to get around exploring on foot. The luxurious Fitzwilliam Hotel is located on St. Stephen's Green Park, the green heart of Dublin. The hotel is only a two-minute stroll from Dublin's main shopping mile Grafton Street. It is centrally located next to museums, great restaurants, pubs and the famous River Liffey which flows through the center of Dublin and divides the city into North and South. You'll find Trinity College, The Little Museum of Dublin, The National Museum and National Gallery all within a short walk. For night life, the Temple Bar area is practically around the corner.

The Room
Many of the hotel rooms have dramatic views of the park with small balconies to take in the sites when the weather cooperates. The central rooms, where I was located, overlook a cleverly placed oblong garden which is a welcome oasis from the city noise in this downtown location. Again, some rooms have balconies, but I was perfectly happy perched on my cozy window seat and could take full advantage of the green view outside as I planned my days. Those familiar with design guru Sir Terance Conran's  aesthetic will recognize his hand in the complimentary colors, tasteful accessories, paintings and furnishings. Luxurious bedding and chocolates greeted us in the evening. Everything was quite comfortable and roomy with a desk area work station and plenty of closet space. I was especially happy to see the bath products reflecting all of Ireland's love of seaweed and it's success as a renewable, sustainable resource.
 
The Bathroom
White walls give a spa like quality to the bathroom. A granite counter top, plenty of fluffy white towels, robes and the luxury brand H2O bath products are featured. A rain shower head made using the products that much more enjoyable.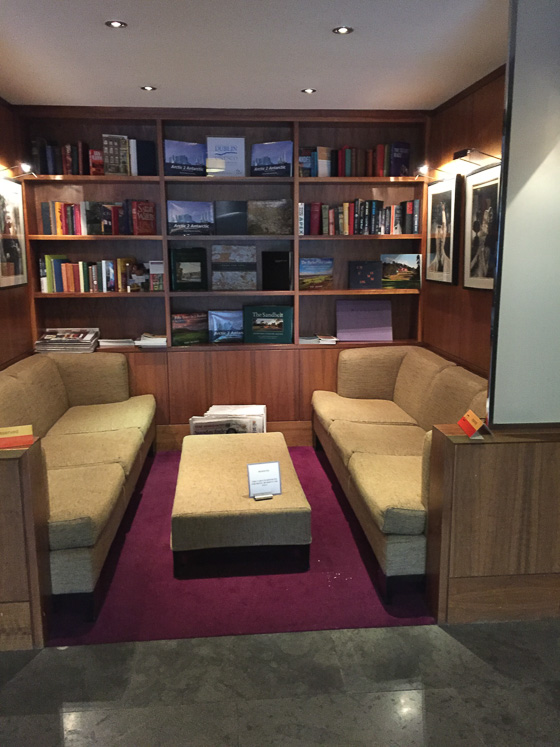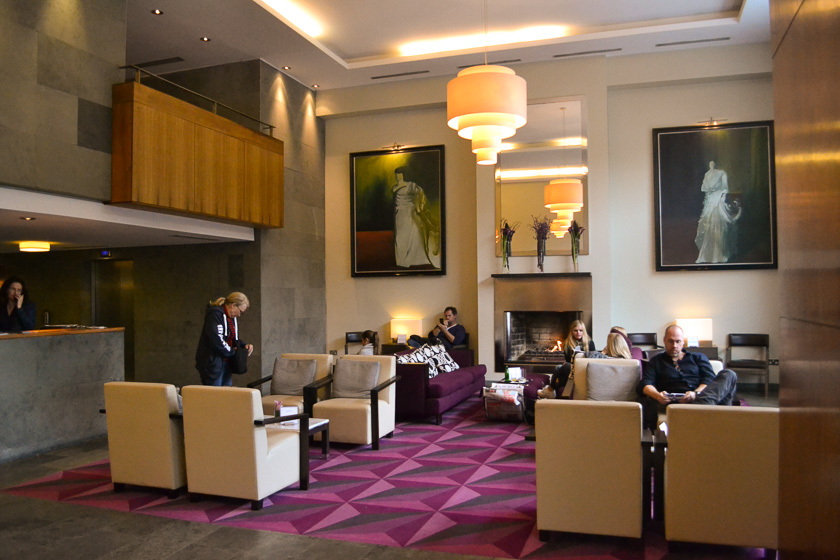 Amenities
The concierge team is renowned for their knowledge of the city. I was astounded listening to Tony enthusiastically give a myriad of options to a young couple seeking a walking itinerary while I waited in the lobby for an afternoon appointment. Tony (top photo-center right) has been with the hotel since it opened and is a well known face in Dublin. The Spirit Beauty Salon takes a holistic approach to treatments, there is a compact gym and runners will be right at home picking a path thru St. Stephen's Green. Wifi is complimentary and there is a lovely lobby with fireplace as well as a small library nook for additional spaces to relax.
Dining
If the service, location, and designer appointed luxury rooms don't excite you, what about one of the most talked about restaurants in all of Ireland?  Award winning chef Kevin Thornton has made the Fitzwilliam a magnet for foodies and celebrities. He's taken a stand on the food he serves at Thornton's Restaurant and views his profession as being similar to theatre performance. After tasting his food and watching chef Thornton in action at the Food on the Edge conference in Galway, I'd have to agree. When you need a break from Michelin star dining, Citron and The Inn on the Green offer great selections for more casual food or drinks.  Mixologist Tomas Kremi can mix up a mean cocktail!  There is a wonderful breakfast in the morning with a la carte selections and a buffet.
Dublin has much to explore and keep you busy during the day. The unbeatable combination of five star luxury and central location makes the award winning Fitzwilliam a perfect choice. This modern urban oasis is filled with Irish charm welcoming you throughout your stay.
Pinnable Image~ Luxury Location Fitzwilliam Hotel Dublin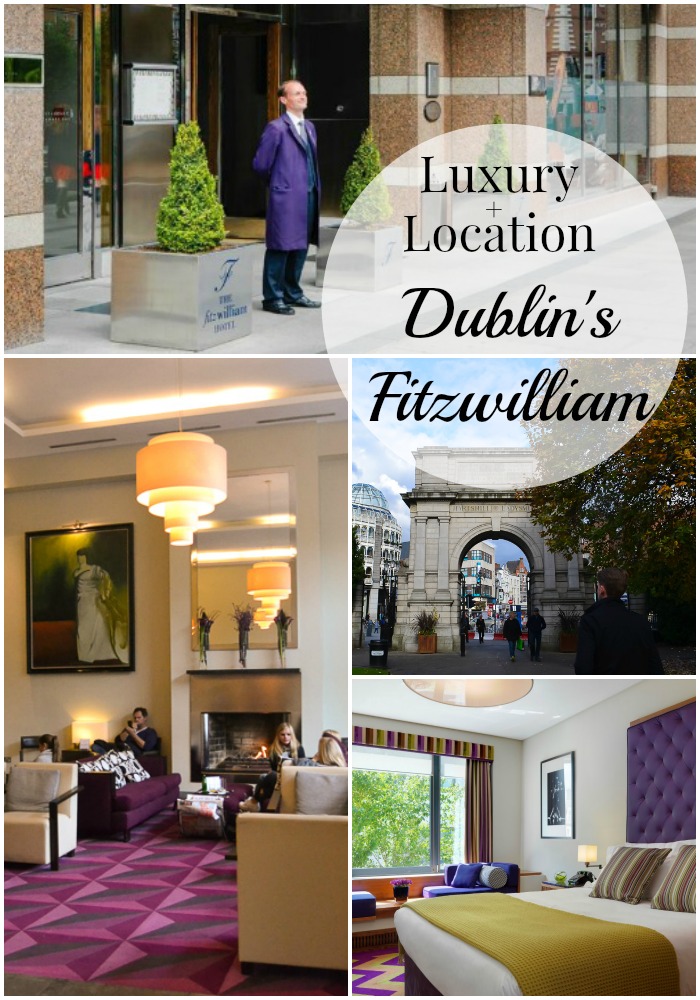 411 on the Fitzwilliam Hotel Dublin
St. Stephen's Green
Dublin 2, Ireland
Telephone:      +353 1 478 7000
Fax:                  +353 1 478 7878
Website:          www.fitzwilliamhoteldublin.com
Facebook:        www.Facebook.com/fitzwilliamDublin
Twitter:            www.Twitter.com/FitzwilliamDub
My visit to the Fitzwilliam Hotel Dublin was complimentary, but as always, opinions are my own.
Photos via Alison Abbott and The Fitzwilliam Hotel Dublin