A Luxury Kenya Safari Holiday at Elsa's
In your mind's eye, think of the animal that comes into view when you imagine a Kenya safari holiday.  For many, myself included, the picture of a specific lioness comes to mind. Baby boomers the world over grew up with the story of Elsa from the film Born Free.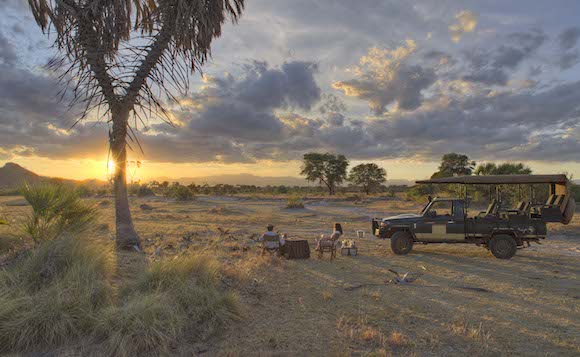 Through this beautiful lioness and her loving caretakers, we learned about Africa and the abundant wildlife she had to offer. The story inspired thousands to become involved in the wildlife conservation movement, and many more to visit the east African country of Kenya.
When you attach the name of the legendary Elsa, to a safari camp in the heart of Born Free territory, expectations run high. Not to worry. Elsa's Kopje, part of the luxury Elewana Collection, exceeds expectations and more. The award-winning lodge sets the gold standard for environmental stewardship and is a model of the symbiosis that can exist between land, locals and a conservation minded hotel property.
Africa is no doubt a dream destination for most travelers. When it comes down to bucket list planning, a luxury Kenya safari holiday should begin at Elsa's Kopje. The enormous continent is home to an astonishing variety of animals making a Kenya safari holiday one of the most thrilling travel experiences in the world.
While a Kenya safari holiday is most definitely an adventure, by no means will you be roughing it during your stay at Elsa's Kopje. In fact, this is luxury glamping at it's Robinson Caruso best!
Meru National Park
There are many different types of safari to consider when you are planning your trip. Often visitors will put together a variety of experiences for their Kenya safari holiday. I was particularly excited about the opportunity to visit Meru, a small park with an abundance of diversity and a storied history.
Elsa's Kopje is one of the only camps in the Meru and thus offers a certain sense of luxury you can't find elsewhere. After the park has closed in the evening, and before it opens, there is a complete solitude, a sense of isolation. A safari based inside offers the opportunity to view wildlife in near complete solitude.
In most of the larger parks, such as the Masai Mara, safari vehicles are required to stay on the dirt roads. Guides in Meru can venture off road and stay out after dark. Tracking prowling lions on the hunt for their next meal or being close enough to a rhino to feel his breath just feet away are lifechanging encounters in the African landscape.
The Meru National Park covers an area of 1,813 square kilometers to the north east of Kenya. It is bordered by the Kora, Rahole and Bisanadi Reserves and is recognized as having one of the greatest diversities of animal species in East Africa. Bursting with a broad spectrum of vegetation and thirteen spring-fed rivers that attract an abundance of wildlife, the park makes for an unforgettable safari experience.
While Meru is regarded as lion and elephant country, the park also incorporates a rhino sanctuary and is home to over 70 white and black rhinos. The sanctuary is located at the western boundary and covers an area of 80 square kilometers, protected by fences and dedicated rangers. A committed conservation effort has brought the rhino in the park back from extinction to a celebrated success story. Rangers are on a constant vigil to keep the poachers at bay.
Bird watchers will have a field day scouting for many of the over 400 species recorded. Grevy's zebra, elephants, eland, waterbuck, cheetah, leopard, reticulated giraffe, hippo, reedbuck, hartebeest and buffalo have all found a home in Meru.
Meru's History
A Dark Past
Visiting the camp today, it's hard to imagine this beautiful area having ties to a dark past of poaching and violence. For years after the death of Elsa and the release of the Born Free, the park was overrun with poachers who managed to nearly wipe out the area's wildlife during the 1980's.
Circumstances began to change in 1990 when the Kenya Wildlife Service was formed.  At the head of this organization was Richard Leakey. Between the years 2000 and 2005 the International Fund for Animal Welfare (IFAW) donated $1.25 million to this major restoration project, and with this money aided in improving the basic infrastructure and provided essential equipment and vehicles for law enforcement activities.
A Bright Future
Over a period of five years, more than 1,300 animals were brought back into the park and included rhinos, giraffes, impalas, leopards, zebras, elephants and black rhinos. At the same time the monies from the IFAW allowed for repairing infrastructure. Roads and lodges were built, and the rangers received critical training in security. Automatic weapons and state-of-the-art radios, as well as improved salaries and housing allowed them to deal effectively with the poachers. Kenya's relationship with tourism has always been a symbiotic one, and Meru National Park is a perfect example of the collaboration.
Weather on a Kenya Safari Holiday
When is the best time to travel to Meru National Park? 
The dry season in Meru runs from June through September. Wildlife safaris are at their peak during these months, also known as the high season. I visited in October found a dry climate with bountiful wildlife. Friends had suggested the addition of buffs to my packing list for the heavy dust; I experienced a bare minimum.
Meru straddles the equator and has a hot, arid climate. Temperatures are fairly uniform through the year. Daytime temperatures are around 32°C/90°F, and at night temperatures fall to about 17°C/63°F. Although cooler during my travels, temperatures drop substantially at night, so visitors will want to pack a wrap for the evening. Most dining is open air, we even ate under the stars and full moon!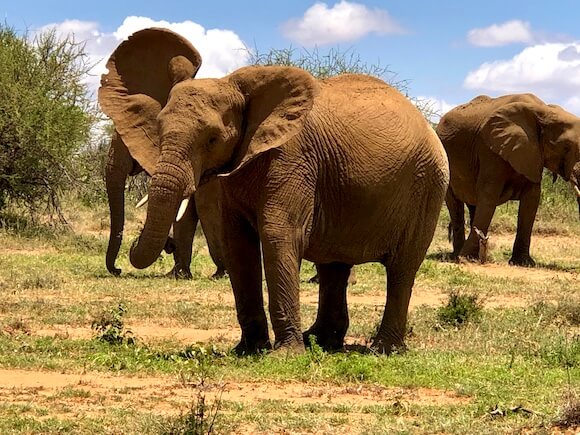 The heavy rains come March thru May and can make viewing wildlife more difficult and transportation challenging. The rains however keep the area green and attract an abundance of wildlife. Safari vehicles are equipped with blankets and foul weather gear.
Each season has its own benefits; however, I always prefer to travel during the shoulder season. It allows the properties and guides to have a more sustainable, year round income with the added perk of fewer crowds.
Getting to Elsa's Kopje for a Kenya Safari Holiday
After arriving late into Nairobi and getting a brief night's sleep in a local hotel, it was an early am wake-up call for the flight from Nairobi to Meru National Park. Located approximately 220 miles northeast of Nairobi, the quick flight via a small commuter plane gives visitors a brief look at the vast, expansive plains from above.
Flying is certainly the easiest, but also the most expensive route. There are daily flights into one of the two airstrips in the Meru. Take note that flights are out of the domestic airport, so if you are flying early after an international flight, book a hotel closer to Wilson Airport (domestic). In addition, there are private charters and the camp is approximately a six hour drive from Nairobi.
Combining the safari holiday into a multi park vacation is highly recommended. Many of the national parks can be reached directly by private charter flight. Amboseli National Park and the Masai Mara are common itineraries, especially if the wildebeest migration is on your wish list.  Lewa Conservancy is also highly recommended for the elephants and Ngare Ndare Forest.
Many tourists combine a Kenya safari holiday with a trip to the beach for R&R post safari. Diani Beach Resort on Kenya's coast and Klindi in Zanzibar are great choices to continue the luxury boutique experience of Elewana. Both give visitors incredible beach holidays on the turquoise waters of the Indian Ocean
Guides on a Kenya Safari Holiday
Hello, I am Akiba
As we deplaned onto the dirt airstrip, several groups were already milling together on the runway from a previous flight. Each had their own olive green 4X4 emblazoned with their lodges' logo. A smiling man greeted us and introduced himself as Akiba. "I will be your guide during your stay at Elsa's." Before we could say Hakuna Matata, we were off on our first Kenya safari holiday adventure.
Within minutes of entering the park we were rewarded with  a lion sighting. Under a tree sat 3 females, lazily taking in the sight of over eager blonde Americans hoping to get a glimpse and the first perfect wildlife shot. I made my initial of several faux pas when I quickly moved around the 4X4 hoping to get a better photo.
"Relax", said Akiba. Or, actually he said "hakuna matata. Enjoy the moment and take it all in-you have just arrived in Africa!" Soon after plowing through an overflowing river, wart hogs crossed our path and then monkeys in the trees. Giraffes were everywhere and antelope. A crocodile slithered across a riverbank. Buffalo made an appearance and zebras stood out magically against the clear blue sky. It was almost too much to absorb during my first hours on Kenya safari.
Less than 24 hours ago, I was walking the streets of Qatar in the sizzling heat learning about a city where modern architecture and gleaming buildings are ushering in a new age; Doha gleams with an overflow of material riches. Today could not be any more of a contrast.  The wilds of Africa showered me with an embarrassment of wildlife before we had even arrived at Elsa's Kopje.
Five Star Eco Luxury in the Middle of the Savanna
Elsa's Kopje Comes into View
Suddenly Akiba pointed out the kopje in the distance. Located in the middle of Meru National Park, the camp is built into Mughwango Hill and seamlessly blends into the landscape. Kopje is a Dutch word for a small isolated hill, usually surrounded by expansive surrounding flatland. Mother Nature's brilliance is on display in the heart of Kenya's plains and this is a must visit destination for anyone planning a luxury Kenya safari holiday.
Overlooking the savanna, the outcropping stood 2326 feet high. Large boulders poked through the growth of trees and tall grasses. I could instantly understand why animals, birds and reptiles used the space to warm themselves in the early morning sun.
Elsa's Beginnings
Stefano Cheli and Liz Peacock began their safari journey bringing guests on a mobile camp safari when they started Cheli and Peacock. It's easy to understand why the well-known bespoke travel outfitter chose this beautiful location for their permanent structure. An all-star cast of Dr. Richard Leakey (Director of Kenya Wildlife Service) and Virginia McKenna, the star of Born Free and founder of the Born Free Foundation were on hand to welcome the first guests.
With such an impressive conservation pedigree, it's no surprise Elsa's received the first gold level Eco-rating Certificate by Ecotourism Kenya in recognition of its high level of environmental responsibility and its dedication to the support and integration of local communities. Elsa's Kopje is internationally recognized as one of east Africa's most elegant and environmentally friendly lodges
A hallmark of all of Elewana's 16 properties in Kenya and Tanzania is the preservation of natural surroundings. Offering a sustainable model for others to emulate, they represent the gold standard of what can be achieved when conservation and the environment are balanced with design elements, all while celebrating the African wilderness.
The Meru has a hot and dry climate and each structure was built around the landscape. The design takes full advantage of the geography, being open to cross ventilation, cool breezes and spectacular views.
Open plan cottages were individually crafted to incorporate natural features of the kopje. Boulders act as interior walls, trees as structural columns and design elements. The project was designed to make the most of the relationship between environment and structure.
The Treehouse Dwelling
After being greeted by Zarek Cockar, the charming interim general manager of Elsa's, I was escorted off to my room. The stone path led to a hut with what can only be called a jaw dropping interior. The tree-house type structure, one of 6 cottages and 3 honeymoon suites, was built right into the kopje and hanging over the rockface.
Sanded eucalyptus branches were incorporated into the ceiling roof. On closer inspection, I observed the roof is actually made from a local braided, twisted thatch. Dreamy mosquito netting hung covering the sleeping area. There was a cozy sitting nook off to one side and a porch which gave panoramic 180° views of the expansive savanna in all her glory below. Cyprus floors completed the tree house feel.
Down the staircase was an expansive ensuite bathroom with double sink and walk in stone shower with a rain head fixture. The shower was only a step removed from an outdoor experience. Very little stood between you and the wilderness. An enormous weathered boulder shaped the wall on one side. Flooring felt like a cool, polished cement in a deep oxide stain. Smooth to the touch, it was wonderful to walk on in bare feet.
My first morning as I went about my morning toilette, I was more than a little startled to see a family of hyrax "performing" just inches from my screened sill. These adorable, rabbit sized mammals, are related to elephants and manatees and could have cared less about the JOY I was feeling from their entertaining antics.
Each hut had its own solar powered hot water. The property is very actively involved with #saynotoplastic and each guest is given a metal water bottle at check-in. Plastic bags are actually banned in Kenya, so make sure not to use any when packing.
Rooms at Elsa's Kopje
In all, there are six luxurious Open-Fronted Cottages similar to mine that are built around the rocks of Mughwango Hill. Two of the cottages offer a daybed or extra bed to accommodate three people.
More contemporary dwellings were added at a later date. The Family Cottage has two bedrooms (double and twin), each with en-suite bath, luxurious outdoor bathtub and wide viewing deck.
Two of three Honeymoon Cottages offer an intimate setting with their spacious bedrooms, opulent en-suite bathrooms, and their small private decks with outdoor baths. The third cottage is a three-leveled suite with the main bedroom, en-suite bathroom, spacious living room, and a private deck.
The exclusive Elsa's Private House is great for families and includes the main bedroom with a double bed and outdoor shower and separate dressing area, second bedroom with twin beds and indoor shower, a shared living and dining room, and a private garden with infinity swimming pool.
Common Space
Common areas include a lovely open-air bar and lounge area with cozy couches, luxurious woven fabrics, oversized cushions and lots of space for socializing or curling up with a good book. Next door, the dining area is also open air with vast views overlooking Kora National Reserve and the direction of sunrise.
And of course who can resist a pool with a view! Elsa's azure sanctuary is an incredible oasis after a day out in the dry savanna.  The natural rock surrounding the freeform infinity pool allows it to blend seamlessly into the landscape.  The turquoise accent is a perfect soothing visual to all of the earth tones surrounding this restful spot.
Activities and Amenities for a Kenya Safari Holiday
Activities offered at the lodge include daily game drives in open safari vehicles that are designed for comfort and photography, night drives which afford encounters with animals that are not active during the day, guided walks that explore the fauna, flora and smaller wondrous creatures of the African bush, day trips to the Tana River, a visit to the 84 square kilometer rhino sanctuary, river fishing and cultural visits.
The spa offers natural treatments in an open-air setting, sure to heal any remaining jet-lag. Signature therapies using local ingredients are a great opportunity to dig deeper into the local culture. Look for organic shea butter, which had its origins in this culture from centuries ago.
There is a cute gift shop on site for local crafts and monogrammed souvenirs from the property. Guests will find the Wifi works best in the common welcome area and laundry service makes packing for the airline weight limit all the more manageable.
Culinary Dining at Elsa's Kopje
We arrived in time for a lunch before heading out on our first game drive. Chef Jackie sat with us to learn about our food preferences and any allergies or limitations. I am a pescatarian and my travel partner follows a ketogenic diet-so I'm not sure she knew what she was in for.
The lunch gave us plenty of options. Salad, breads and a choice of grilled protein. Above all, the meal was light enough to keep us full of energy for more game viewing and afternoon activities.
Wine was always available along with full bar, and preferences were subtly noted by the staff for the surprise sundowner introduction for the closing of the day with a Kenya safari holiday tradition.
Most of the meals were served in the open air dining space with views looking out over the surrounding landscape. On our last night, dinner was served under the stars and moon in what could be called one of the most romantic settings imaginable. While two friends could certainly appreciate the moment, we both swooned and wished our loved ones were with us. As a honeymoon destination the property is unmatched!
Breakfast in the Wild
On our second morning game drive, I could see a smirk coming across Akiba's face as he pulled off the road and began a rapid drive over hill and dale to a small ravine. Bright color in the savanna catches your attention, and suddenly we were at the most wonderful outdoor spread for breakfast.
The staff had set up an incredible table of champagne, platters of fresh fruit, yogurt, fresh pastries and cooked to order eggs right off the grill, complete with a table decorated with local textiles. It was one of many very special moments at Elsa' Kopje.
The Sundowner Tradition
The African sundowner tradition originated during the period of British colonial rule. The drinking ritual marked the transition from day into evening. As a time for reflecting on the day, the drink of choice was a gin and tonic. You might be surprised to learn that the selection of G&T's had a very practical, medicinal beginning. The quinine in a G&T was effective in preventing the spread of malaria.
Fast forward and the ritual has metamorphized into an essential part of the modern safari experience, though the therapeutic piece of the formula has long since passed. Luxury safari camps such as The Elewana Collection have raised the bar to new heights. I had the good fortune to toast the end of the day in the wild in several of their eco-luxe camps.  Guests select their drink of choice along with snacks and all are packed for the event.
How lucky was I to be introduced to this practice by Akiba? Just when I thought my first day on safari could not possibly get any better, Akiba pulls onto a flat area of deep red African soil. Hoping out of the vehicle, he quickly switches hats from guide to bartender and sets up table, snacks and cocktails in minutes for a toast to the sun setting over the horizon. After my very first sundowner, as I watched the sky turn into a rainbow of warm hues, ombré shades of red, pinks and orange, I knew Kenya had captured a piece of my heart. fell in love with the Kenya.
Hiking at Elsa's Kopje
I was anxious for our sunrise hike. Game drives are incredible, but the chance to have some exercise and stretch my legs was something I was really looking forward too. It felt like the middle of the night when the knock came on the door. Wasn't it just minutes before the lions were chuffing beneath our mosquito covered beds!? Just about, as the time read 5:15am.Who could ask for a better wakeup call – Christopher smiling at the door complete with tray of steaming Kenyan coffee and freshly baked cookies?
Akiba met us by the pool and the cool morning air woke us up quickly. As the sun began to brighten the horizon, we made our way up the steep trail. Rock climbing, hanging on the young saplings, occasionally being boosted and pulled by Akiba, it was short, steep and sweet. We took some quick photos and then perched on the outer rocks waiting for the sunrise. Across the savanna, the landscape started to take shape. With the baobab trees in silhouette, I had to pinch myself to come back from an out of body experience filled with gratitude.  The start to each day on a Kenya safari is magical.
Guides
From the moment we were pickup up at the airport by Akiba, our guide for the 48 hours at Elsa's , it was obvious that he was going to be an integral part of our experience. Little did I know how much my travel partner and I  would learn from his shared knowledge.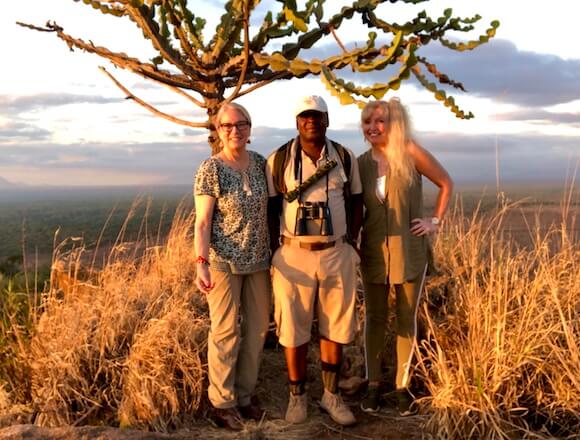 Years in the area have trained his eagle eyes to spot the smallest detail in the distance. Scanning the horizon as we bump along the dirt roads, I was constantly amazed at the wildlife he could identify in the distance. While he used binoculars, they were usually a follow-up to confirm something he had at first caught sight of with the naked eye.
Readers know I am always looking for off the beaten path experiences, a Kenya safari holiday with the properties in the Elewana Collection takes the term to a whole new level. The ability to drive off road in a private reserve can mean the difference between witnessing a fresh kill and knowing that the lions are just "over there", unfortunately out of sight. We were rewarded with so many solo experiences, Patti and I, alone with Akiba, breathing in Africa as she unveiled her charms.
Elewana and the Land and Life Foundation
The Land & Life Foundation is the charitable face of Elewana. With an innovative collaboration between properties and the local population, Elewana is involved in conservation across Kenya and Tanzania. For example, initiatives include anti-poaching, human-elephant conflict mitigation and animal conservation as well as health care and schooling for local children.
The properties are recognized as tourism pioneers who are constantly raising the bar to empower local communities and protect the planet.  With all operational costs covered by Elewana, 100% of every single donation goes straight to benefiting the communities, schools and wildlife in the areas where we work.
Final Thoughts
A travel experience is made up of many parts, but nothing quite compares to good hospitality. My trip was filled with off the charts moments each and every day. Enhancing every one of them was a member of Elsa's staff.  Our daily waiters, Benjamin and Alex, bartender George captivated us with their warmth and welcoming spirit. Our private butler Christopher came to our aid in the middle of the night to valiantly rescue a scorpion who got lost in our room. He was of course returned to the wild unharmed. Jackie worked her magic in the kitchen for two high maintenance eaters with a laundry list of requests. And then, of course there is Akiba, who shared his love and knowledge of Kenya with safari newbies. It's safe to say it was a taste I will not soon forget.
There is no question a safari in Kenya is going to be a unique experience; the magic of Africa is undeniable.  The serenity of the natural world as she wakes in the morning and comes alive; birds singing, the grasses gently swaying, the magic of sunrise, a lion chuffs in the distance. A day of adventure that is never quite like the day before. Sundowner in hand, guests watch it reverse in the evening as the wilderness puts itself to sleep until another dawn.
Elsa's Kopje is known for offering a unique guest experience that embraces a seamless relationship between conservation and high-end hospitality. Like a dream, the property  coordinates a bespoke experience with unique design based on sustainability.
As part of the Elewana Collection of luxury boutique properties, Elsa's Kopje feels very much like an appropriate homage to the history of Meru National Park and the loving memory of Elsa and Joy and George Adamson.
Pin Me A Luxury Kenya Safari Holiday
Disclaimer: The author was a guest of the Elewana Collection for review purposes. As always, opinions and experiences are her own.