Let it Fly to London with Virgin Atlantic
Can you imagine a travel blogger who has not yet been to London? Yep-that's me! Never seen the streets past Heathrow Airport. When I was invited by Virgin Atlantic to devise an itinerary for their Let It Fly campaign-well let's just say I jumped at the chance. From the selected bloggers, a winner will be chosen to fly to London for a two night stay.  I was excited to be a part of the challenge, as sustainability is a core focus of Virgin's products and services. Their Change is In the Air policy was implemented in 2007 and addresses big picture views about the environment. Read on to see how you can enter to win a trip a well.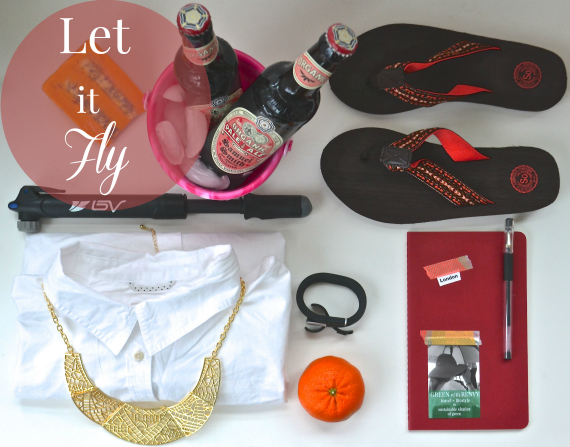 I was sent a bag packed with a random selection of travel gear and set out to create an eco friendly, inspirational itinerary using all of the items.
a white shirt

necklace

UP fitness bracelet by Jawbone®

a BV bicycle pump

sandals

a bucket

a journal+pen
The Jawbone® fitness bracelet fits snugly around my wrist and looks quite chic. After downloading their app, my bracelet is now programed to monitor fitness, sleep, steps even eating habits to a healthier lifestyle. This is the perfect addition to any travelers arsenal.
Here we go-Let it Fly ….
Day 1
The flight from Boston lands in the morning, and we've got a lot of ground to cover. Since the visit will be short, I wanted to try to make the itinerary centered around Covent Garden so there would be as little driving as possible. Our hotel of choice is the One Aldwych. Centrally located, it has received many awards for the sustainable practices it follows. After dropping our bags and freshening up, we'll grab a bite at the nearby Wild Food Cafe , a raw-centric food restaurant located in the magical Neal's Yard. The restaurant is plant based and features colorful ingredients to delight all the sense, perfect nutrition after a long flight.
First time visitors have to see the iconic sites, so we stretch our legs along the Thames and head across the Waterloo Bridge. The bike pump comes in handy for a tour with the  London Bicycle Tour Company.  Their three hour West End Tour covers many of the destinations we have listed in our journal. Moving along the River Thames, we first pass the National Theatre and Royal Festival Hall, with a stop right under the big wheel, the London Eye. We continue under Westminster Bridge stopping for that classic photo moment, to admire the architecture of the Houses of Parliament, then cycle along the River Thames to Lambeth Palace, one of London's oldest buildings.Continuing across to the north side of the river we explore the lanes of traditional red brick houses, though a back gate into Westminster Abbey School yard, the first school in England and proceeding to the  crypt of the Abbey, and then on to Buckingham Palace, The Queen's official London residence.  then up Constitution Hill into the open space of Hyde Park. From Hyde Park we travel through Mayfair, past the US Embassy, Classy New Bond Street, Carnaby Street shopping areas and into the party centre of London, Soho. we then pedal through the back streets and alleyways of Chinatown to Covent Garden, theatre-land, home of the Royal Opera House. Winding our way back across the Waterloo Bridge, we've covered a lot of territory in this amazing city!
After checking into the One Aldwych, there's no better way to combat jet lag than a swim and massage. My sandals are perfect. After a relaxing swim I feel like i'm a million miles away from the hustle and bustle of London. The Health Club is one of a select number of spas in the UK to offer treatments from the prestigious Spanish skincare specialist, Natura Bissé, whose goal is to offer the effectiveness of medical aesthetic techniques and the wellbeing of an urban spa experience.
Rejuvenated, we've got a bottle of organic Davenport wine chilling in our pail for a celebratory toast before we head out. Dressed in my white shirt and necklace, we've scored tickets to a performance at the Donmar Warehouse. Part of the Seven Spokes Community, it a short walk from the hotel and located in Covent Garden.  The intimate theatre seats only 250 people and I love the fact that drinks can be taken to your seats, so we can combine an extended cocktail hour with an award winning play in an intimate setting.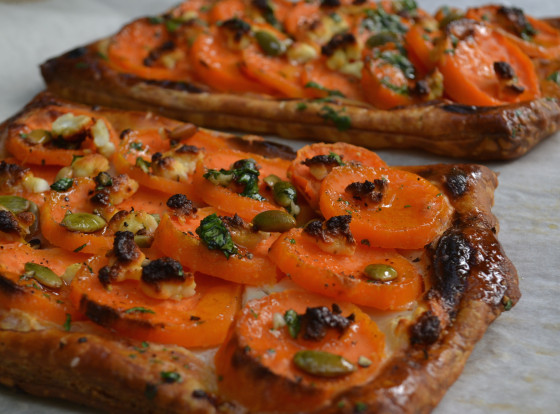 Regular readers know what a fan I am of chef Yotam Ottolenghi and his collection of cookbooks. More than once I've said I'd go to London just to eat his food. So it's no surprise that I'll be dining at NOPI after the theatre. His bold flavors and vegetarian entrees celebrate the seasons and all that is fresh and local. And now you can pour me into bed…
Day 2
After checking my jawbone to see how the night's sleep patterns were in London, we'll fuel up with and an organic breakfast at Le Pain Quotidian. Next we'll get an early ride on the London Eye, have some photo ops and a view of all of London. This will shed some perspective on the city. Across the river to St. Paul's Cathedral, a spot I have dreamed of visiting ever since I woke myself at an ungodly hour to watch the early morning wedding of Princess Diana. Next we'll head to The Rosewood, a hotel committed to a sense of place. Their Slow Food+Living Market in the inner courtyard is right up my alley. Over 3o vendors and makers offer a selection of coffee, chocolate, flowers, fruit, cheese and honey. I can stock up on yummy, local ingredients and fill my pail with a few brews from Anspach+Hobday for the picnic we'll be having later at Embankment Gardens.
Vendors are selected for their exceptional quality and wholesome produce, each with a unique story to tell. After exploring the green space of the garden, we'll enjoy a lunch in the quiet respite with all the goodies we've picked up from the market. This is also a great spot to hop on a river cruise down the Thames, where we'll see another view of this amazing city and round out the afternoon.
You can't leave London without a visit to the Royal Opera House. Legends such as Maria Callas, Margot Fonteyn and Luciano Pavarotti have graced the stage and the beautiful grandeur of the space i'm sure will take my breath away.
We'll take a late night option at Bill's a colourful and exuberant eatery on our way back to the hotel. Serving three meals a day, this spot is known for their home-cooked, seasonal and delicious menu.  A night cap will be had in The Lobby Bar, right in our very own hotel, a dramatic space which has a serious selection of cocktails.
Day 3
Unfortunately, this is a short day with the flight, leaving just enough time to have a relaxing breakfast in one of the many area restaurants we've undoubtedly discovered in the West End, along with a neighborhood stroll. My journal is loaded with thoughts, ephemera and memories. Phew…back to Boston after a whirlwind of fun with Let it Fly and Virgin Atlantic.
But wait!!
There's fun to be had for my dear readers as well. Virgin Atlantic has an exciting site where you can pack your own virtual dream bag and take a chance to win your very own trip. Based on the items you choose you'll get an itinerary that gives advice on where to go, what to see, where to eat and what to do. It even shows live tweets from the destination and a totally unique, personal film to put you in the mood to fly. Come aboard and Let it Fly!
 "When a man is tired of London-he is tired of life"-Samuel Johnson-1777
Photo credits:  One Aldwych, Visit London, The Rosewood Hotel, The Royal Opera House, Bill's, Virgin Atlantic, .